30+ Favorite Bundt Cake Recipes
Bundt Cakes are a delicious, beautiful addition to any dessert table, and the recipe options are endless!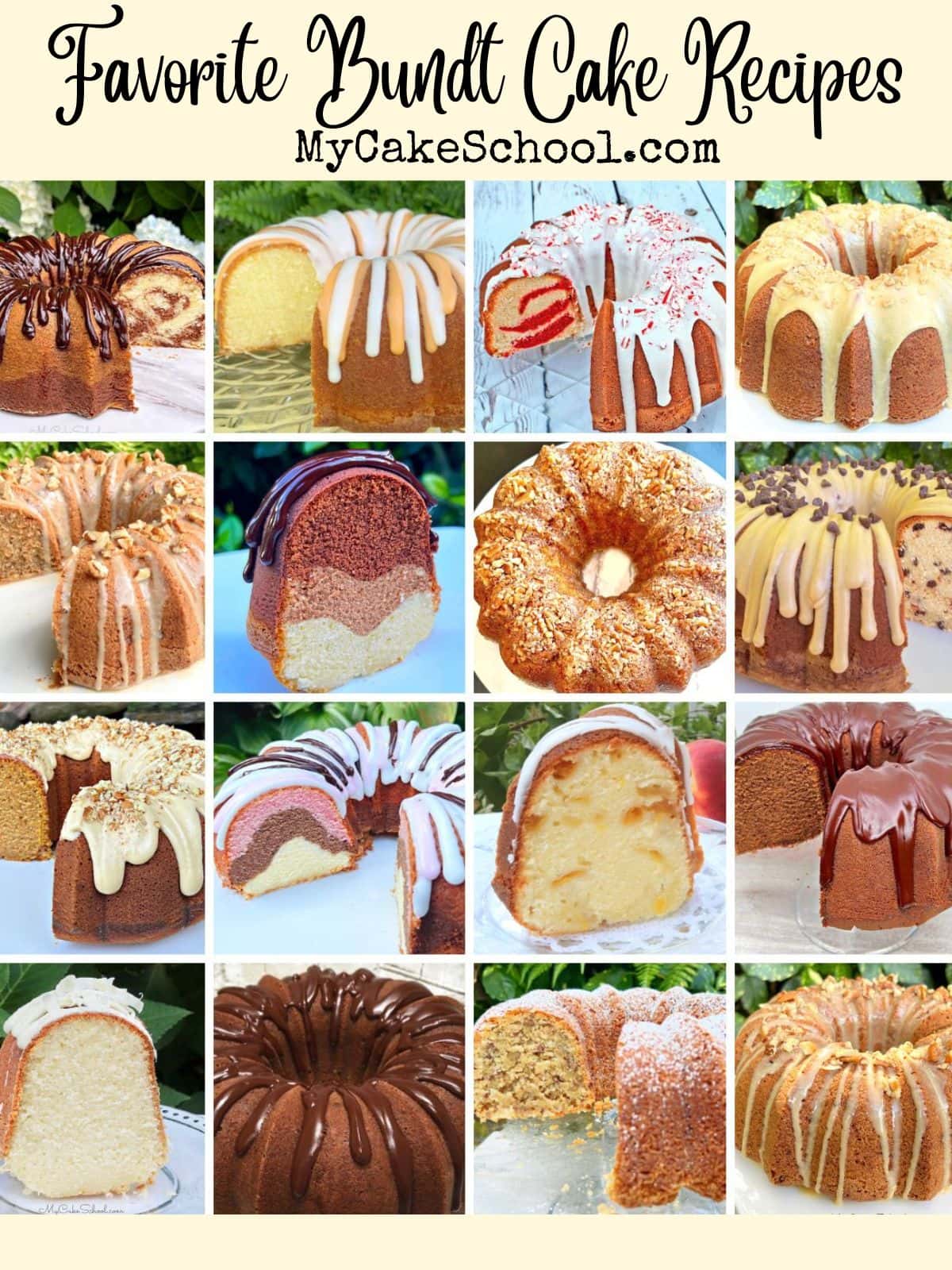 We've added many bundt cakes to our site over the years- both scratch and box cake mix recipes for all sorts of cakes!
We hope that you enjoy our collection of the best bundt cake recipes!
What is a Bundt Cake?
A bundt cake is a cake that has been baked in a bundt pan.
There are all sorts of decorative bundt cake pans, which are usually fluted or scalloped. These pans are ring-shaped- the hole in the center promotes even baking.
One of my favorite things about baking cakes in bundt pans is that little to no decoration is needed because a freshly baked bundt cake looks elegant just as it is.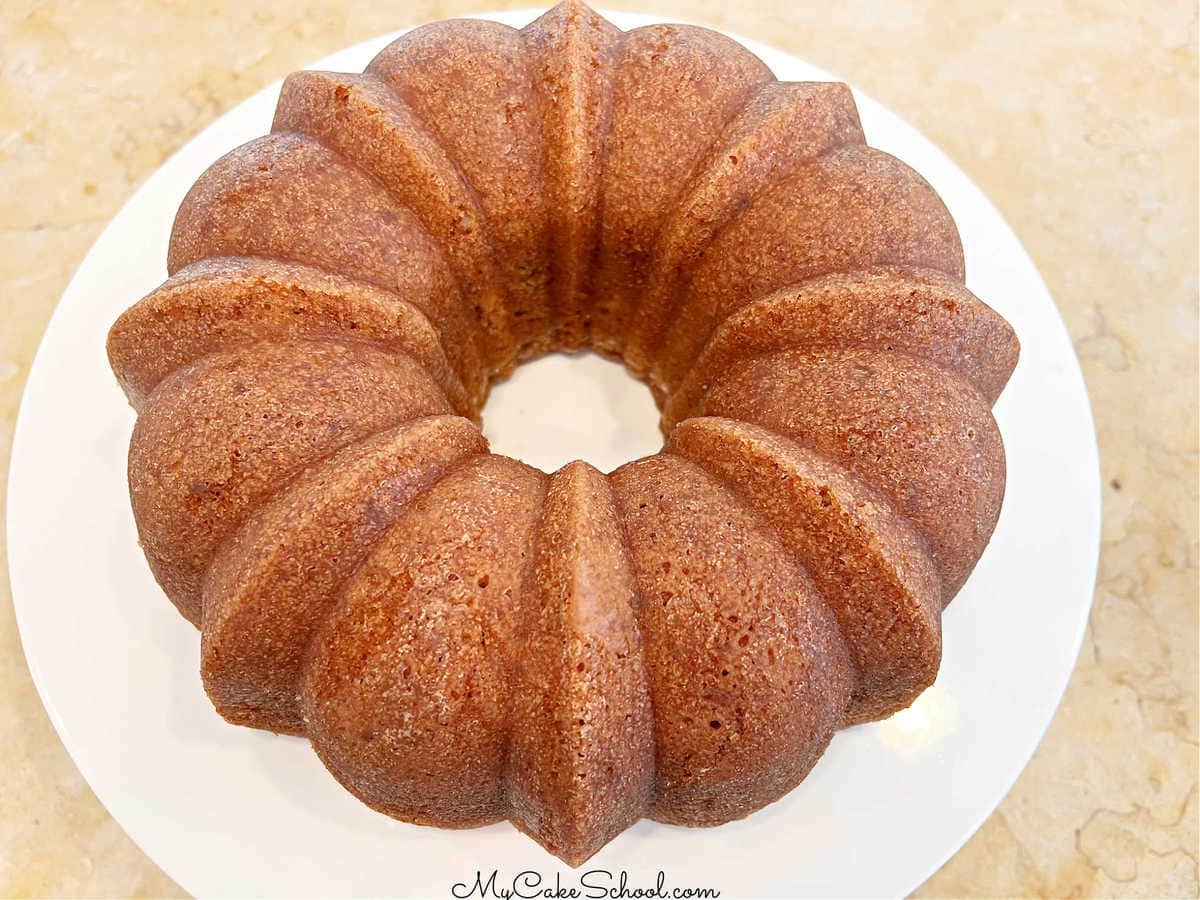 How to Decorate a Bundt Cake
As you see in our collection of favorites, we often add just a bit of decoration- maybe a simple glaze, or a dusting a powdered sugar- to our bundt cakes and pound cakes.
We most often use our simple vanilla glaze, caramel glaze, or ganache glaze depending on the recipe. These can be spooned over the cake or piped through a disposable piping bag with the tip snipped away.
Of course you can spread on a little frosting too as we did in our Italian Cream Bundt Cake, or some simple piping as we did in our Carrot Bundt Cake.
Finally, you can never go wrong with a dollop of whipped cream, or a scoop of vanilla ice cream!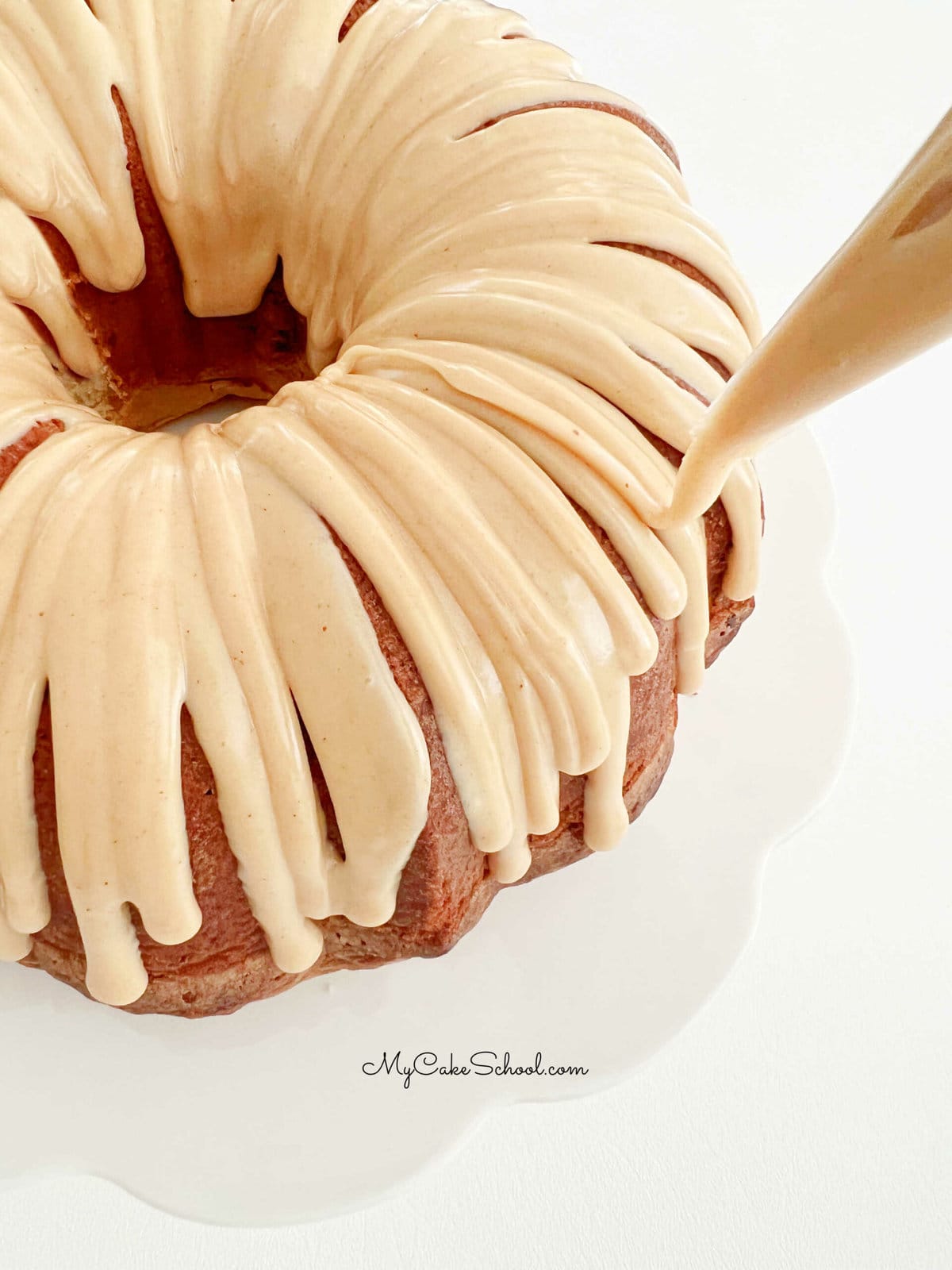 Can Bundt Cakes be Frozen?
Yes they can! Whether you would like to bake in advance, or save leftover cake for another time, bundt cakes freeze beautifully.
Wrapping and Freezing
To freeze a bundt cake, wrap the cake tightly with plastic wrap followed by aluminum foil.
When baking in advance, we place the freshly baked cake (still in the pan) on a wire rack to cool for ten minutes before turning it out onto a foil-wrapped cake cardboard.
We allow it to cool a bit more and then wrap while it is still slightly warm. We wrap the cake tightly in plastic wrap followed by aluminum foil, and into the freezer it goes!
The cake will stay as fresh as the day that it was frozen for up to three months.
(You can do this also with individual slices of cake- simply wrap each cake slice in plastic wrap followed by foil.)
How to Thaw a Bundt Cake
It's best to move your wrapped bundt cake from the freezer to the refrigerator the day before you plan to serve it.
Then, move the bundt cake to the kitchen counter, unwrap, and allow to continue to thaw for a couple more hours before adding any final details like a glaze, etc.
Enjoy the Recipes!
We hope that you enjoy scrolling through these delicious bundt cake recipes! You'll notice that we've included several of our favorite pound cakes as well.
Any of these recipes could be baked in bundt cake pans or tube cake pans as well.
Some of our most popular bundt cakes are our Pineapple Upside Down Cake, Strawberry Bundt Cake, Lemon Bundt Cake, and Lemon Blueberry Pound Cake!
If you give any of these cakes a try, we would love for you to leave a comment or photo below!
Favorite Bundt Cake Recipes
Bundt cakes are are fantastic dessert option-- easy to decorate and delicious! Here's a list of our FAVORITE Bundt Cake Recipes! We hope that you find something you'd like to try!