With Cinco de Mayo just around the corner, we thought it would be a great time to introduce a refreshing, flavorful Margarita Cake recipe from a cake mix!
I love cocktail-inspired cakes, especially in spring and summer months when the temperatures begin to rise and we crave fruity drinks (and sweets) with a kick!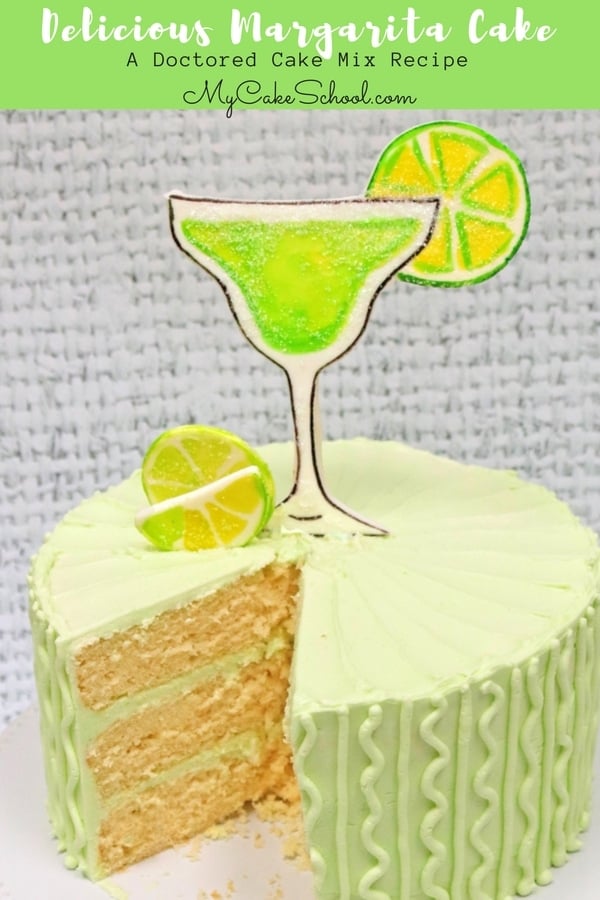 We added a great scratch Margarita Cake with Tequila Lime Buttercream recipe to our Recipes Section last year, and we are happy to now have a doctored cake mix version as well!
Similar to our scratch recipe for Margarita Cake, this cake mix version has a light tanginess from the lemon and lime in the recipe, and an unmistakable hint of tequila from the buttercream.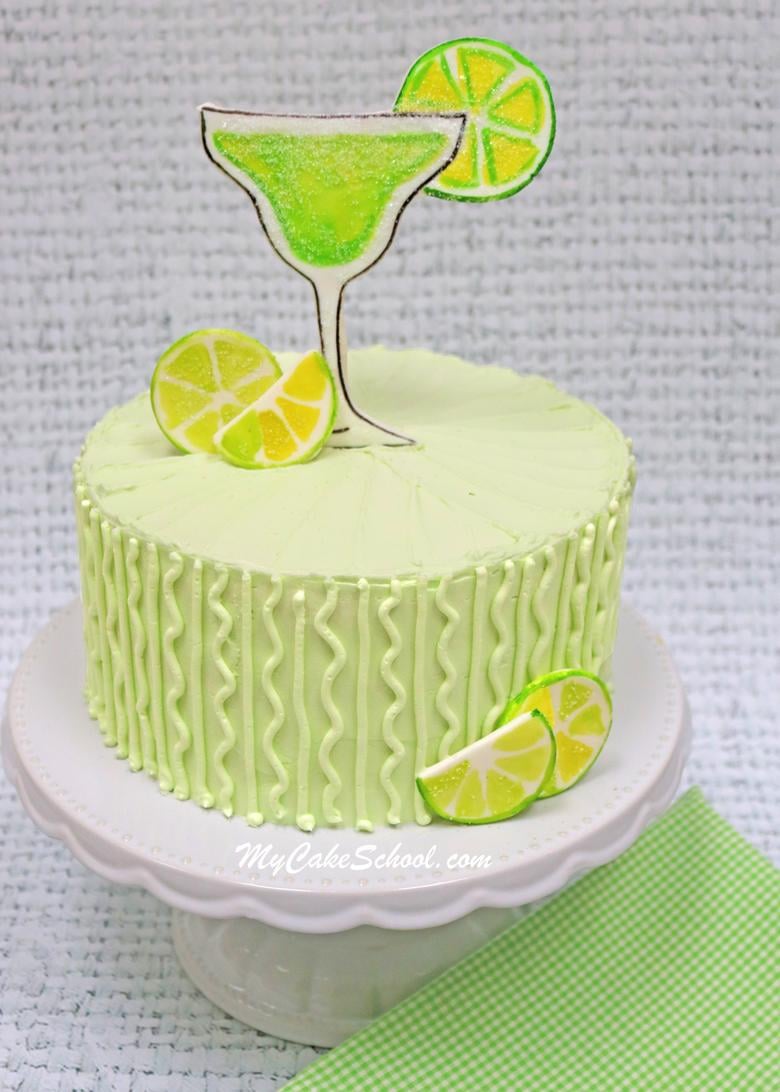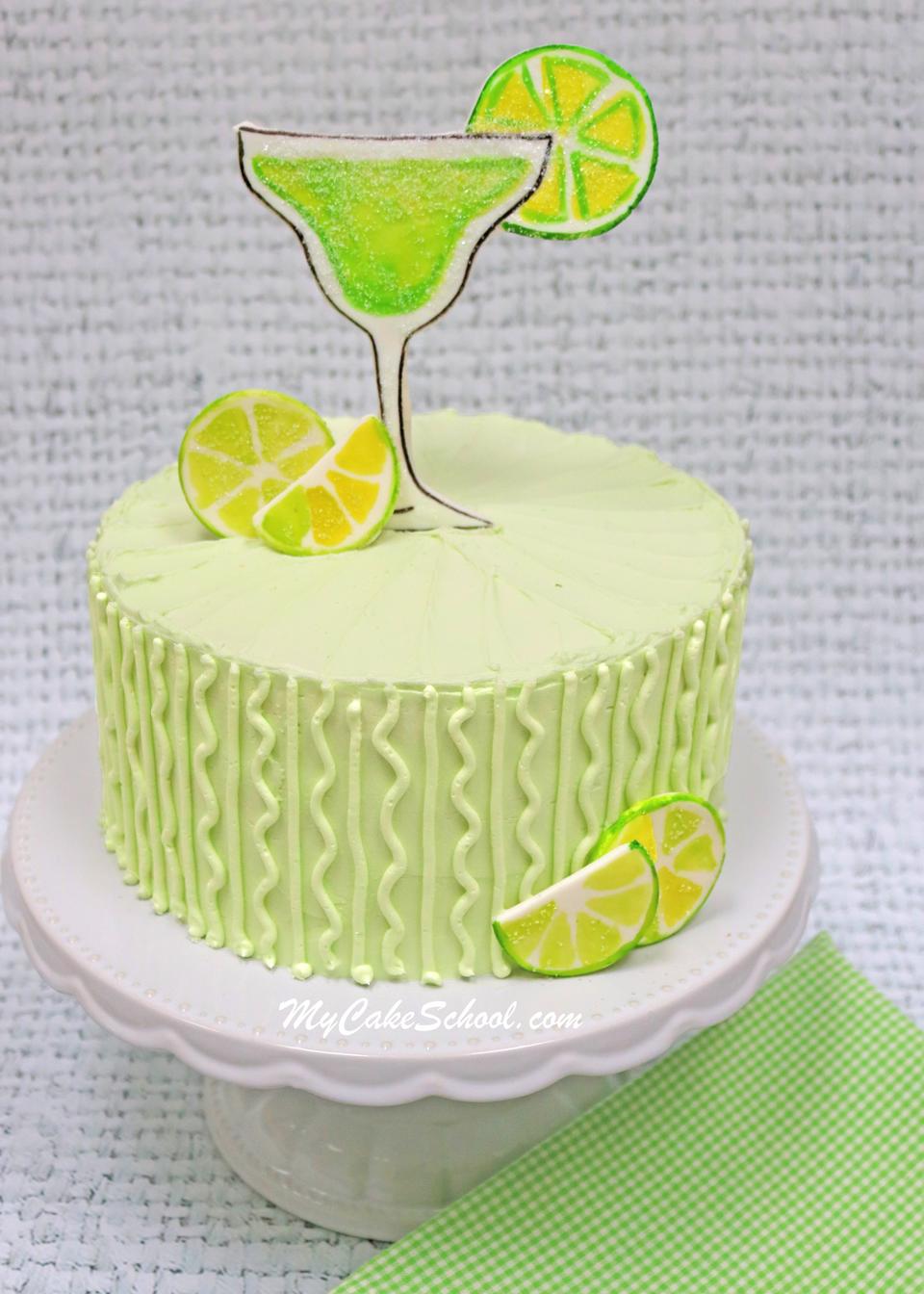 Unlike our scratch margarita cake recipe, we did not incorporate margarita mix into the batter of the cake mix version--we tried, but the texture of the cake never came out right. It was too coarse, and no amount of playing around with ingredient amounts helped. But not to worry!
It turns out we didn't need margarita cake mix to make a delicious margarita cake. We just needed a healthy dose of lemon and lime flavor...and a little tequila. This recipe is SO good!
Our margarita cake is loosely based on our White Almond Sour Cream Cake recipe. The addition of lime juice, lemon extract, as well as lemon and lime zest gives a wonderful flavor to the cake, and the sour cream in the recipe lends a lovely texture while keeping it sturdy enough for fondant.
Decorating the Margarita Cake
After frosting our cake with a coat of Tequila Lime Buttercream (which is tinted with a touch of Wilton Leaf Green), I used a small round tip 3 to add vertical lines and squiggles all the way around.
This is such a cute & easy little design but anything goes- the Tequila Lime Buttercream is super easy to pipe with.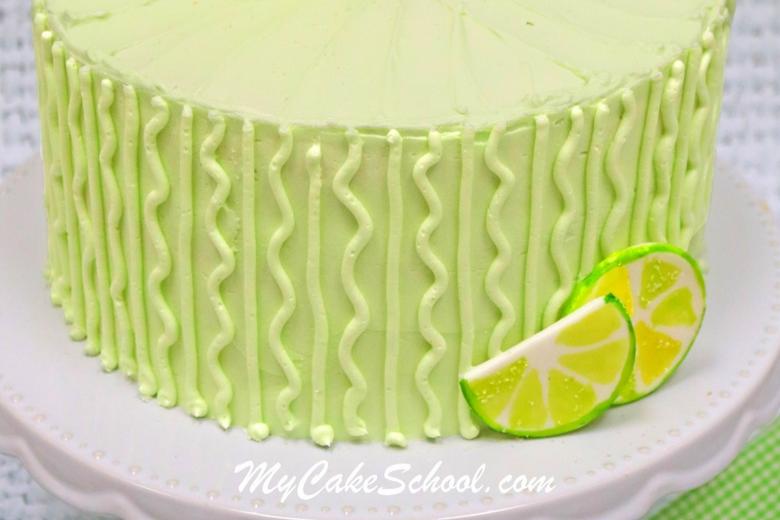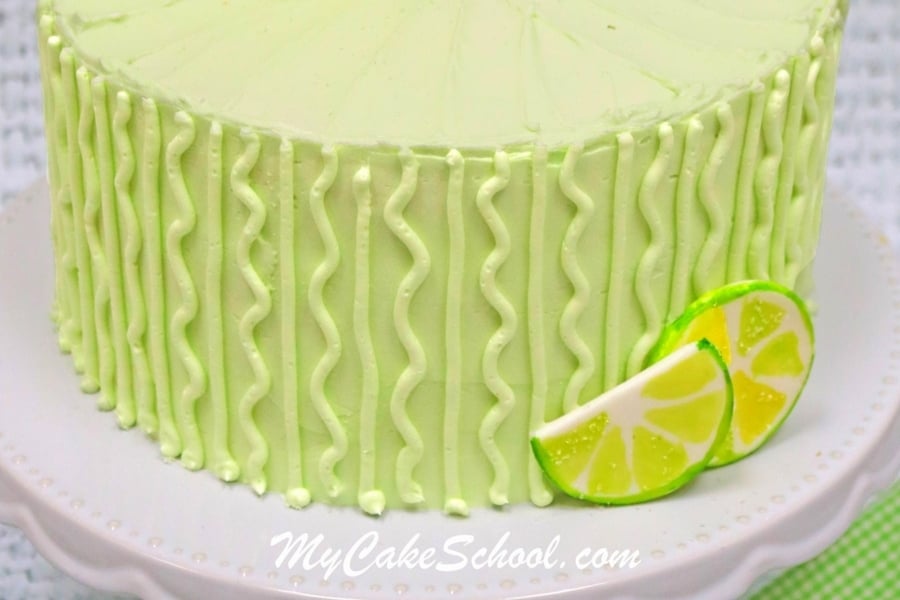 How to Make a Margarita Cake Topper
I decided to add a little height and color with a gum paste margarita glass cake topper! This was so easy to make, and I love to incorporate a cake topper whenever possible!
To make it, I rolled out some white gum paste (you can also knead tylose powder into fondant if you don't have gum paste) and used our Margarita Glass Cake Topper Template to cut out my shape. I filled an artist's palette with a little Americolor Electric Green, Leaf Green, Lemon Yellow, and White (just in case I need to lighten things up). I also added a splash of vodka.
Painting on fondant or gum paste with this method is just like watercolor painting....only with vodka. It's vodkacolor painting ;0) - Just dip your paintbrush into your coloring gel, mix it with a touch of vodka, and paint away. Of course, the more vodka that you add, the lighter & more diluted the color becomes.
(The advantage of painting with vodka, Everclear, or even lemon extract is that the alcohol evaporates very quickly, leaving just the color behind.)
You can see below that when it comes to gum paste cut-outs, I always like to make two just in case one breaks!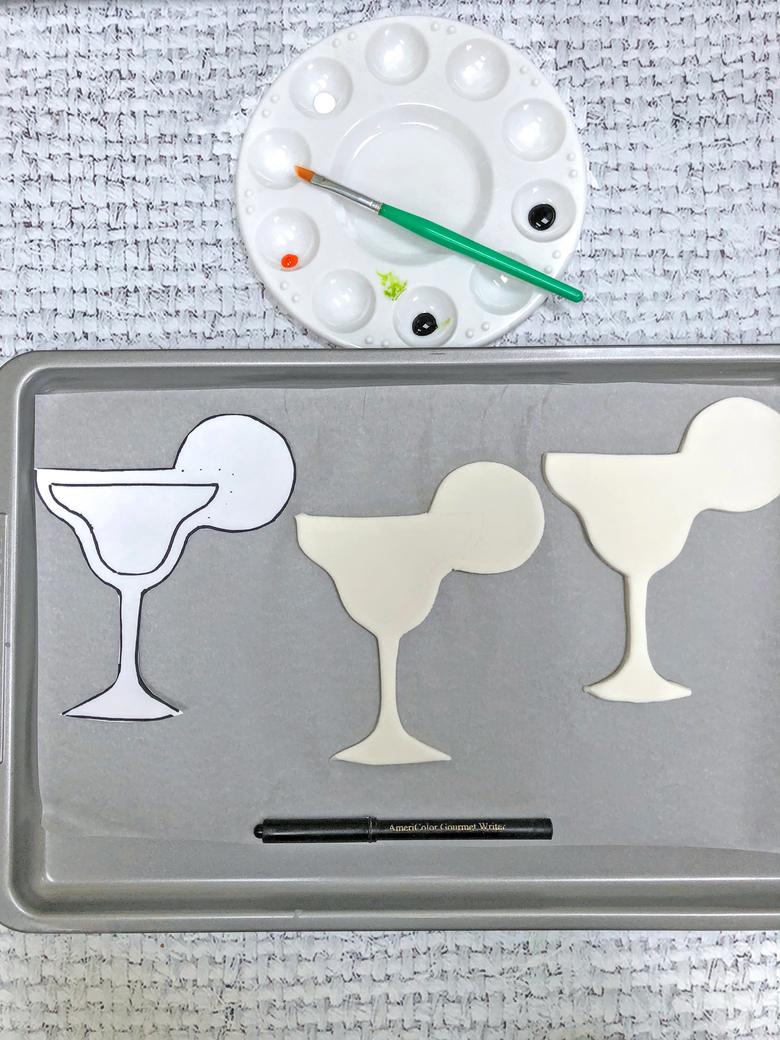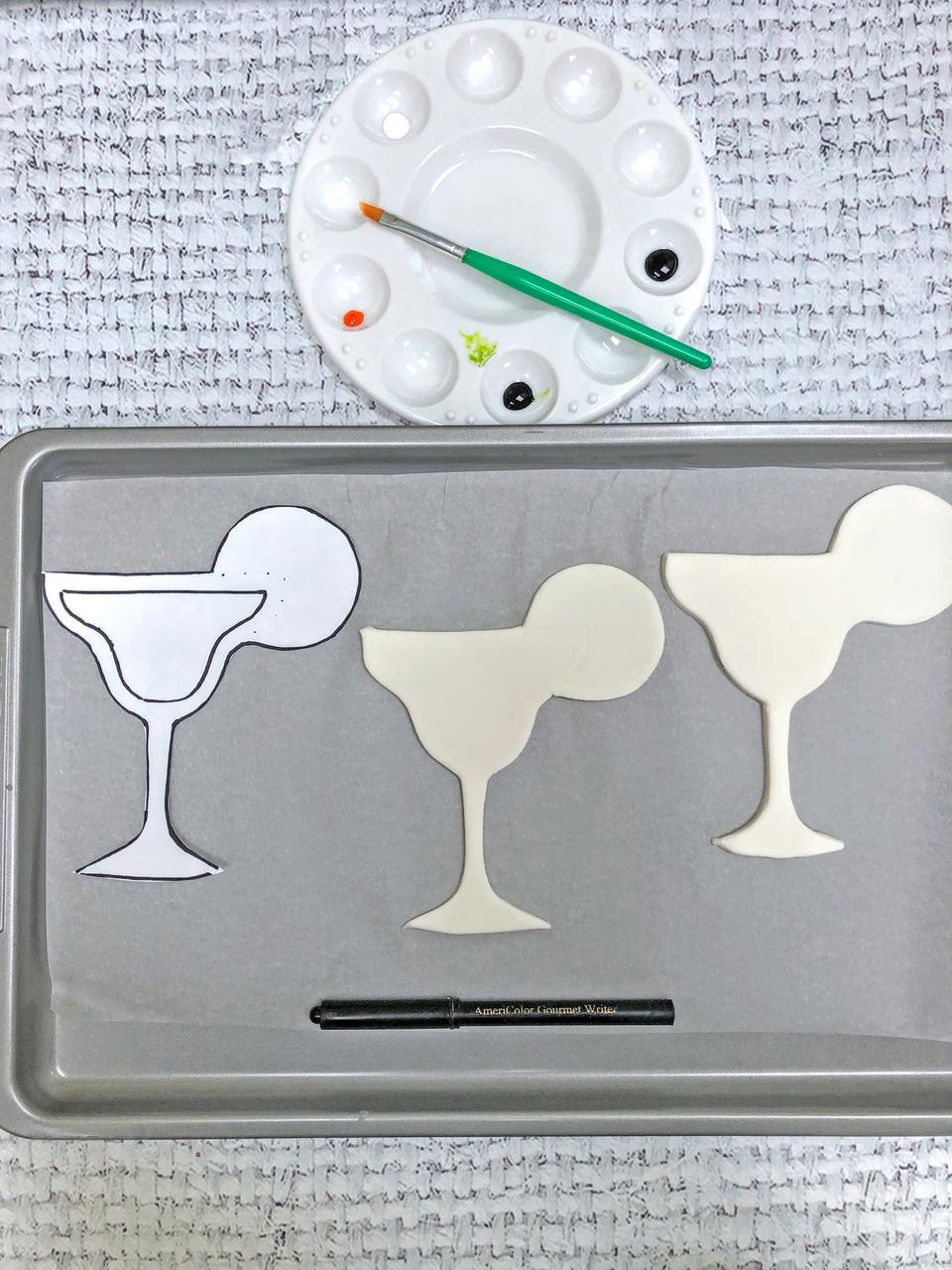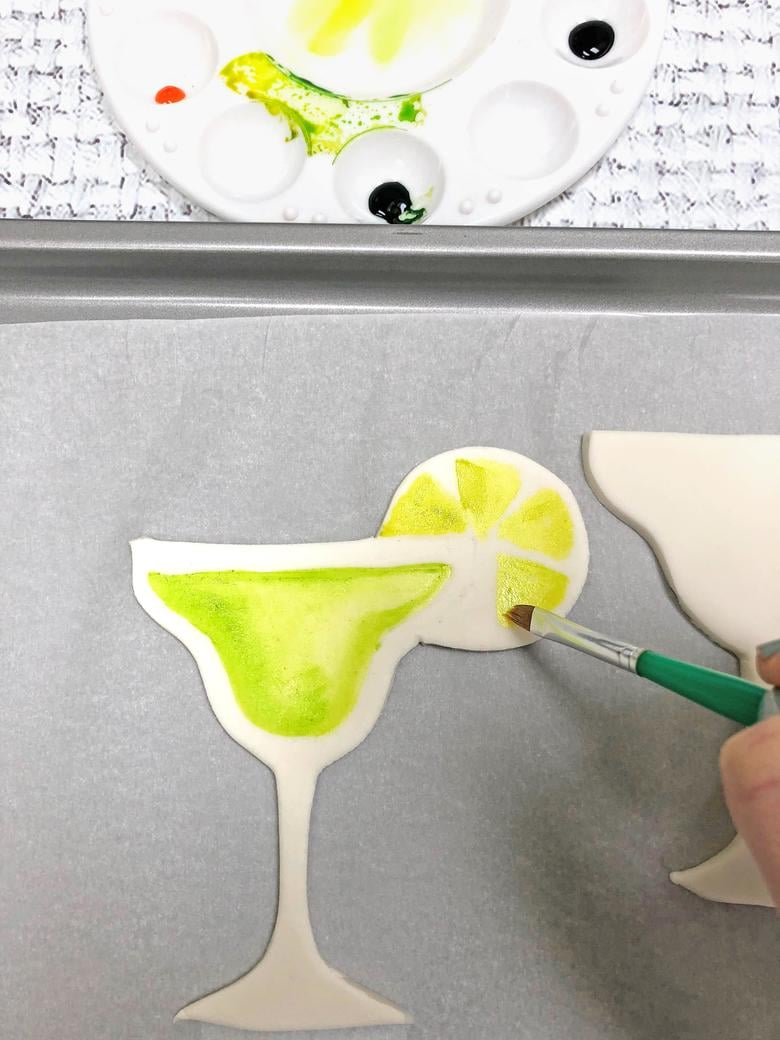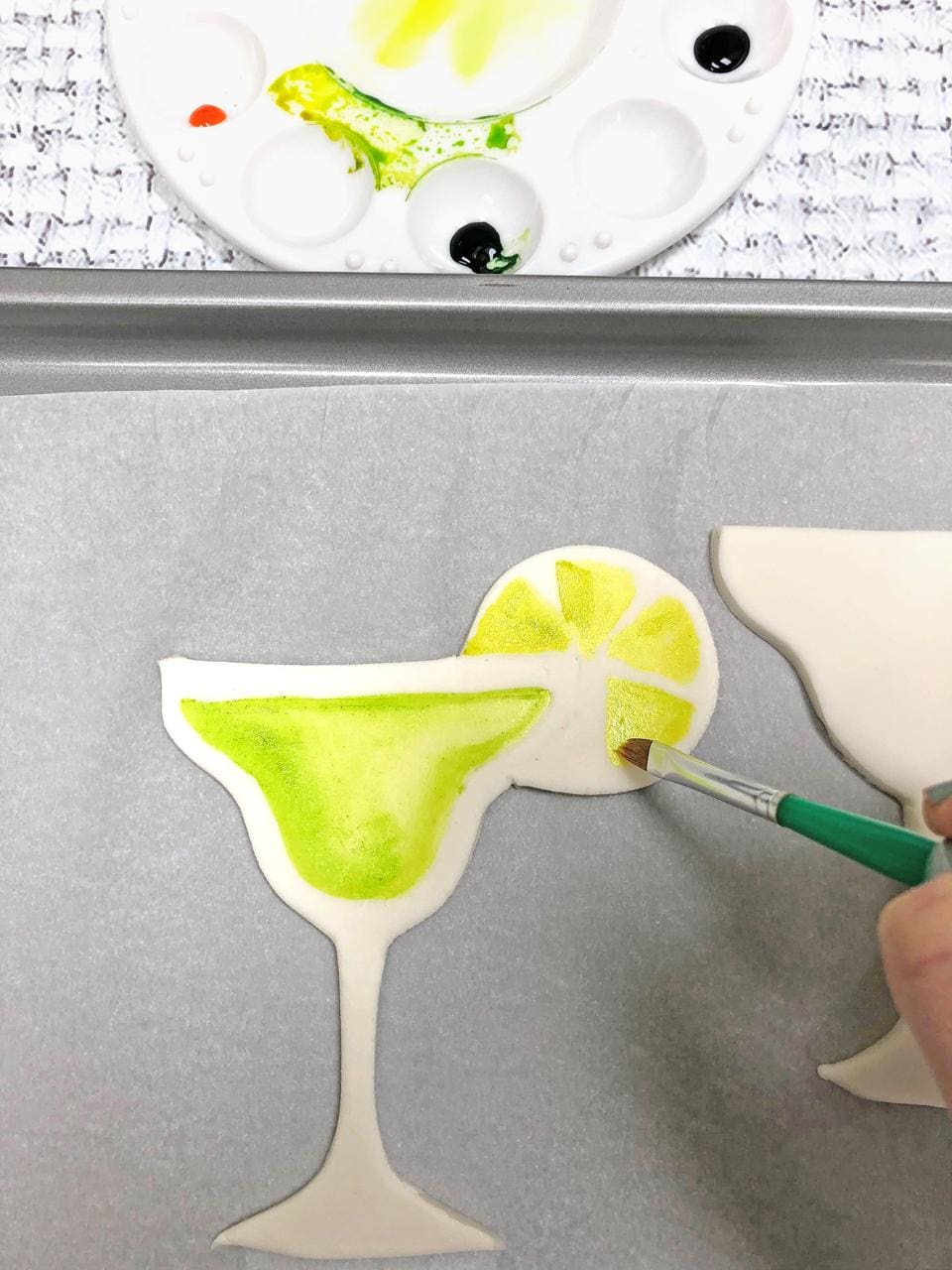 We also added some accents with a black food coloring pen. For best results, wait until the surface of the gum paste is dry to the touch so that you can outline it more easily. The color will show up darker & your lines will be cleaner.
While still damp from the paint, we sprinkled a little clear sanding sugar over the glass.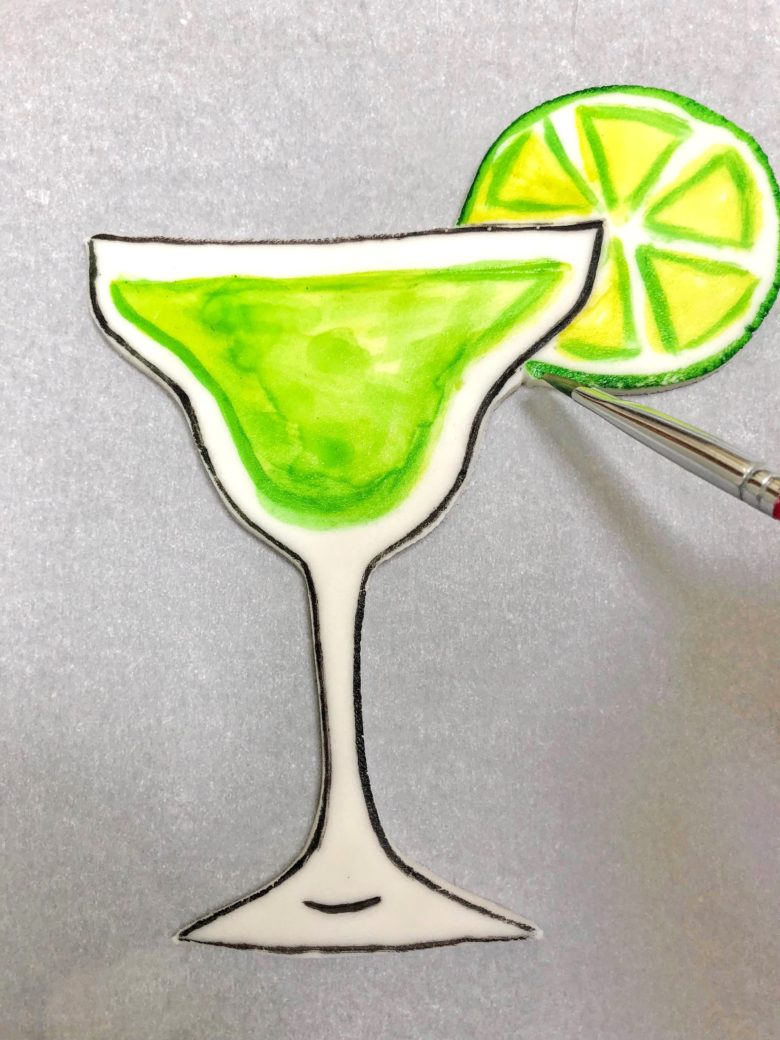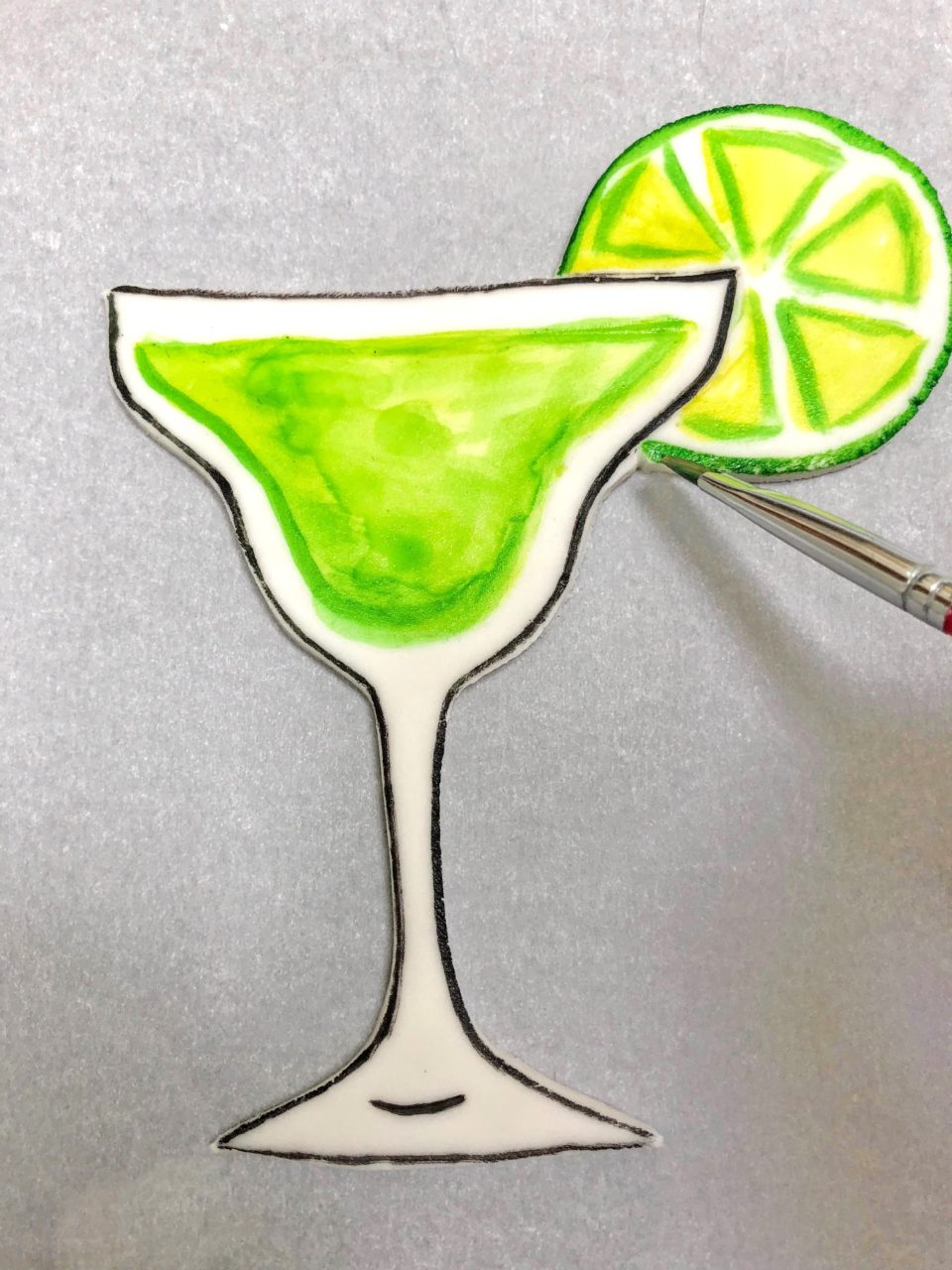 Dry time for Cake Topper
Normally, 24 hours is long enough for my gum paste cake toppers to dry, but we've had a lot of rain lately and the humidity in the air slowed the process.
It was closer to 2 days before the cake topper was ready. (You'll want to plan accordingly just to be on the safe side!)
Once dry, I flipped over the cake topper, placed a lollipop stick anchor in back, and attached it with a lightly dampened strip of gum paste.
Allow the anchor to dry for about 20-30 minutes and then check to see if it's safe to stand upright. (Adjust dry time as needed).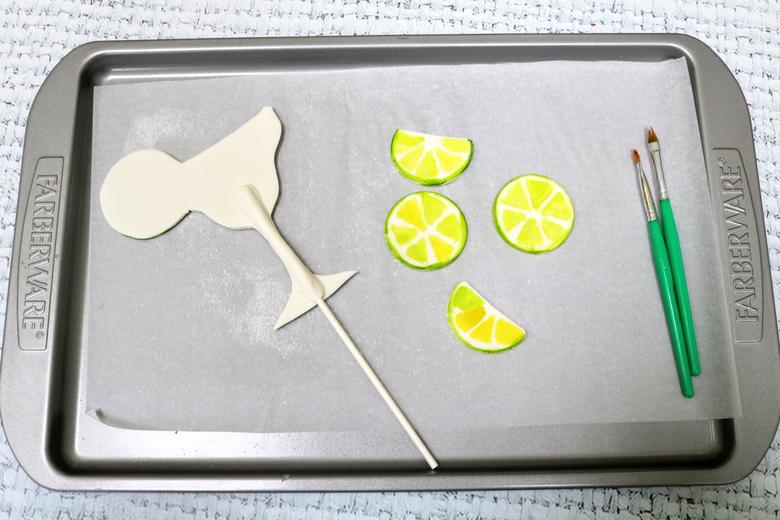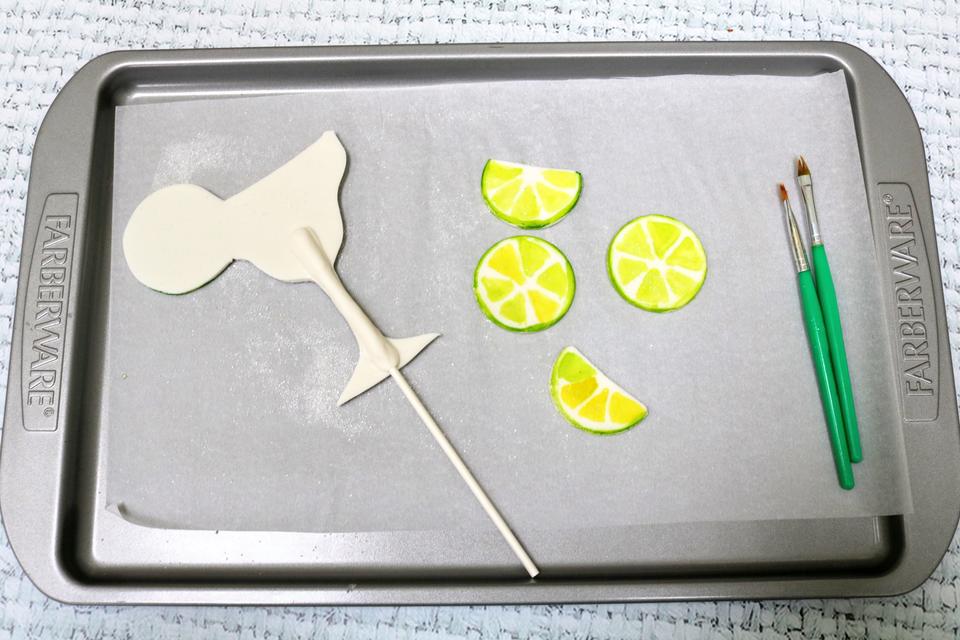 I love the height and colors that this cute cake topper gives to the cake!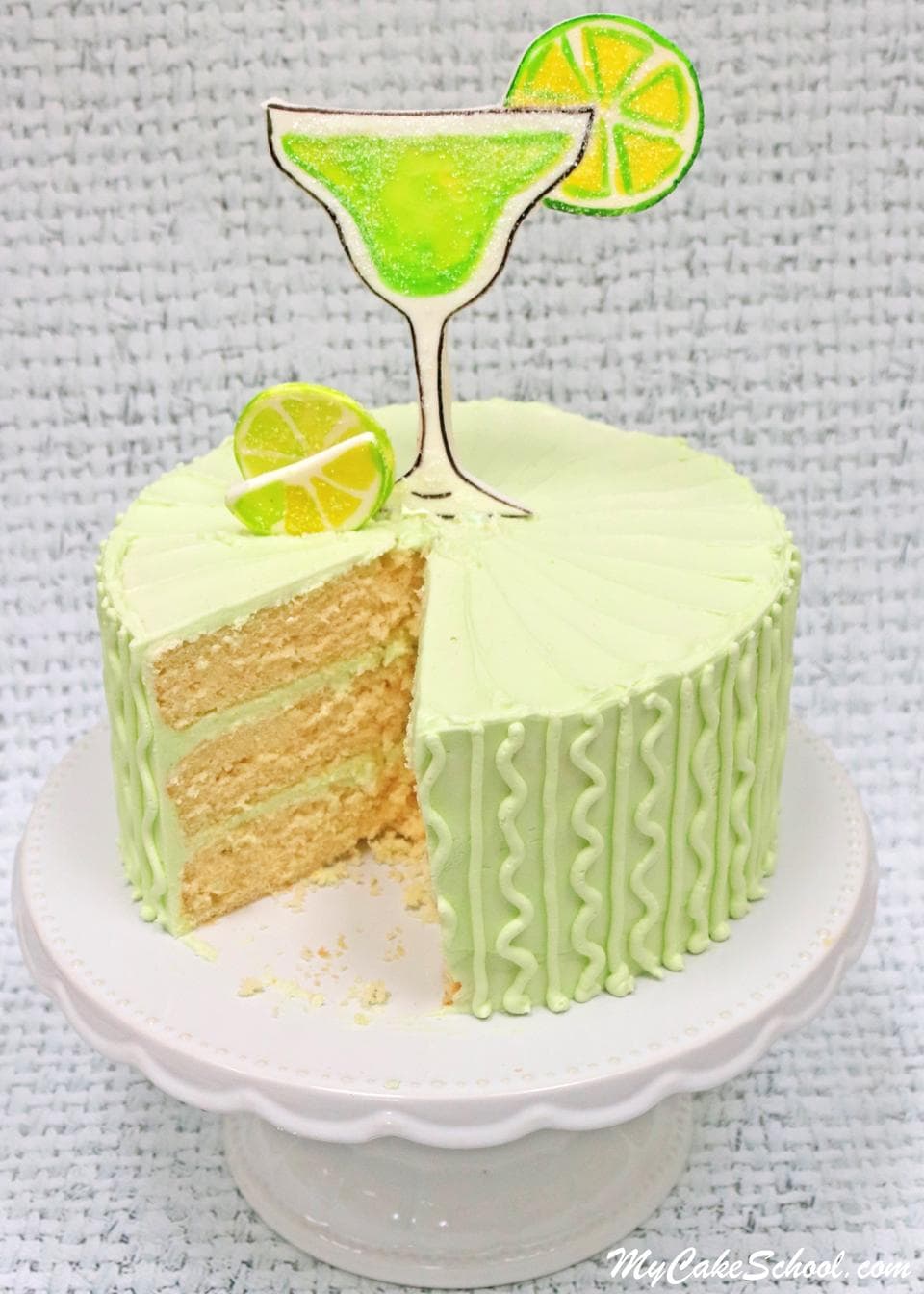 Enjoy the Recipe!
We hope that you enjoy this Margarita Cake recipe as much as we have! The recipe would make for wonderful cupcakes too.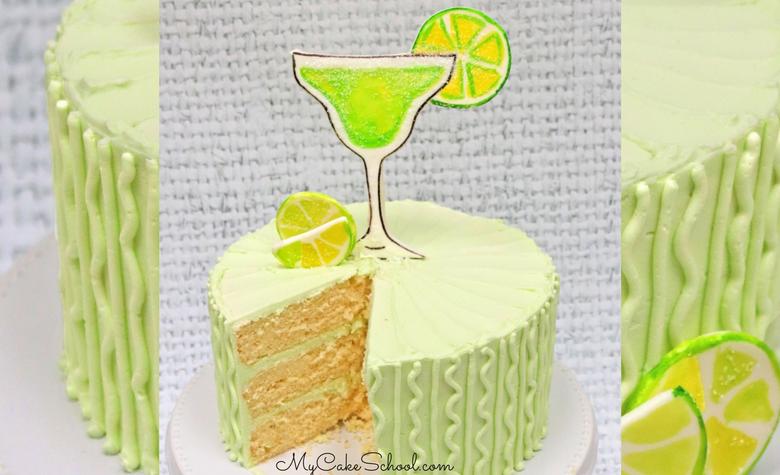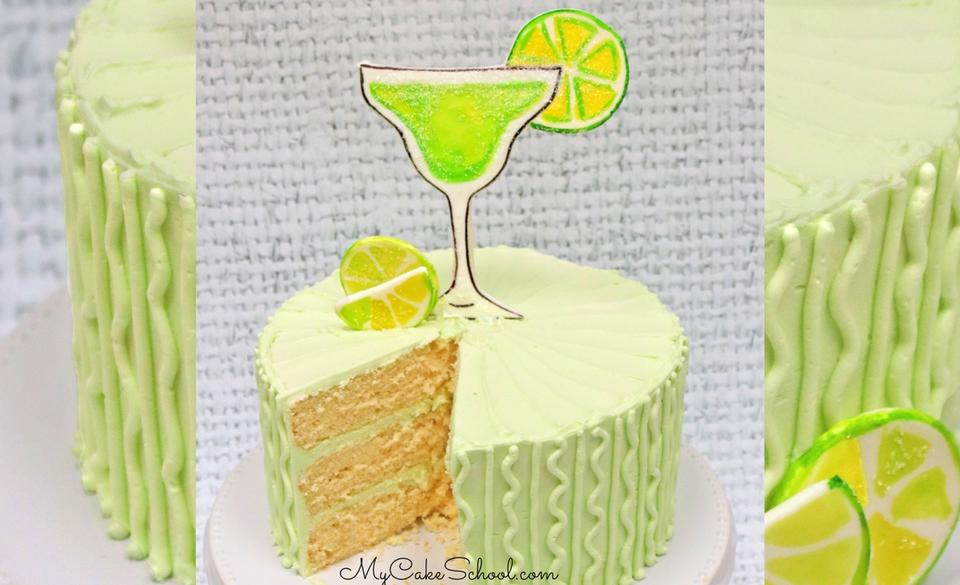 Margarita Cake - A Cake Mix Recipe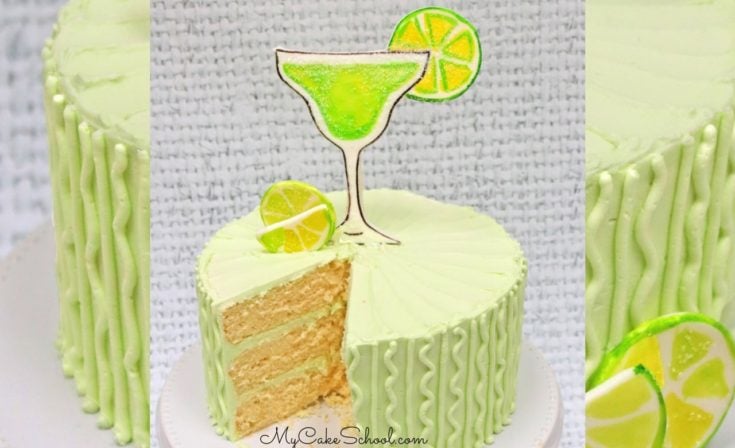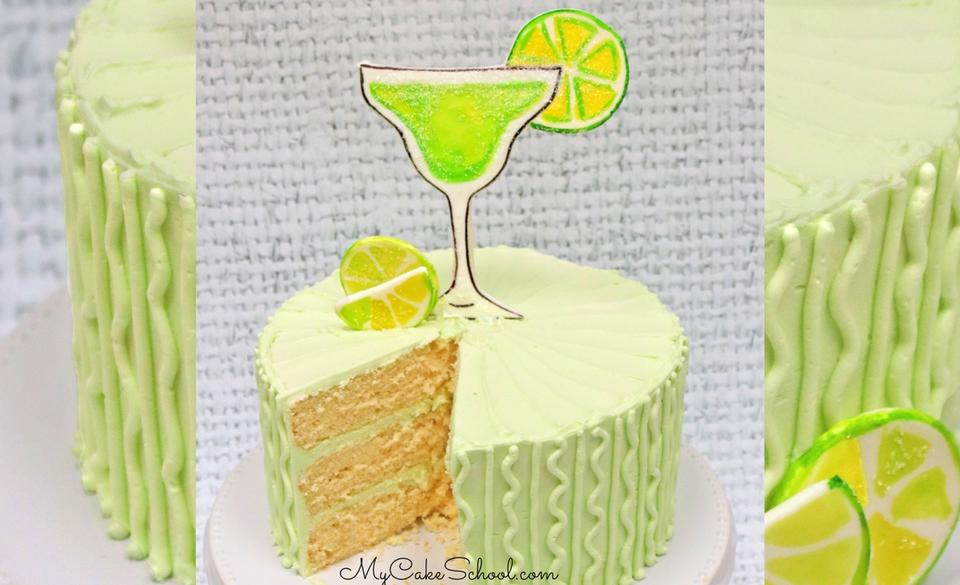 This delicious Margarita Cake starts with a cake mix! You will love the amazing lemon lime flavor with a hint of tequila.
Ingredients
For the Cake
1 Box White Cake Mix (We used Duncan Hines)
1 Cup (121g) All Purpose Flour
1 Cup (200g) Granulated Sugar
Generous Dash of Salt
1 Cup (242g) Sour Cream
¾ c. (177g) Water
¼ c. (59g) Lime Juice
3 Whole Eggs
1 Tablespoon (12g) Lemon Extract
Zest of two Limes
Zest of one Lemon
For the Tequila Lime Buttercream
2 cups (4 sticks) (453g) unsalted butter, softened
10 to 12 cups (1150g to 1380g) powdered sugar (measure by lightly spooning to a cup, then sift. I used 12 cups.)
1 teaspoon (6g) salt
4 Tablespoon (49g) lime juice (2 small limes)
3 Tablespoons (37g) tequila
2 teaspoons (11g) milk - milk is optional, you could also use lime juice or tequila
*Coloring Gel- Optional- Electric Green
Instructions
For the Cake

Preheat the oven to 350 degrees. Grease and flour three 8x2" round pans.
In the bowl of your mixer, combine dry ingredients and whisk at least 30 seconds to blend.
In another bowl, combine sour cream, water, lime juice, eggs, & flavorings.
Add the wet ingredients to the dry ingredients and mix on medium speed for two minutes. Stop and scrape the sides and bottom of the bowl midway through the mixing.
Pour batter into prepared pans and bake at 350 degrees. Check after 35 minutes to see if the middle of the cake springs back when touched, or a toothpick inserted into the middle of the cake should come out clean or with just a few crumbs attached. The sides with slightly pull away from the pan.
For the Tequila Lime Buttercream
Cream the softened butter until smooth. Add the salt and slowly add the powdered sugar until mixed with the butter.
Add the lime juice, tequila and milk. Mix on medium speed for 3 to 6 minutes or until it is a light smooth consistency.
Scrape the bottom and sides of the bowl and mix an additional 3 minutes on slow speed until creamy.