Painting on Buttercream Video~ Field of Tulips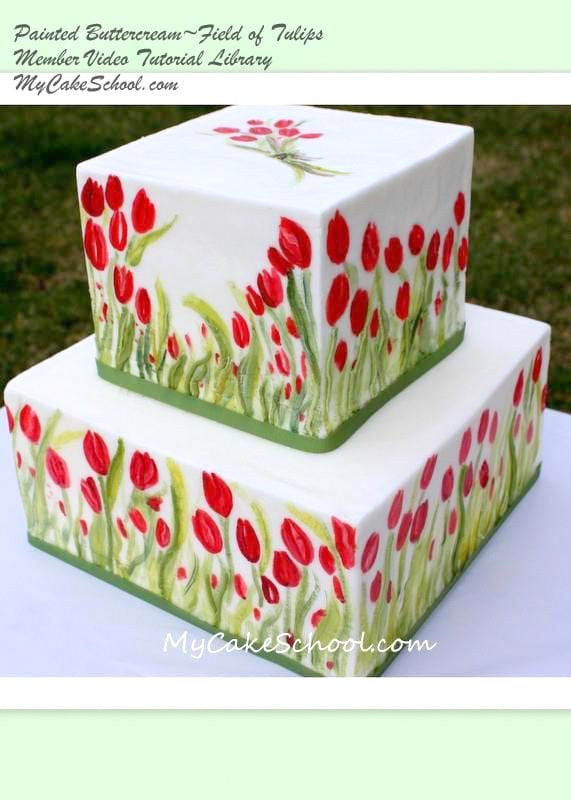 Hi everyone-- Painted cakes are all over the place these days, and I love them! There are endless options when it comes to painting, no matter what your skill level! We recently posted a tutorial on painting on fondant cakes. We used a rose design that is very easy to achieve (though nobody would guess it!) -- However, not all of our members like to use fondant on cakes. So, if you fall into this category, this video is just for you!
I'm going to show you how to paint on buttercream. We tried a couple of options but ended up liking our usual vodka/coloring gel "paint" that we use so often with fondant. You'll need to apply your paint with a light touch, but other than that, there is no big difference between painting on fondant and buttercream. I also experimented with using water rather than lemon extract or vodka to combine with my colors. I was surprised to find that it worked just fine. I expected that it may remain sticky or run, but after several hours, the flowers that I painted with water/coloring gel absorbed just fine. Still, I stuck with my usual vodka/coloring gel for this project since I like that it dries so quickly.
I hope that you enjoy this video and if you've never painted on a cake, I hope you'll be inspired to try! Our tulip design is very simple. If you can paint ovals, you're halfway there ;0) -- Let us know if you have any questions-- and make sure to look beneath the video for additional notes! ;0)

Materials
In this video, I am painting on 9 inch and 6" tiers. The 6 inch cake is the cake from our "How to frost a Square Cake with Buttercream" video! The tiers are each resting on their own foam core cake board and there are bubble tea straws beneath the 6" tier for support. The tiers are frosted with our high ratio buttercream, but any crusting buttercream would be just fine. I haven't experimented with painting on frozen (non-crusting) buttercream, but would worry that condensation would be a factor. Let us know if you have success with this option!
Americolor Coloring Gel (or your favorite brand)- Super Red, Bright White, Avocado Green, & Lemon Yellow
Vodka (I prefer vodka over lemon extract, but lemon extract is a popular option) -
Palette or plate for mixing your colors
Paint Brushes that you reserve just for cakes- I'm using Wilton Brushes which came in a set. I used "000" for my tulips, and "3" became my favorite for leaves and grasses.
Ribbon- I used green ribbon coated with a little bit of vegetable shortening to wrap around my tiers for borders. You can use little dots of icing or piping gel to help secure the ribbon to the cake.
Piping Tip 3 or 4- I used piping tips to pipe green buttercream here and there among the leaves & grass for extra dimension.
Notes
I hope that you enjoy experimenting with this design! You'll want to experiment first on a plate as you decide on the design you'd like to go with. Also, as I mention in the video, it's a really good idea to frost a paper plate, allow to crust, and experiment with painting on the buttercream recipe that you plan to use. This will give you a better idea of how the icing will accept the paint, and is the next best thing to painting on the actual cake. This will also give you a chance to experiment with chilling your cake to make sure that no problems will come from potential condensation, etc. * We had no problems with bleeding or condensation, even two days later. However, we have members from all over--different climates or even different refrigerators may react differently. So a trial run is always recommended!
Have fun painting-- I can't wait to see your creations! ;0)