Today I'm going to show you how to create a CUTE and simple Watermelon Fault Line Cake in buttercream!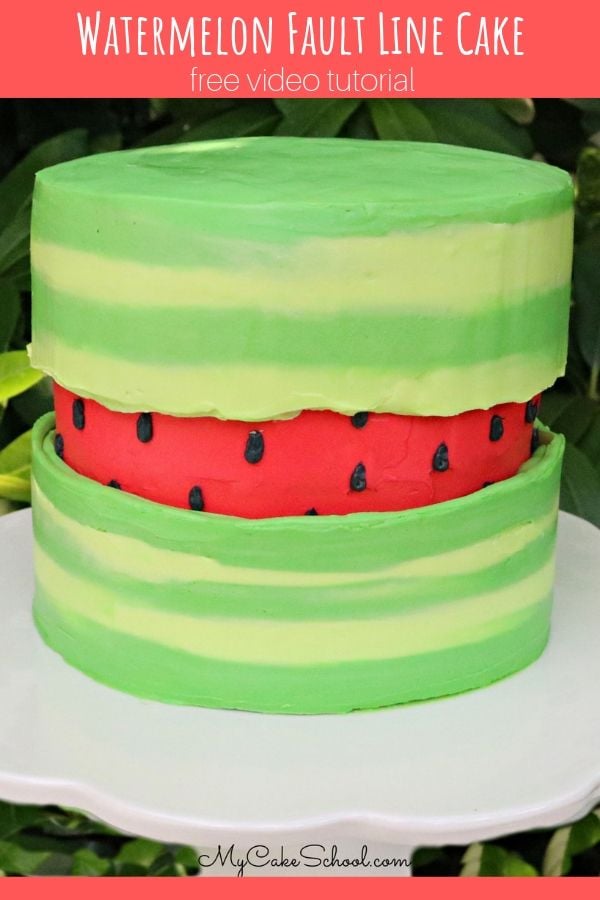 I love the new fault line cake trend because there are so many fun & unique design possibilities! We recently created a Sprinkle Fault Line Cake tutorial for our members, and now, we're happy to bring you another fun design with today's watermelon version!
How to make a fault line cake
Fault Line Cakes are so interesting and unique, and easier than you think to create! We love this new cake trend!
The basic idea for fault line cakes is to first crumb coat your cake, adding a thin layer of colors or sprinkles, etc. (often around the center of the cake but not always) wherever your "fault line" will be.
I first saw this fault line cake idea on Instagram- @cakedesignbysheri- And ever since, fault line cakes have been popping up all over (in so many fun variations). I think this trend is going to be here for a while!
Next, build out the frosting around the fault line with a thick layer of frosting. This really brings this unique design together, giving it wonderful dimension. I find it easiest to pipe on the buttercream using a disposable piping bag with the tip snipped away. Then smooth with a bench scraper.
I love the look! We hope you'll give our watermelon cake a try. It would be perfect for summer gatherings!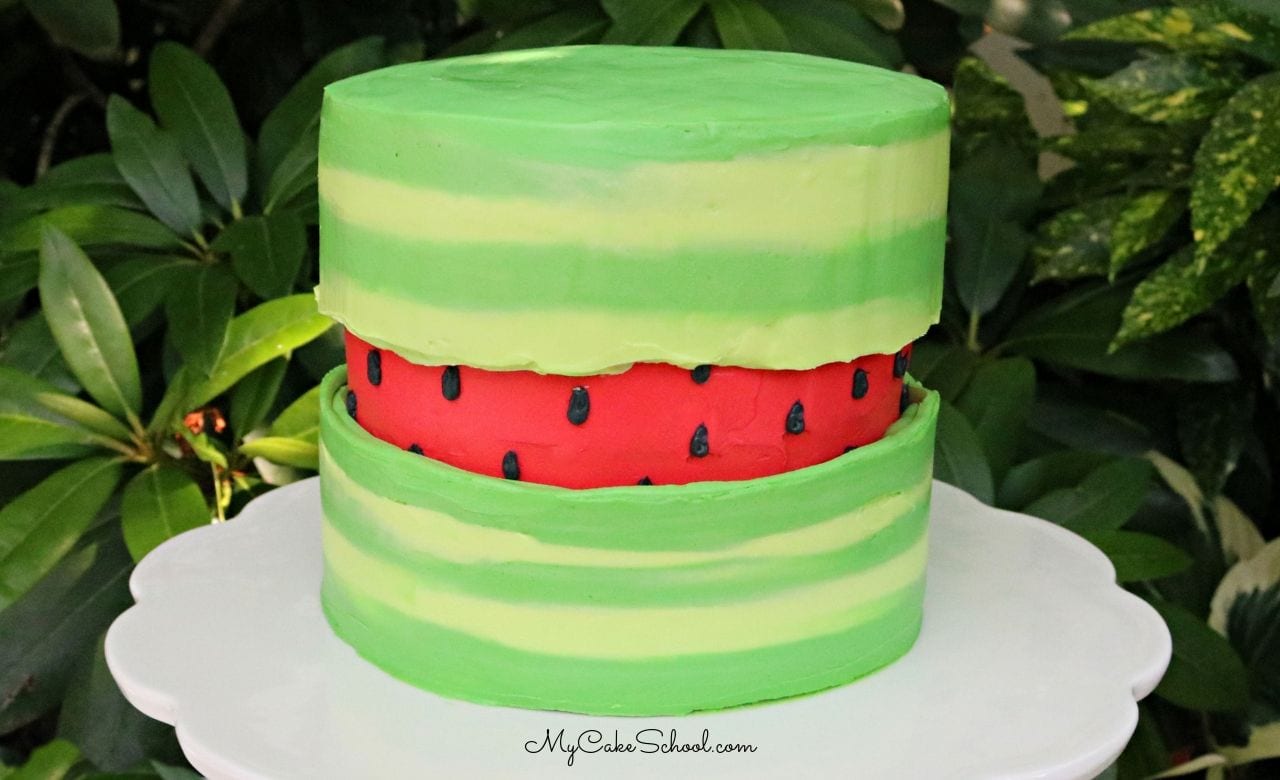 More Summer Cake Design Ideas
This watermelon cake is great for summer! We've made many summer-themed cakes over the years. Don't miss our roundup of Favorite Summer Cake Designs! Here are just a few of them...
...and so many. more!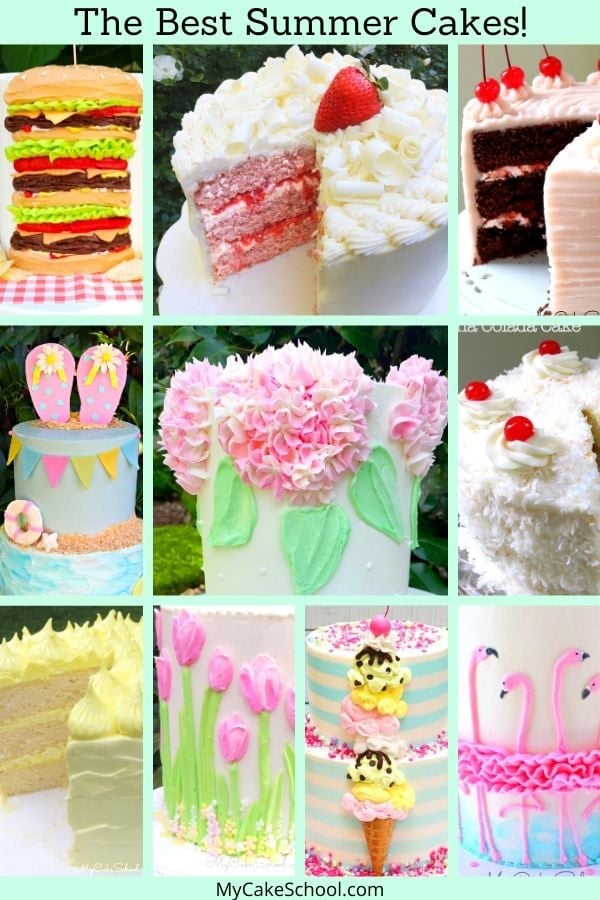 Favorite Summertime Cake Recipes
We also have a collection of our favorite cake recipes for summer! Whether you're looking for lemon cakes, strawberry cakes, cocktail-inspired cakes like Piña Colada Cake or Margarita Cake, we have so many fun and fruity cake flavors to share. Hop on over to see: The Best Summer Cake Recipes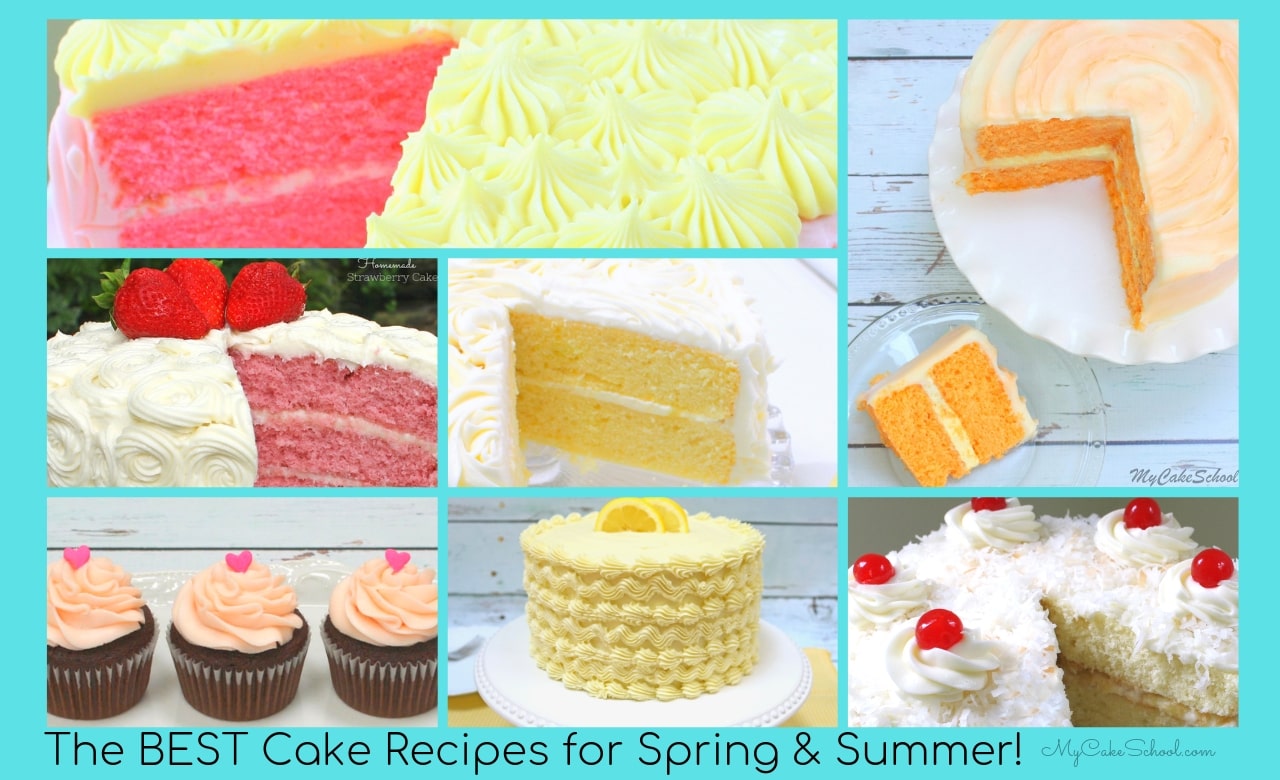 nbsp;
Watermelon Fault Line Cake- Free Cake Decorating Video Tutorial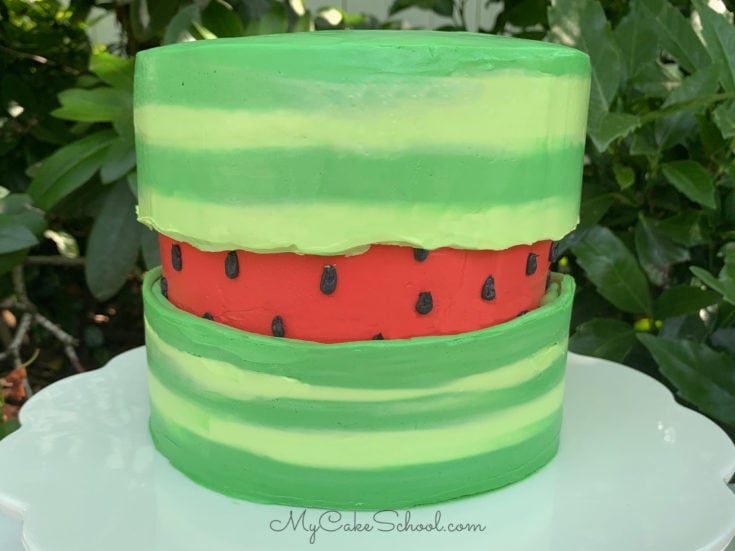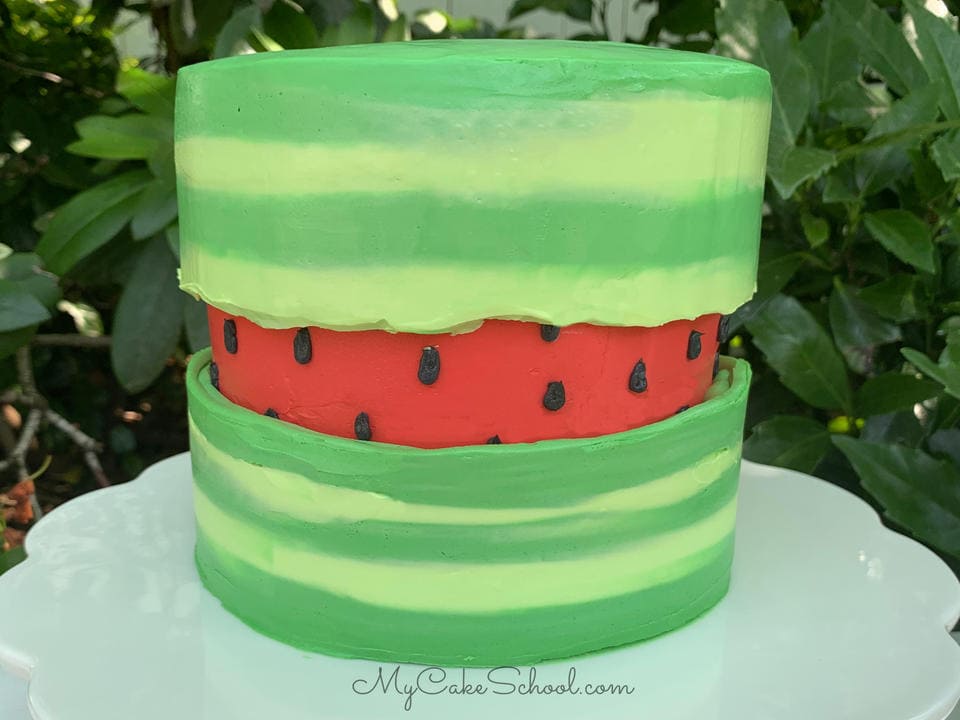 Learn how to make a CUTE and trendy fault line cake with a watermelon theme in this free cake decorating video tutorial! Perfect for summer entertaining!
Materials
*We are decorating a double barrel cake in this video-- four 6-inch cake layers with supports in the bottom half, and a small cake cardboard halfway up.
Buttercream Frosting: We used our Fluffy Vanilla Buttercream. Our Classic Vanilla Buttercream is a good choice also. (A frosting that contains butter is my preference for fault line cakes).
Coloring Gels: I used Wilton Leaf Green mixed with a little Avocado Green for the dark green shade. I used Americolor Electric Green for the light green. (Use whatever shades of light and dark green you like.) . I used Americolor Red Red and Americolor Super Black also.
Bench Scraper and/or small offset spatula
Turntable- Optional, but helpful
Disposable Piping Bags
Instructions
After filling and assembling your cake, apply a thin crumb coat. Then, apply a thin red layer of frosting around the middle of the cake. Chill for about 15 minutes to firm up.
Load your dark green and light green shades of buttercream to piping bags and snip the ends away.
Apply alternating stripes of dark and light green on either side of the red frosting. I applied my stripes two layers deep so that it was thick.
Smooth over the green striped frosting with a bench scraper. Chill for about 15 minutes or just until frosting is firm. Then go over again with a hot spatula or bench scraper, filling in any low points with more frosting. Frost the top of the cake green.
Pipe on the seeds with a small round tip (tip 3 or 4)
Notes
You'll notice in the video that I chill my cake whenever I want to firm up the frosting. Firming up the frosting makes imperfections easier to correct, and whenever I use a hot spatula for smoothing, I like to apply it to chilled frosting. I also chill my cake in the freezer for about 15 minutes (or until firm) before moving it to the cake pedestal.
Recommended Products
As an Amazon Associate and member of other affiliate programs, I earn from qualifying purchases.
Learn Cake Decorating with My Cake School!
Thanks for stopping by! If you make this watermelon fault line cake (or any fault line cake) we would love for you to leave a photo or comment below.
Don't miss our full collection of Free Cake Decorating Videos! We have all sorts of fun cake projects to share. We also have lots of free step by step blog tutorials in our Free Tutorials Section.
If you're interested in learning even more about cake decorating, you should consider becoming a member of our site! Our members have access to hundreds of cake decorating video tutorials that we've made over the past 10+ years!! You can find all of the joining details here: Joining Information for My Cake School!