This sweet Flamingo Cake is perfect for Valentine's Day and anniversaries. We just love flamingo themes, and have created several over the years!
With Valentine's Day just around the corner, we thought that it would be fun to make a love-themed flamingo cake, with our flamingos creating the shape of a heart.
This was such a fun cake to make, and I love how it came out! Keep this flamingo cake in mind for anniversaries as well. We hope that you enjoy this sweet and simple tutorial!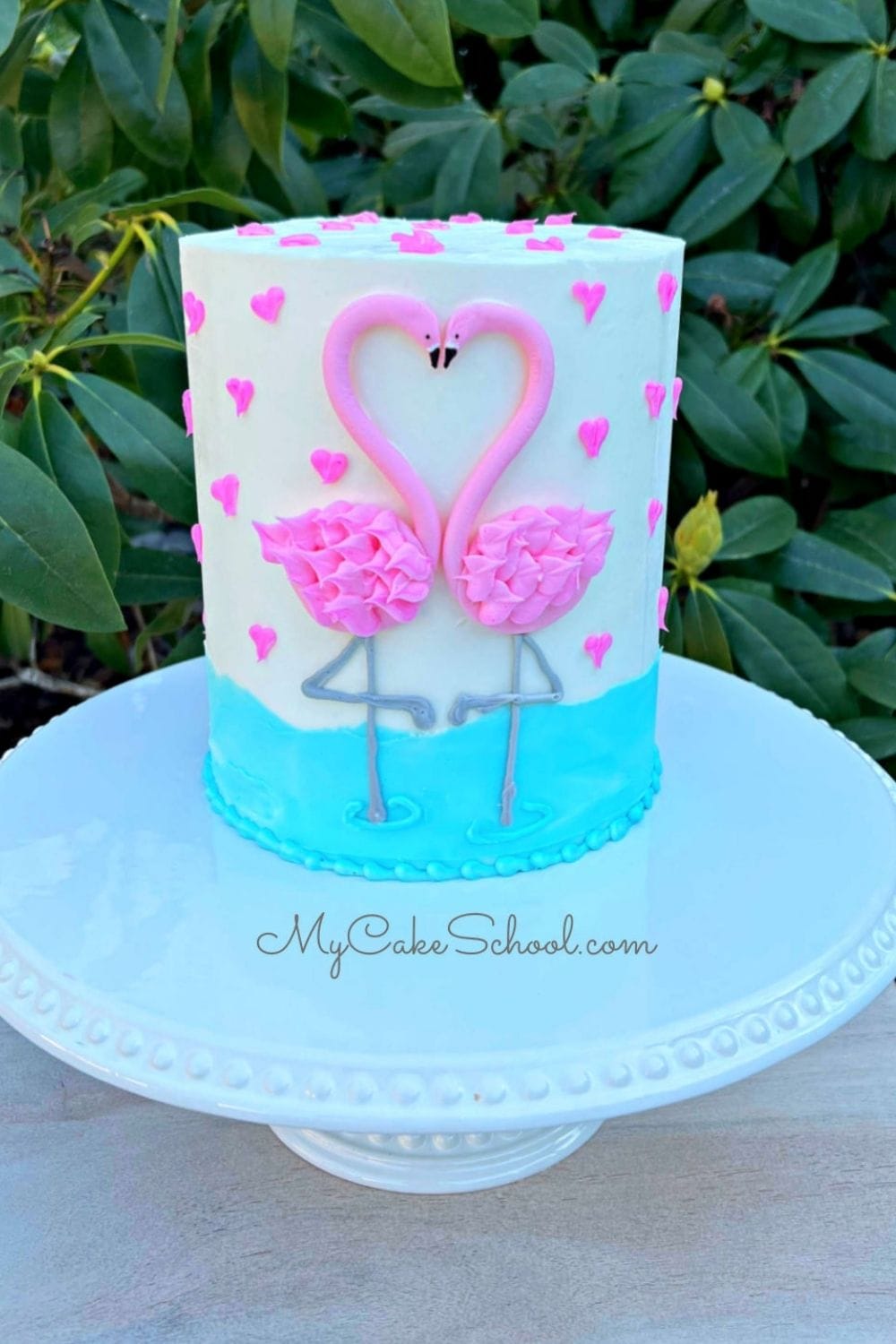 Materials
For today's cake, I decorated a double barrel 6 inch cake. This was four stacked 6 inch cake layers with a cardboard cake circle halfway up and 5 bubble tea straw supports beneath. This design idea would be great for any size cake tier or sheet cake!
Fondant for the flamingoes- I kneaded a bit of tylose powder into mine so that it would set up more quickly but that is optional.
Food coloring pen- I used a black food writer pen for the eyes and beaks
Coloring gels; Wilton Rose (or your favorite color of pink), White, Black (for the grey buttercream legs), Americolor Sky Blue
Piping Tips: 352 tip for feathers, 3 tip (or similar size) for legs and bead border
Extruder (optional)- If you don't have an extruder, you can just roll your fondant by hand.
Buttercream- I used our Classic Vanilla Buttercream but our Fluffy Vanilla Buttercream is a good choice also
Miscellaneous: Disposable piping bags, turntable (optional), bench scraper or offset spatula, cake pedestal or cake plate/board, cake cardboard(s) – I used two- one beneath the cake cut to the size of the cake and one halfway up with bubble tea straw supports beneath (double barrel cake).
Enjoy the Video!
We hope that you enjoy the video! Let us know if you have any questions, and if you give this cake a try, we would love for you to leave a photo below!!
Additional Notes
Adjust the size of your flamingos to what makes sense for your cake. I made two extruded pieces of pink fondant that measured a little over 4 inches before curving to make the head as well as the shape of the heart. The flattened round pieces used for the body/feathers of the flamingo measured just under 2 inches horizontally in length and about 1.5 inches at the widest part.
You can make the flamingos hours or even days in advance (as long as they are out of direct sunlight or florescent light which can fade the pink). Go ahead and shape them so that they form the heart shape with their necks before drying. If you are short on time, the flamingos can applied to the cake when still a bit soft! Mine had probably set up for about an hour or so before I applied to the cake.
When frosting my cakes, I first apply a crumb coat (thin coat) of frosting and chill in the freezer for about 15 minutes before applying the second coat. I like to smooth over my chilled frosting with a hot metal bench scraper (heated by running under hot water). I chilled my tier once again for 10-15 minutes before adding the slightly raised layer of blue around the base.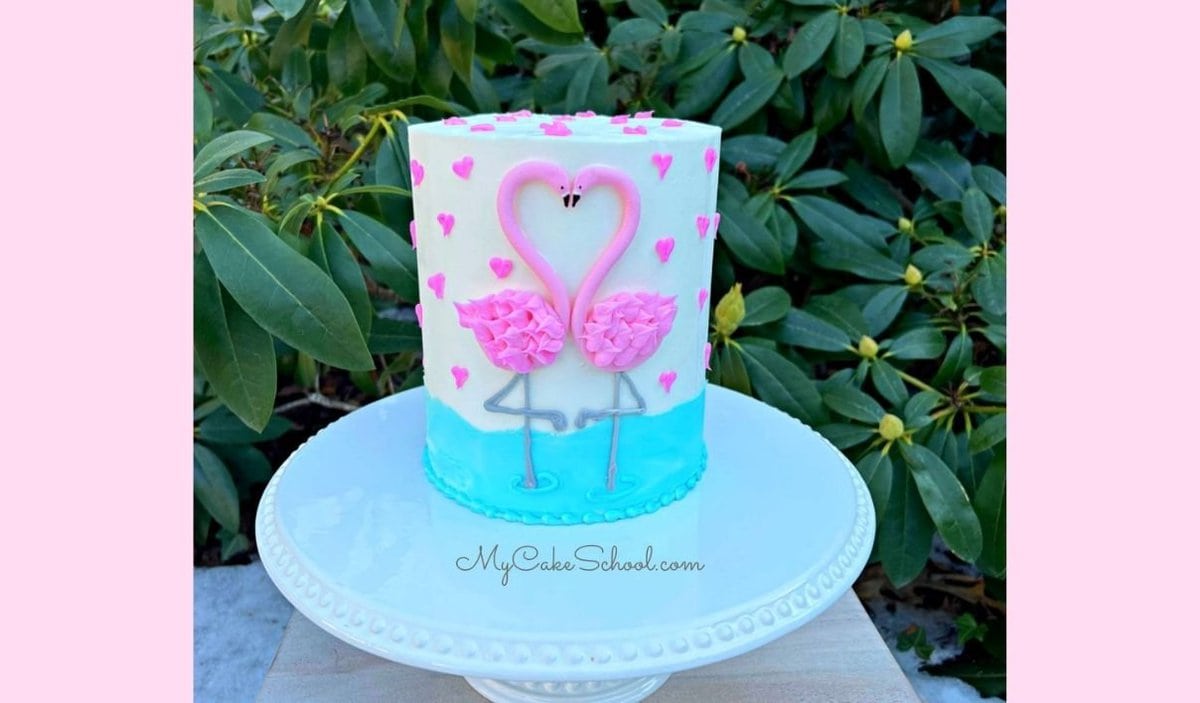 More Flamingo Cakes!
If you love flamingo cakes, don't miss these other favorites from our member section!
*Also, here is an elegant swan version of this cake for you that is great for engagement parties, bridal showers, and more!