Elegant Vintage Buttercream Piping- A Cake Video Tutorial
In today's free cake video tutorial on elegant vintage buttercream piping, I'm going to demonstrate a beautiful design that can be easily achieved with just a few simple piping tips!
This buttercream cake design would be perfect for all sorts of special occasions from birthdays to bridal showers, weddings, and more!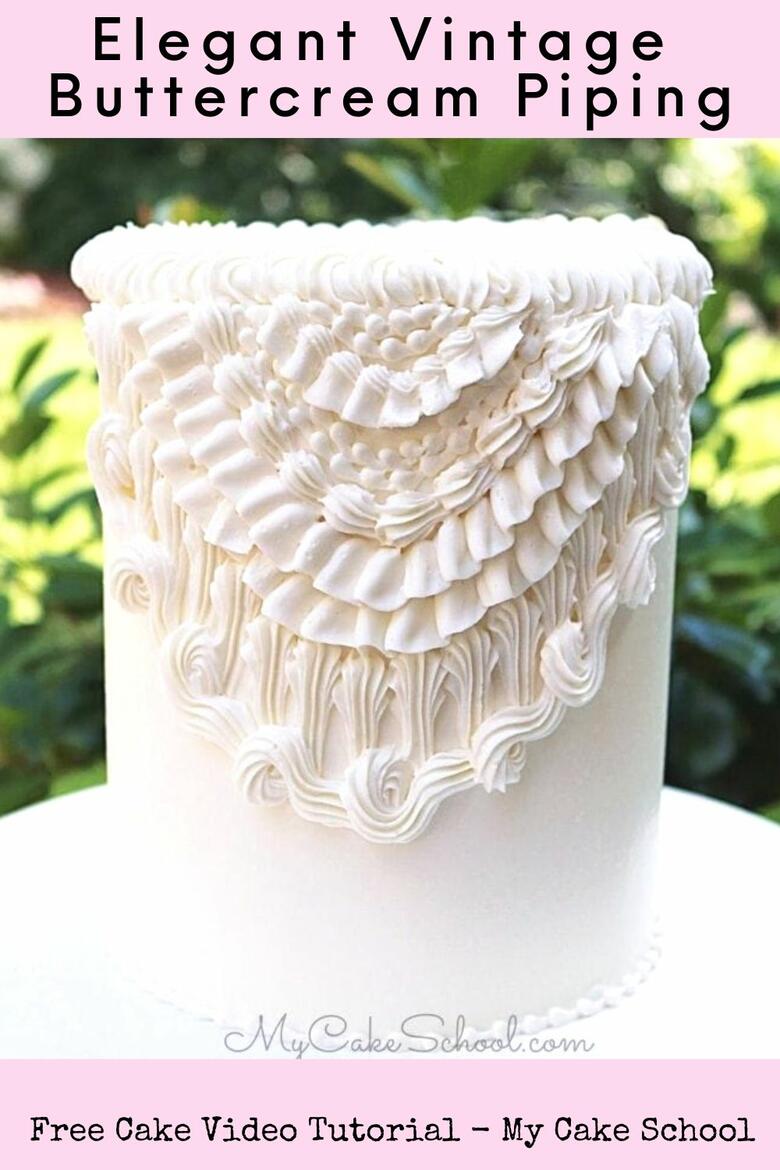 Elegant Vintage Piping
"Old school" or vintage buttercream piping styles are making a comeback for cakes and cupcakes and we are so happy about it! There's just something so beautiful about buttercream piping- and for me, the repetition is relaxing- I could pipe buttercream designs all day long ;0) -
In today's tutorial, I quickly review and demonstrate a few great go-to borders that you may be familiar with already, and then I'll show you how I used these techniques to create an impressive (yet surprisingly simple) vintage design.
Experiment with grouping different piping patterns together
When preparing for this cake tutorial, I practiced a few different combinations of piping techniques and decided on this particular pattern, however the options are endless! Practice and experiment with the looks and piping combinations that you love most- have fun with it!
Thanks so much for stopping by today. I'm sure that we will be creating additional vintage buttercream styles in the future- we would love to see yours as well!
Additional Buttercream Piping Tutorials:
We've made many buttercream piping tutorials over the years! The techniques featured in today's tutorial are from very basic piping techniques with star tips, ruffle tips, and bead borders.
For more details on piping with star tips, check out this tutorial! You can also find additional details on Round Piping Tip techniques as well as Ruffle & Petal Piping Tip Techniques in our free tutorials!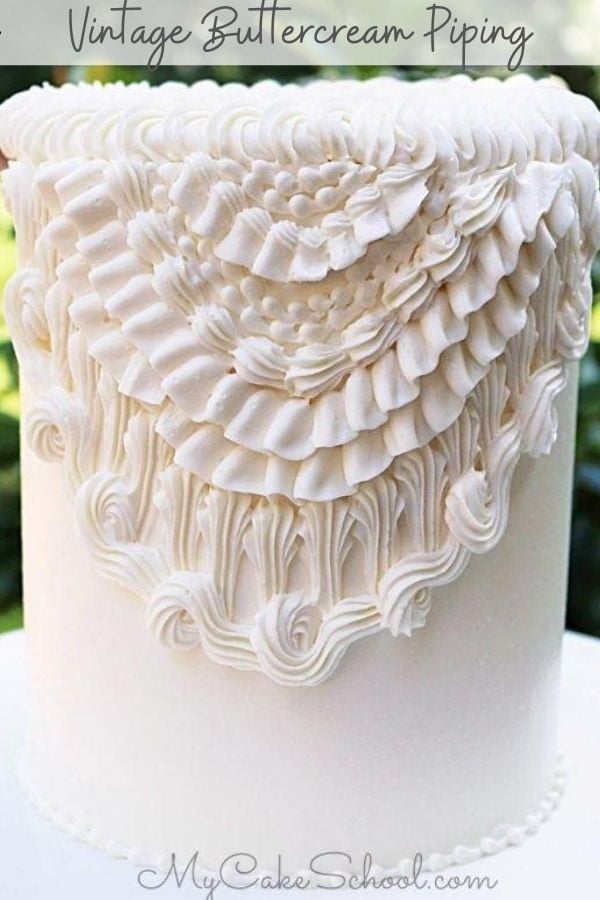 Materials For Elegant Buttercream Piping:
For this beautiful buttercream cake, we used a double barrel (tall) cake design with four 6 inch cake layers. As with any double barrel cake, there is a cake cardboard halfway up with supports beneath (we used 4 bubble tea straw supports beneath the center board).
Buttercream- We used our Fluffy Vanilla Buttercream Frosting Recipe by the Classic Vanilla Buttercream Recipe is a great option also- substitute any favorite frosting that holds it's shape.
Piping Tips: We used a Star Tip 21, Round Tip 3, Petal Tip 104, and tip 86
Cake base/pedestal of choice.
Miscellaneous: We used a turntable, small offset spatula, and straight edge/bench scraper for frosting and smoothing the cake. Disposable piping bags, coupler (for easily swapping one tip for another without changing piping bags)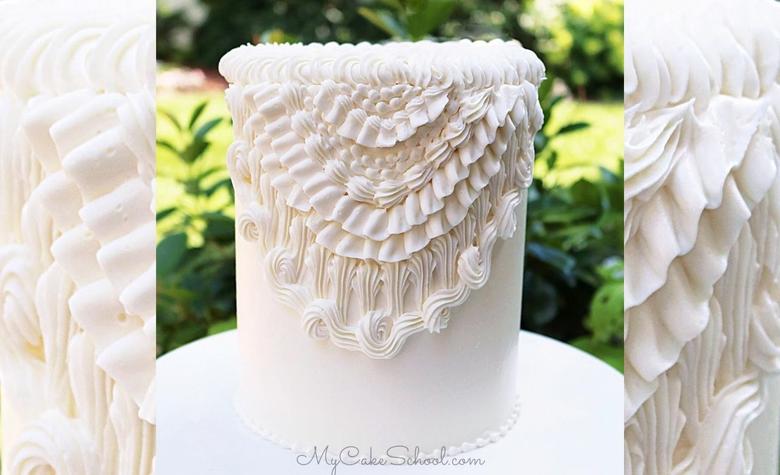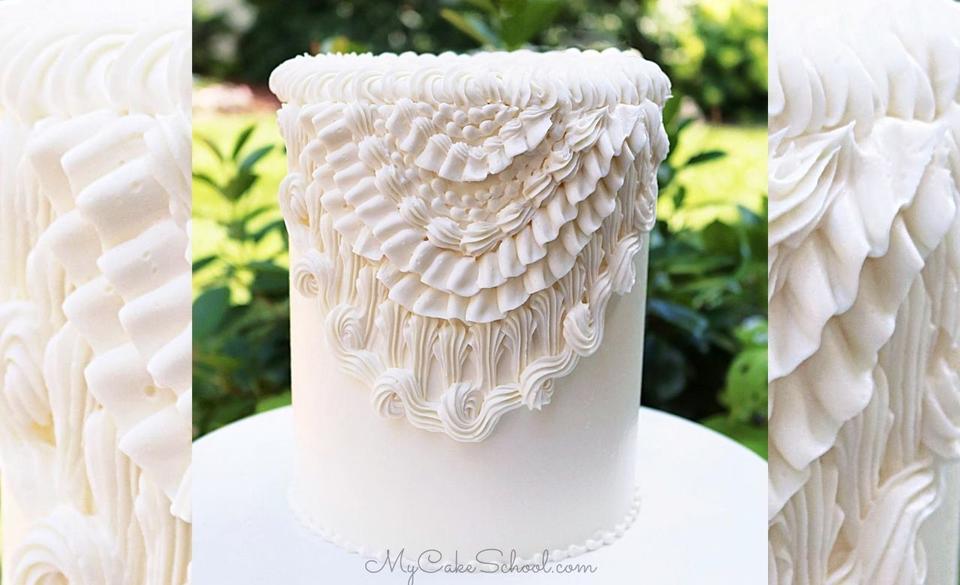 Enjoy the video!
We hope that you enjoy this video tutorial on elegant vintage buttercream piping! Have fun experimenting with different combinations of piping- it is so much fun and the design options are endless!
MORE BUTTERCREAM PIPING TECHNIQUES
If you love buttercream piping, don't miss these other tutorials for buttercream piping and buttercream texturing techniques! These are all free tutorials! If you try any of these techniques, we would love for you to leave a comment and photo below!
Buttercream Ruffles & Shells- Free Cake Video
Cascading Rosettes of Buttercream- Free Cake Video
Striped Buttercream Panels- Free Cake Video
Buttercream Wave Cake- Free Cake Video
Ridged Buttercream Technique- Free Cake Video