This easy White Almond Sour Cream Cake (Doctored Cake Mix Recipe) is delicious, dense enough to hold up to fondant, versatile enough for cupcakes, and sturdy enough to handle light carving.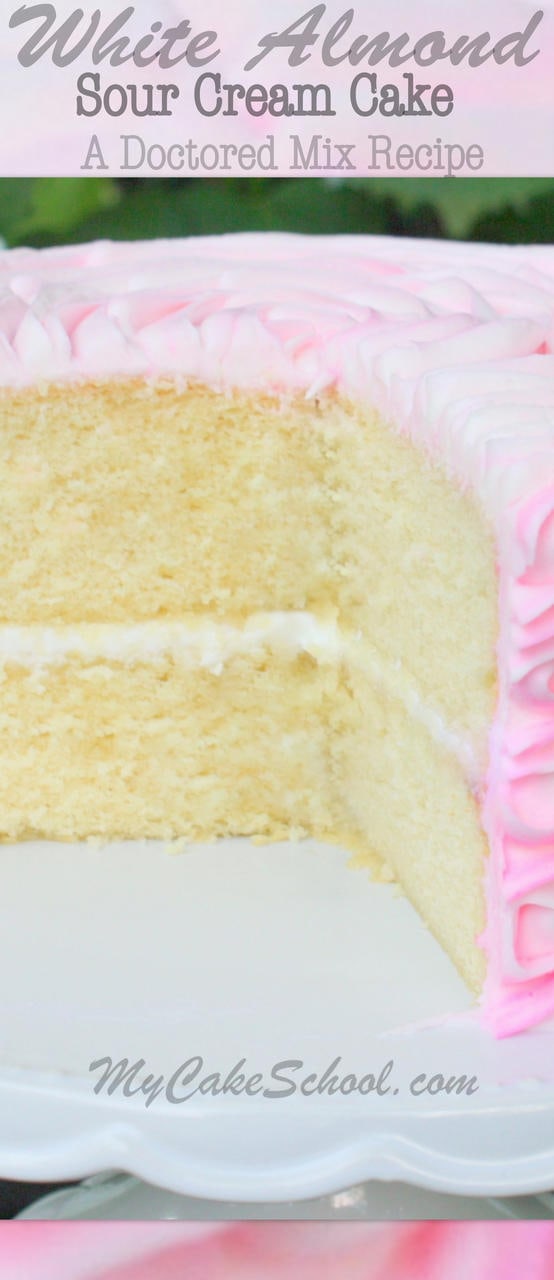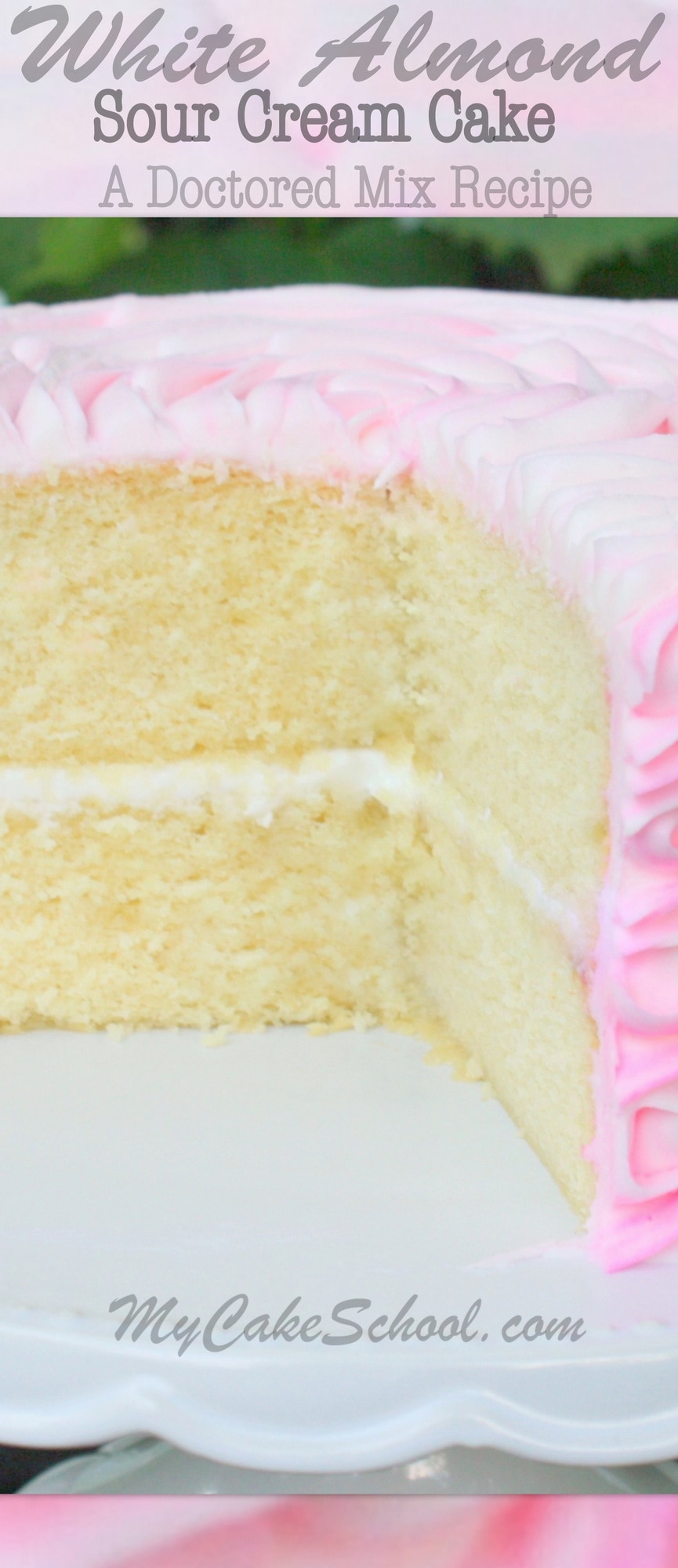 Doctored Cake Mixes vs. Scratch
Some bakers want to work exclusively with scratch recipes, while others prefer to only work with doctored cake mixes. Some people have STRONG feelings about which team they're on, haha.
If you ever want to spark a heated discussion, hop over to a cake website's message boards and ask which is better- mix or scratch. (Don't do it!)
For me, I have recipes that I LOVE that fall into both categories. Whether it is a scratch cake recipe or doctored doesn't matter so much to me as how the cake tastes!
Plus, with doctored cake mixes like this one, the cake mix is just the base–the secret is the ingredients and extracts that you add to make it your own.
This White Almond Sour Cream Cake is a great example of a tried and true doctored cake mix recipe that would please any crowd!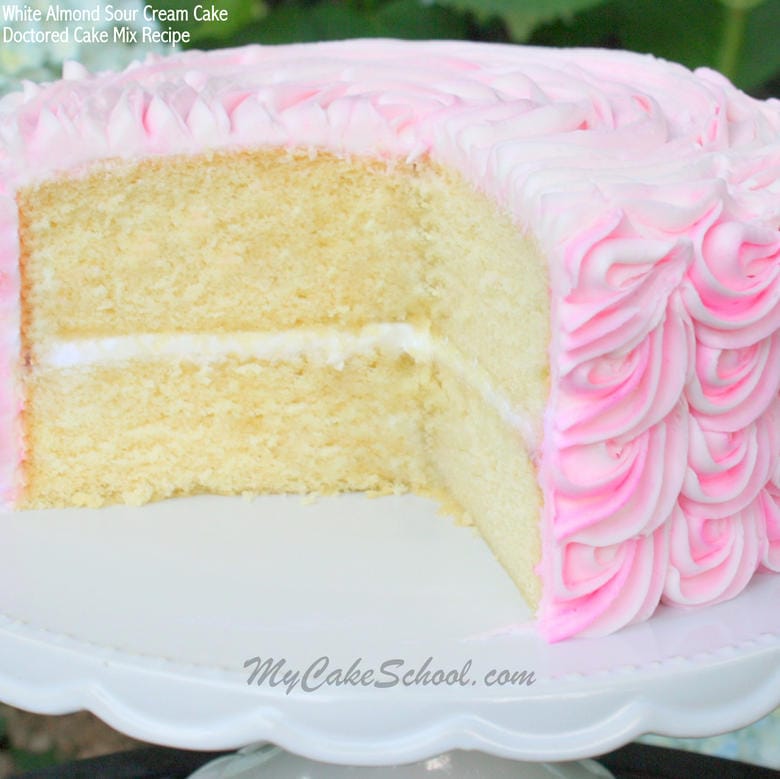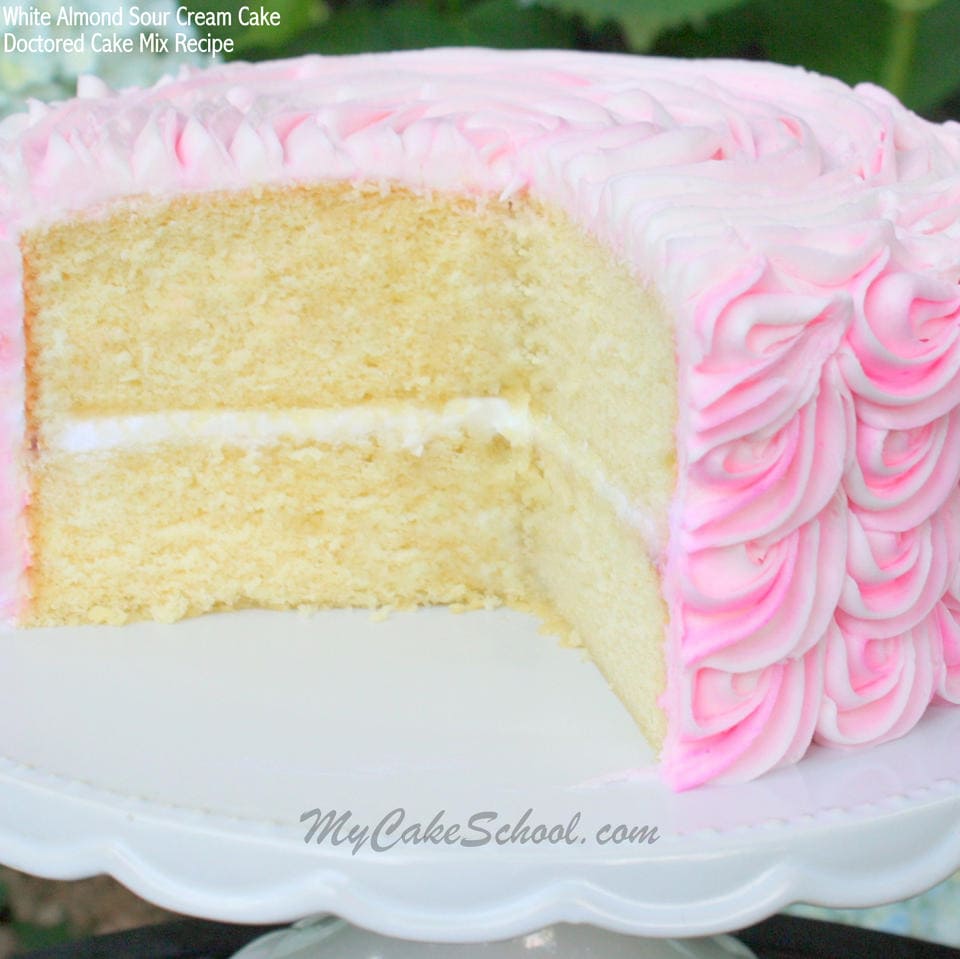 Do you Have to Use Almond in this cake recipe?
I love the flavor and texture of this cake. The sour cream in the recipe gives it a soft consistency with a tighter crumb. I really like almond desserts and so for me, the hint of almond in this cake recipe is delicious.
However, if you are not a fan of almond, no problem! Simply leave the almond flavoring out and you will have a fantastic White Sour Cream Cake recipe to serve your friends and family.
Is this Cake Suitable For Carving?
This cake would hold up just fine for light carving.
However, if your cake calls for more extensive carving, or tapering as with a topsy turvy design, the much denser "Durable Doctored Cake Mix Recipe" in our Recipes section would be my preference.
This White Almond Sour Cream cake is very versatile. You can substitute other cake mix flavors with great results.
We also have a fabulous Chocolate (doctored cake mix) version of this cake which you can find here!: Chocolate Sour Cream Cake: Doctored Cake Mix Recipe.
Scratch Version of White Almond Sour Cream Cake
We discovered this popular White Almond Sour Cream Cake years ago on CakeCentral.com (where it is very well known and often abbreviated as WASC). We use this recipe often, but also get rave reviews for our scratch version of this cake which can be found here: Scratch White Almond Sour Cream Cake Recipe.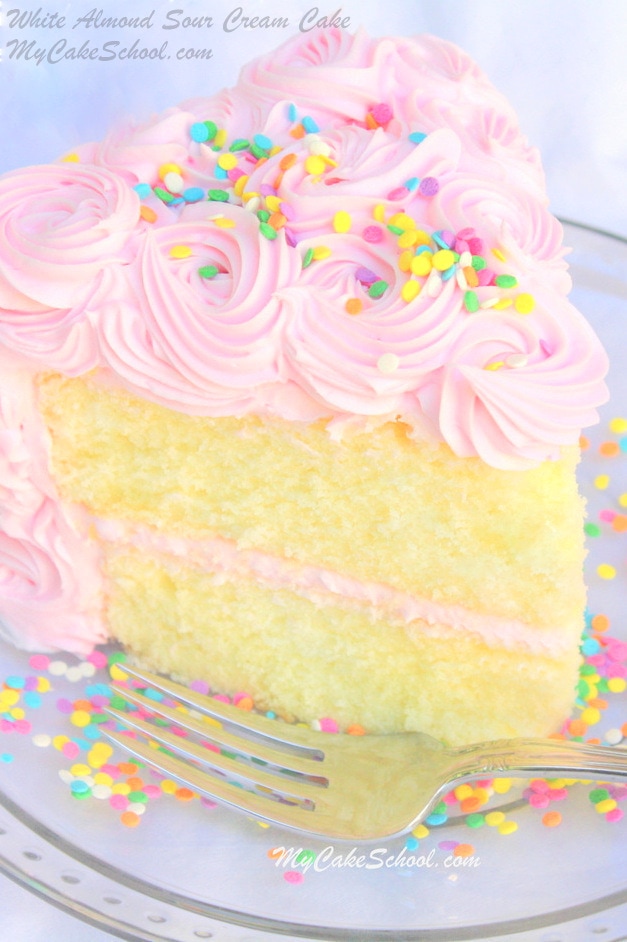 Don't miss these other delicious Doctored Cake Mix Recipes!
We've made many doctored cake mix recipes over the years! These cakes are super moist, have wonderful flavor, and they taste like they were made from scratch. Each of these cake mix recipes are altered with additional ingredients to make them uniquely delicious. Enjoy!
We hope that you enjoy this recipe!
White Almond Sour Cream Cake~Doctored Cake Mix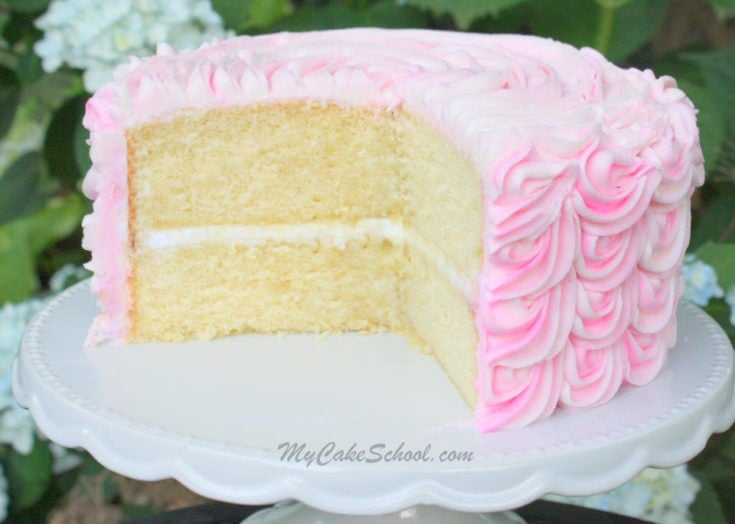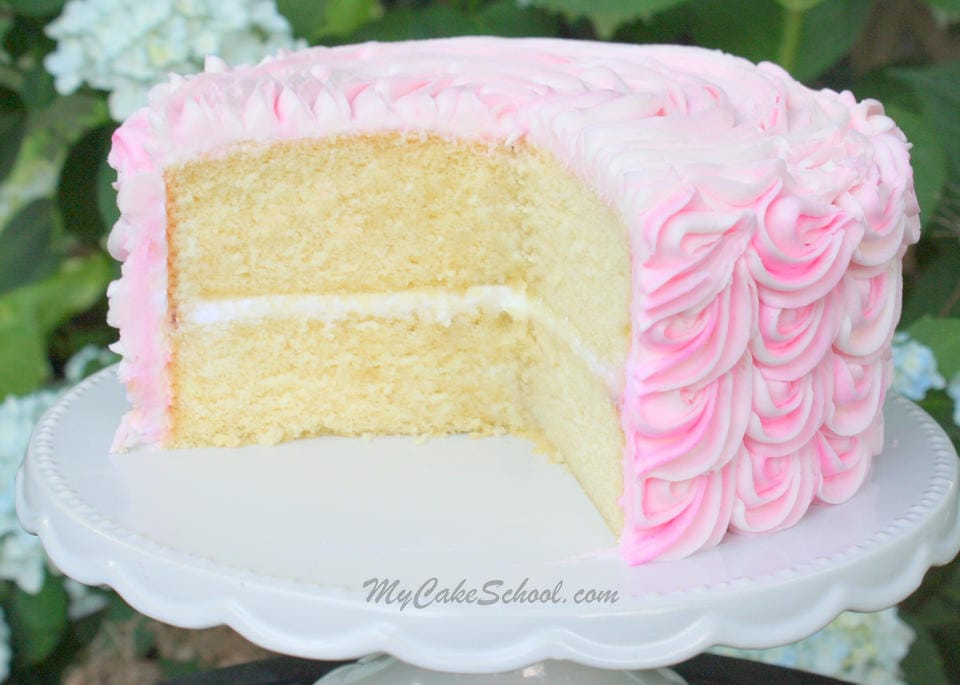 This delicious White Almond Sour Cream Cake is a great, flavorful go-to doctored cake mix recipe. Many of our doctored cake mix cakes are based on this popular recipe!
Ingredients
1 box cake mix, sifted (we use cake mix without pudding in the mix)
1 cup (121g) all purpose flour
1 cup (200) granulated sugar
generous dash of salt
1 cup (242g) sour cream or plain yogurt (greek yogurt is fine also)
1 cup (240g) water
3 whole eggs
2 teaspoons (8g) vanilla
½ teaspoon (2g) almond (If you don't want almond, you can substitute additional vanilla)
Instructions
Preheat the oven to 325 degrees.
Grease and flour two 8x2 round cake pans. (You could also divide the batter between three 8 inch cake layers if you would rather have an additional layer of filling).
In the bowl of your mixer, combine dry ingredients and whisk at least 30 seconds to blend.
In another bowl, combine sour cream, water, eggs, & flavorings. Add the wet ingredients to the dry and mix on medium speed for 2 minutes. Stop after 1 minute to scrape the sides and bottom of bowl then continue to beat for the second minute.
Pour into prepared pans and bake at 325 degrees....check at 35 minutes to see if middle of cake springs back when touched, a toothpick inserted in the center of the cake come out clean or with just a few crumbs attached, and the cake will be slightly pulled away from the pan.
We bake at 325 degrees to decrease the height of the dome on the cakes.
Makes about 7 cups of batter. Works well for cupcakes.
Decorating the Cake..
(*The cake in our photo was frosted with our Classic Vanilla Buttercream. We used the beautiful piped buttercream technique which we teach in our free video tutorial for Cascading Rosettes of Buttercream!)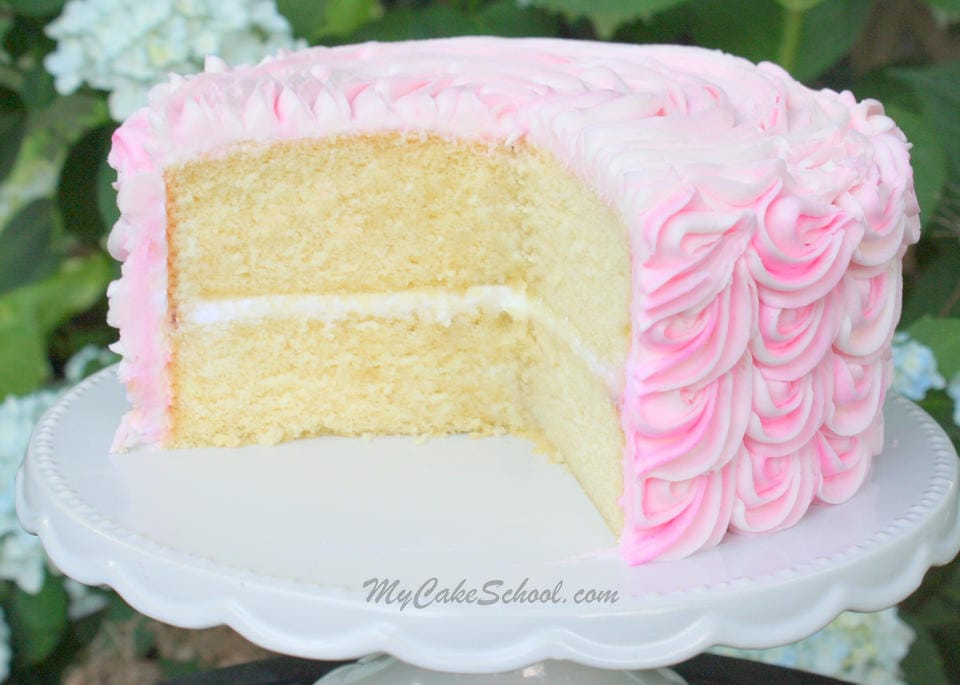 My Cake School- Online Cake Tutorials, Cake Recipes, and More! Learn with Us!
Thanks for stopping by! We hope that you enjoy this White Almond Sour Cream Cake as much as we have! Also, don't miss our full collection of tried and true cake and frosting recipes from our Recipes Section!
We have more doctored cake mixes like this one, as well as tons of tried and true scratch recipes.
You can also find fun cake projects in our Free Cake Tutorials Section. Or, if you are interested in accessing our entire collection of hundreds of cake decorating tutorials, you should consider becoming a member of My Cake School!
Memberships are $30/year and will give you access to every video we've made for as long as you are a member. You can find all of the details here: Joining Information for My Cake School. We would love to have you!