Red Velvet Cake - Doctored Cake Mix Recipe
This Red Velvet Cake Doctored Cake Mix Recipe belongs in your recipe file of favorites! It is amazingly moist, delicious, and has just the right amount of chocolate flavor.
Add a little cream cheese frosting, and it is pure heaven! It's no wonder that Red Velvet Cake has long been a beloved classic southern dessert!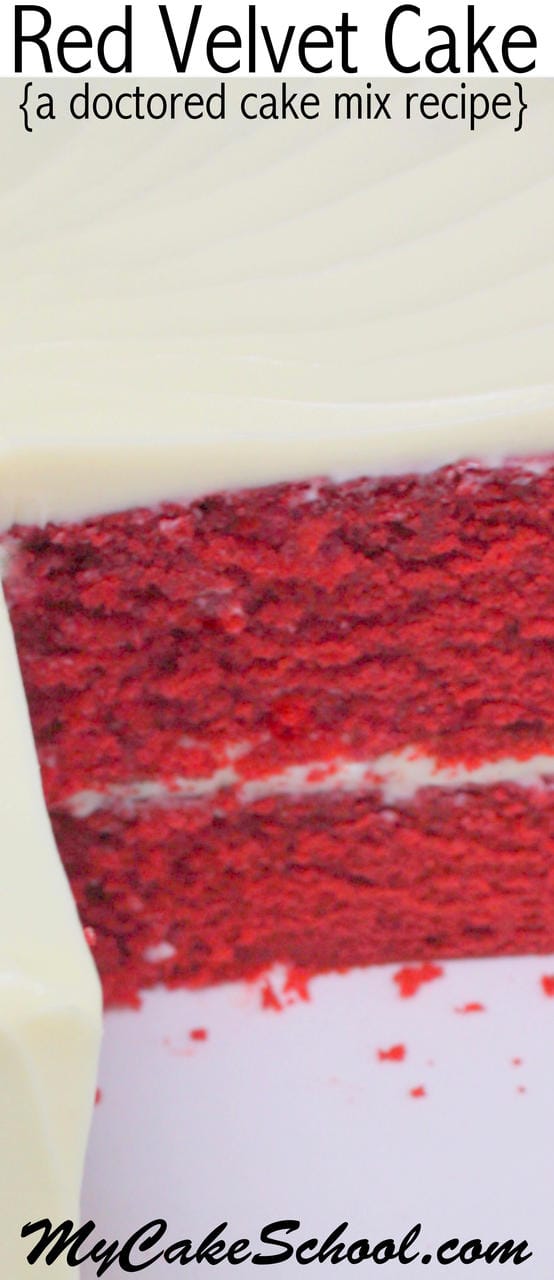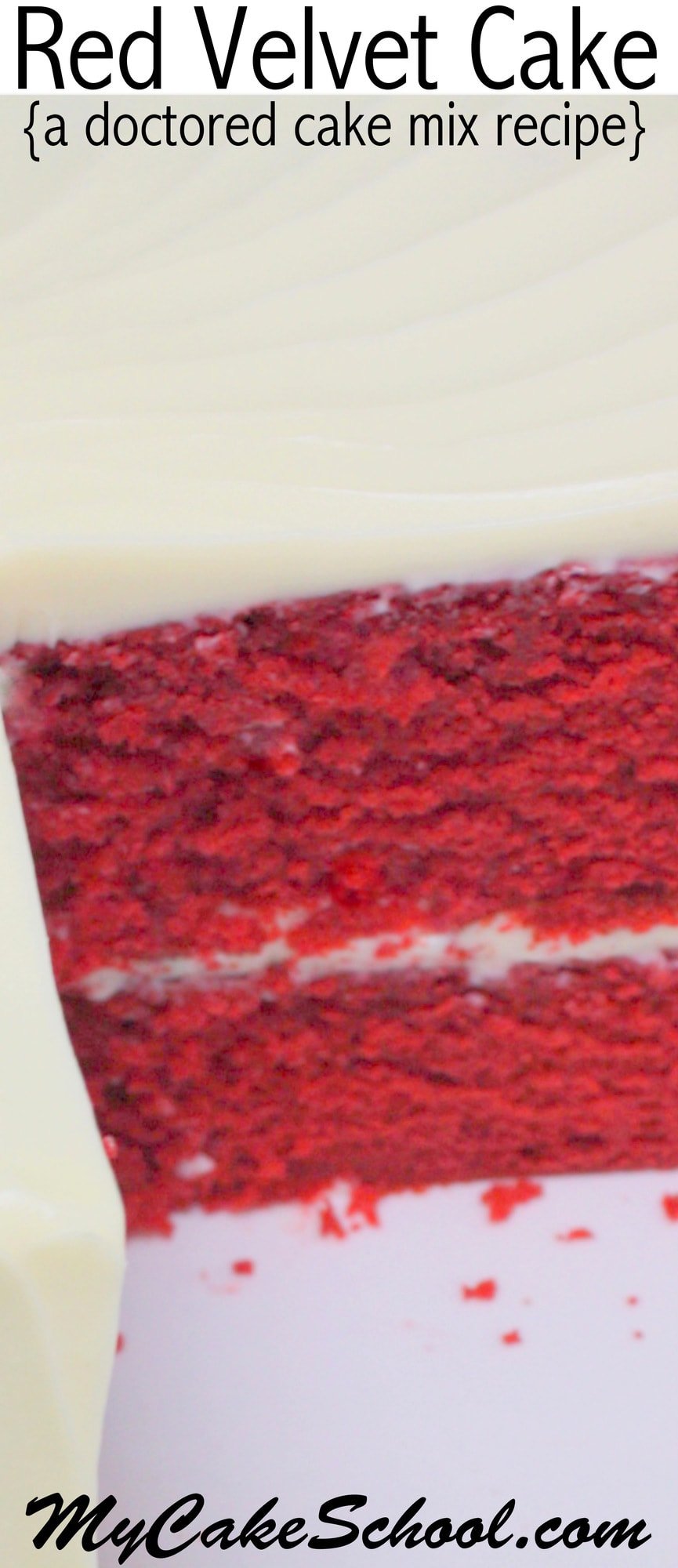 We have a
Scratch Red Velvet Cake
recipe that we love, but we were determined to find a doctored cake mix version that we loved just as much. This is it!
When I brought this leftover doctored cake mix version of Red Velvet Cake home to my family, they absolutely loved it, and couldn't believe that it wasn't a scratch recipe. This cake disappeared in record time!
We have experimented with using actual Red Velvet Cake Mix in doctored mix recipes in the past and were never happy with the flavor. This is why we chose to use Yellow Cake Mix as the base, and simply add red coloring.
**A note about the color: this Red Velvet Cake is not a vibrant red...it is more of a "chocolate red". The lighting in the photo above makes it look a bit more red. Red Velvet cakes come in all shades of red depending on how much cocoa the recipe calls for, and of course the amount of red coloring used.

We loved the chocolate flavor of this cake so much that we didn't want to remove any of the cocoa. However, if you'd prefer a deeper red, you can remove some of the cocoa and add more coloring. It's up to you! (But we love it just as it is!)
Red Velvet Cake and Cream Cheese Frosting go hand in hand. You can find our favorite Cream Cheese Frosting Recipe here!:
Pipeable Cream Cheese Frosting
.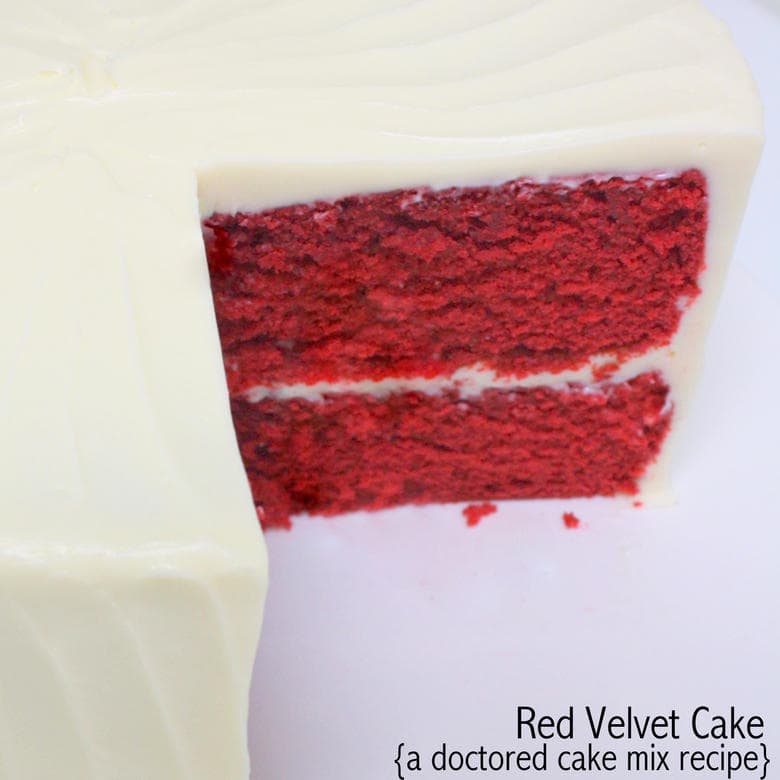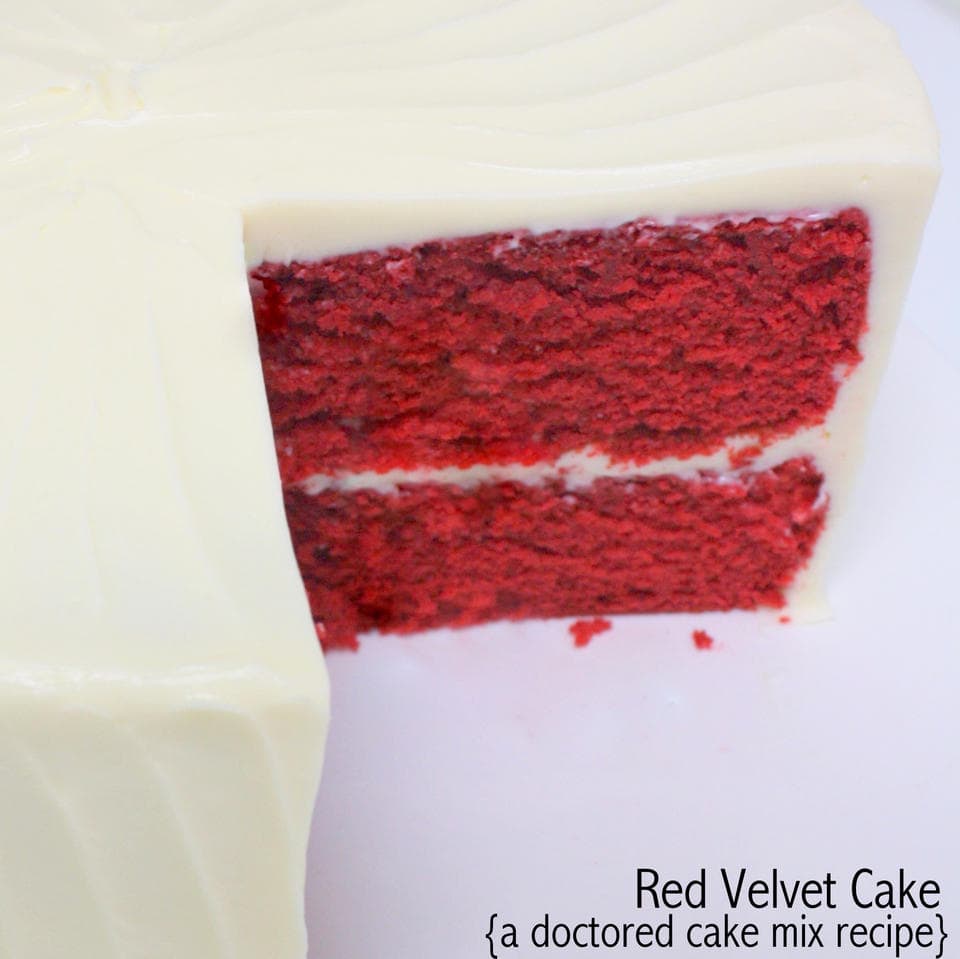 Red Velvet Cake - Doctored Cake Mix Recipe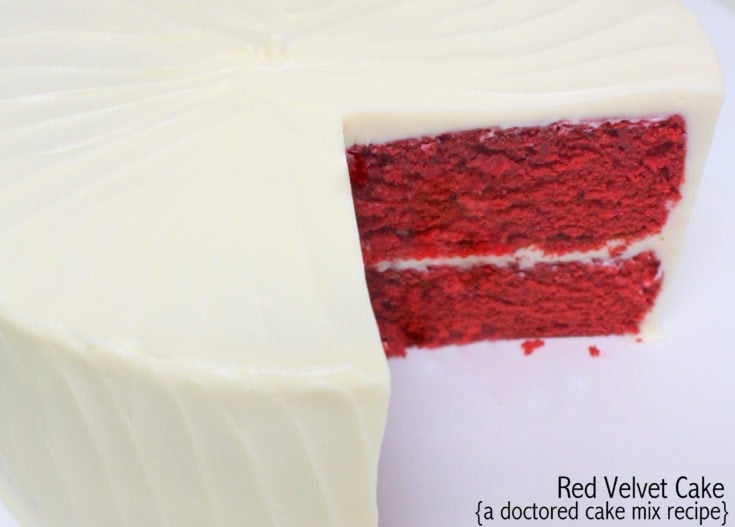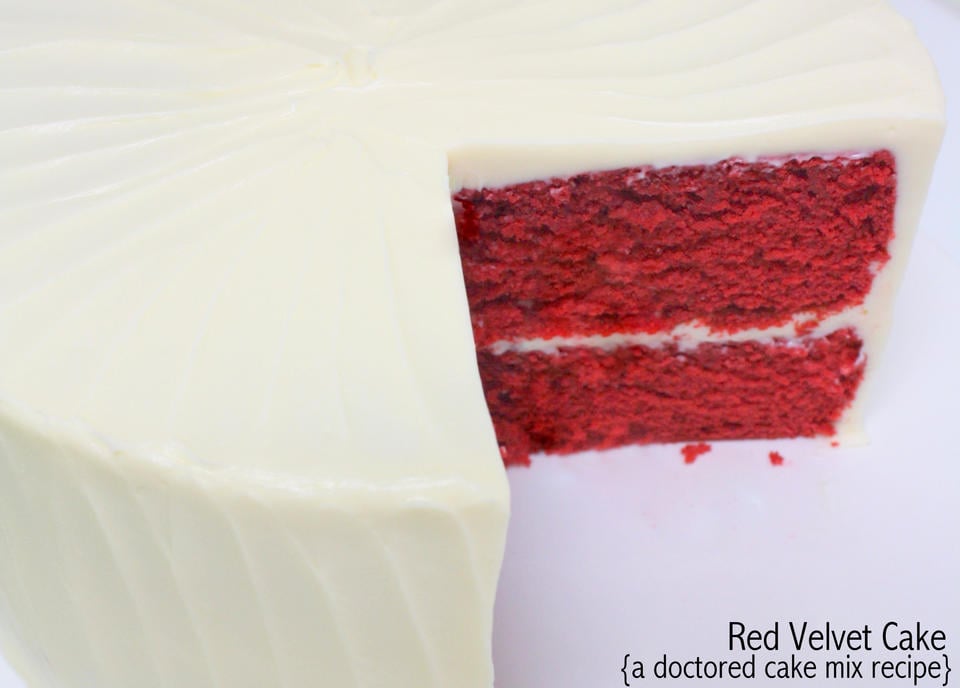 This delicious Red Velvet Cake is super moist and has just the right amount of chocolate flavor. I love red velvet year-round, but especially for Christmas and winter gatherings!
Ingredients
1 box yellow cake mix, sifted (15.25 box mix) plus 6 Tablespoons (45g) flour ( I used Duncan Hines Classic Yellow Mix)
½ cup (100g) granulated sugar
5 Tablespoons (24g) unsweetened cocoa powder ( I sift the cocoa , then measure or weight
½ cup (107g) vegetable oil
3 large eggs
2 teaspoons (8g) vanilla extract
½ cup (121g) milk
1 cup (242g) sour cream
2 Tablespoons (24g) red food coloring ( if you want a brighter red color to your cake, add 3 Tablespoons)
Instructions
Preheat oven to 350 degrees
Grease and flour 2 eight inch round pans
In the bowl of your mixer, place the cake mix plus flour, sugar, sifted cocoa. Whisk to blend these ingredients together. Then add all the remaining ingredients.
Begin mixing on low speed, increasing to medium speed for 1 minute. Scrape the sides and bottom of the bowl. Beat at medium speed for 1 more minute (longer if using a hand mixer.
Pour into prepared pans and bake for 30 - 35 minutes (check at 30 minutes). The cake is done when a toothpick comes out clean or with a just a few crumbs attached. Let cool in pans for 10 minutes then turn out.
Makes 6 ¼ cups batter
Works well for cupcakes
We frosted with our Pipeable Cream Cheese Frosting Recipe
*You may like to try our fantastic Red Velvet Cake recipe from scratch as we mentioned above! Print this one out for later: Delicious Red Velvet Cake from Scratch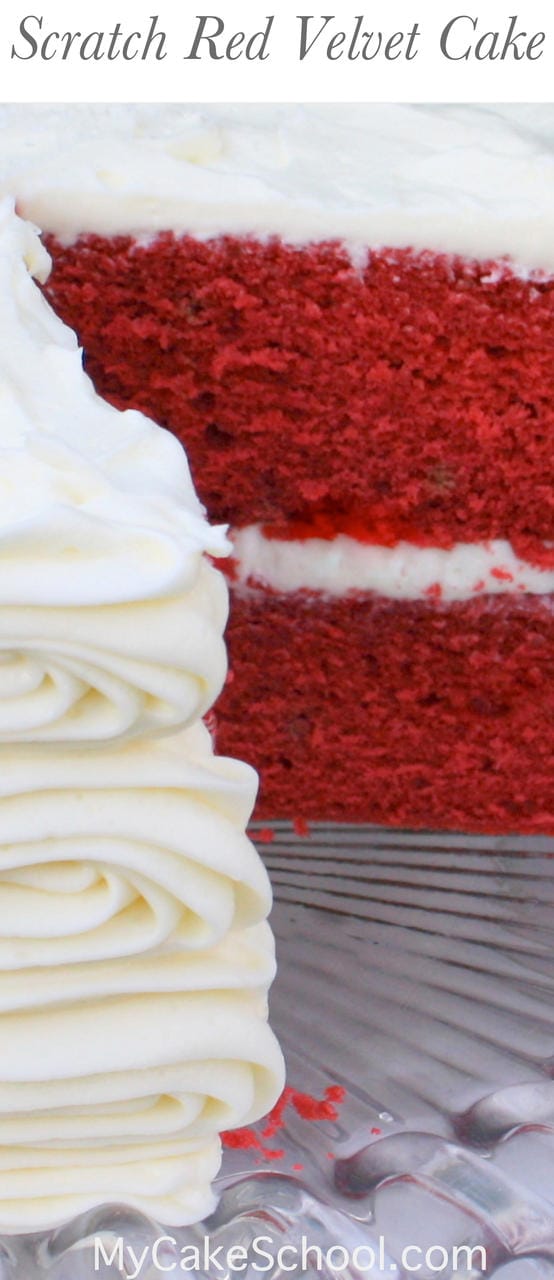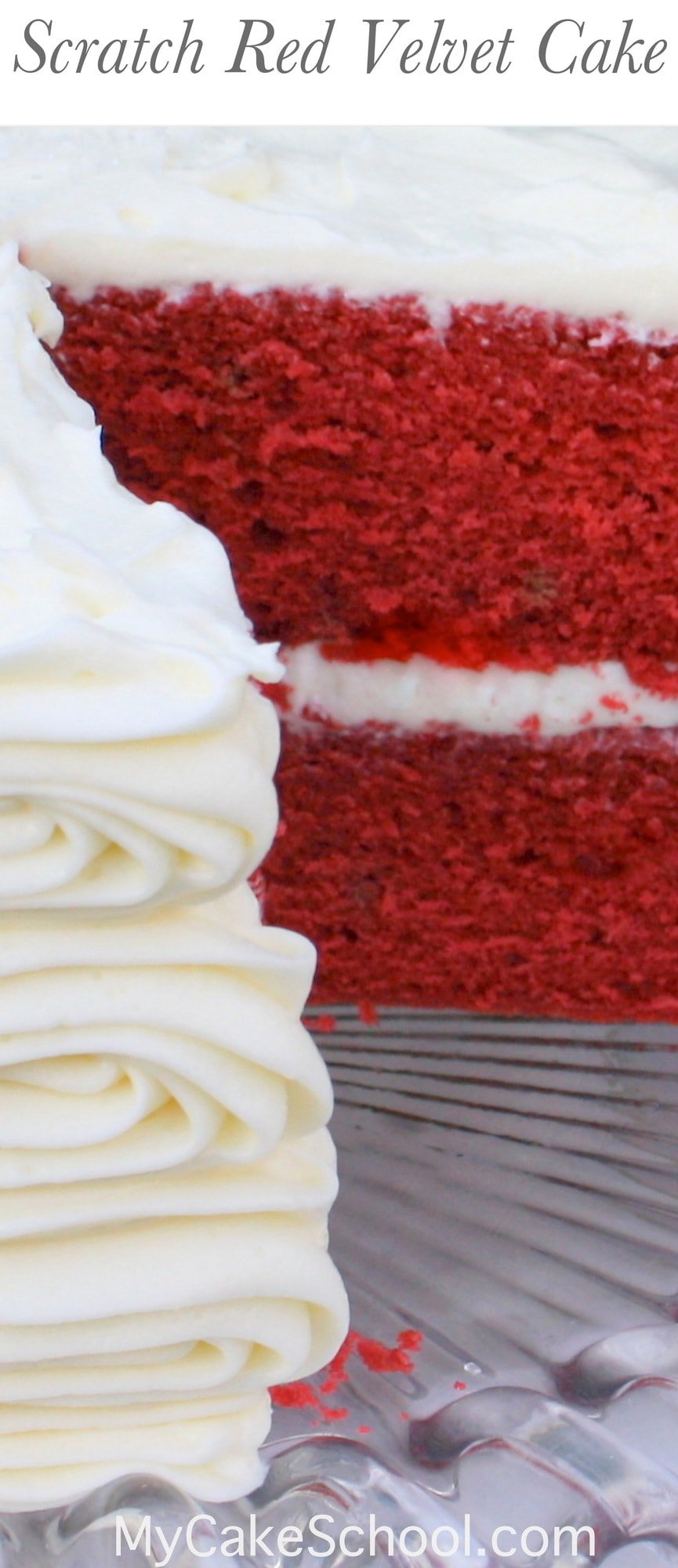 Don't forget to check out our full collection of favorite cake and frosting recipes in our Recipes Section! Or, for free, fun, and simple cake decorating tutorials, don't miss our Free Cake Tutorials Section!
Thanks for stopping by!