Ahhhh…..there's nothing better than a slice of warm pound cake fresh from the oven. This easy and delicious classic pound cake has long been a southern staple and is one of my personal favorites!!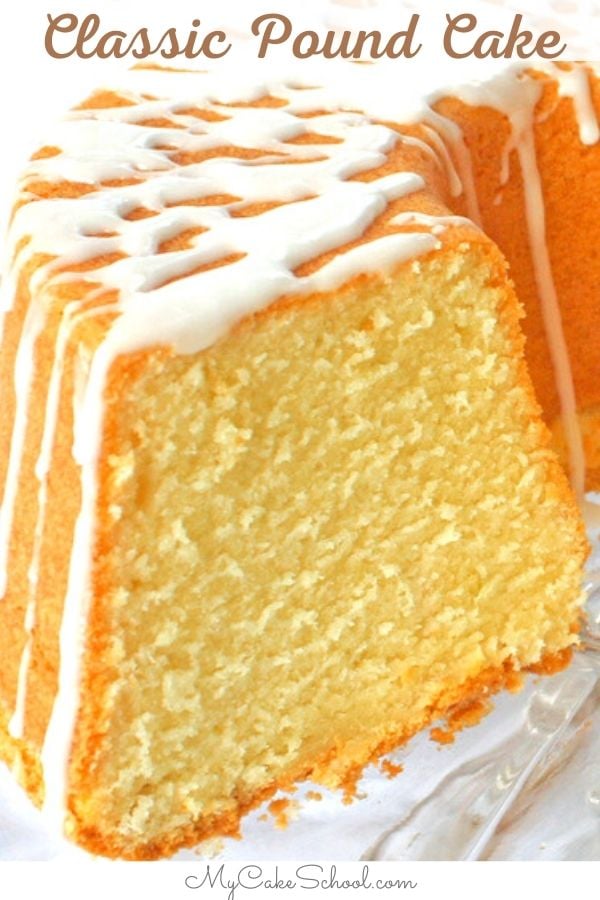 Whether you are new to baking, or have been baking up sweets for years, you are going to fall in love with this simple, flavorful pound cake.
Why is Pound Cake Called a Pound Cake?
Have you ever wondered where Pound Cake gets it's name? I'm going to give you some fun trivia. You never know when this information might come in handy, haha.
Pound cake first originated in 18th century Europe as a delicious, easy, and huge cake recipe that called for a pound of each ingredient: flour, butter, eggs, and sugar. That's a LOT of pound cake loaves.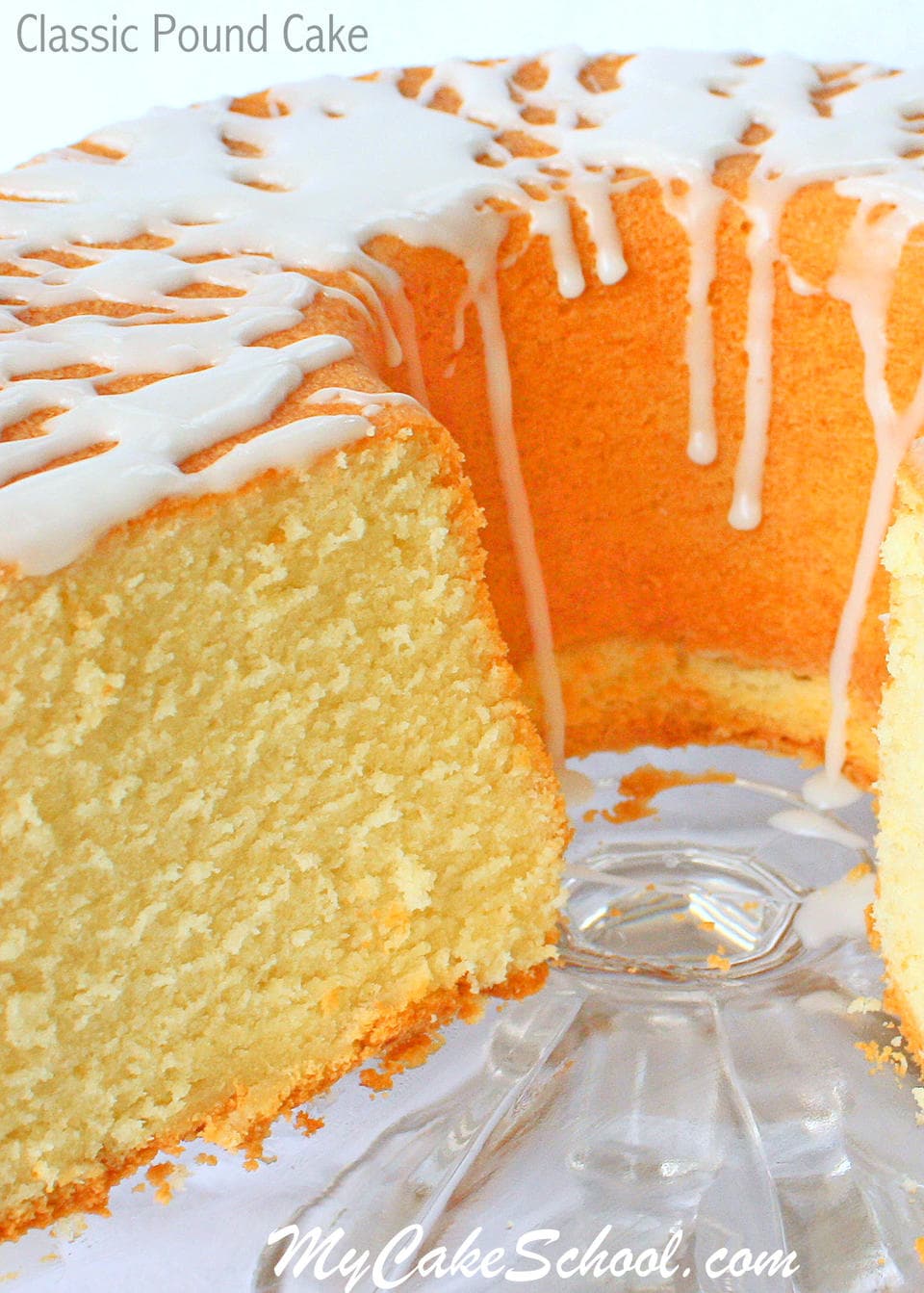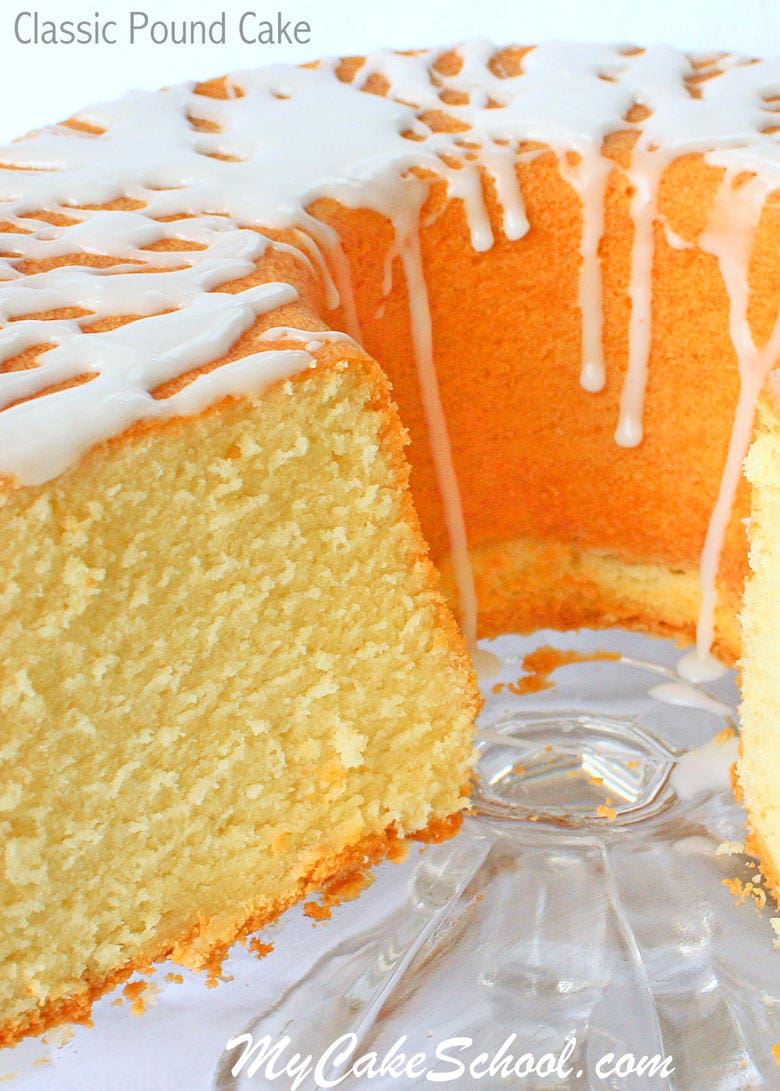 These days, pound cakes have been modified in a million different ways, often in favor of a lighter more buttery cake…
However, the simplicity of these classic pound cake recipes (not to mention the amazing flavor) will ensure their popularity for years to come. Everyone loves a no fuss go-to cake recipe. No frosting or decorating skills required!
In fact, I have a Pound Cake Recipe Board on my Pinterest page filled with pound cakes that I'm dying to try! Everything from rich chocolate pound cakes to Key Lime and Southern Pecan. If only there were more hours in the day…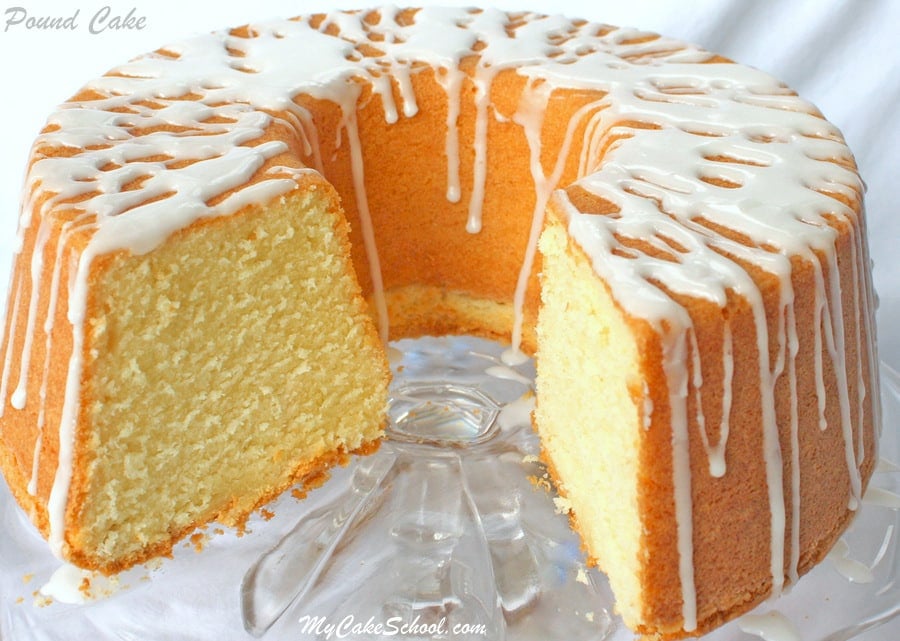 The Pound Cake that I am sharing with you today is a family favorite! It is simple, has a nice even crumb, super moist, and the flavor is out of this world. We've been making this cake for years for special occasions or for no occasion at all!
This classic pound cake recipe is delicious on it's own, or dressed up with strawberries & cream or a simple glaze. The flavor is wonderful, and if you like a hint of lemon, I highly recommend adding a little lemon extract. We always do!
After baking our pound cake, we drizzled it with a Simple Vanilla Glaze. This quick glaze can be whipped up in minutes, and I just love the look! You can drizzle it by the spoonful, or pipe it through a disposable piping bag with the tip snipped away. Just have fun with it!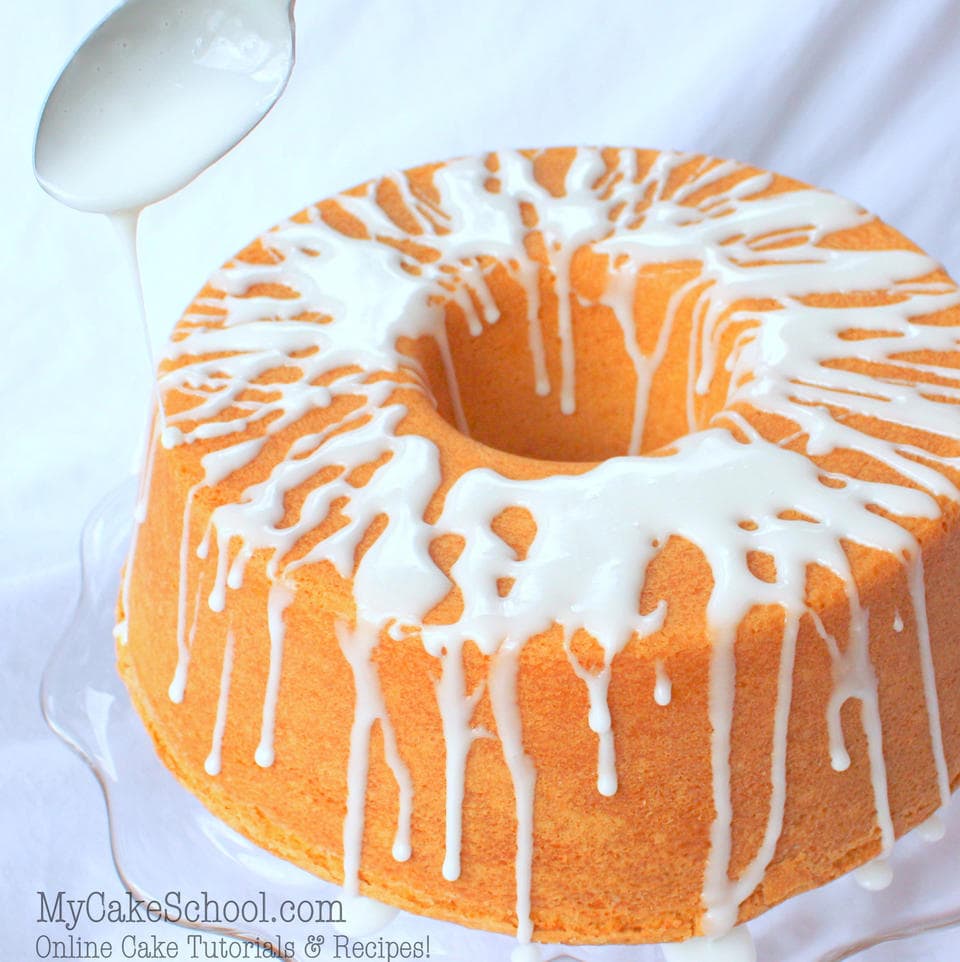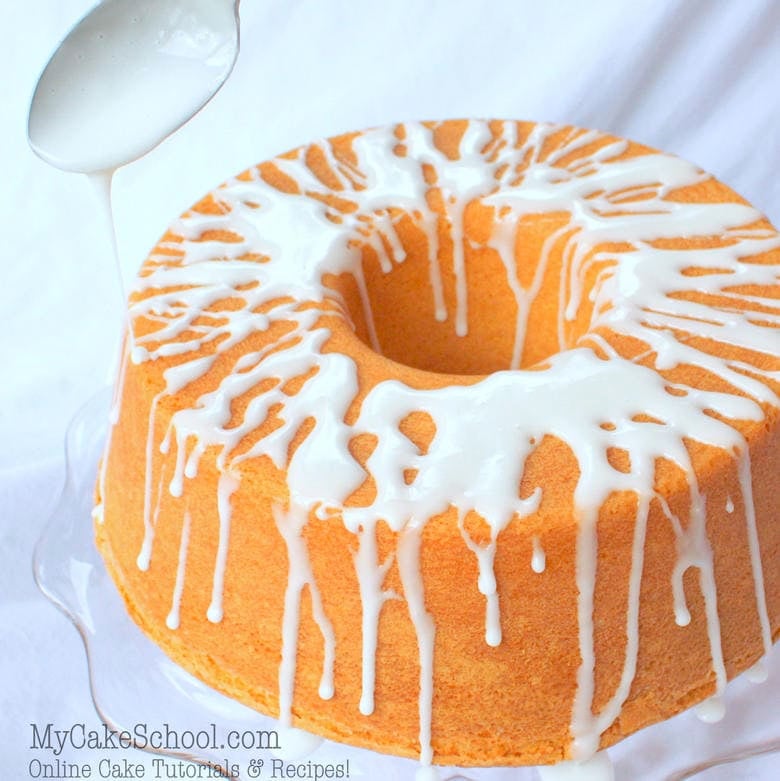 Can Pound Cake be Frozen?
Yes! Not only is a slice of buttery pound cake amazing fresh from the oven, these cakes can be wrapped and frozen for weeks or even months at a time! Perfect for those days when unexpected guests pop in, or when you just need a little something sweet to go with your coffee or tea (or a giant slice for breakfast..I won't tell!)
How to Freeze Pound Cake: *In order to freeze your pound cakes, flip out the cake onto your cake board, wrap in plastic wrap and follow with a tightly wrapped layer of foil. Freeze. (By the way, I like to wrap my cakes while they are still warm.)
When you are ready to thaw the cake, keep the pound cake wrapped and place on the countertop until condensation forms on the foil. Then unwrap and continue to thaw.
This is a really versatile recipe. We've baked this pound cake recipe into sheet cakes & sliced into squares for our Petit Four Video Tutorial.
Other Favorite Pound Cake Recipes!
We happen to love pound cakes around here and have a few delicious pound cake recipes in our Recipes section that you just have to try!
In addition to today's Classic Pound Cake recipe, we hope you'll put these other favorites on your list of "must-try" recipes too!
First up, we LOVE this Lemon Pound Cake.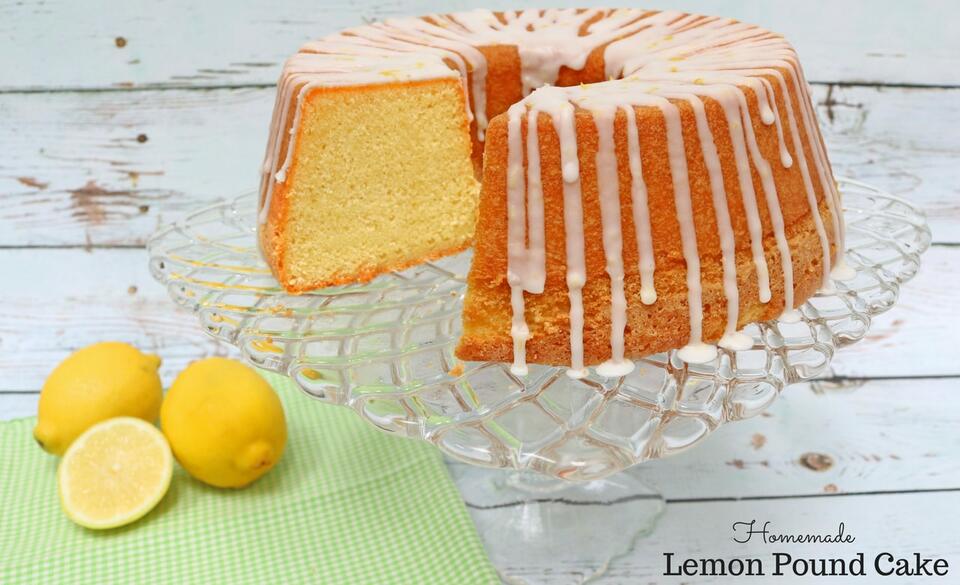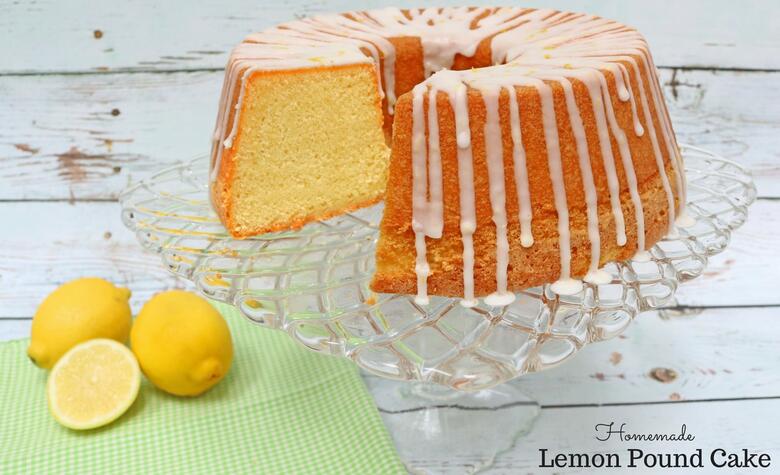 If you're a fan of the flavor combination of Lemon AND Raspberry, you must put our moist & fruity Lemon Raspberry Swirl Pound Cake onto your list of cake recipes to try! The flavor is amazing! You can find it here: Lemon Raspberry Swirl Pound Cake.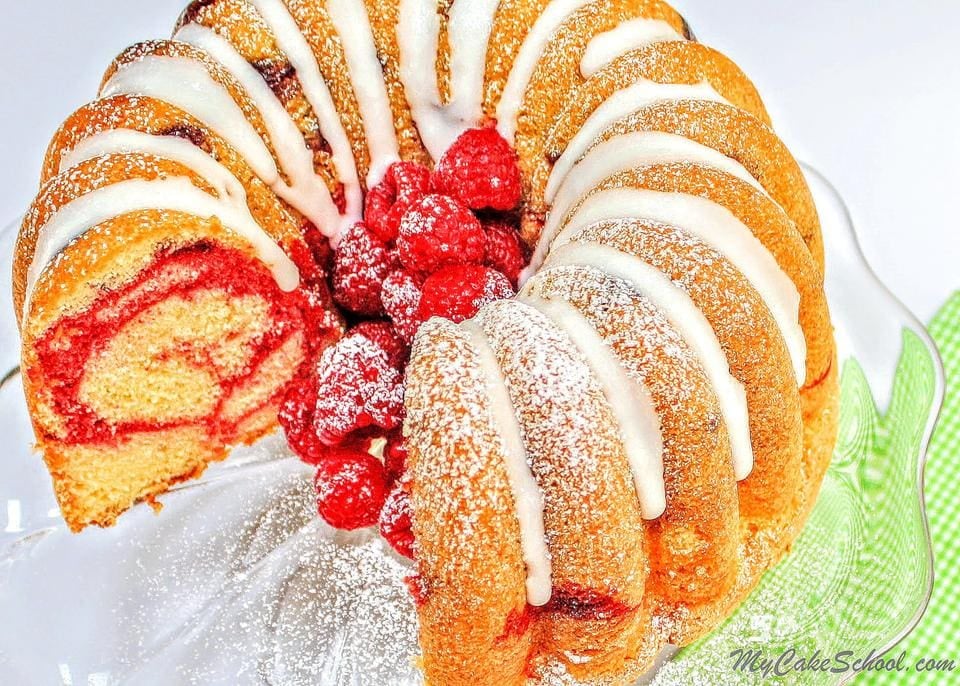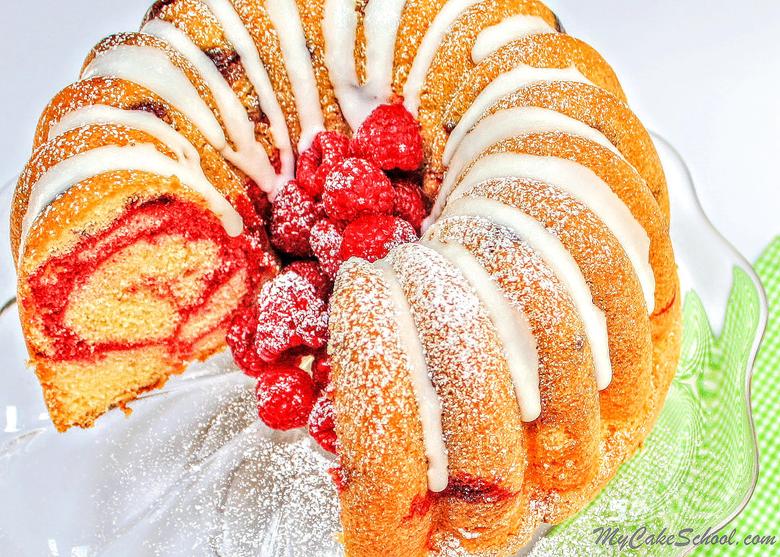 This amazing southern Red Velvet Marble Pound Cake is a fantastic choice year-round, but especially at Christmas (with a peppermint glaze)! It is beautiful when sliced and is SO flavorful!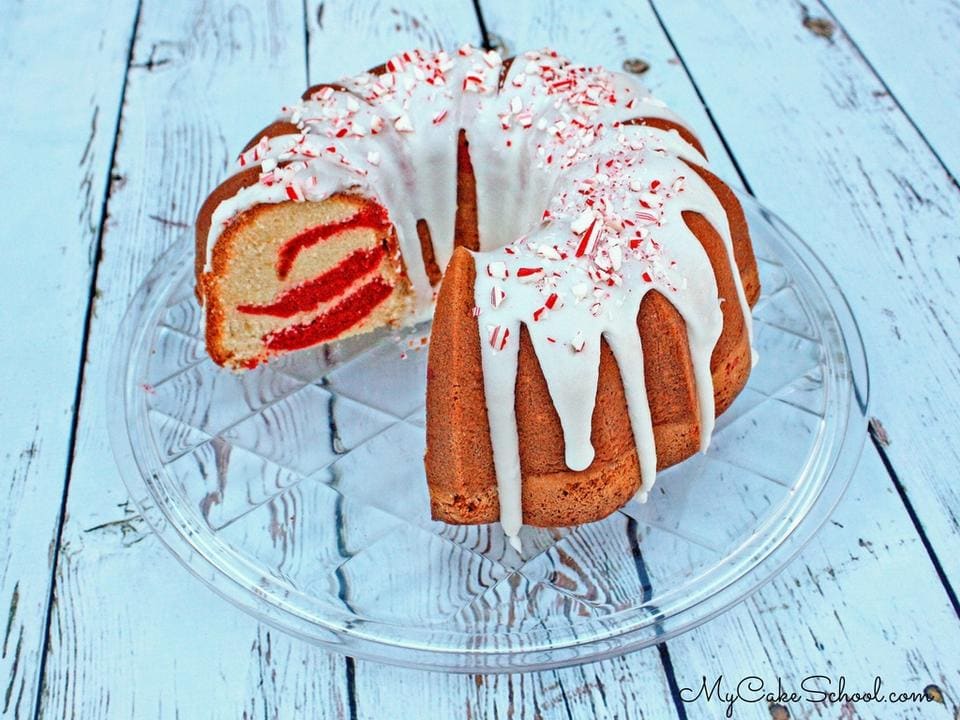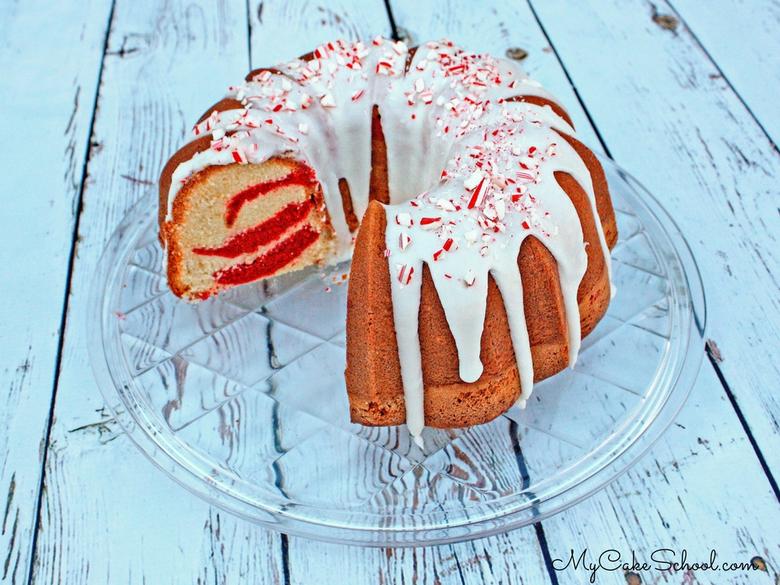 and don't miss our Double Chocolate Pound Cake recipe –it's always a crowd pleaser!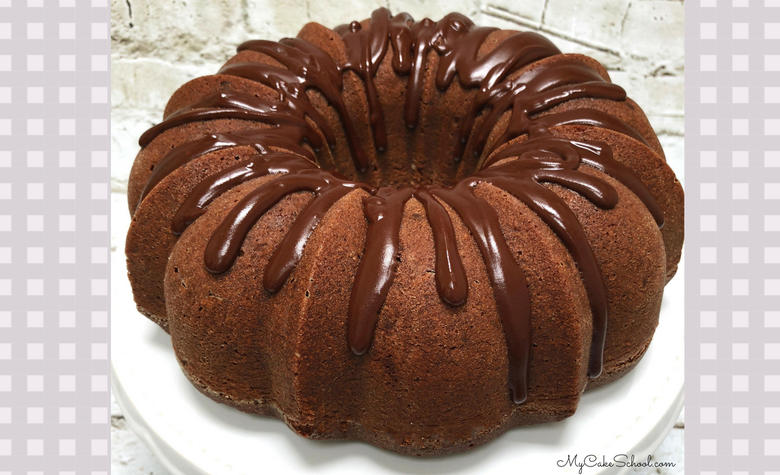 My Cake School Cake Recipes and Cake Tutorials!
We hope that you'll give this amazing classic pound cake recipe a try! Make sure to check out our Recipes Section for our entire collection of tried and true cake, filling, and frosting recipes!
You can also find our full collection of free cake and video tutorials here: Free Cake Tutorials
If you are interested in becoming a member of My Cake School, we would LOVE to have you!! You can find all of the details here: Join My Cake School
Other Classic Cake Recipes to Try!
In addition to pound cake, there are several more classic cake recipes that belong on your "must-bake" list! Don't miss these amazing classic recipes that are considered old fashioned favorites for good reason. So good!
Pound Cake Recipe- A Classic Southern Favorite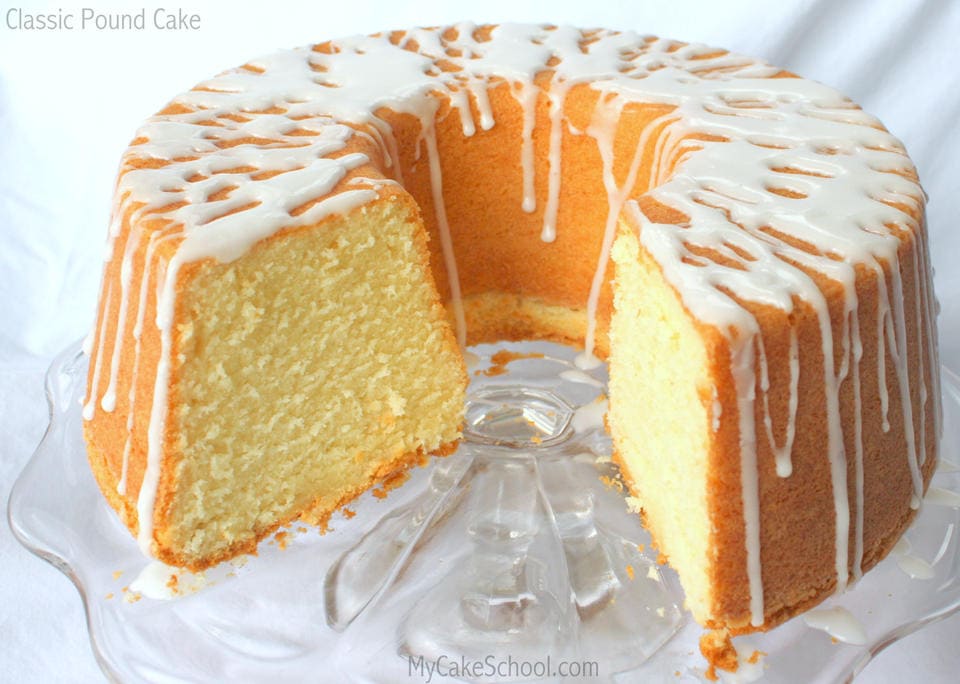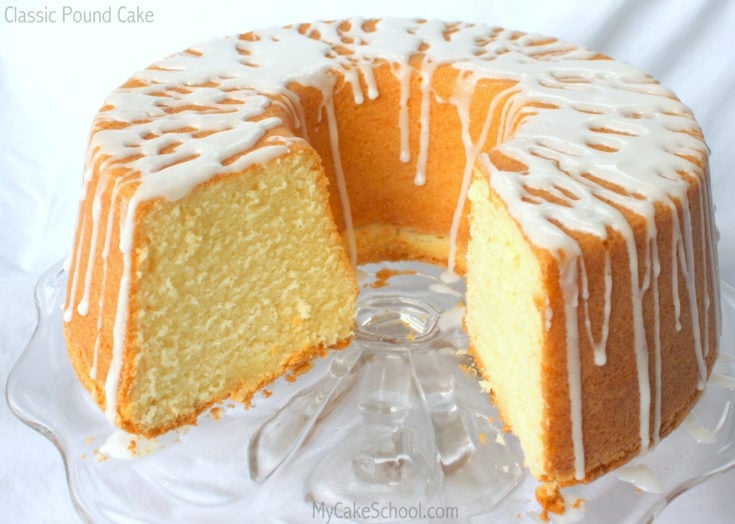 This classic pound cake is so moist and easy to make! Our favorite!
Ingredients
3 sticks (339 g) unsalted butter, softened
3 cups (600 g) sugar
5 large eggs
3 cups (375 g) all purpose flour, (not self-rising)
1/2 teaspoon (2 g) baking powder
1 cup (235 g) whole milk
2 teaspoons (8 g) vanilla
1 teaspoon (4 g) lemon extract (optional)
Instructions
Grease and flour a tube pan.
Lower the oven rack to the next to lowest position. Preheat oven to 350 degrees
In a separate bowl whisk the flour and baking powder to combine, set aside for later.
Cream the butter with the paddle attachment in your mixer, gradually add the sugar and beat until light and fluffy 3 to 5 minutes.
Add the eggs one at a time blending after each to incorporate.
Add the vanilla and lemon extract to the l cup of milk. Add the flour mixture alternately with the milk to the butter, sugar, egg mixture. Begin and end with the dry ingredients. I add the dry 3 times and milk twice.
Bake at 350 degrees for 1 hour and 10 minutes or until a toothpick comes out clean.
This makes approximately 8 cups of batter.
**This is also the recipe that we use in our petit fours video! For petit fours, we pour into an 11x15 inch pan so that they are nice and short (approximately 1 1/4 inches tall).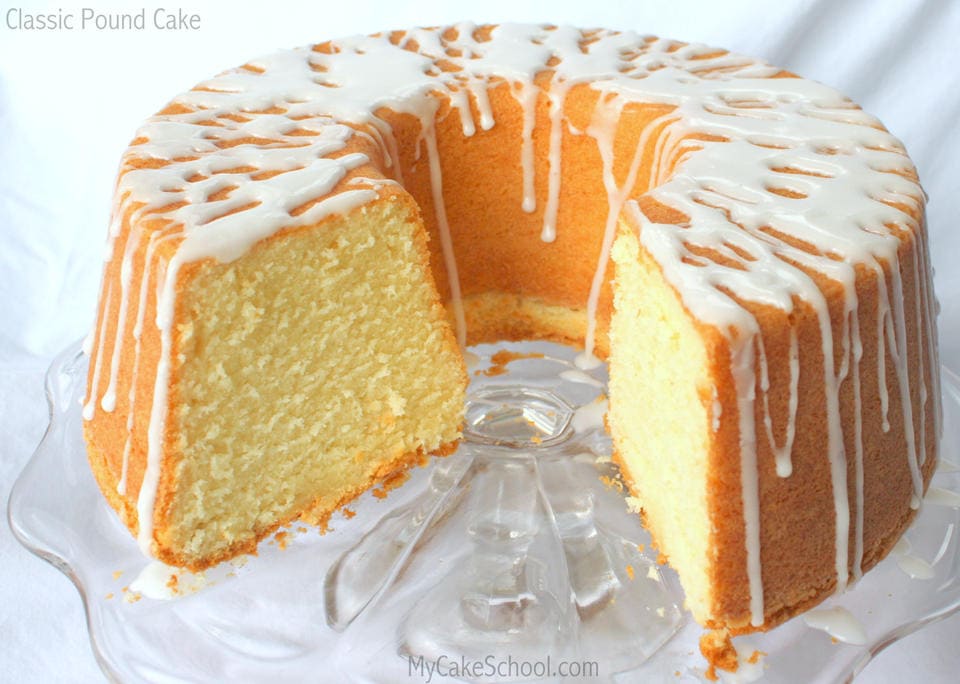 Thanks for stopping by! We hope you'll visit again soon!