There are so many reasons to love today's Peach Pound Cake recipe! The cake itself is so moist, soft, and flavorful- but with peaches incorporated into the batter, it bakes up into the most wonderful dessert!
If you love peach desserts, this delicious peach pound cake is certain to become a favorite not only in the summer months during peach season, but anytime of year!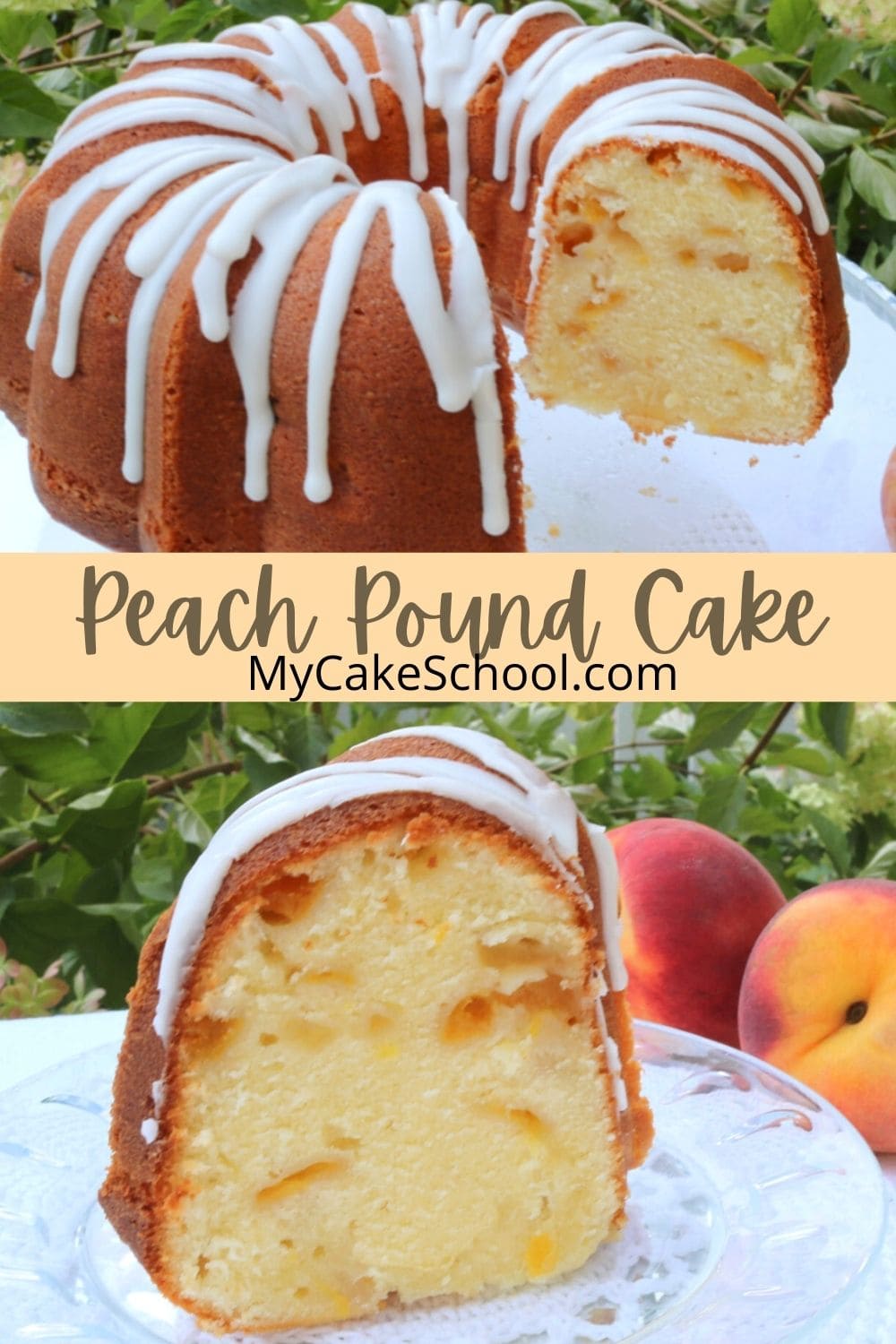 How to Make Peach Pound Cake
This southern peach pound cake recipe is based on a delightfully moist sour cream pound cake recipe (which will be getting a post of it's own very soon)! We've folded just enough diced peaches into the batter to guarantee wonderful peach flavor in every slice.
*You can find the full, printable cake recipe for Peach Pound Cake below, but here is just a quick rundown of our steps!
Preheat: After preheating the oven and greasing the bundt or tube pan, whisk the dry ingredients together and set aside (this is the all purpose flour, baking soda, and salt).
Sour Cream and Vanilla: Next, in a separate bowl, add vanilla extract to a cup of sour cream and set aside.
Butter and Sugar: In the bowl of a stand mixer, cream butter on medium speed with a paddle attachment until smooth and creamy. Add the sugar gradually and mix on medium speed until the mixture is light and fluffy (about 3-5 minutes).
Eggs: Then, add in the eggs one at a time, mixing after each until yolk is blended.
Dry and Wet Ingredients: Next, with the mixer on low speed, add the flour mixture alternately with the sour cream mixture (starting and ending with the flour mixture-- we do 3 additions of the flour mixture and two additions of the sour cream mixture). Mix just until blended. (Be careful not to over mix).
Add the Peaches: Fold in the chopped peaches and pour batter into a prepared bundt cake pan (or tube pan).
Time to Bake!: Bake at 350 degrees for 1 hour or until a wooden pick or toothpick inserted into the center comes out clean or
with just a few crumbs attached. Allow to cool for 10 minutes before flipping out of the pan.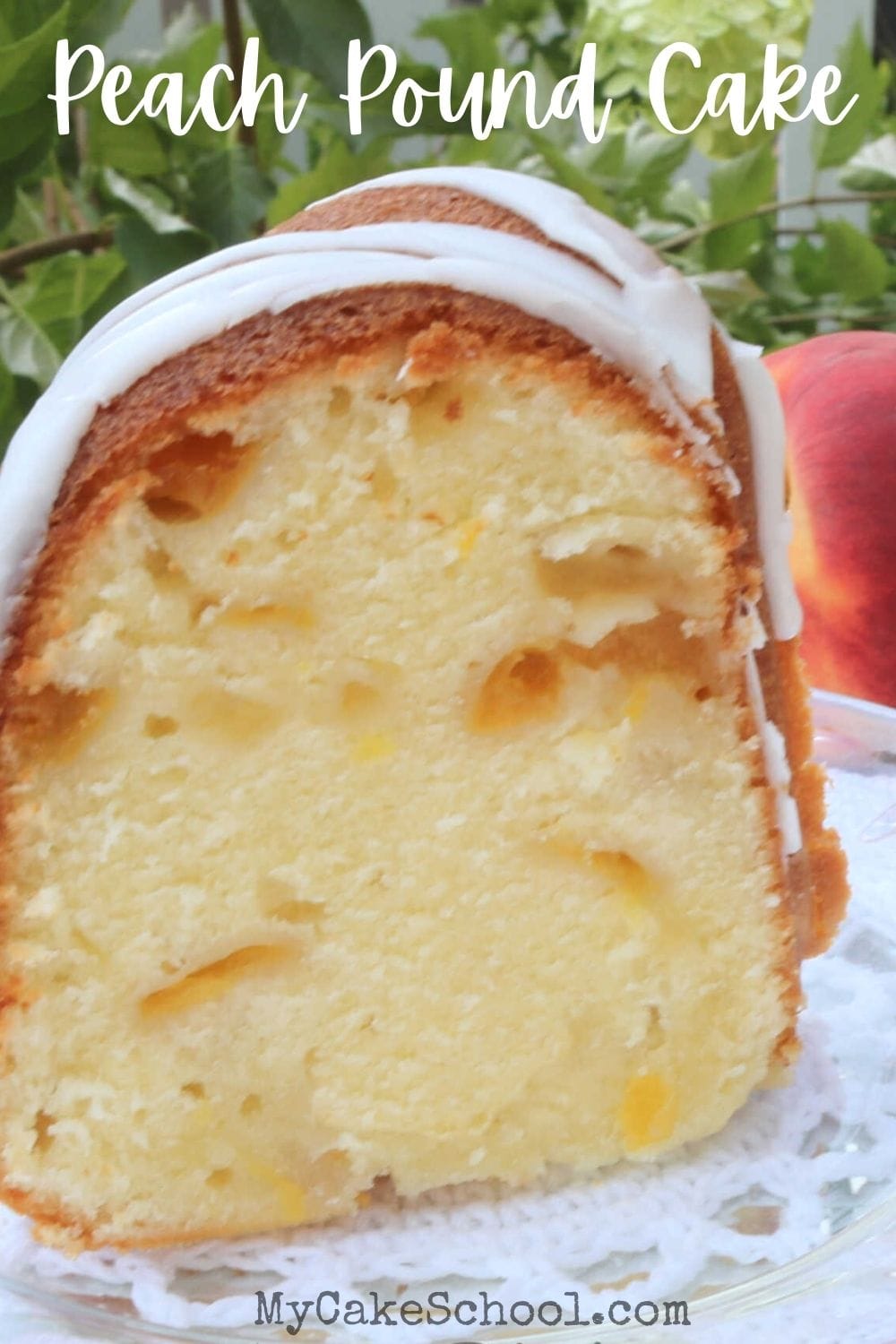 Is it Okay to use Frozen Peaches or Canned Peaches in this Pound Cake?
Yes, you can absolutely use frozen peaches or canned peaches with this recipe! One of the best things about this easy pound cake (aside from the delicious flavor) is that you don't have to wait for peach season to roll around to make it!
If you are using frozen or canned peaches instead of fresh peaches, be sure to place the peach slices on a paper towel to absorb the excess juices.
More Pound Cake Recipes to Love
If you love peaches, don't miss our Peaches & Cream Layer Cake in our Recipes section! It's one of our favorites as is guaranteed to please the peach lovers in your life.
Also, if you are like me and love pound cakes of all kinds- here are a few more amazing pound cake recipes to put on your must-bake list! Each one is easy to make, uses simple ingredients, yet tastes rich and wonderful.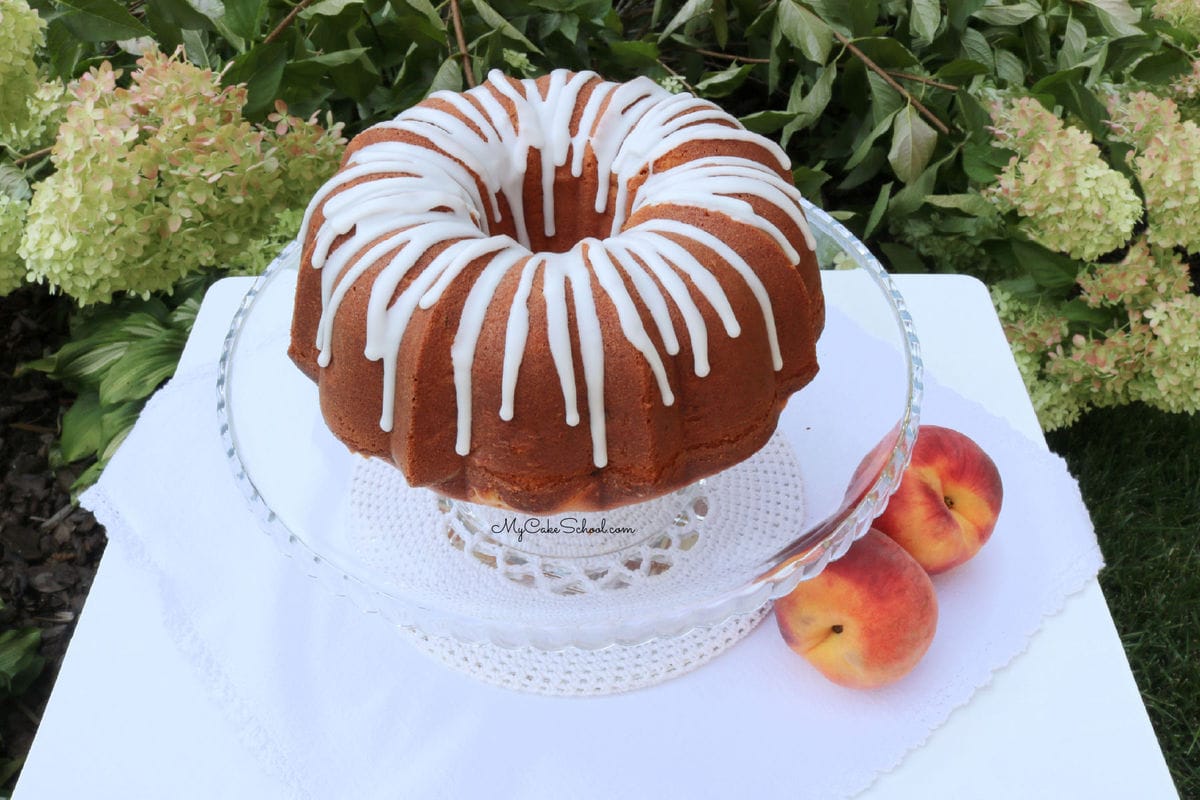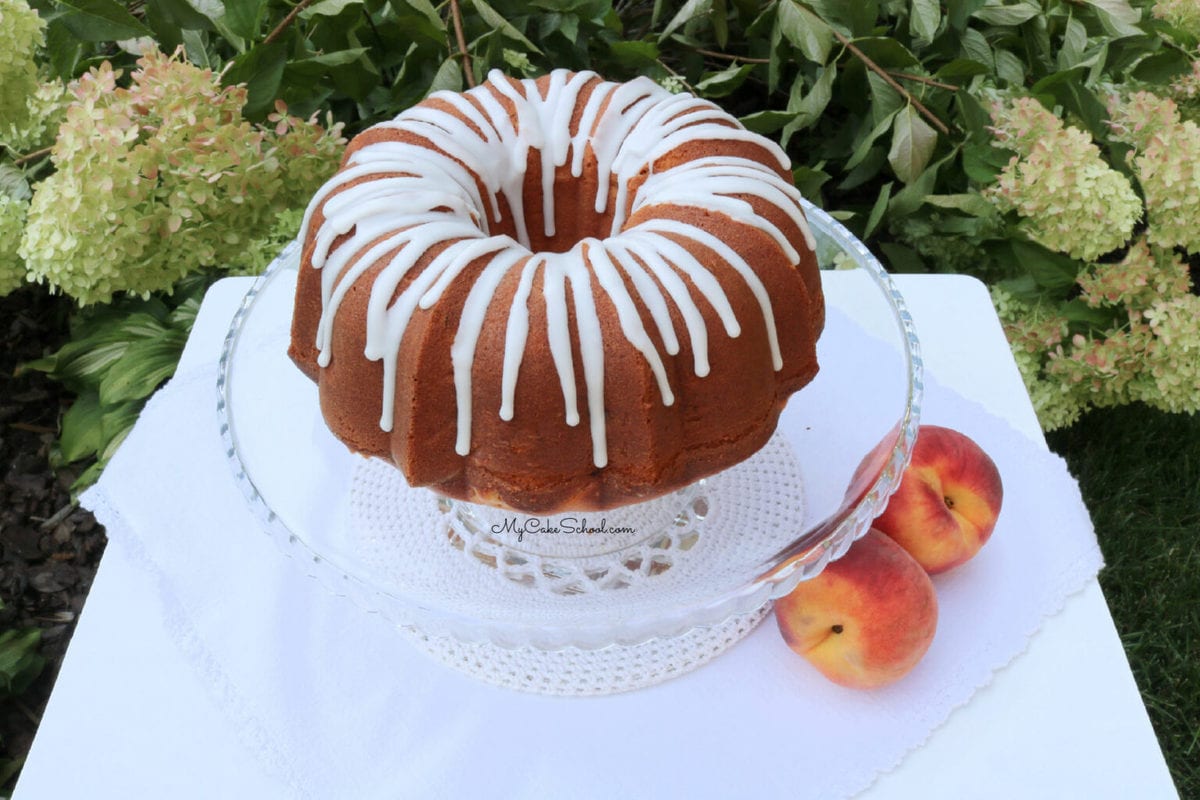 Can Peach Pound Cake Be Frozen?
I'm happy to report that pound cakes freeze beautifully! Whether you wrap and freeze the entire cake, or wrap and freeze slices individually, freezing your cake will ensure that you will be prepared whenever the cravings strike, or friends stop by for a visit.
I like to wrap my cakes tightly in plastic wrap, then foil, before placing in the freezer.
**If you are baking in advance, go ahead and wrap your freshly baked pound cake in foil while the cake is still warm and pop it in the freezer! Doing this will trap additional moisture in your cake as the steam that is created from the dramatic temperature change becomes locked into the cake. We do this step with our freshly baked cake layers as well--even if only for a few hours!
This peach pound cake can be frozen for up to three months and it will taste as fresh as the day it was baked. When you are ready to thaw the pound cake, simply remove the wrapped cake from the freezer and place on your kitchen counter until condensation forms on the aluminum foil.
Then remove the plastic wrap and foil and continue to thaw at room temperature. You'll have a flavorful, moist cake ready to be sliced and devoured in no time!
Will the Peaches stay Suspended in the batter?
Yes, we did not have any trouble with the peaches sinking because the pound cake batter is nice and thick!
You can keep this recipe for other add-ins too in place of the peaches-- blueberries, sliced strawberries, cherries, chocolate chips, etc.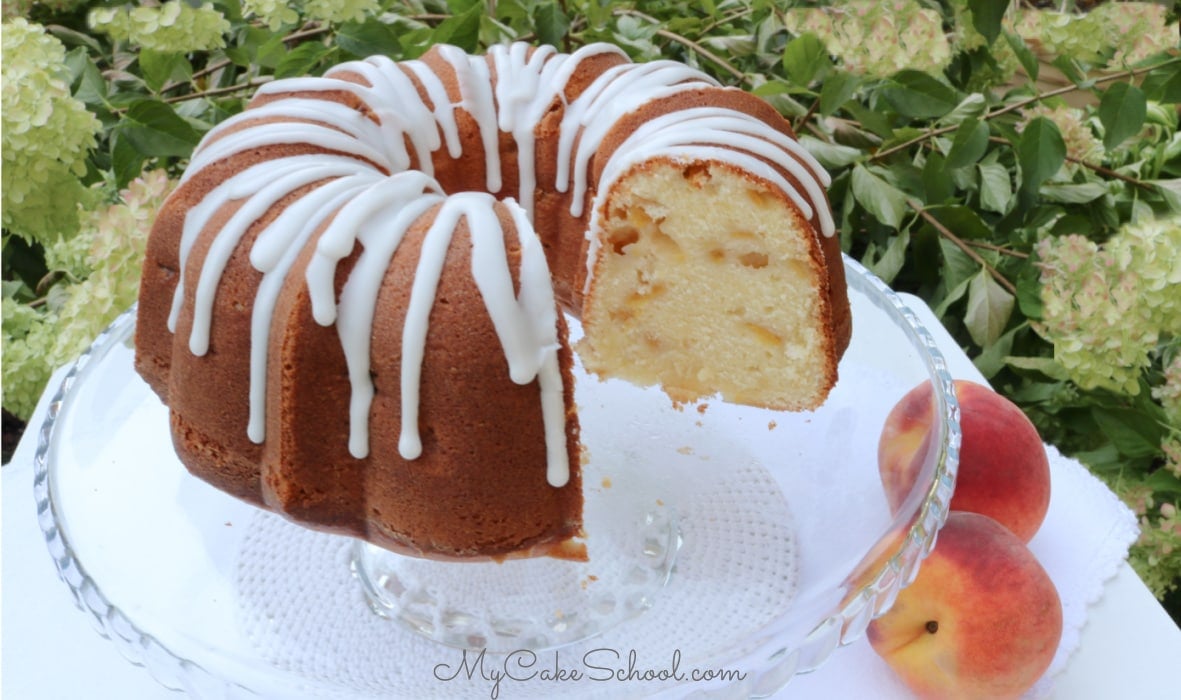 Simple Vanilla Glaze
We often top off our bundt cakes and pound cakes with a simple vanilla glaze. It does add a bit of sweetness to the cake as it is basically just a combination of milk and powdered sugar, but I love glazes for the purpose of dressing up your cakes a bit more!
You can spoon on the glaze after the cake has cooled off a bit, or for more control you can spoon it into a disposable piping bag (or ziplock) and snip the tip away.
If your glaze is too thick, add a touch more milk, if the glaze is too thin, add a bit more powdered sugar.
In addition to a glaze, a big scoop of vanilla ice cream or dollop of sweetened whipped cream is always a good idea!
Other Favorite Fruity Cakes
If you love peach cakes, I bet you'll love these other fruit-filled cake recipes too! Here are just a few of our fruity cake favorites!
My Cake School Cake Tutorials and Recipes
Thanks so much for stopping by today! If you give this Peach Pound Cake recipe a try, we'd love for you to post a comment or photo below!
We'd love for you to check out our full listing of favorite cake and frosting recipes in our Cake Recipes section! We have so many tried and true cake, filling, and frosting recipes to share.
Also, if you'd like to learn more about cake decorating, don't miss our Free Cake Videos section as well as our Free Cake Blog Tutorials section!
Peach Pound Cake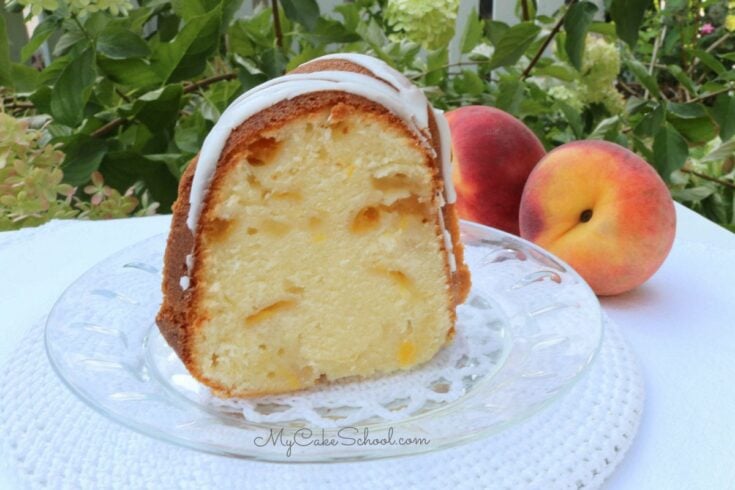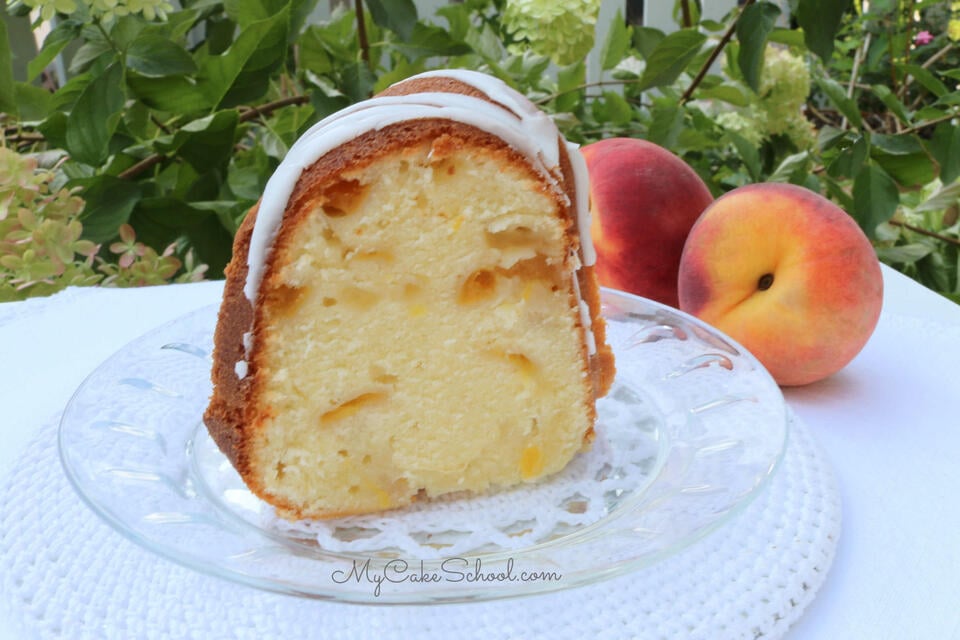 This buttery Peach Pound Cake is ultra moist with diced peaches folded into the batter!
Ingredients
For the Peach Pound Cake
3 sticks (339g) unsalted butter, slightly softened (do not soften in the microwave)
3 cups (600g) sugar
6 large eggs
3 cups (375g) all purpose flour (plain in the UK)
¼ teaspoon (1g) baking soda
½ teaspoon (3g) salt
1 cup (242g) sour cream
2 teaspoons (8g) vanilla extract
3 peaches peeled, pitted and diced (diced to reach 2 cups)-*You can also use frozen or canned peaches. If using frozen or canned be sure to place peach slices on paper towels to absorb the extra moisture.
For the Vanilla Glaze
1 cup (115g) confectioner's sugar (measure then sift)
1 teaspoon (4g) vanilla extract
2 to 3 Tablespoons milk (28g to 42g)
Instructions
For the Peach Pound Cake
Preheat the oven to 350 degrees
Grease and flour a 10 cup bundt pan (see Notes below)
In a separate bowl add the flour, baking soda, and salt. Whisk to blend, set aside.
Add the vanilla to 1 cup of sour cream, set aside.
Mix the butter on medium speed until smooth and creamy. Add the sugar gradually and mix on medium speed 3 to 5 minutes, or until the mixture is light and fluffy.
Add the eggs one at a time, mixing after each until the yolk is blended.
Add the flour mixture alternately with the sour cream mixture. Begin and end with dry ingredients. Add the dry ingredients 3 times and the sour cream mixture twice.
Fold the diced peaches into the cake batter then spoon into the bundt pan.
Bake at 350 degrees for 1 hour or until a toothpick inserted into the center comes out clean or with just a few crumbs attached.
Allow to cool 10 minutes before turning out. Do not allow to cool too long or it may stick to pan.
For the Vanilla Glaze
Stir ingredients until smooth. If it becomes too thin, you can add more confectioners sugar.
If the glaze is thicker than you'd like, add additional milk just a few drops at a time. You can spoon the glaze over the cake if you'd like, but we prefer to add it to a disposable piping bag with the tip snipped away for more control.
Notes
1. The recipe makes 8 ½ to 9 cups of batter with the peaches. If you are not sure how much batter your bundt pan will hold, this is how to find out. Add water to your bundt pan 1 measuring cup at a time until you reach 1 ¼ to 1 ½ inches from the rim of the pan. The number of cups water used will tell you the number of cups batter the bundt pan will hold with 1 ¼ to 1 ½ space for the cake to rise.
2. The cake can be frozen. Wrap in 2 layers of plastic wrap and then aluminum foil it can be kept airtight, it can be kept frozen for up to 3 months.
3. The cake can be kept on the counter top for a day or two then refrigerated under a cake cover.