This homemade Banana Chocolate Chip Cake with Peanut Butter Buttercream is soft, moist, and has a fantastic combination of flavors!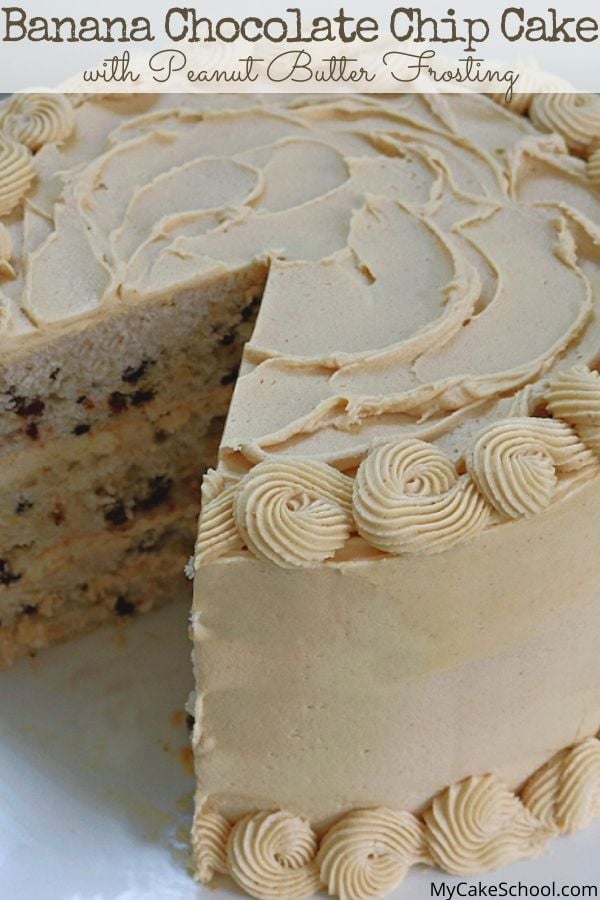 Peanut butter and banana together is a classic- whether a quick snack, a topping for toast, or in a delicious dessert — this sweet and salty combination just works!
In cake form, this combination is the BEST- not to mention a fun change of pace from the usual cake and frosting pairings! I promise, it's going to be hard for anyone to stop at just one slice ;0)
A Cake Elvis would love…
Peanut Butter and Banana Cake is often referred to as Elvis Cake – after his love for fried peanut butter and banana sandwiches- he liked bacon with the combination too but as much as I LOVE all things Elvis, I'm not putting bacon in my cake! ;0)
While we're on the subject of Elvis Cake, we have a fabulous Elvis Presley Cake in our Recipes Section, named after the King's favorite cake. If you love yellow cake, pineapple, cream cheese, and pecans, hop over to grab the recipe (after you make today's Peanut Butter & Banana Cake of course!)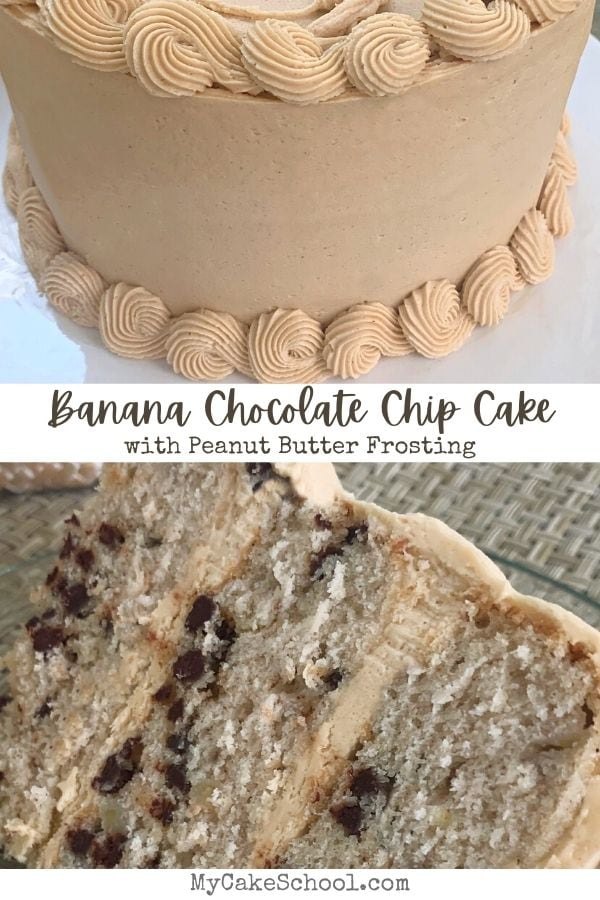 How to Make Banana Chocolate Chip Cake
This Banana Chocolate Chip Cake is made with our favorite Banana Cake recipe, however this time we used the conventional creaming method (rather than reverse creaming that we've used in our Banana Pudding Cake).
I truly love both versions of the banana cake recipe, but the conventional mixing method used in today's cake recipe yields fluffier cake layers.
After mixing up the batter, we folded in our mini chocolate chips and divided the batter between three 8 inch cake pans. We like to use mini chocolate chips in our chocolate chip cakes as they are less likely to sink to the bottom!
Freezing the Cake Layers
This step is optional but I always do it whenever time allows- even if the cake is for the next day!
After baking the three 8 inch banana chocolate chip cake layers, (or any cake recipe that I'm making) I like to wrap them individually while they are still warm, wrap in plastic wrap & foil, and then freeze for at least a few hours or until I need them (up to 3 months).
Wrapping the cake layers while still warm and freezing makes the cake layers even more moist!
When you are ready to assemble the cake, remove from the freezer and keep wrapped until condensation begins to form. Then, unwrap and fill your layers.
Place the first banana chocolate chip cake layer on your cake base or pedestal. Then, spread with a layer of peanut butter buttercream frosting. (We absolutely love this easy peanut butter frosting!)
Repeat for the next two cake layers. Before adding the final coat of frosting, refer to my note about settling below!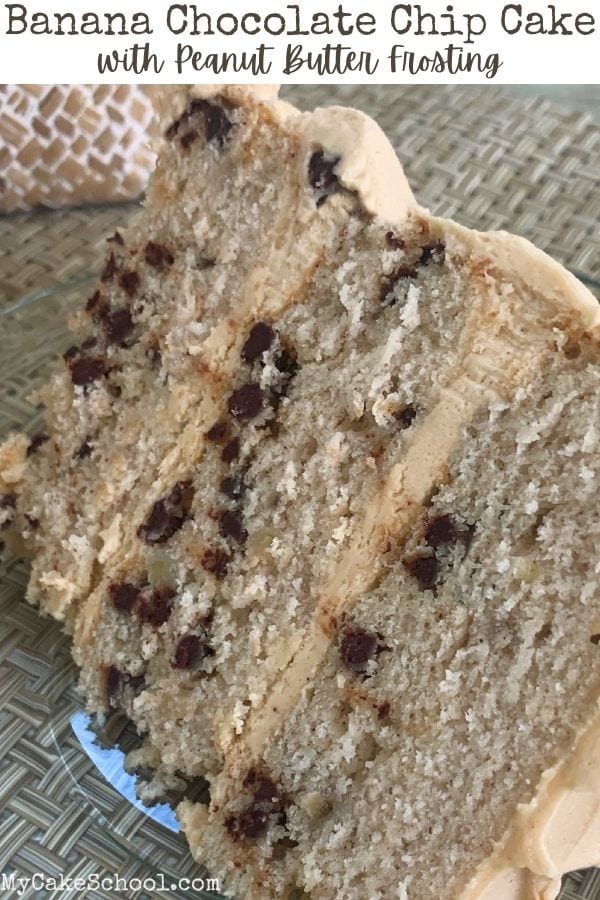 Settling the Cake
Settling the cake is an optional step but I always allow my cakes to settle when time allows. It will make your cake much less likely to develop bulges around the sides of the cake over time.
These dreaded bulges are especially noticeable if you've frosted the sides of your cake with a smooth finish. (Textured buttercream designs are a little more forgiving).
To settle the cake, wrap the filled, unfrosted tier with plastic wrap and then place a "weight" on top– a medium sized book or a couple of 8 or 9 inch cake pans- something that will provide a slight, steady pressure.
Let the cake settle for a least a few hours or overnight in a cool place (or in the refrigerator if your filling is perishable).
When I have zero time to work with, I will at least place a cake board on top of my filled tier and give it a few slow, gentle presses before frosting the cake–I think it helps! ;0)
After settling, I removed the plastic wrap and frosted the outside of the cake with our Peanut Butter Frosting.
Decorate however you like! I used an Ateco tip 32 (use any similar star or french tip) to add my reverse shell borders.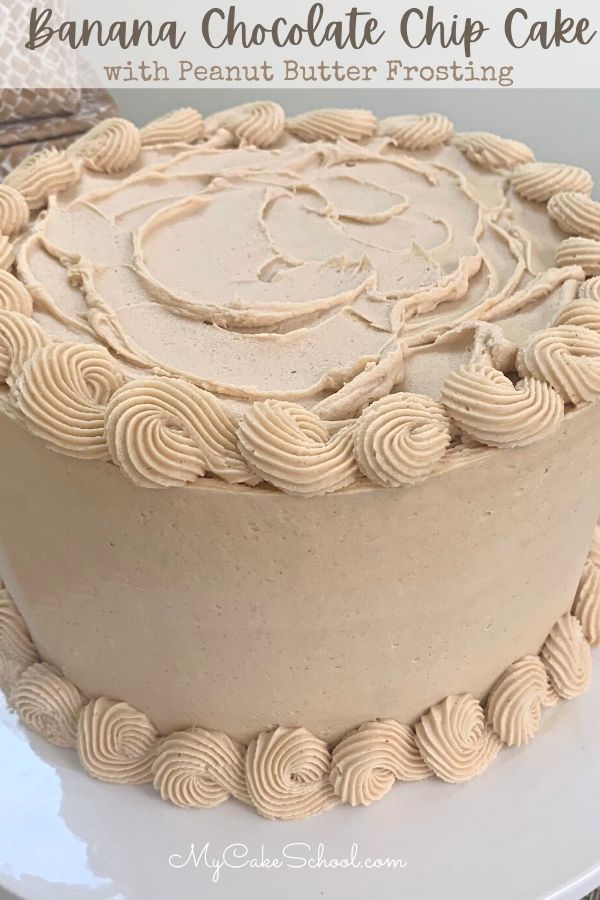 Love Banana Cakes? We have more to Share with You!
Don't miss these popular Banana Cake Recipes from our Recipes Section!
Banana Chocolate Chip Cake with Peanut Butter Frosting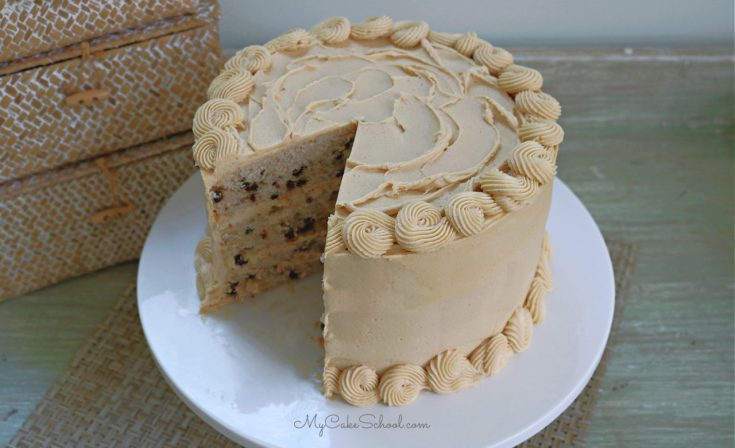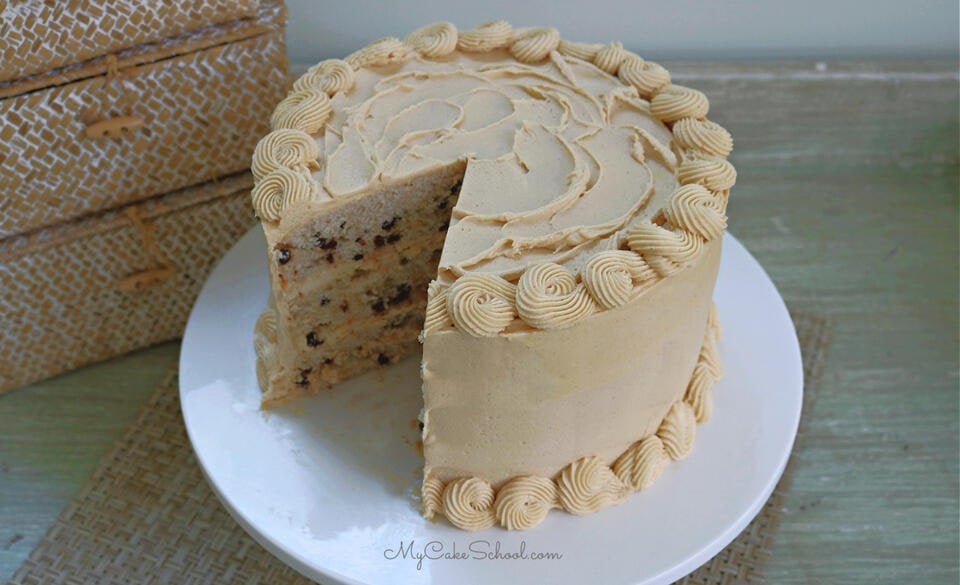 This Banana Chocolate Chip Cake with Peanut Butter Frosting is fluffy, moist, and so delicious!
Ingredients
For the Banana Chocolate Chip Cake Layers
1 1/2 sticks (170g) unsalted butter slightly softened ( not room temperature)
2 cups (400g) sugar
3 large eggs
3 cups (342g) cake flour (see Note below if you do not have cake flour)
1 Tablespoon (8g) baking powder
1/2 teaspoon (3g) baking soda
1/2 teaspoon (3g) salt
1 1/2 cups (363g) buttermilk ( see Note below for buttermilk substitute)
2 teaspoons (8g) vanilla extract
1 1/2 cups (277g) mashed banana (3 medium bananas)
1 cup (170 g) mini chocolate chips- adjust amount to your liking
For the Peanut Butter Frosting
1 cup (255g) Creamy Peanut Butter Do Not Use Natural or Reduced Fat . We have used Jif and Peter Pan Creamy brands.
2 sticks (226g) unsalted butter, slightly softened
1/2 teaspoon (3g) salt (optional to cut sweetness)
4 to 5 cups (460g to 575g) powdered sugar (depending on how soft you want the frosting to be) Sift then measure.
1/4 cup to 1/2 cup (60g to 120g) milk - use more if needed to reach the consistency you like
2 teaspoons (8g) vanilla extract
Instructions
For the Banana Chocolate Chip Cake Layers
Preheat oven to 350 degrees, grease and flour three 8x2 inch round pans. You could use two 9 inch pans it you do not have 8 inch pans.
In a medium bowl, whisk the flour, baking powder, baking soda and salt for 30 seconds, set aside.
In another bowl, add the buttermilk, vanilla and mashed bananas. Blend and set aside.
In the bowl of your mixer, add the slightly softened butter and mix at medium speed until smooth. Gradually add the sugar and continue to mix on medium speed for 3 to 5 minutes until lightened in color and fluffy. Add the eggs one at a time mixing until the yellow of the yolk disappears.
Alternately add the flour mixture and buttermilk mixture, beginning and ending with the dry ingredients (3 additions of dry ingredients and 2 of liquid. Do not mix above medium speed or over mix the batter. After mixing, fold in the chocolate chips.
Pour batter into prepared pans and bake for 25 to 30 minutes. Check at 22 minutes, cake is done with a toothpick comes out clean or with just a few crumbs attached.
Cool in pans 5 to 10 minutes on a cooling rack before turning out.
For the Peanut Butter Frosting
In the bowl of your mixer add the butter and mix on medium speed until the butter is softened and smooth. Add the peanut butter and salt, mix until blended.
Gradually add the powdered sugar alternately with the milk.
Add vanilla and mix on medium speed 4 to 5 minutes until smooth.
Makes 4 1/2 to 5 1/2 cups depending on the amount of powdered sugar and milk used. It is enough to fill and
Notes
Substitute for Buttermilk:  To a measuring cup, add 1 Tablespoon plus 2 teaspoons vinegar or lemon juice.  Add milk  to the  11/2 mark, stir.   Wait 5 minutes and it is ready to use.
Substitution for Cake Flour:  Using all purpose flour (plain in the UK)  to make Cake Flour:  For each cup of flour in a recipe, remove 2 Tablespoons of flour and replace with 2 Tablespoons cornstarch (cornflour in the UK). This recipe has 3 cups of flour so you will measure out 3 cups of all purpose flour, remove 6 Tablespoons and replace with 6 Tablespoons cornstarch, whisk to blend.
For the Peanut Butter Frosting
*Peanut butter brands labeled "Natural" that I have tried do not work as well with this recipe. The   consistency isn't smooth and creamy.  I have used Jif and Peter Pan Creamy with good results!
Recommended Products
As an Amazon Associate and member of other affiliate programs, I earn from qualifying purchases.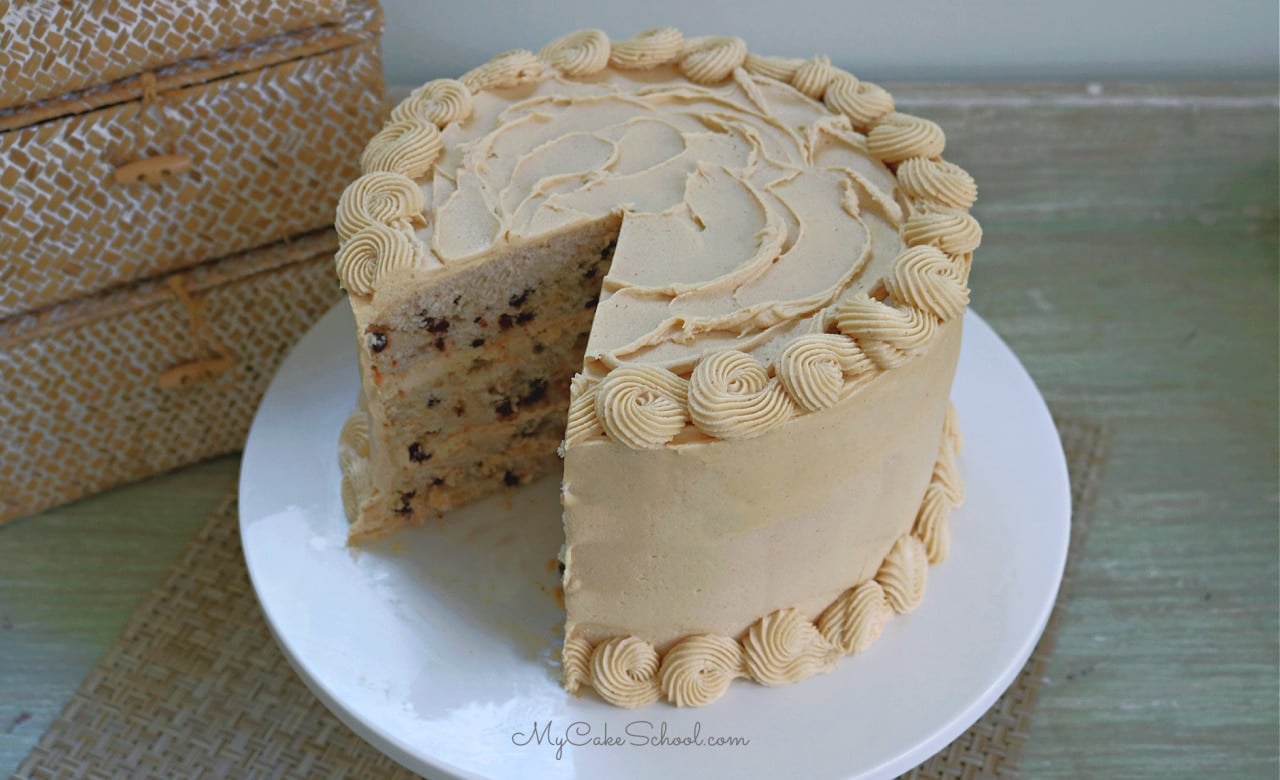 My Cake School Online Cake Tutorials, Cake Recipes, and More!
We'd love for your scroll through our full collection of THE BEST cakes and frostings in our Recipes Section. Whether you like to bake from scratch or from a doctored cake mix, we have so many delicious recipes to share!
If you would like to learn more about cake decorating, we have lots of fun and creative cake decorating tutorials in our Free Tutorials Section, which also includes a Free Video Tutorials Section.
Or, for access to our entire library of hundreds of cake decorating video tutorials, you should consider becoming a member of My Cake School! We would love to have you! you can find the details here: Joining Information for MyCakeSchool.com