Red Velvet Cupcakes from Scratch
Today we're sharing the BEST recipe for red velvet cupcakes! It works wonderfully for red velvet cake layers as well- this recipe is guaranteed to please any crowd! Yum!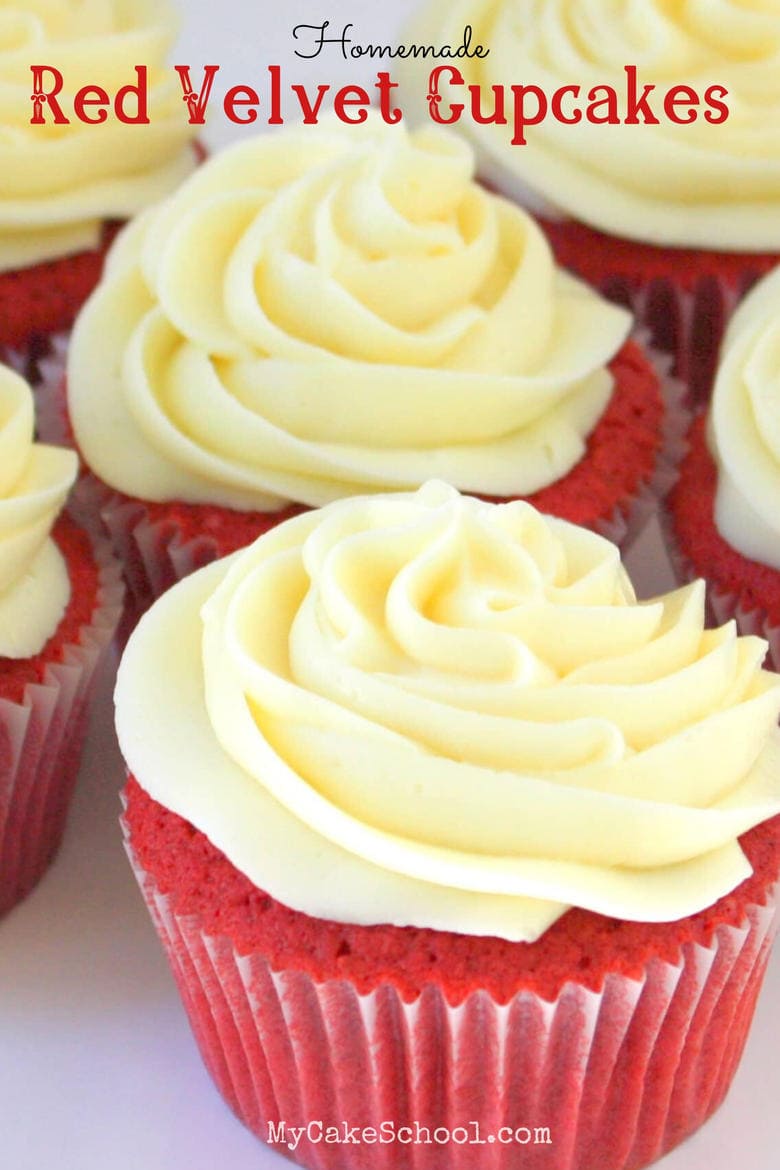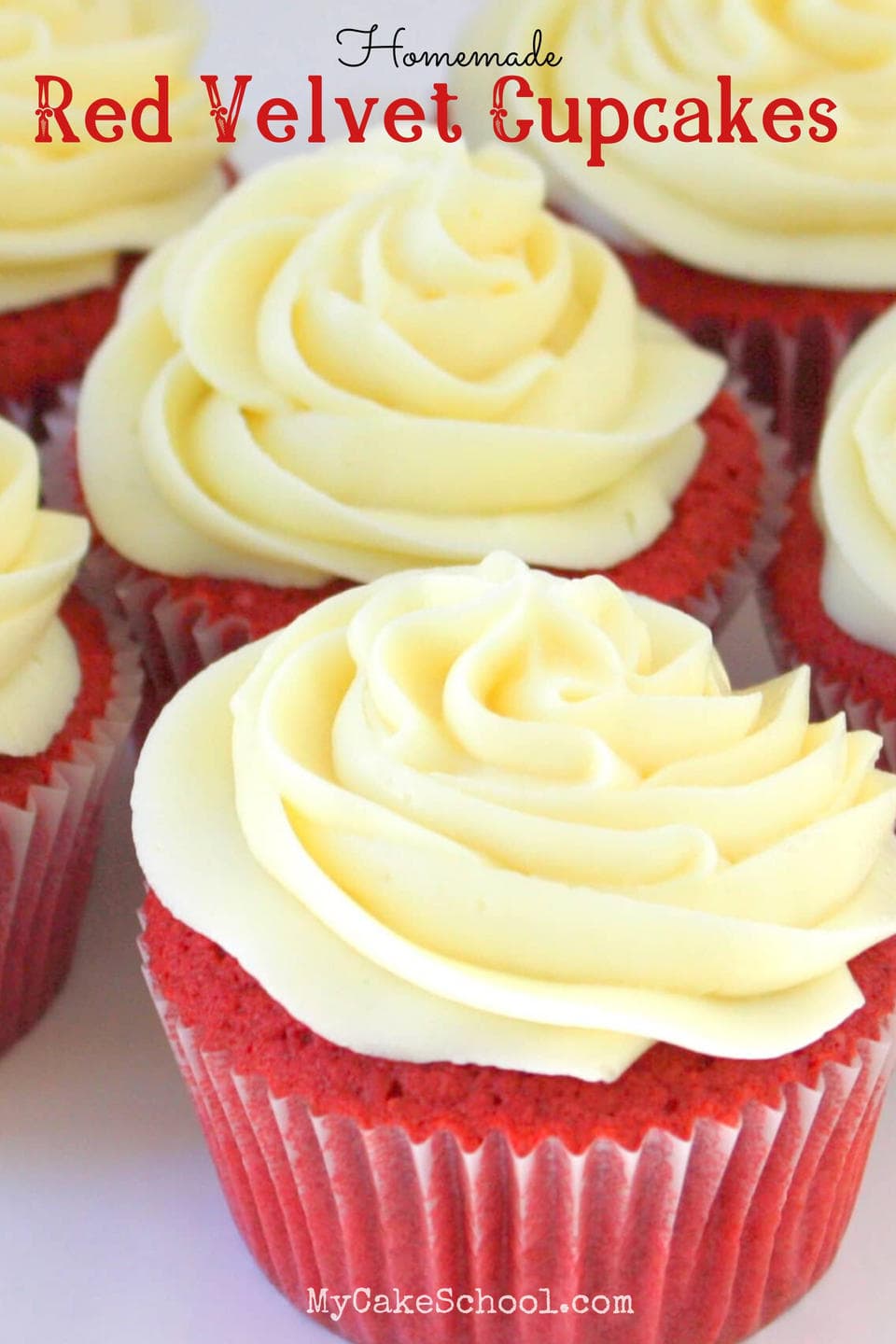 Ahhhh... Red Velvet Cupcakes! This is a classic southern cake recipe that everyone needs in their recipe box.
The PERFECT Red Velvet CupCakes
For the longest time, I didn't realize how amazing red velvet cupcakes and layer cakes could be. The problem was, I just hadn't found the PERFECT recipe yet. The good news is that we've found it. The BEST Red Velvet Cupcake and Cake recipe! I'm hooked.
This favorite Red Velvet Cupcake recipe is moist, delicious, and has just the right amount of cocoa. With a generous swirl of cream cheese frosting, there's just nothing better! It's a classic.
The scratch recipe that I'm sharing today focuses on Red Velvet Cupcakes but could absolutely be used for Red Velvet cake layers also. We already have a Red Velvet Cake recipe from Scratch on the site, and the recipe is the exact same as today's recipe...with one exception. The mixing method is different.
Conventional vs. Traditional Mixing Method of Mixing
Our other scratch Red Velvet Cake recipe uses the Reverse Creaming Method of Mixing, yielding a cake with a tighter crumb and velvety texture. It's amazing, but for cupcakes, I prefer a fluffier texture. For more details on this method of mixing, hop over to our video tutorial on the Reverse Creaming Method.
For today's red velvet recipe, we're using the Conventional (also known as creaming) Method of mixing. This conventional method gives us cakes and cupcakes that are lighter and fluffier.
This is likely the mixing method that you are used to already, which involves creaming the butter, adding sugar, eggs, and alternating between wet and dry ingredients (starting and ending with the dry).
In addition to cupcakes, if you prefer Red Velvet cake layers that are a bit fluffier, this is the recipe for you! Give it a try, you will not be disappointed!
Find our recipe below, as well as a link to our favorite Cream Cheese Frosting recipes! YUM. Red Velvet and Cream Cheese frosting are a match made in heaven.
Other Southern Cakes or Classic Cakes that are Sure to Become a Favorite
We have several good old fashioned favorite cake recipes in our Recipes section that you absolutely must try! Keep these in mind (along with this red velvet cake recipe) for birthdays, holidays, or just because!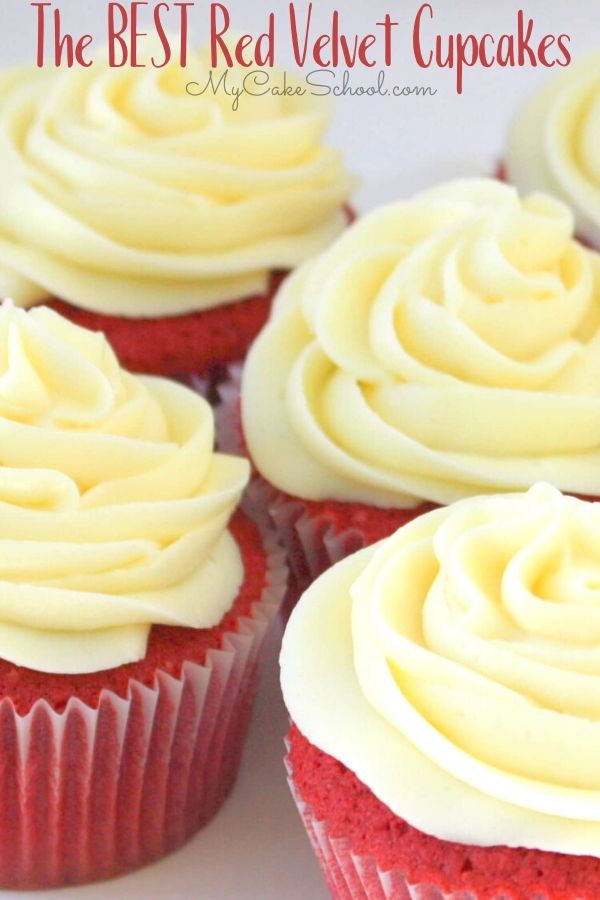 More Red Velvet Cake Recipes
If you love red velvet cakes, don't miss these other recipes from our site!
Red Velvet Layer Cake from Scratch
Red Velvet Cake- Doctored Cake Mix
Red Velvet Marble Pound Cake with Peppermint Glaze
Semi Naked Red Velvet Layer Cake with Chocolate Sail- Free Cake Decorating Video
Red Velvet Cupcakes from Scratch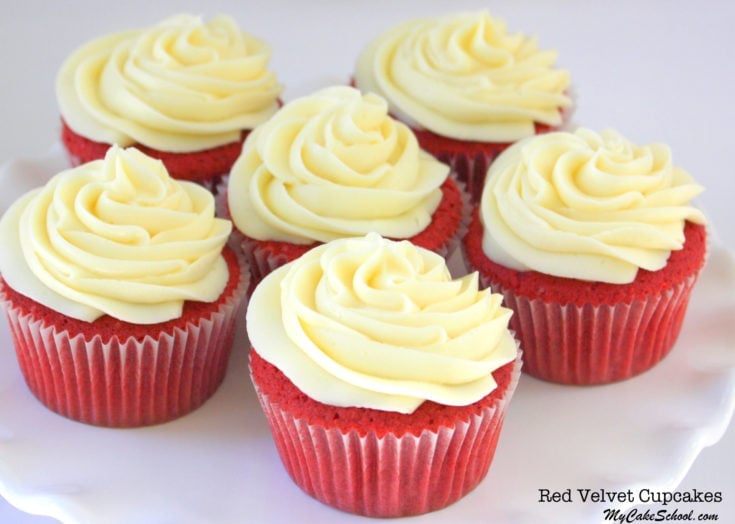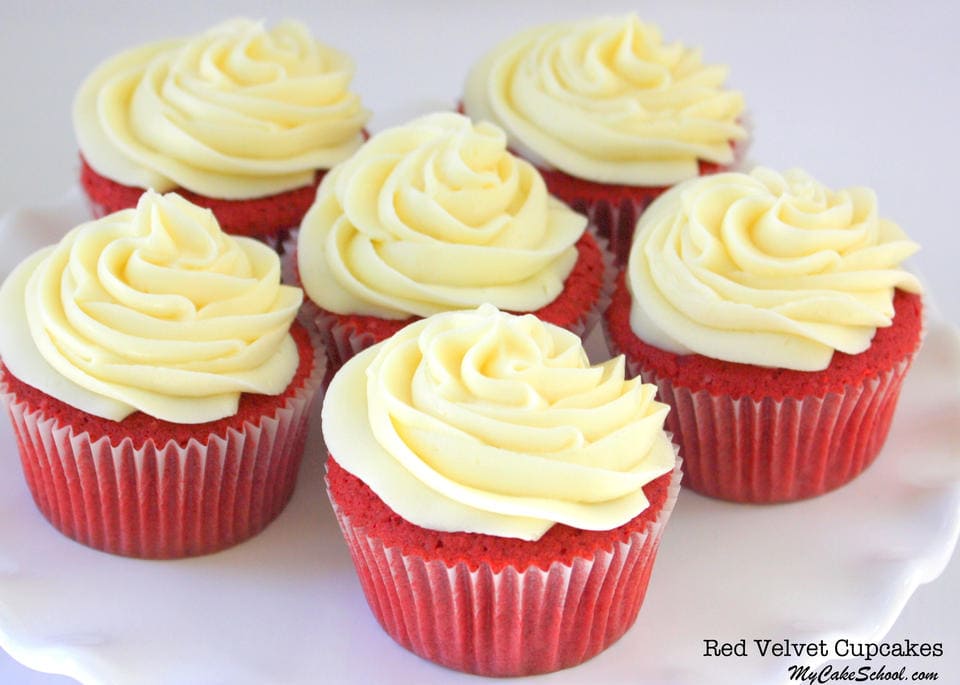 Moist and Delicious Red Velvet Cupcakes! This recipe is always a favorite (and can be used for cake layers as well!)
Ingredients
1 ½ sticks (12T) (170g) unsalted butter - slightly softened
2 cups (400g) granulated sugar
3 large eggs
2 ½ cups (285g) cake flour .....**See note below on how to make cake flour
4 Tablespoons (19g) unsweetened cocoa powder
½ teaspoon (3g) salt
1 Tablespoon (15g) baking powder
1 cup (242g) sour cream
⅓ cup (73g) milk
¼ cup (54g) vegetable oil
1 Tablespoon (12g) vanilla extract
2 Tablespoons (24g) red liquid food coloring
TO MAKE CAKE FLOUR : Flor each cup of all-purpose flour in a recipe, remove 2 Tablespoons of the all purpose flour and replace with 2 Tablespoons cornstarch. For this recipe, measure out 2 ½ cups all-purpose flour and remove 5 Tablespoons of the flour and replace with 5 Tablespoons cornstarch. Whisk to blend.
Instructions
Preheat the oven to 350 degrees
Grease and flour two 8 x 2 inch pans or three 8 x 2 inch pans, check for doneness a bit sooner if using 3 pans/ Or, for cupcakes, add cupcake liners to your cupcake pans.
In a separate bowl, add the flour, sifted cocoa, salt and baking powder. Whisk to blend. Set aside
In another bowl, add the milk and sour cream. Blend with a fork and set aside.
In the bowl of the mixer and at medium speed, beat the butter until lightened in color and smooth. Gradually add the sugar and mix on medium speed until light and fluffy ( 4 to 5 minutes).
Add the eggs 1 at a time, mixing after each just until the yellow disappears, add the vegetable oil, vanilla, and red food coloring and blend in.
Alternately, add the flour mixture (3 additions) and the milk (2 additions) beginning and ending with the dry ingredients. Mix just until combined. Pour into the prepared pans, smoothing the tops with the back of a spoon.
When using the recipe for cake layers, bake at 350 degrees for 30 to 35 minutes (for cupcakes, see below. When a toothpick inserted in the center comes out clean or with only a few crumbs attached, it is done. Let the cake cool in the pans about 10 minutes then turn out.
FOR CUPCAKES: Bake at 350 degrees for 18 to 20 minutes or until a toothpick comes out clean. This will make 2 dozen plus cupcakes.
Makes 7 cups batter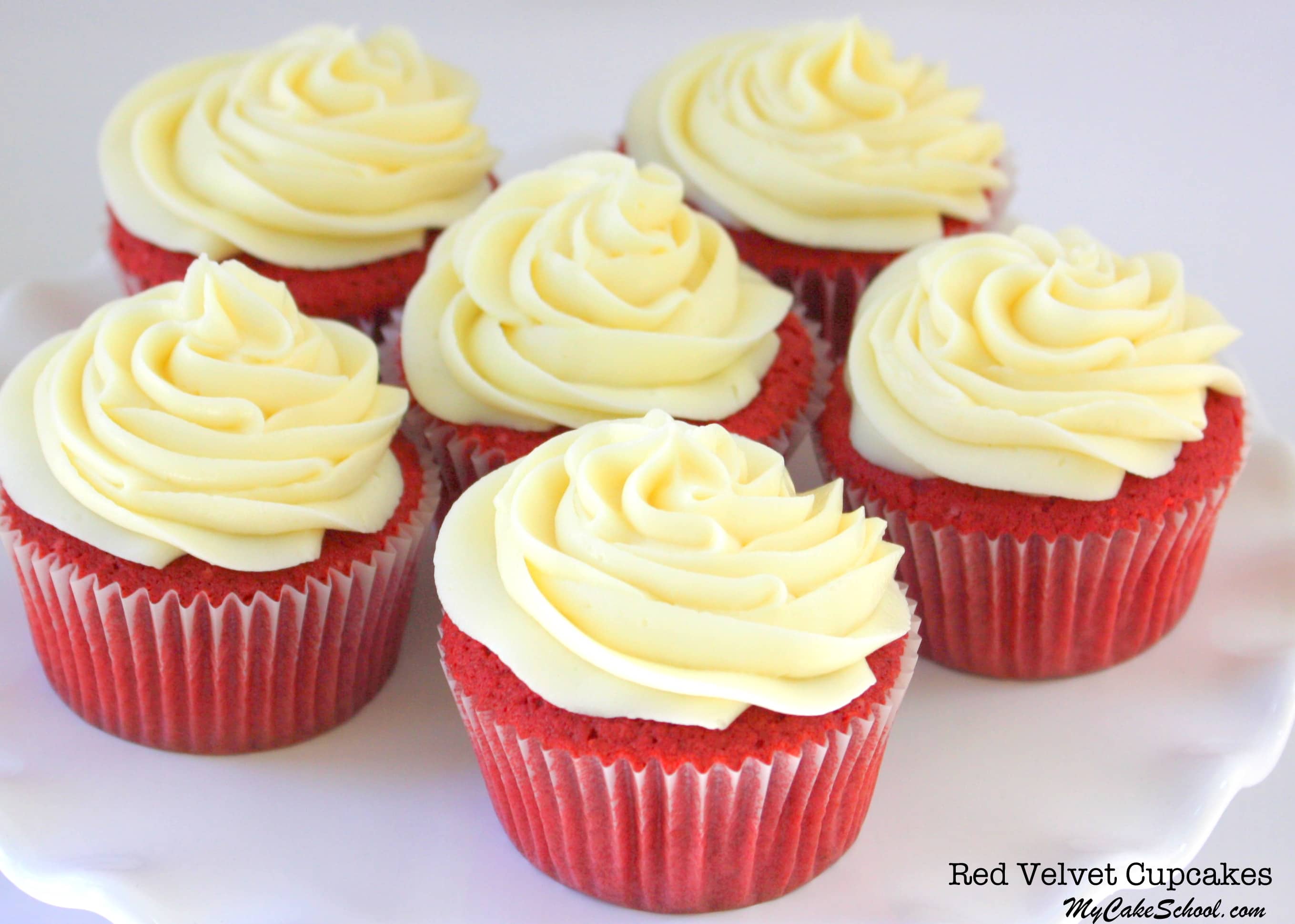 You can see from the photos that our red velvet cupcakes bake up with just a slight dome. We hope that you love this recipe as much as we do! Enjoy!
*Notes:
**If you don't have cake flour on hand, don't worry! You can easily make it yourself. To make cake flour, for each cup of all purpose flour remove 2 Tablespoons of flour and replace with 2 Tablespoons of cornstarch. For this recipe, measure out 2 ½ cups all purpose flour, remove 5 Tablespoons flour and replace with 5 Tablespoons cornstarch. Whisk to blend.
This recipe is great with cream cheese frosting. We have two recipes: Pipeable Cream Cheese Frosting, which pipes very easily and holds it's shape very well, and also a softer version of Cream Cheese Frosting . Both taste amazing!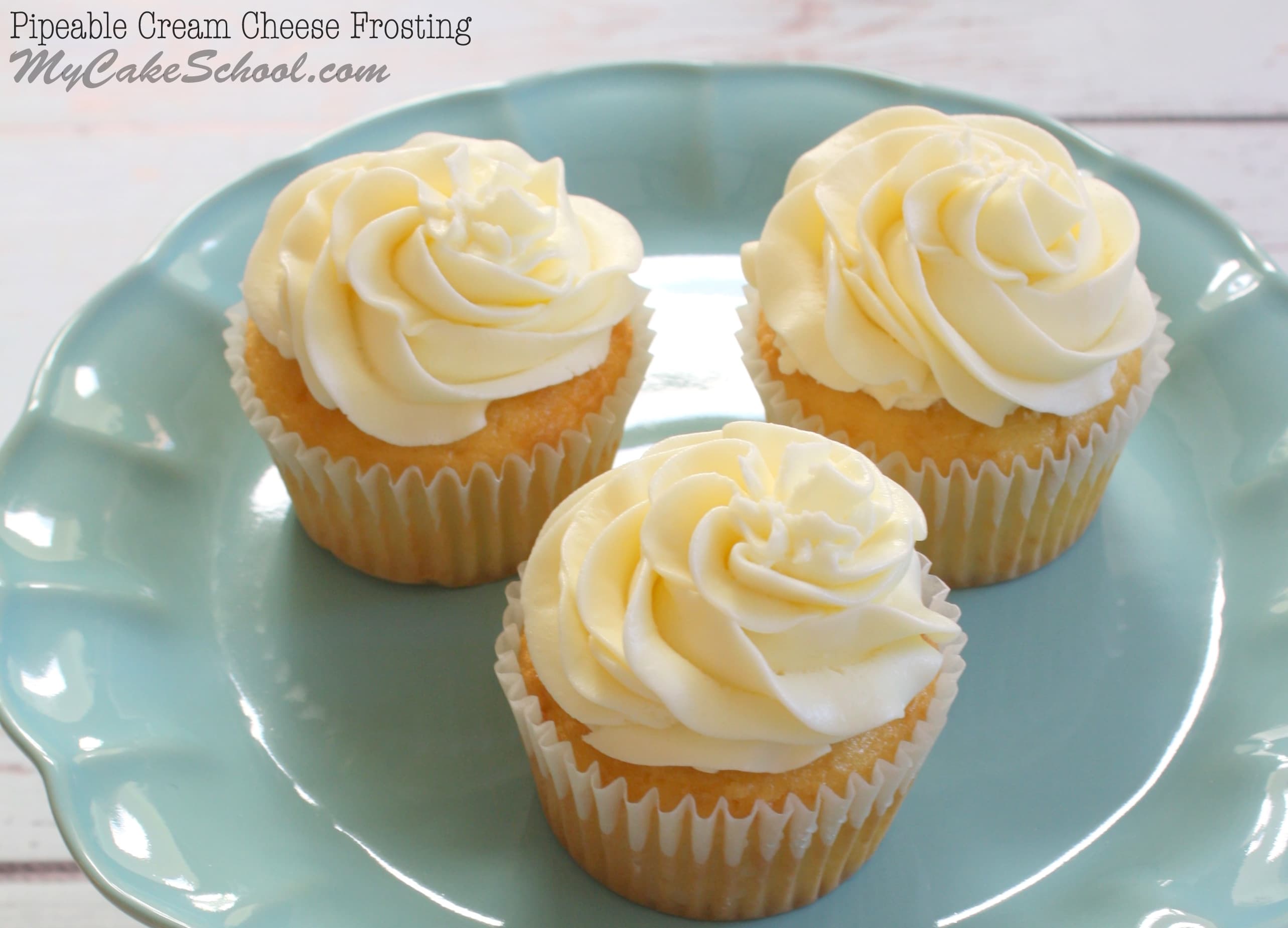 If you prefer to work with doctored cake mix recipes, we have the perfect Red Velvet doctored cake mix recipe which is perfect for both cakes and cupcakes! You can find it here: Red Velvet Cake (Doctored Cake Mix) Recipe.