In today's free cake video tutorial, I'm going to show you how to make a simple, CUTE owl cake!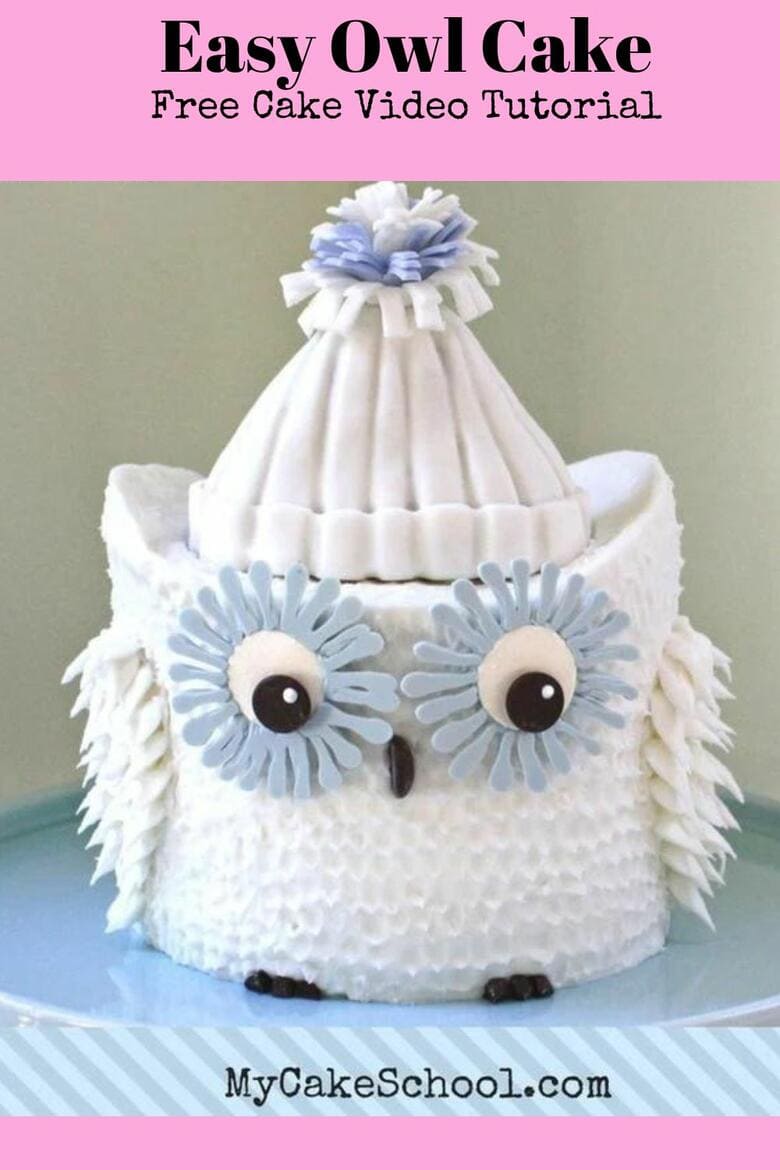 Our owl will be white & sporting a winter hat, but you could change the colors and decorations to fit all sorts of sweet themes and occasions!
Bird Themed Cakes
You may have noticed that I love bird themed cakes, and designs involving owls are some of my favorites!
We've done quite a few owl cake designs as well as other fun bird themes! Here are just a few favorites:
Owl Love You Forever Cake- Free Video
Sweet Woodland Owls Cake- Free Video
Hula Owl Cake Topper- Free Cake Blog Tutorial
Birdcage Cake- Free Video Tutorial
Enjoy the Video!
We hope that you enjoy this fun owl cake tutorial! Make sure to scroll beneath the video for the materials used, template, and additional notes! Enjoy!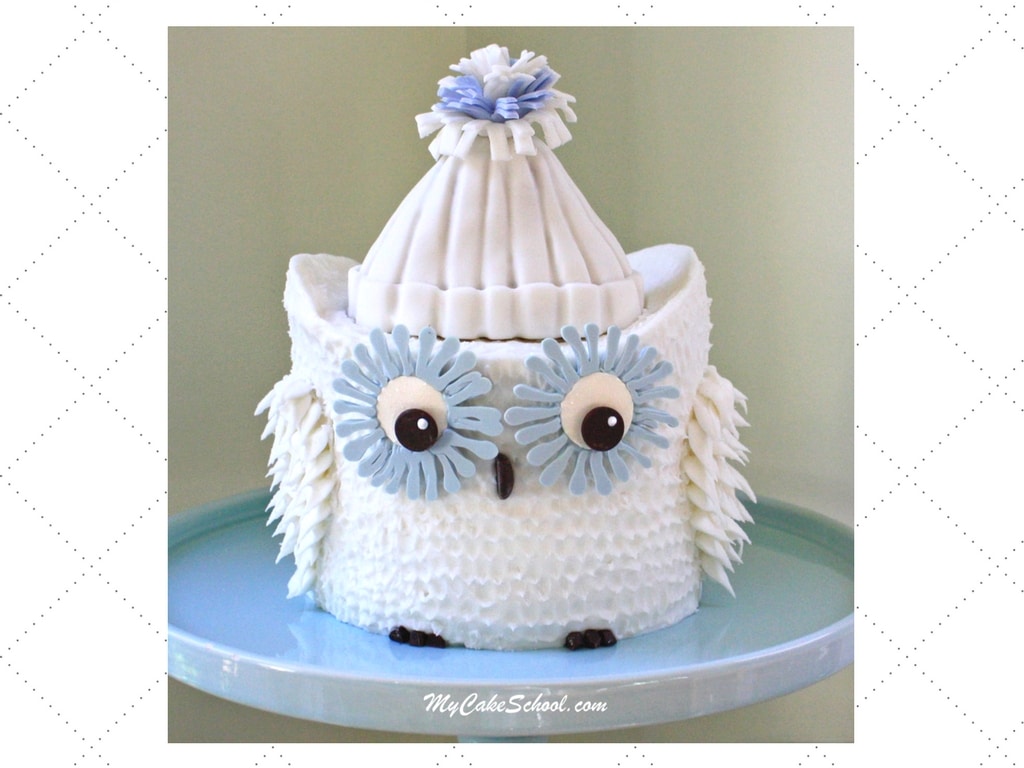 Materials for owl cake:
(We used a three layer, 6 inch cake frosted in our Fluffy Vanilla Buttercream Frosting. We used our doctored white almond sour cream cake recipe but any cake will do that is dense enough to hold up to light carving. If you're worried, you can carve while partially frozen.)
Owl Cake Templates (For eyes and wings)
Chocolate Chips (We used Ghirardelli Dark Chocolate Chips for the eyes & beak-- a little larger than regular chocolate chips.)
Ball Tool for texturing (see notes below for alternatives)
Piping Tips: Large Leaf Tip 366, Round tip 4 (for small white dot on eye)
White Chocolate Candy Melts/White Bark Coating (we used Wilton candy melts)
Candy Coloring - We used Americolor Blue Candy Coloring (you could also used pre-colored Wilton Candy Melts instead)
Cardboard cake circle (cake is resting on cake cardboard cut down to size)
Miscellaneous: Piping Gel for "glue", Small paint brushes, Wax or parchment paper, cookie sheet, serrated knife for carving, Americolor food coloring pen (optional), Vegetable Shortening, Fondant rolling pin
White Fondant for covering hat (plus a small amount that has been tinted with Americolor Blue Candy Color)
FMM Multi Ribbon Cutter (optional) we used this to cut our strips for the pom pom.
Lollipop Stick
2 bubble tea straws or your supports of choice, cut to the height of the cake (beneath hat)
5 (22g size) Rice Cereal Treat Bars.
Notes for making owl cake:
-We used a ball tool for creating texture but there are a number of alternatives if you do not have one. You can texture with a small angled spatula, small spoon, or even a piping tip. You could also actually pipe small feathers with a small leaf tip.
-We tinted our white candy coating with blue candy coloring (although just a small amount and so it looks like a blue/grey). Using "regular" gel coloring would have made the chocolate thicker and more difficult to work with. You could also use pre-colored candy coating.
-If you don't have the Ghirardelli chips that we used, which are larger, you may prefer to use buttercream or fondant to create the eyes and nose.
-Our template has 4 eyes so that you can make an extra pair just in case of breakage.