Striped Buttercream Panels Cake
Today's Striped Buttercream Panels Cake tutorial is so fun and unique!
This cake design incorporates a couple of popular buttercream techniques: easy buttercream stripes, and the "pulled dot" or petal cake technique.
Enjoy the video and make sure to check out the materials and additional notes below!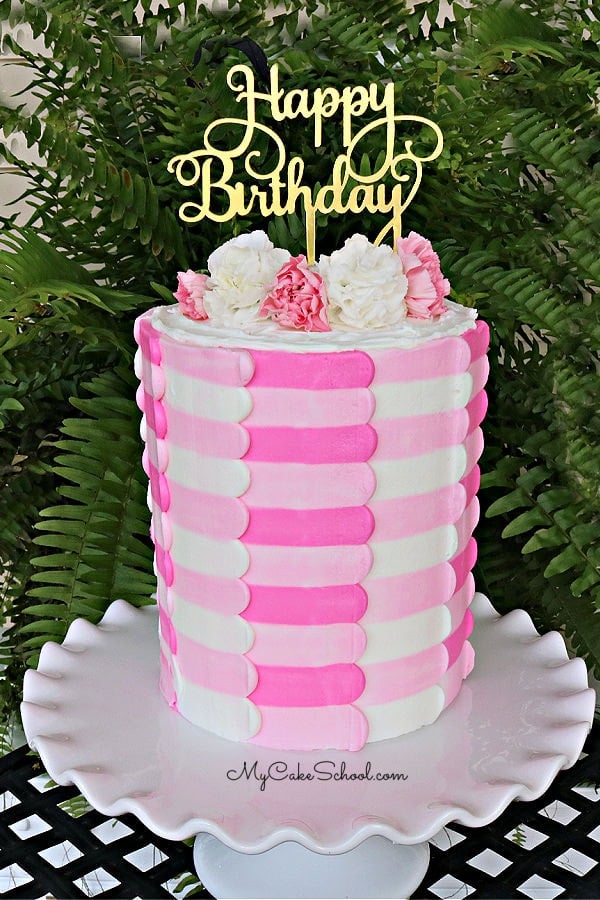 Materials for Striped Buttercream Panels
*In this video, I'm frosting a double barrel cake (which is a 4 layer cake with cake cardboard halfway up and 4 bubble tea straw supports beneath).
Buttercream - We used our fluffy vanilla buttercream but our classic vanilla buttercream is a good choice also
Coloring Gels- Americolor Deep Pink (for both the light pink and dark pink)
Bench Scraper- I used a tall one from Evil Cake Genius.
Turntable- helpful!
Disposable piping bags
Piping Tips: Medium sized round tips work well- I used a tip 12. (I also used a small round tip 3 for a small bead border that I piped along the edge of the very last "panel" which was really just a vertical row of pulled dots to finish things off.
*I used pink and white carnations on top, which were resting on a circle of parchment. I didn't use a water source but they will stay fresh looking for several hours--I was surprised that the carnations still looked good the next day after being in the refrigerator on the cake overnight!
My little gold Happy Birthday was in a set that I ordered from Amazon.
Additional Notes for Striped Buttercream Panels:
It's a good idea to practice on wax or parchment paper to get a feel for this technique and how far the buttercream dots can be spread.
As I mentioned in the video, for extra wide buttercream panels, you can pipe short horizontal lines of buttercream (rather than dots) before smoothing with the bench scraper.
Also, you may find it helpful to heat your metal bench scraper before smoothing the buttercream for an extra smooth finish.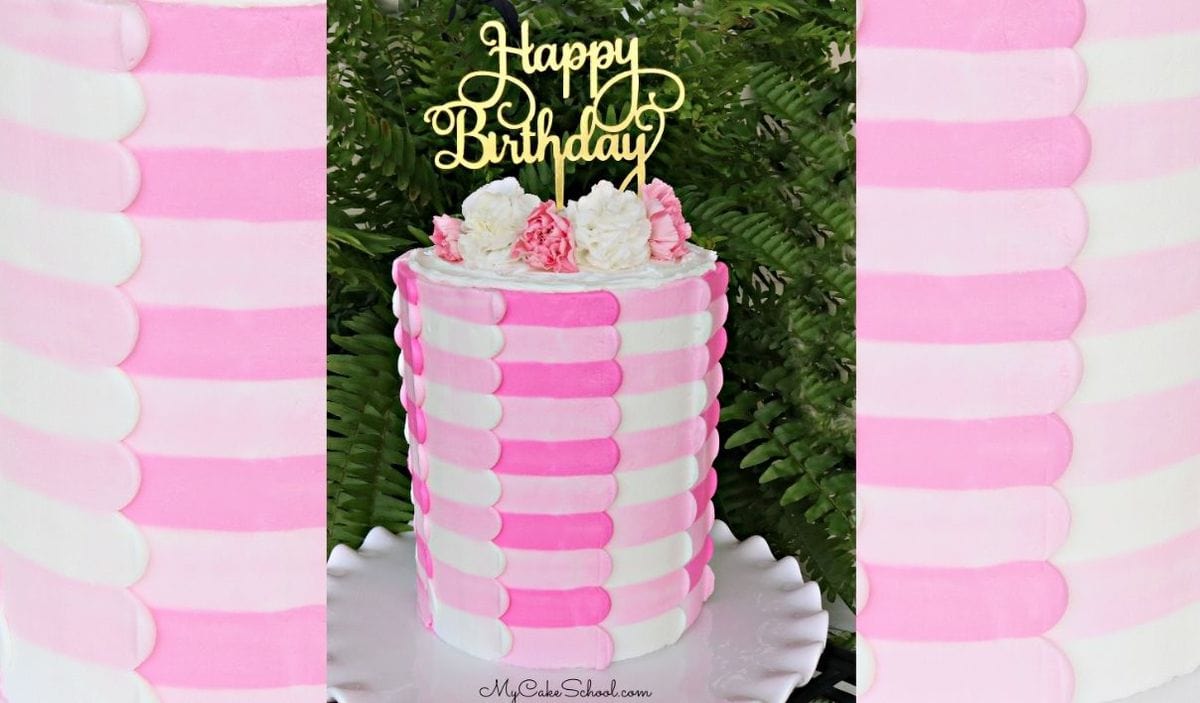 Enjoy the Video!
Thanks so much for stopping by! We hope that you enjoy this tutorial on striped buttercream panels. If you give the technique a try, we would love for you to leave a comment below!