How to Pipe Cornelli Lace-Cake Tutorial
In this free cake tutorial, I'm going to show you how to pipe Cornelli Lace on your cakes. This is a simple yet beautiful buttercream piping technique.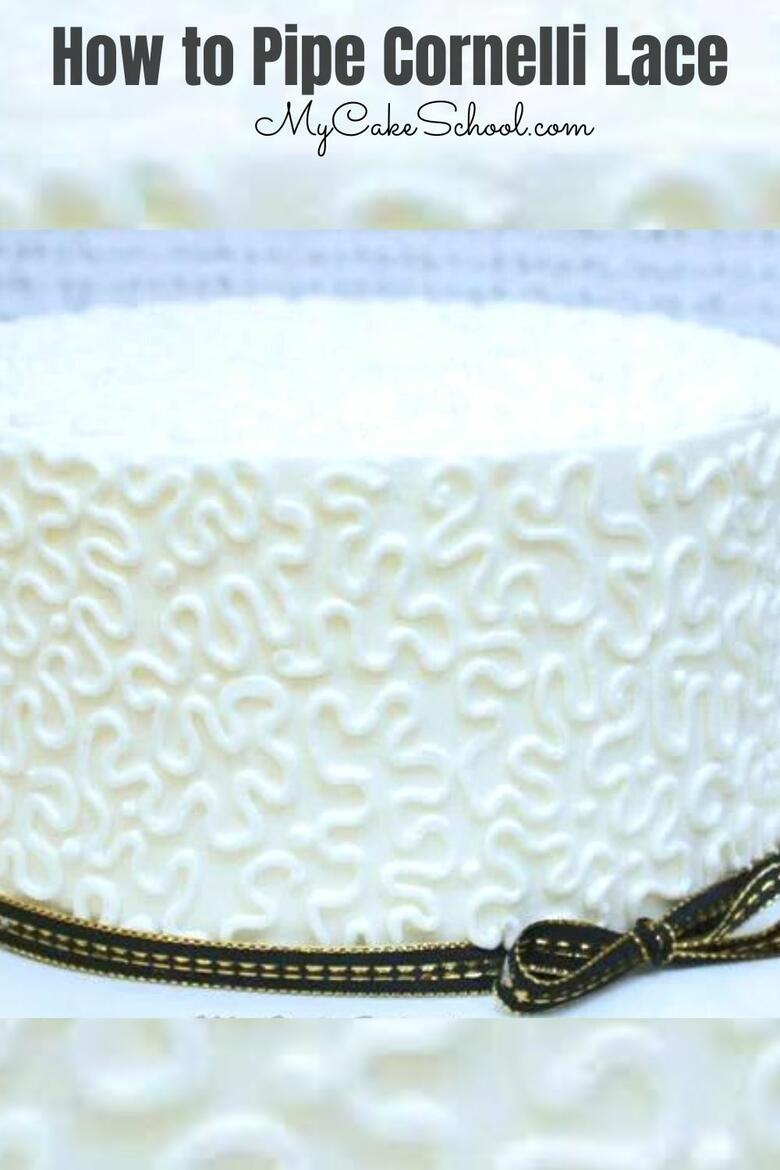 Enjoy the tutorial!
What is Cornelli Lace?
Cornelli lace is a freeform buttercream piping technique that involves piping a continuous strand of curvy lines or squiggles that do not overlap or touch.
Eventually, as the cornelli design fills more and more of the cake, it takes on a delicate lace appearance
Cornelli lace piping is a wonderful way to add a touch of elegance to your cakes.
Whether applied to an entire cake, a small portion, or even a simple fondant bow, cornelli lace is one of the simplest ways to dress up your design.
Materials:
In this tutorial, I am piping onto an 8" cake that has been frosted with our Fluffy Vanilla Buttercream recipe .
(Our Classic Vanilla Buttercream would be a good frosting choice also.) Before piping the design, I smoothed the frosted cake using the Viva paper towel method of Smoothing. You could use the Hot Knife Method of smoothing as well.
Medium consistency frosting of your choice (easily flows through the piping tip but holds its shape)
Wilton piping tip 3 (or other small round tip in a similar size.)
Miscellaneous: Cake board for your tier to rest on as usual, turntable (optional), Ribbon for Border (optional)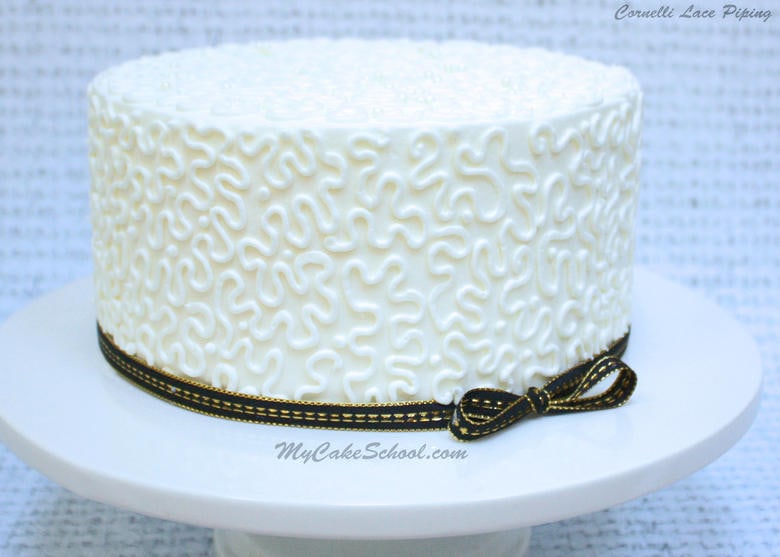 Additional Tips on Cornelli Lace:
This buttercream technique is simple to achieve, but it is always a good idea to practice first on a sheet of wax paper, a cake dummy, the side of an inverted bowl or tube pan, etc.
Steady Pressure
The key to piping cornelli lace is even pressure in your piping. You will get the hang of this as you do a few practice runs.
Just as I do when piping letters onto a cake, I do not bend my wrist with this technique. Instead, my wrist is straight and my forearm is what moves. You are going for the feeling of continuous piping...although you will surely have to stop and start many times, it won't be noticeable because of the nature of the pattern.
What Frosting is best for Cornelli Lace?
When piping cornelli lace onto a buttercream frosted cake, I always use buttercream for my design.
If decorating a fondant covered cake, I like to use either a crusting buttercream (like the fluffy vanilla buttercream I'm using in this tutorial) or a medium consistency royal icing.
If you are piping cornelli onto a fondant accent that will need to be handled (a bow), then you may opt for royal icing since it dries firm.
So many design options!
While this is a simple piping technique, it can be a bit time consuming...especially when piping around the sides of the cake.
The end result is definitely worth it, but there are many other beautiful options as well when it comes to cornelli lace.
Instead of covering the entire cake in piping, you could opt to just decorate the top of the cake, or just the bottom half, you could create a short border of cornelli that goes around the base of the cake.
Piping onto gum paste designs is a great option as well. We did something similar with scrollwork on a gum paste bow in this tutorial: Elegant Piping and Bow
We hope that you enjoy this technique, which can be applied to everything from birthday cakes to bridal showers, wedding cakes and more!
Enjoy the Video!
Thanks so much for stopping by today. We hope that you enjoy this piping technique. If you give cornelli lace piping a try, please leave a comment and photo below!