Easy and Elegant Loopy Buttercream Piping- Free Cake Video
Today I'm going to demonstrate one of our favorite buttercream piping techniques- this Elegant Loopy Buttercream Cake is surprisingly simple and quick to create and so uniquely beautiful.
If you love piping techniques, you must give this method a try! It is so much fun, and the style is suitable for birthdays, weddings, bridal showers, and more!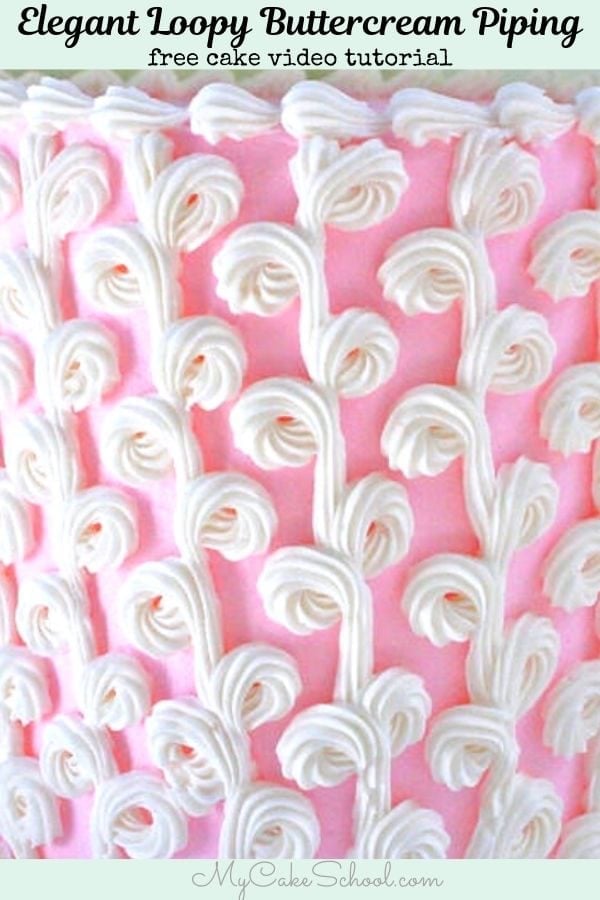 For our piping demonstration today, I am piping with white buttercream onto a pink background for a nice color contrast. However, for wedding cakes, white on white piping is gorgeous, as would be white onto an ivory background.
Tips for Creating this Loopy Buttercream Cake Design
You can use any star tip that you'd like, although I prefer smaller tips for this technique. In this tutorial, I'm using a Wilton 18. (Ateco, or other brands are fine!).
After piping your first vertical line of loops, you may find it helpful to count the loops on the right side and just keep that number in mind as you are piping the loops for the other rows.
For instance, my rows had 5 loops going down the right side of each row. Make your loops as small, large, or spaced out as you'd like! I highly recommend doing a practice run on parchment or waxed paper for a few rows just to get a feel for the technique.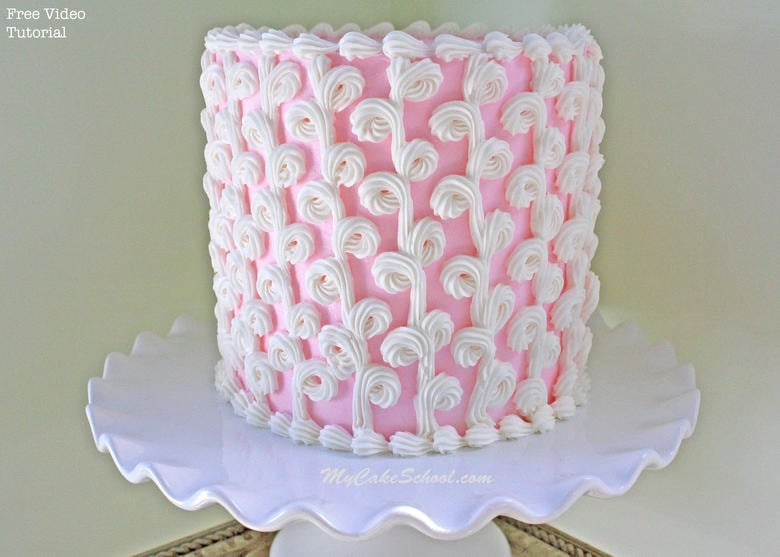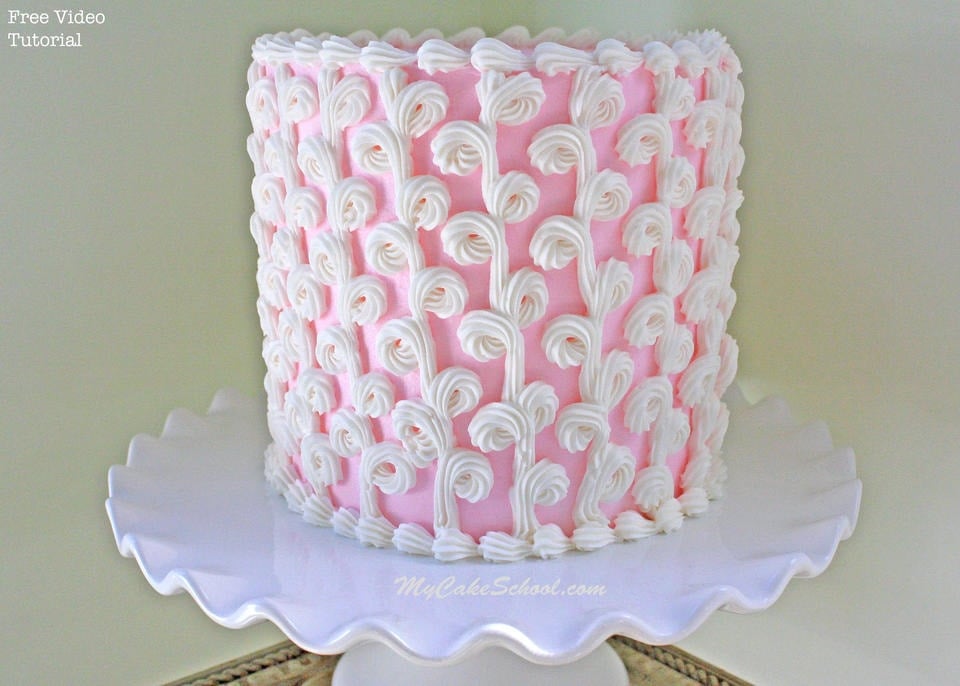 Suggested Cake Recipes
For this cake tutorial, we decorated a 6 inch cake with vanilla buttercream. Any type of cake will do! Here are just a few of our favorite recipes:
Lemon Cake from Scratch
Enjoy the Video!
Thanks so much for stopping by! If you give this loopy buttercream piping a try, we would love for you to leave a comment or photo below!
Easy and Elegant Loopy Buttercream Piping- Free Cake Video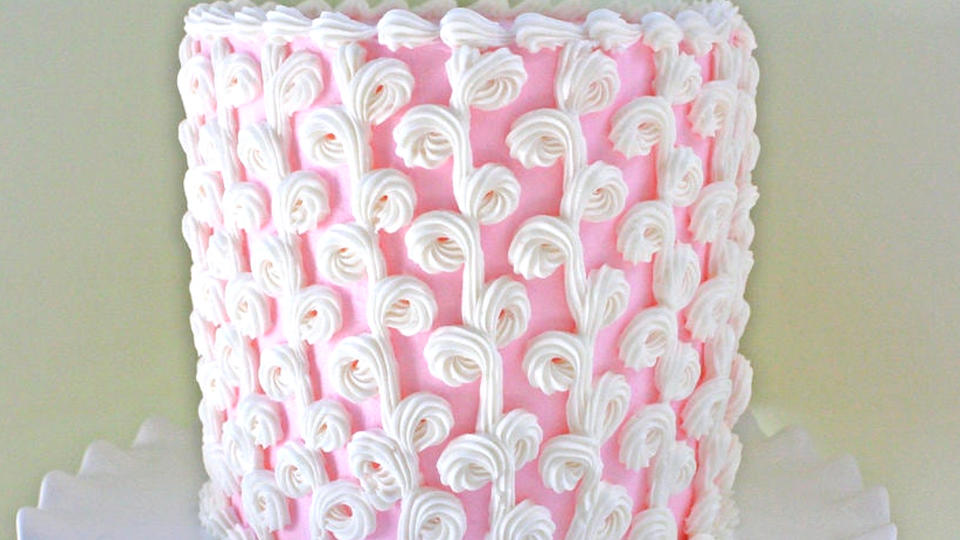 This elegant loopy buttercream piping is surprisingly simple to create, yet looks beautiful on cakes for all sorts of special occasions!
Materials
(I have details about the specifics of our double barrel cake in the Notes section)
Your Cake of Choice, frosted smooth
Star Piping Tip 18 (You can experiment with other tips as well, including small round tips)
Coloring Gels- We most often use Americolor Deep Pink or Wilton Rose. Use any color you like for the background color.
Cake base or pedestal of choice
Spatula and/or bench scraper for frosting and smoothing the cake
Instructions
Frost your cake with a smooth finish as you normally would with the pink frosting.
Fill piping bag with white (or preferred color) of frosting, fitted with a star tip 18.
You will be working vertically from top to bottom. I like to have the frosted cake on the cake base or pedestal before adding this design.
I recommend practicing this technique on waxed paper or a cake dummy before doing the final piping.
It's a good idea (especially when you are first learning the technique) to chill your frosted cake until the buttercream is firm before adding the loopy piping. That way, if you make a mistake, you can easily remove it without messing up your smooth layer of frosting. (I often chill my frosted tiers for about 15 minutes in the freezer)
Beginning at the top of the cake, pipe a vertical row of the design. The motion is much like that of a cursive "L", but it is continuous as you repeat the motion going downward. You can experiment with the spacing of the loops.
Pipe the next row, spacing it so that the pattern has a nice flow to it from row to row.
If you'd like, add top and bottom borders. I used a shell border with my tip 18.
Notes
In this cake video tutorial, we are using a double barrel cake that has been frosted in our fluffy vanilla buttercream. Any buttercream frosting would work for this, as long as it flows easily from the piping bag and holds it's shape.
*This double barrel (Tall) cake consists for four 6 inch cake layers with a cardboard cake circle halfway up which is supported from beneath with four bubble tea straw supports.