Today we are sharing a Chocolate Turtle Cake Recipe that is absolutely delicious- I love this flavorful combination of decadent chocolate cake, homemade caramel sauce, toasted pecans, and a drizzle of rich ganache.
With this lineup of key ingredients, you just cannot go wrong!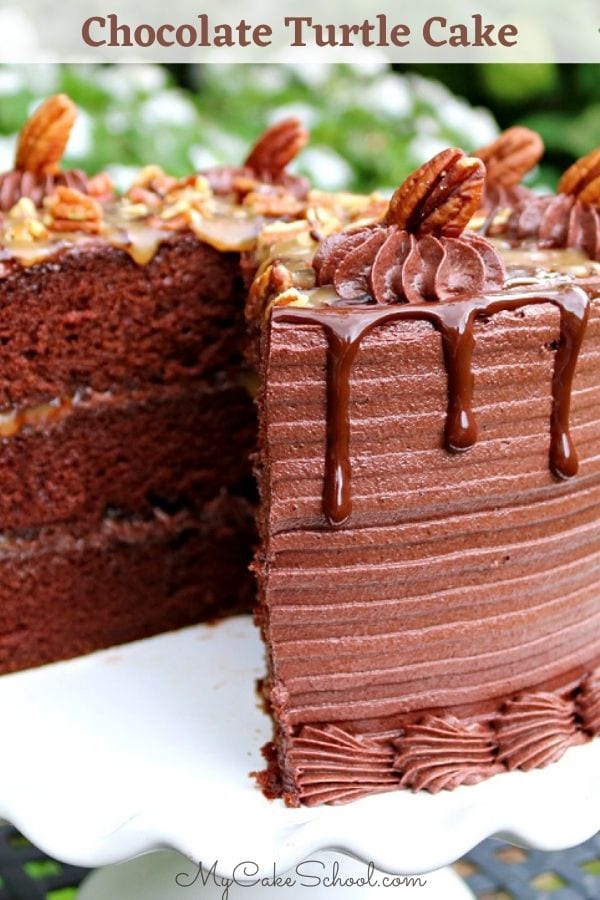 This Chocolate Turtle Cake has become one of my personal favorites.
It's inspired by Chocolate Turtle candies, which are delicious pecan and caramel clusters dipped in chocolate, which resemble turtles. If you love chocolate turtles, you are going to fall in love with this recipe!
How to Make Chocolate Turtle Cake
For this Chocolate Turtle Cake, we are using one of our go-to scratch chocolate cake recipes, our Chocolate Sour Cream Cake! So ultra moist and chocolatey- it's always a favorite.
However, if you would rather go with another chocolate layer cake, whether a doctored cake mix (like our Doctored Chocolate Sour Cream Cake) or our scratch Classic Chocolate Cake, feel free to substitute!
When you are ready to assemble your cake, place the first chocolate cake layer on the pedestal or cake base.
Next, spread with a layer of chocolate buttercream, drizzle with caramel, ganache, and sprinkle with toasted chopped pecans.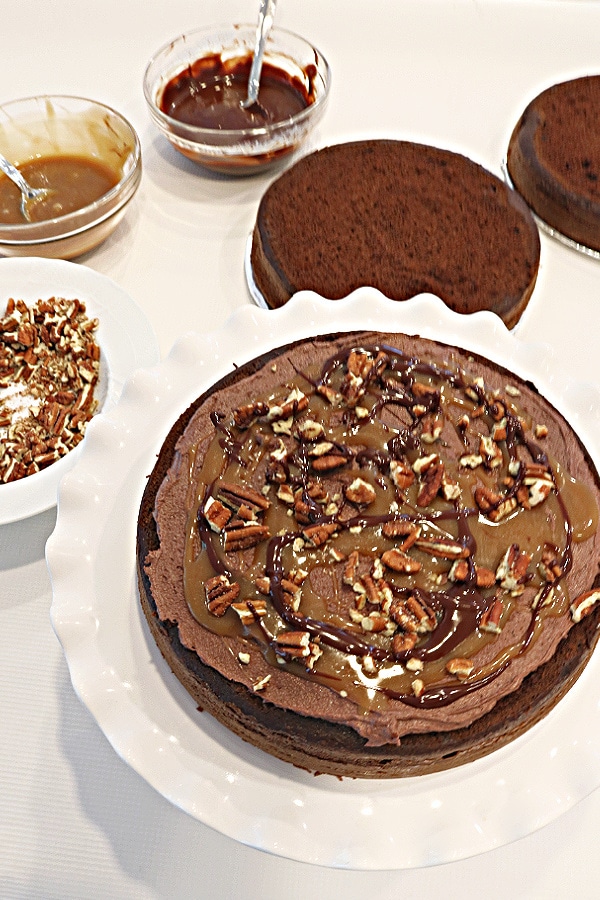 Add the next layers and repeat, and top with the final chocolate cake layer.
A Note about Settling:
Settling the cake is an optional step, but it is a helpful way to ensure that your cake doesn't develop frosting bulges around the sides over time. To settle your cake tier, wrap the unfrosted, filled cake with plastic wrap and then place a weight of some sort on top.
This weight should not be a crushing weight–just something that will apply a light, steady pressure- like a couple of cake pans, a book, etc.
After a few hours or overnight, frost the cake as usual. ****For cakes with perishable fillings, you will need to settle the cake in the refrigerator rather than at room temperature.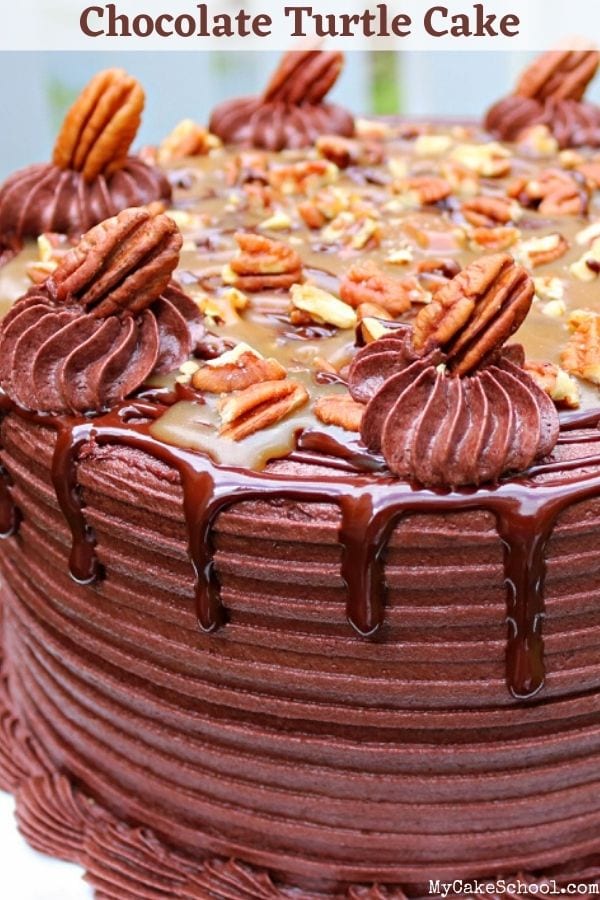 Frosting and Decorating the Cake
If you settle your cake as mentioned above, remove the plastic wrap once you are ready to decorate the cake and fill in any remaining gaps between cake layers with buttercream.
Next, frost a thin layer of (crumb coat) of chocolate buttercream all over the cake. At this point, I like to chill the cake in the freezer for about 15-20 minutes to firm up the crumb coat before going in with the final coat of buttercream.
I then combed the buttercream using a cake comb as an optional step.
Chill the cake again for 15 minutes and then add your ganache drip. When creating my chocolate drips, I load the ganache into a disposable piping bag with the tip snipped away (just a smallish snip will do).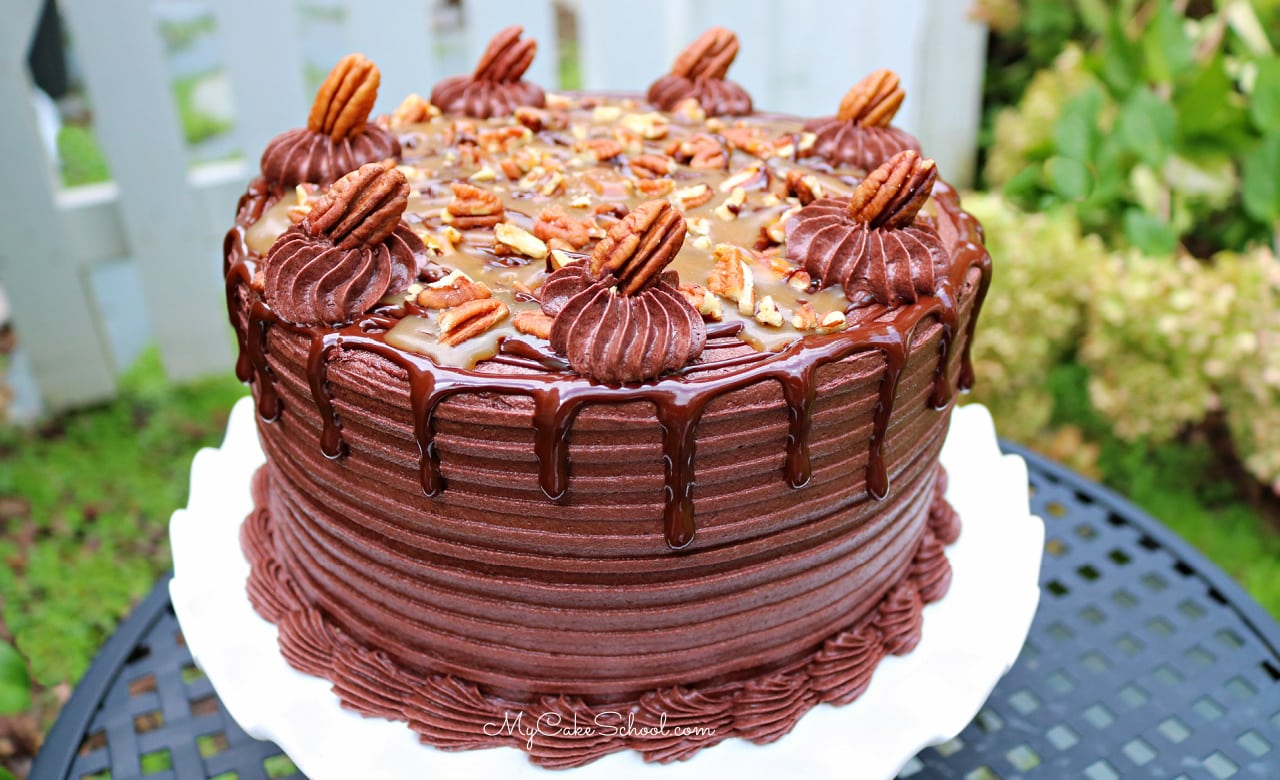 Pipe your drips as you rotate the cake on a turntable (if you have one) and then top the cake with more ganache drizzles, caramel drizzles and chopped pecans.
Finally, I created stars around the top of the cake using a Wilton 6B tip and topped each one with a pecan.
I used a star tip 21 to create a simple shell border around the base.
Additional Details on Drip Cakes
If you'd like more details on our Chocolate Drip, check out this quick free cake video!: Easy Chocolate Drip Video Tutorial
We love dramatic chocolate drips and use them often. They are so quick to make!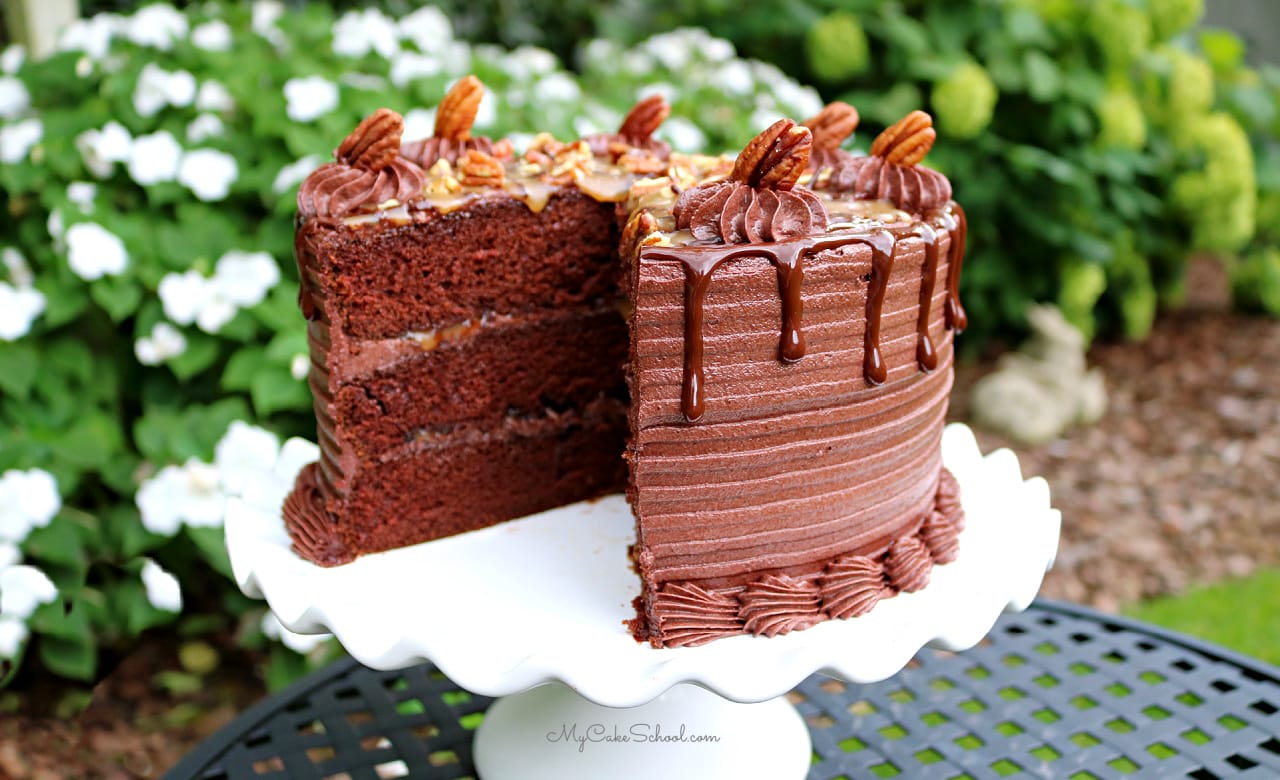 Don't miss these other favorite Chocolate Cakes!
...and so many more! You can find a full roundup here: Favorite Chocolate Cake Recipes!
Simple Time Saving Options for this Recipe
The homemade ganache and caramel recipes used in this cake are simple to make and taste amazing. However, if you would rather use store-bought caramel or chocolate sauce to drizzle between the cake layers, that is a good option as well!
Also, as we mentioned earlier, you can substitute a favorite doctored chocolate cake mix as well if you prefer to work with doctored mixes.
Enjoy the recipe
Thanks so much for stopping by! If you give this delicious Chocolate Turtle Cake a try, please let us know what you think in the comments! We'd love for you to share a photo also.
You can find even more favorite cake recipes & free cake tutorials in our Recipes & Tutorials Section!
Chocolate Turtle Cake Recipe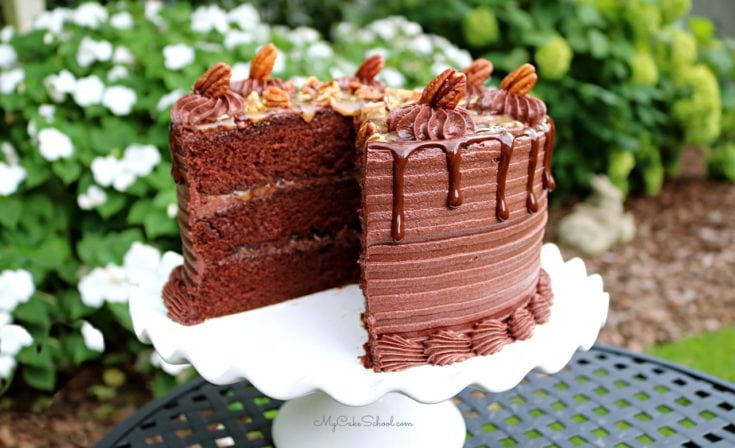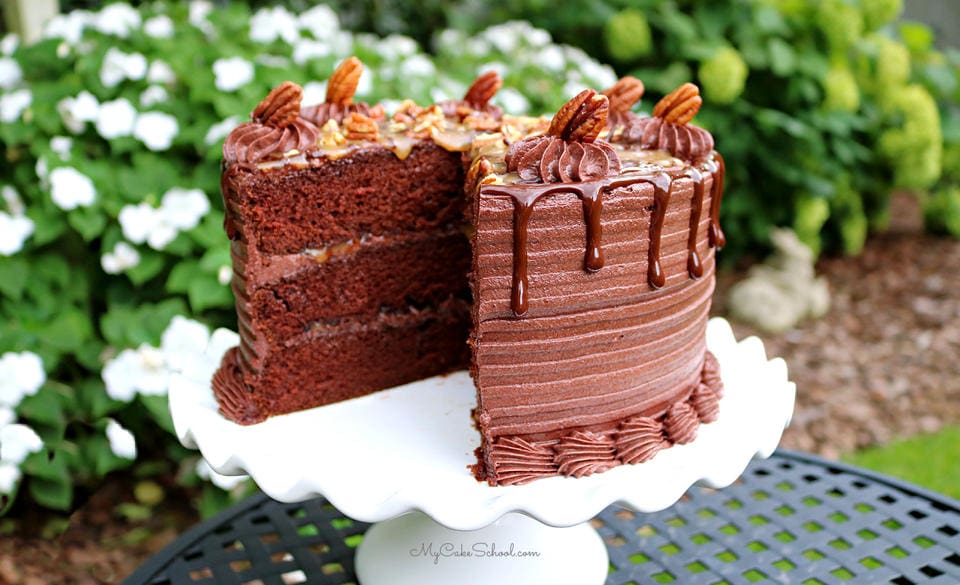 This decadent Chocolate Turtle Cake with chocolate cake layers, ganache, caramel sauce, toasted pecans, and chocolate buttercream is sure to please a crowd!
Ingredients
For the Chocolate Cake Layers
2 cups (400g) granulated sugar
2 ¾ cups (322g) All Purpose Flour
1 cup (82g) unsweetened cocoa
2 teaspoons (10g) Baking Soda
½ teaspoon (2g) Baking Powder
½ teaspoon (2g) Salt
1 stick + 5 Tablespoons (185g) Unsalted Butter (I sliced the butter into 1 inch pieces onto waxed paper leaving on the countertop for 8 to 10 minutes. It will still be quite cool when adding to the dry ingredients. You should be able to make a fingerprint when you press the butter. If it becomes too soft, just refrigerate for a few minutes.)
1 cup (242g) Sour Cream
1 c. (220g) Milk
4 eggs room temperature
1 teaspoon (4g) vanilla
1 cup (220g) Hot Coffee
For the Caramel Sauce
½ stick (57g) unsalted butter (if using salted butter, do not add additional salt)
1 cup (217g) light brown sugar (packed into measuring cup)
½ cup (126g) heavy cream
½ teaspoon (2g) salt
1 teaspoon (4g) vanilla extract
1 Tablespoon (18g) light corn syrup
For the Chocolate Ganache
3 oz Chocolate (Semi-sweet or Dark) We used Ghirardelli Dark Chocolate
3 oz Heavy Cream
For the Dark Chocolate Buttercream
3 sticks (339g) unsalted butter, softened (do not soften butter in the microwave)
9 cups powdered sugar (icing sugar in UK) (1034g) more if needed. ** For cupcakes, I like to use 8 c. (920g) for a softer frosting
1 cup Hershey's Special Dark Cocoa (82 grams) (measure then sift)-- You can substitute with 1 ½ cups (124g) unsweetened cocoa if you don't have Special Dark Cocoa on hand. (It won't be quite as dark but still delicious).
1 teaspoon salt (6g) to cut the sweetness (preferably fine grain or popcorn salt). Adjust to taste.
½ cup milk (121 grams) more if needed to reach the spreading consistency you like
2 teaspoons vanilla (12 grams)
Pecans for in between layers and decoration
1 cup (106g) pecans (adjust amount to your liking). We chopped the pecans and baked on a parchment lined cookie sheet at 350 degrees for 4-5 minutes. Do not let them get too dark. Baking is optional but makes the pecans more flavorful.
Instructions
For the Chocolate Cake Layers
Preheat oven to 325 degrees. Grease and flour three 9 inch pans. This recipe uses the Reverse Creaming Method of Mixing.
Add dry ingredients to the bowl of your mixer and mix for one minute to blend (sugar, flour, cocoa, baking soda, baking powder, and salt)
Add butter a few slices at a time and mix until it reaches a crumbly, sandy texture. Be careful not to over-mix beyond "sandy" consistency.
In another bowl, combine sour cream, eggs, milk, and vanilla. Using a fork, mix together. This is all of your wet ingredients except for the coffee, it will be added to the batter later.
Set a timer for 1 ½ minutes and SLOWLY add half of your egg mixture to your butter/flour mixture while mixing. Start mixer on low speed then increase to medium for the remainder of the 1 ½ minutes. Do Not Mix Above Medium Speed.
Stop mixer, scrape the sides and bottom of bowl, and add half of the remaining egg mixture. Mix on medium speed for 20 seconds.
Stop mixer, scrape down the sides if necessary, and add the last of the egg mixture. Mix for 20 more seconds on medium speed.
Slowly add HOT coffee and mixing for 30 seconds to blend. Batter will be runny but that is okay!
This recipe makes about 9 ½ cups of batter. Pour into 3 prepared 9" pans and bake at 325 degrees for 25 to 30 minutes or until the center of the cake springs back to the touch and a toothpick comes out clean.
For the Caramel Sauce
Using a medium size sauce pan (deep enough to prevent boil over) melt the butter over medium heat.
Add the brown sugar and the remaining ingredients.
Stir to blend, try to keep mixture off the sides of the pan. Once the mixture begins to boil, reduce the heat to low.
Cover the pot and simmer for 5 to 6 minutes, check the pot making sure it will not boil over.
Keep in mind that the caramel thickens as it cools.
Makes 1 cup caramel. It can be kept in the refrigerator in an airtight container up to 2 weeks.
For the Chocolate Ganache
Place your chocolate into a microwave safe bowl.
Pour heavy cream over the chocolate and place in the microwave for 30 seconds. (Times may vary, see our note below).
Remove and stir. Microwave for 15 seconds more. Repeat in short 15 second increments as needed. When the chocolate has melted almost completely, allow it to sit for 1 minute more before stirring. Stir until you've reached a silky smooth consistency.
*Microwave times may vary. If you are making a smaller amount of ganache, you will reduce the microwave time. If your chocolate hasn't melted after the 1 ½ minutes recommended in the instructions, simply microwave in small 10-15 second increments until it has nearly completely melted. Let sit one minute, then stir until smooth.
Allow finished ganache to cool until it is a good consistency for dripping. (You can test this on the inside of your bowl. If it moves too quickly down, let it thicken a little more.
For the Dark Chocolate Buttercream
Add butter to a mixing bowl and beat for approximately 1 min. on medium speed. Add vanilla and blend into the butter. Add powdered sugar, salt, and cocoa powder.
Add most of the milk. Begin beating at low speed so you won't have a cloud of powdered sugar in your kitchen. Beat at medium speed 1 minute. Reduce speed to low and beat an additional two to three minutes, adding remaining milk as needed.
This is my favorite chocolate frosting! Recipe can easily be doubled or halved.
This recipe makes approximately 6 cups of frosting.
Assembly of the Chocolate Turtle Cake

After placing the first chocolate cake layer on the cake base or pedestal, spread with a layer of chocolate buttercream.
Spread/drizzle with caramel, ganache, and sprinkle with toasted chopped pecans. Top with the next cake layer and repeat. Top with the final cake layer and frost the cake with Chocolate Buttercream.
Drizzle with caramel, ganache, and sprinkle with toasted pecans. Decorate as desired. I piped french tip stars around the top using a Wilton 6B tip and topped those with additional pecans. I also finished with a shell border at the base of the cake.