In today's video tutorial, you will learn how easy it is to pipe beautiful buttercream chrysanthemums onto your cakes.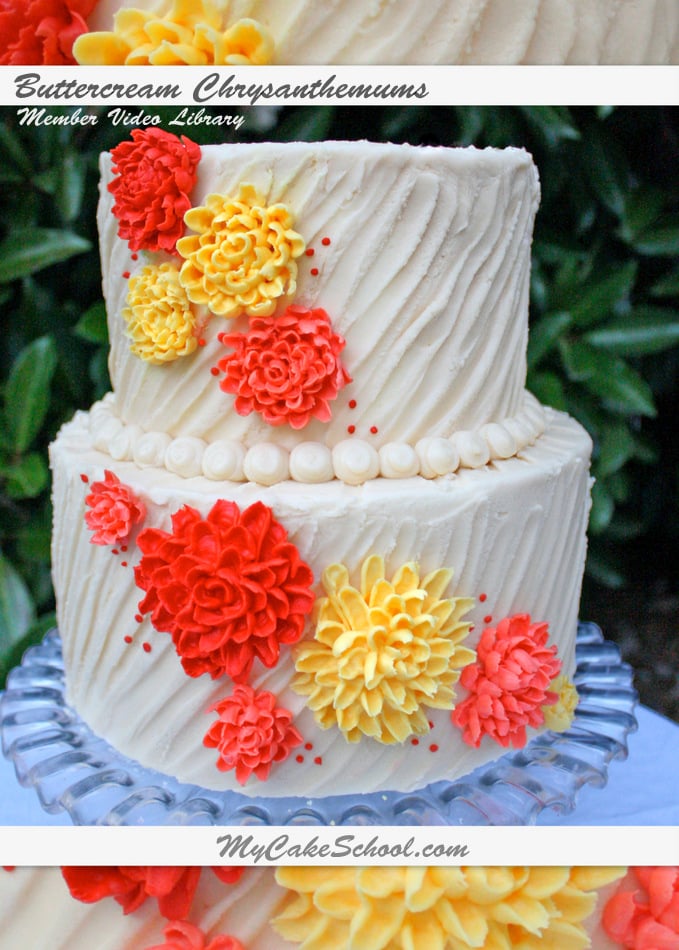 I also demonstrate a twist on a ridged buttercream technique that we have demonstrated in the past-- the difference is that this time, our ridges run diagonally.
I love how this simple change can create a look that feels entirely different. I hope that you enjoy these methods, which I think work together perfectly for a fall themed cake with a vintage flair.
Enjoy the video, and don't forget to take a look at our materials list below!
Materials for Buttercream Chrysanthemums:
(In this video, we have frosted 8" and 6" tiers with our fluffy vanilla buttercream which is tinted with a touch of Americolor Ivory. As usual, each tier is resting on its own cardboard cake circle which is cut down to the size of the cake, and the top tier is supported from beneath by four bubble tea straws.)
Piping Tips for Buttercream Chrysanthemums
Any "u shaped" tips will work great for buttercream chrysanthemums. I happen to own three types/brands, so I used all of them in the tutorial. I used a Wilton 81 tip (which is the smallest of my u-shaped tips), a Bakery Crafts tip 79, and an Ateco 80. Round tips: I used a Wilton 10 for the center dot of my flowers although smaller tips would be fine too as I discuss in the video. I used a Wilton 2 for the tiny red dots that I added as a final touch.
Coloring Gels
I used Americolor Tulip Red for the Red and Coral colored flowers, and Americolor Egg Yellow for my yellow flowers. I also used Americolor Ivory to tint the buttercream that my tiers are frosted with.
Spatula for texture
You can create the ridged technique that I demonstrate in the video with any number of spatulas or tools but I used a small tapered offset spatula (Wilton).
*I also used a bench scraper to smooth the frosting around the sides of my cake before texturing the buttercream.