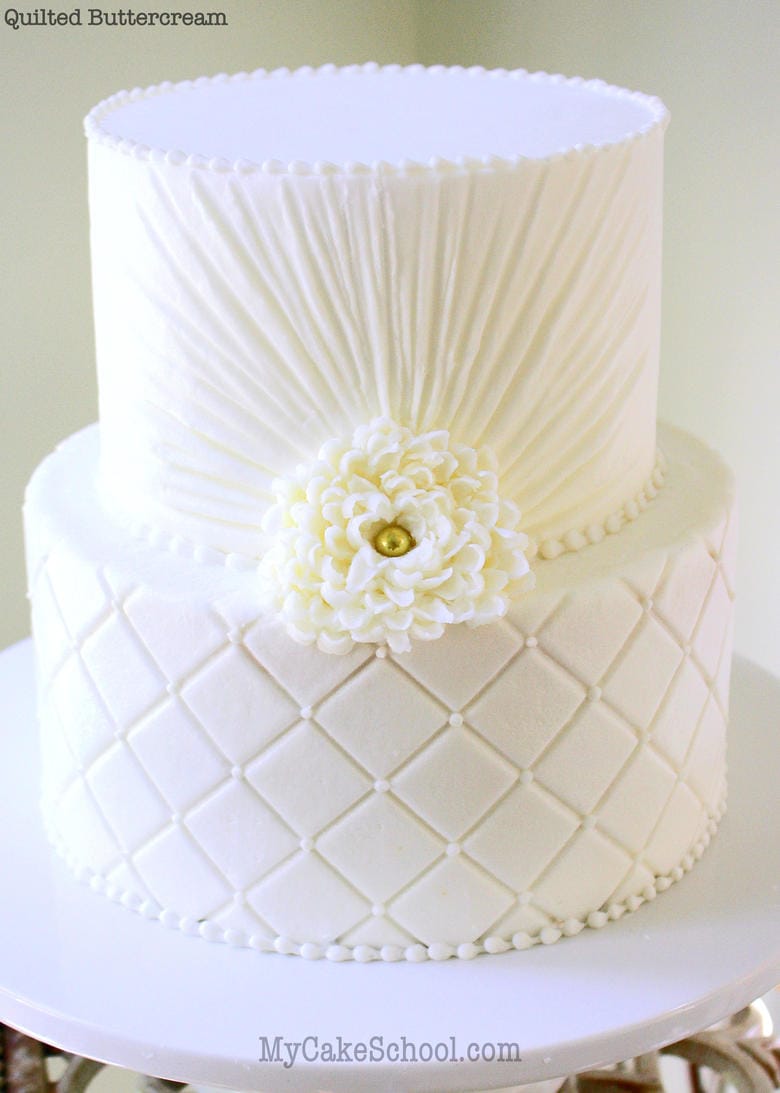 In this video tutorial, you will learn to create a beautiful quilted pattern onto a buttercream frosted cake (which we then decorate with a piped chrysanthemum and a bit of ruching texture!) The elegant quilting, as well as the lovely "extras" we've added, are perfect for any occasion that calls for something special! We hope that you enjoy the video!
Materials:
This cake is two stacked (6" & 8") tiers which are each on their own cake cardboard. The top tier is supported by 4 bubble tea straws from beneath as usual (For more info on tier stacking, see our video tutorial). The tiers are frosted with our Fluffy Vanilla Buttercream recipe from the Recipes section.
Your crusting buttercream of choice (we used our Fluffy Vanilla Buttercream recipe)
Clear/Plastic Diamond Impression Mat (I've had mine for years, I believe THIS is the one--but there are many options online.)
Lollipop stick (or skewer, etc.) for the ruched technique
Piping tip 81 for the Chrysanthemum petals, Piping tip 4 (any small round tip will do) for a small bead border
Gold dragee (or your dragees/sugar pears/decoration of choice) for the center of the flower
*Allow approximately 20-30 minutes for the final coat of smoothed frosting to crust before creating your impressions. Crusting buttercreams can be effected by humidity- it may take a bit longer to crust if it is very humid it your kitchen.