Strawberry Daiquiri Cream Cheese Buttercream
This flavorful Strawberry Daiquiri Cream Cheese Frosting has the perfect blend of strawberry, lime, and rum flavor with a hint of cream cheese.
Don't miss our Strawberry Daiquiri Cake to see this frosting in action- such a festive, delicious cake for summer!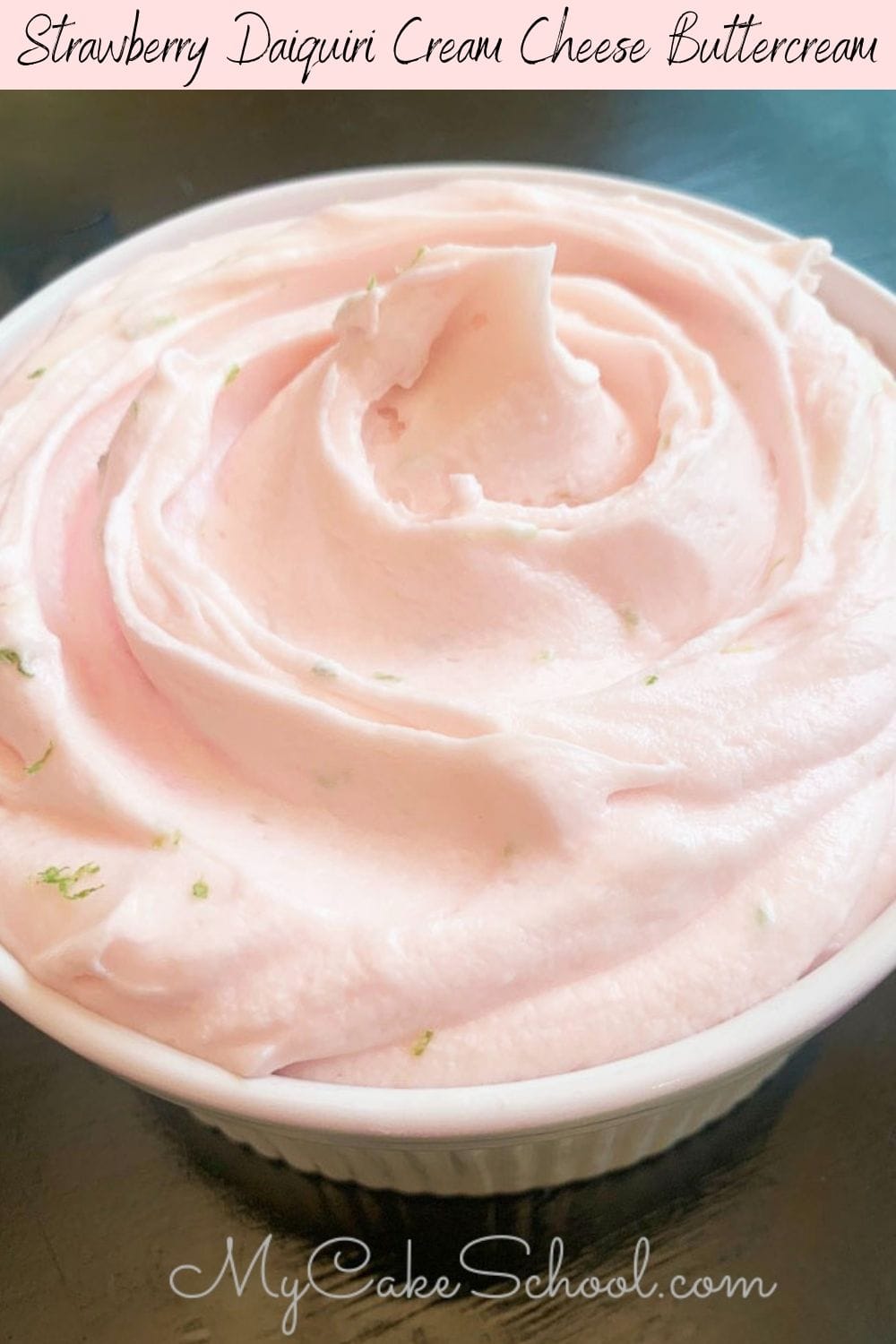 A hybrid cream cheese and buttercream frosting
For this strawberry daiquiri frosting recipe, we wanted to incorporate strawberry, rum, and lime flavor into our cream cheese frosting.
However, since cream cheese frosting is soft to begin with, adding additional liquid wasn't a good option.
For this reason, we changed up our usual cream cheese frosting recipe so that it is actually more of a cross between American buttercream and our classic cream cheese frosting.
In doing this, we don't use as much cream cheese frosting as usual, but we are able to add rum and lime juice as well as strawberry extract without worry of making it too soft- and it still pipes great!
How to make Strawberry Daiquiri Buttercream Frosting
This refreshing Strawberry Daiquiri frosting is super easy to make! You can find the full, printable recipe further down in this post!
First, put the softened butter in the bowl of your mixer and mix until smooth.
Add the pieces of softened cream cheese to the mixing bowl. The cream cheese should be soft enough that it combines easily into the butter/powdered sugar mixture.
Beat on low/medium speed until the cream cheese is blended (about 1 minute).
Next, add the confectioners sugar and then lime juice, lime zest, and rum. You can add a touch of pink coloring gel if you'd like. Beat on Medium speed for a few minutes (or a bit longer if using a hand mixer). Scrape down the sides of the bowl with a spatula mid-way through. Do not over beat.
This Strawberry Daiquiri Frosting should be refrigerated-- this recipe makes about 6 cups! Plenty to frost and decorate a 3 layer 8 inch cake.

More Strawberry Cakes, Fillings, and Frostings to Try
We have so many favorite strawberry cakes, fillings, and frostings that we've made over the years! If you love strawberry desserts, don't miss these go-to recipes!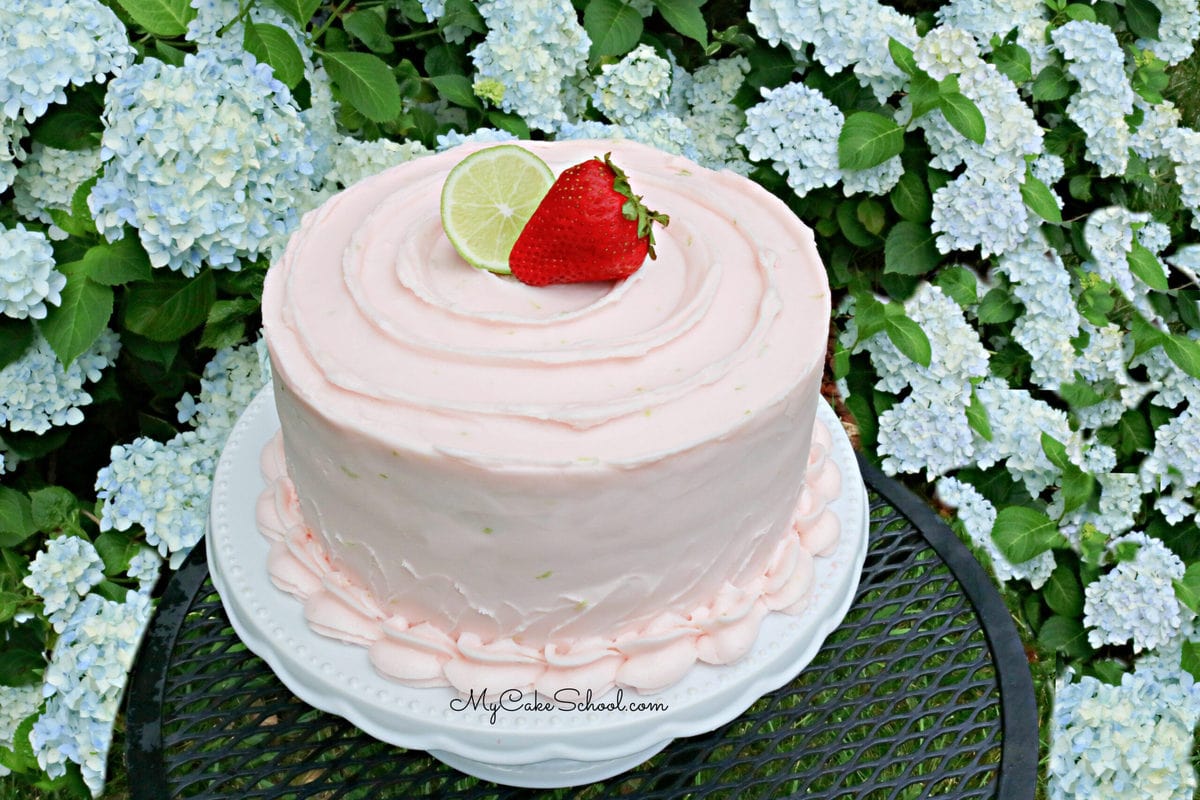 Frequently Asked Questions
Here are a few common questions for this Strawberry Daiquiri Cream Cheese Frosting.
Are there Alternatives to Strawberry Extract?
We added McCormick brand strawberry extract to our frosting as an easy way to add a boost of flavor without adding a lot of liquid to the recipe.
If you do not have strawberry extract, but you are using this frosting with a strawberry cake, you can leave out the strawberry altogether.
However, a little Strawberry Jell-o powder added to your frosting (dissolve in the rum or liquid in the recipe) is another alternative that will give you a boost of flavor and color.
You could also add finely sliced strawberries for a little extra color and flavor. If you are using cooked strawberry filling in your cake (as we did in our Strawberry Daiquiri recipe) you could even stir a small amount into your frosting.
Is this frosting kid-friendly?
We often receive these questions on our "boozy" cake recipes. Although there is just a small amount of rum in this frosting, I would leave it out of the recipe or just opt for a different recipe if making for children.
The alcohol is still present not only in the frosting, but even in baked cake layers containing alcohol.
Alcohol bakes out to a degree when added to cake recipes like our Strawberry Daiquiri Cake, but not enough to call it alcohol free.
Can I substitute Rum Extract?
Yes, if you do not have rum, you can substitute with rum extract. Some rum extracts still contain a bit of alcohol and so if this matters to you, just check out the label. (Some brands are more of a rum flavoring, while natural rum extract will have a richer flavor).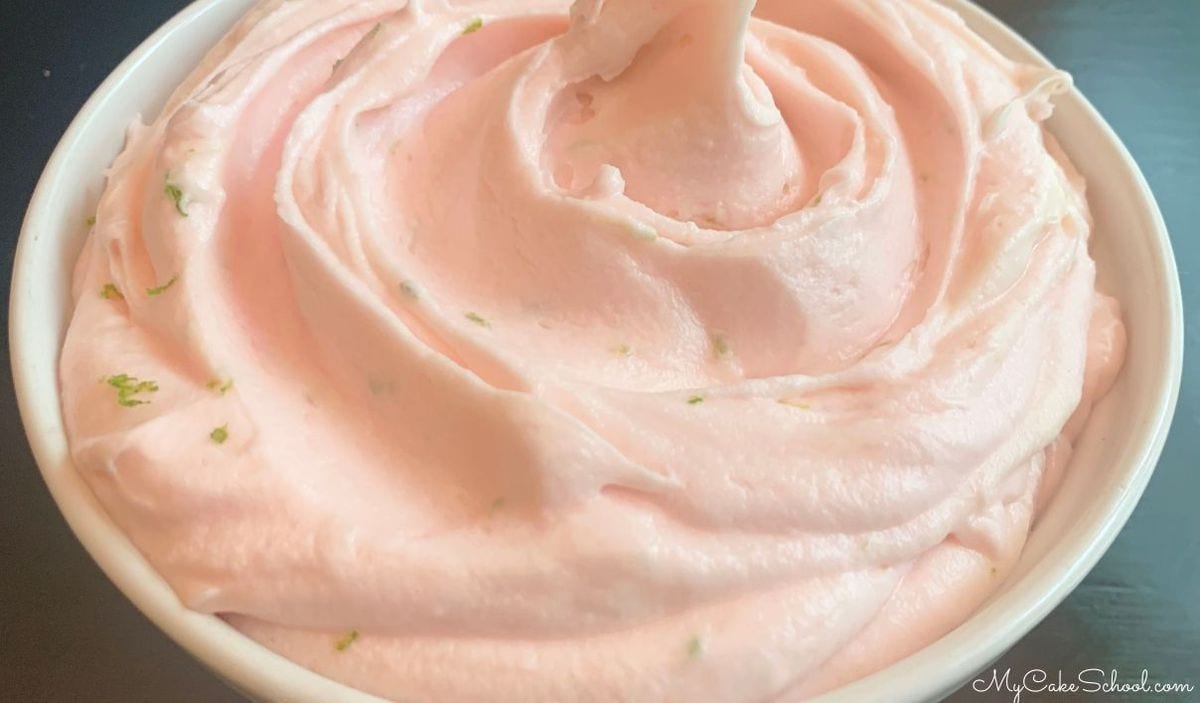 More Boozy Cake Recipes
If you're looking for more "boozy" or cocktail-inspired cake recipes- add these too your list! These unique cakes are perfect for entertaining!
Baileys Irish Cream Chocolate Cake
Strawberry Daiquiri Cream Cheese Buttercream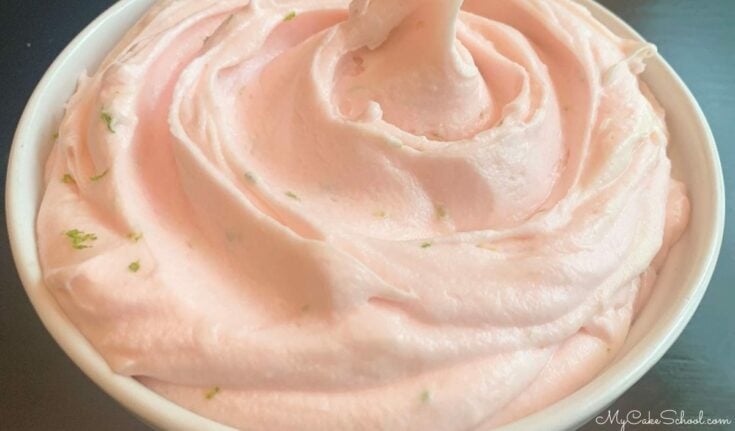 This creamy and delicious Strawberry Daiquiri Cream Cheese Buttercream Frosting is flavored with strawberry, lime, and rum!
Ingredients
3 Sticks (339 g) Unsalted Butter
1 (8 oz) Block of Cream Cheese (not reduced fat)
7 ½ Cups (863g) Confectioners/Powdered Sugar
3 Tablespoons Lime Juice (we used Nellie & Joes brand Key West Lime Juice,
you could also use fresh)
1 Teaspoon (4g) Strawberry Extract
2 Tablespoons Rum
zest of one lime
A small amount of pink coloring gel (optional)
Instructions
Put the softened butter in the bowl of your mixer and mix until smooth.
Add the pieces of softened cream cheese to the mixing bowl. The cream cheese should be soft enough that it combines easily into the butter/powdered sugar mixture. Beat on low/medium speed about 1 minute or until the cream cheese is blended in.
Add the powdered sugar and then lime juice, lime zest, and rum. Add a touch of pink coloring gel if you'd like. Beat on Medium speed for 2 to 3 minutes (a bit longer if using a hand mixer). Scrape the bowl mid way through. Do not over beat.
This frosting should be refrigerated. Makes 6 cups