In this cake decorating video tutorial, you will learn how to make a lovely Yule Log Cake (or it's French name, Bûche de Noël) from a simple chocolate cake roll.
This is a traditional French dessert for the holidays, which dates back to the 1800s (when it was common to burn a yule log on Christmas eve.) Over the years, yule log cakes have become popular in many other countries as well, including the US. In fact, with each passing Christmas, I notice these elegant desserts more and more!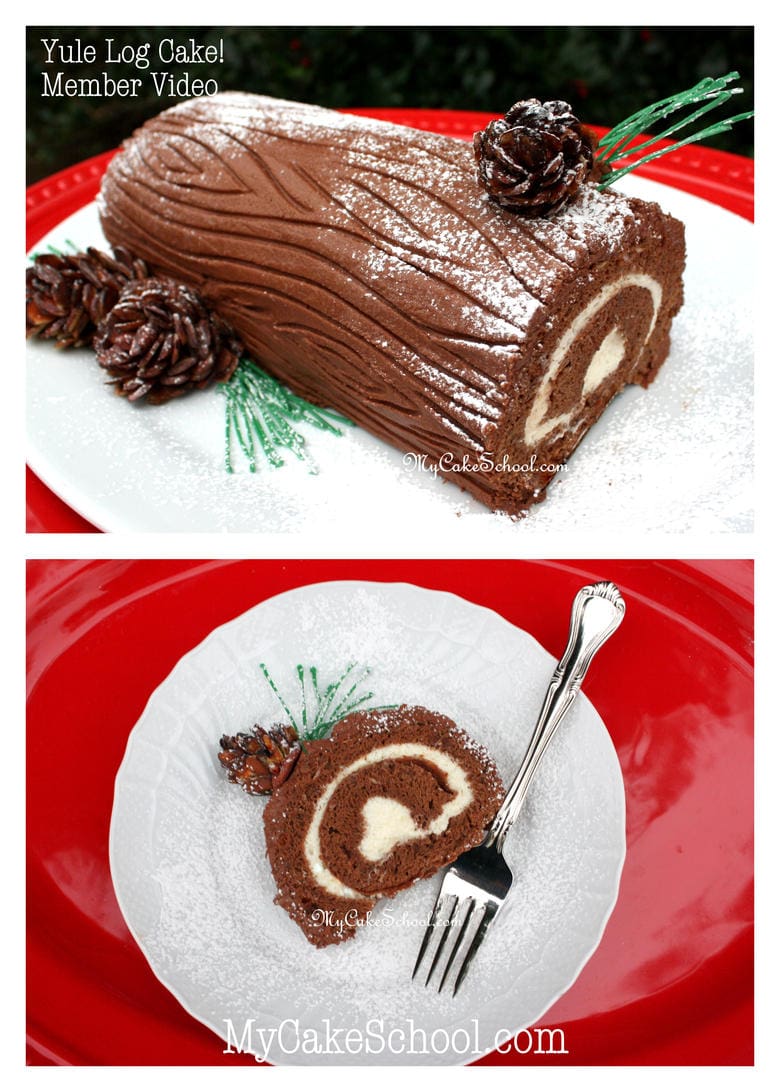 I really have Mom to thank for this yule log tutorial. She made A LOT of yule log cakes last week as she experimented with various recipes, and she taught me how to make them! (She has a forest in her refrigerator right now!) If the spiral intimidates you, don't let it. With our recipe, you will have no trouble. Click HERE for our RECIPE!
Not only will you learn to make this beautiful cake, but you will also learn how to make very realistic pine cones! (Huge victory for me, as I've never been happy with my past attempts!) ;0)
* Don't forget to review the materials and notes beneath the video for more information. I hope that you enjoy it!!
Materials
Yule Log Cake (from our Recipe)
Whipped Cream filling (or buttercream, ganache, etc.)
Chocolate Buttercream (or ganache) for the outside of the cake. (We used our "Classic Chocolate Buttercream" recipe)
Confectioner's Sugar-- For dusting the cake log with "snow". (Note that this is best done close to the event, as the effect tends to fade away over time.)
Paint brush(es)- I used a small paint brush handle for the wood grain impressions as well as for mixing & painting colors.
Sliced Almonds- for pine cones
Gum Paste- (or fondant, modeling chocolate, or anything else you can think of) - to create the center of the pine cone. (Holds the almond slivers in place)
Sugar Glue/Tylose Glue - I used this to "glue" in my almonds. (2 Tablespoons water to ¼ teaspoon tylose) -- Or, just use your glue of choice!