Oh how I love this Cream Cheese Buttercream Frosting Recipe! As far as I'm concerned, it is one of the most addictive frostings out there, I just can't resist that silky smooth deliciousness!
Cakes that taste amazing with Cream Cheese Frosting
The best part about cream cheese frosting is that it perfectly complements SO many different types of cake. I can't imagine having a slice of Red Velvet, Carrot, or Spice Cake without a generous slathering of cream cheese frosting! Oh so good!
We also love cream cheese frosting with strawberry cake, lemon cake, chocolate cake, and well….any cake really!
It's such a quick and easy recipe, and over the years we've made a variety of delicious flavored cream cheese frostings as well.
For instance, some of our favorite flavored versions are Lemon Cream Cheese Frosting, Cherry Cream Cheese Frosting, Orange, and more! But sometimes it's best to just go with the classic Cream Cheese Buttercream. Mmmmm.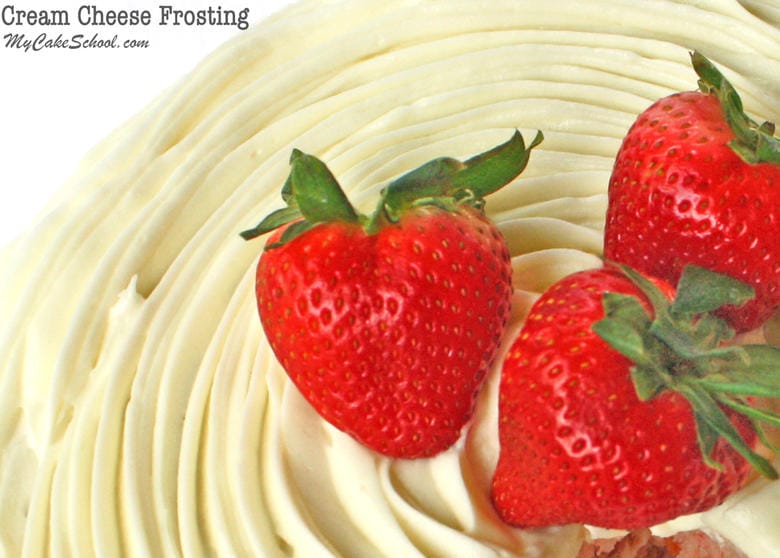 Helpful Hints for Working with Cream Cheese Frosting
We've been swirling & filling our cupcakes and cakes with this frosting for years but as is often the case with Cream Cheese Frosting, it is a bit on the soft side.
If you need a thicker consistency, you can add additional powdered sugar in small amounts until you reach the desired consistency.
If your Cream Cheese Buttercream becomes increasingly soft as you pipe, to the point that it no longer holds it's shape, just pop it in the refrigerator for a minute.
This could be caused by a super warm kitchen, or warm hands against the piping bag. Either way, a few minutes in the fridge will work wonders. (Just not too long or it'll become too firm!) Oh the joys of cake decorating!
If you plan to do a lot of piping, you can find a link to another favorite Cream Cheese Frosting recipe towards the bottom of this post, which is a bit firmer due to a higher proportion of cream cheese in the recipe.
Enjoy!
Don't miss our roundup of the BEST Cream Cheese Frostings and Fillings! You can find them here: Roundup of our favorite Cream Cheese Frostings and Fillings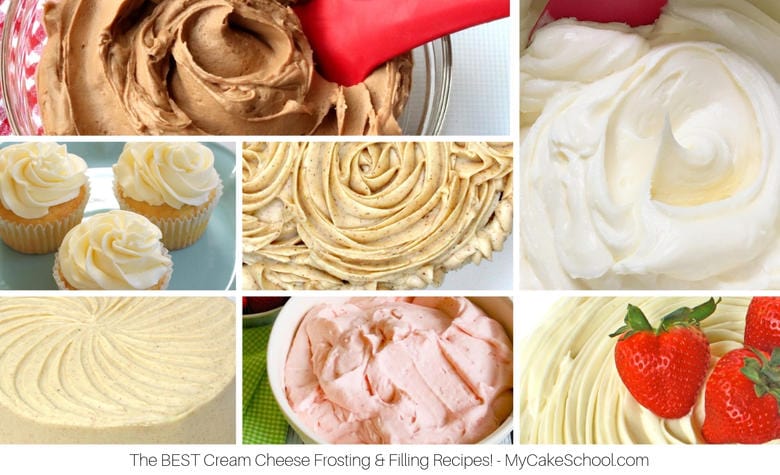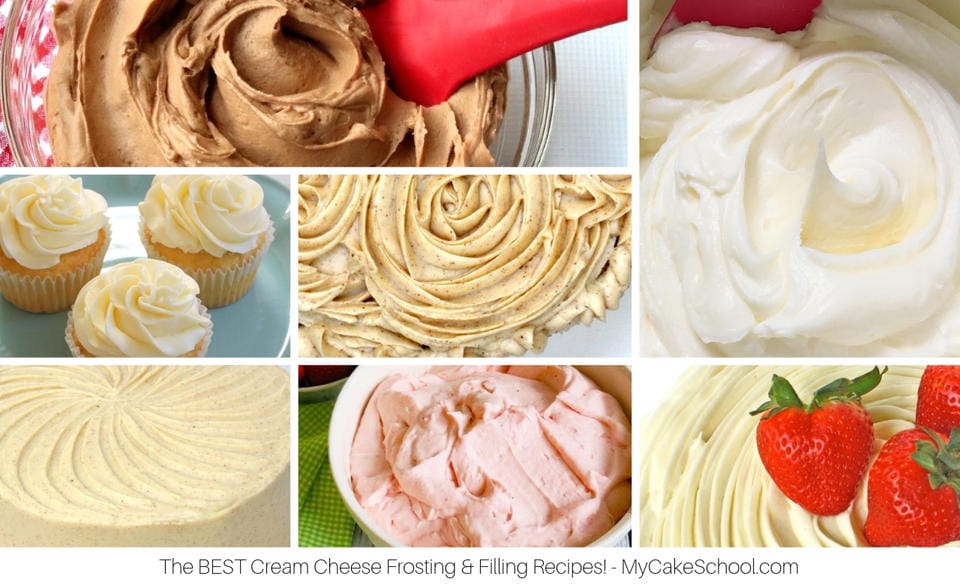 Cream Cheese Buttercream Frosting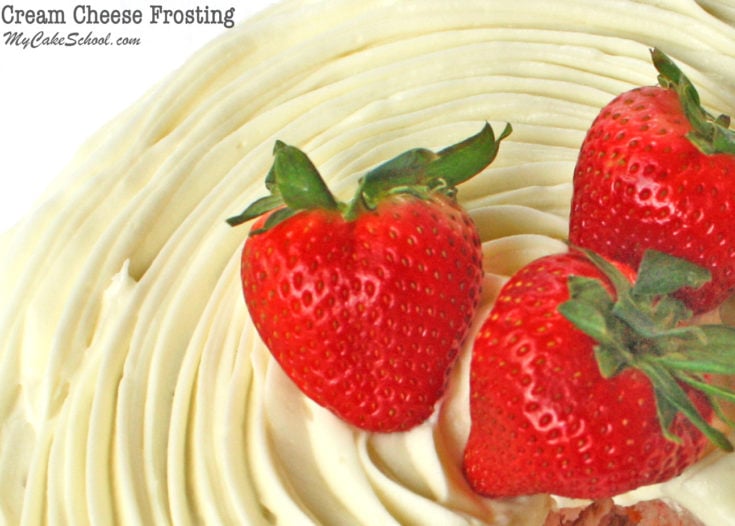 This classic Cream Cheese Buttercream Frosting tastes amazing! It is silky smooth, super flavorful, and tastes perfect with red velvet cakes, spice cakes, chocolate cakes, and more!
Ingredients
2 sticks ,1 cup, (226g) unsalted butter, slightly softened
2 (8oz) packages cream cheese (total weight 452g) I use full fat cream cheese. Using reduced fat or the spreadable cream cheese will cause the frosting to be too soft. Soften very slightly.
2 teaspoons (8 g) vanilla extract
1/2 teaspoon salt (2g) optional - it will cut the sweetness, popcorn salt is best to use because it is fine and dissolves faster
6 to 6 1/2 cups (690g to 747g) powdered sugar
Instructions
Cut the butter into slices and add to the bowl of your mixer. Beat on low to medium speed until the butter is softened and smooth.
Cut the cold cream cheese into pieces and add to the butter, beating at low to medium speed until incorporated. If you are using a hand mixer you may need to soften the cream cheese a bit more.
Add the vanilla. Gradually add the powdered sugar beating on low speed until blended. Cover the bowl with a towel to keep down the cloud of powdered sugar.
Increase mixing speed and beat until fluffy. Don't over beat or it will become too soft. If it becomes too soft, just refrigerate a short while to firm it up a bit.
This frosting will pipe best if used while still chilled. You can make it in advance, refrigerate and when ready to use let it soften slightly (do not microwave) and remix.
Will frost a 3 layer 8 or 9 inch cake.
Did you know that we have another Cream Cheese Frosting Recipe? You may also like this Pipeable Cream Cheese Frosting, which contains even more cream cheese and therefore is a bit firmer. We love them both!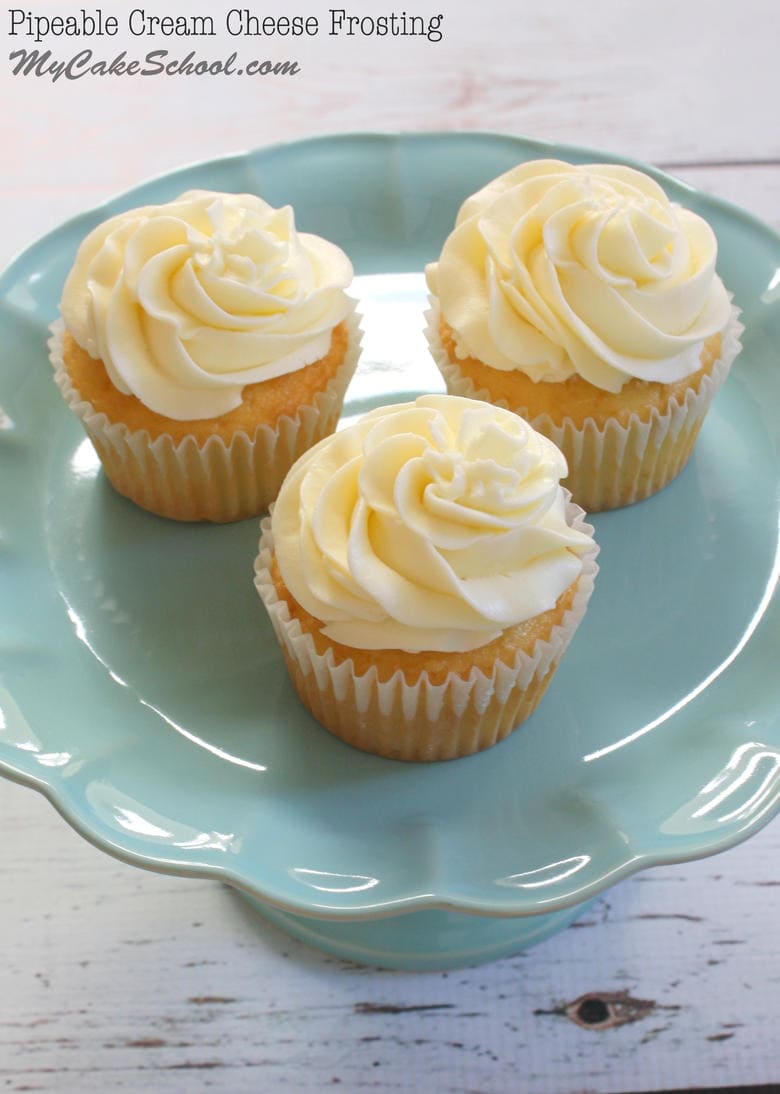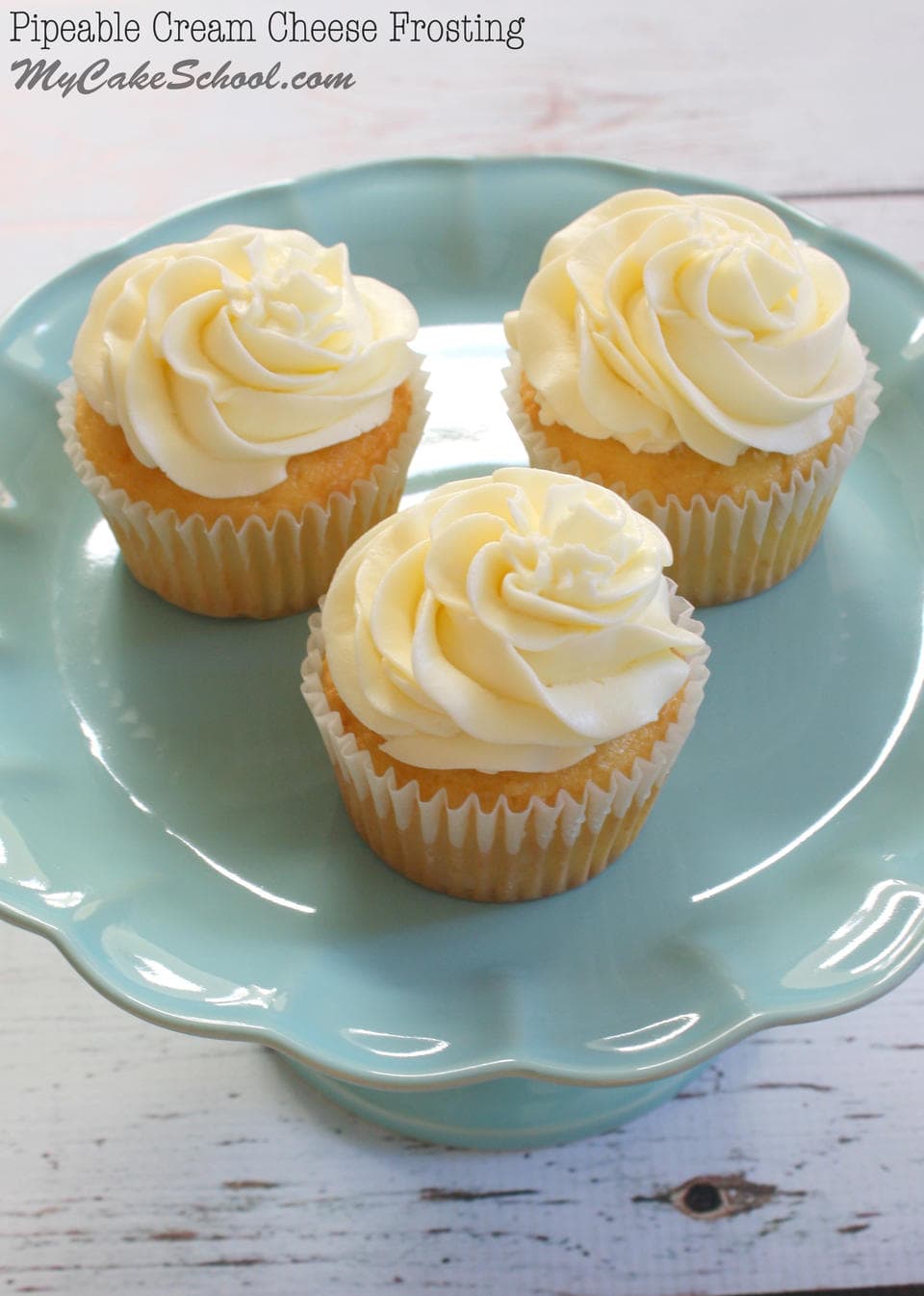 Thanks for stopping by!