Today we are sharing a fantastic scratch Banana Cake with Butter Pecan Cream Cheese Filling Recipe! If you've been searching high and low for the PERFECT scratch banana cake recipe, congratulations! You've just found it!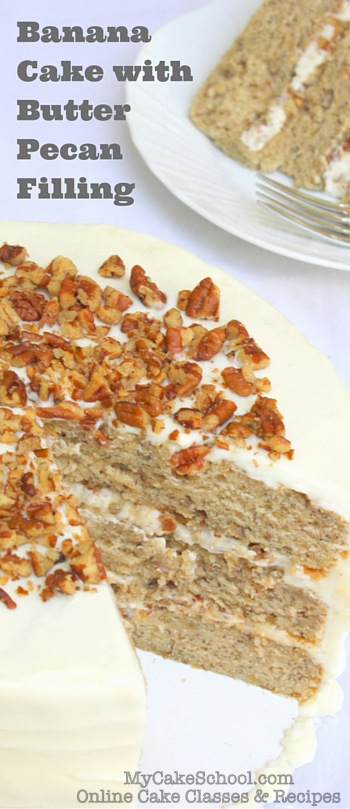 I've always loved banana bread, and this amazing banana cake recipe captures all of those wonderful flavors, but in the form of soft, ultra moist cake layers.
While this particular banana cake recipe is flavorful enough to enjoy all on it's own, our Butter Pecan Cream Cheese Filling takes it to an entirely new level of AMAZING!
The combination of banana cake paired with cream cheese and butter pecan is a match made in heaven.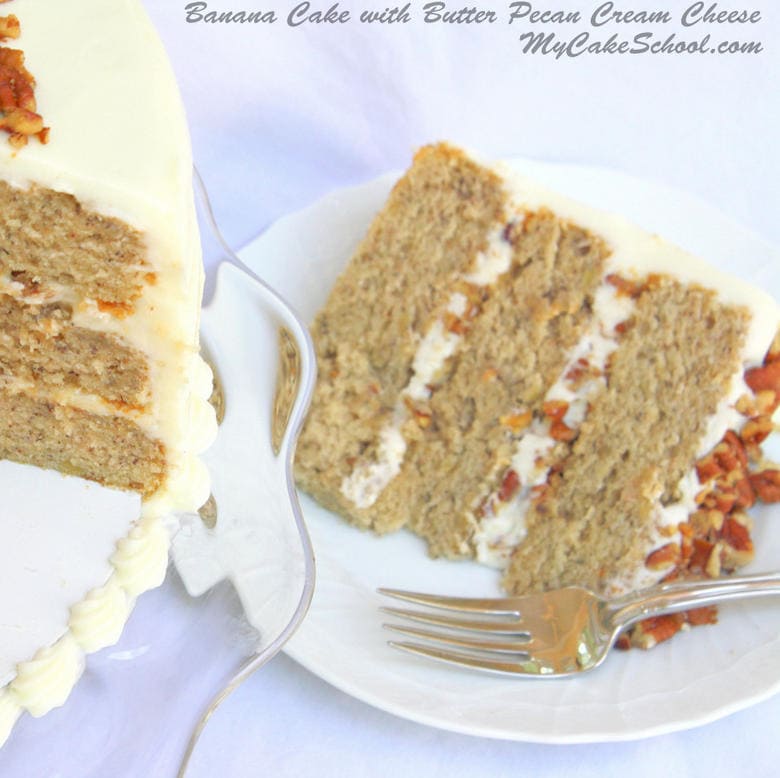 We opted to frost our Banana Cake with luscious cream cheese frosting…mmmmm. I find that there's NOTHING that doesn't taste even better with a good slathering of cream cheese frosting.
This Banana Cake is the perfect recipe for fall gatherings or Thanksgiving celebrations, but your family and friends are sure to beg for it all year round! There's something so comforting about a good old fashioned banana cake, isn't there?
Have fun experimenting with different frostings and fillings too, like Chocolate or Peanut Butter Buttercream Filling. YUM! This tried and true scratch banana cake recipe is sure to become a favorite.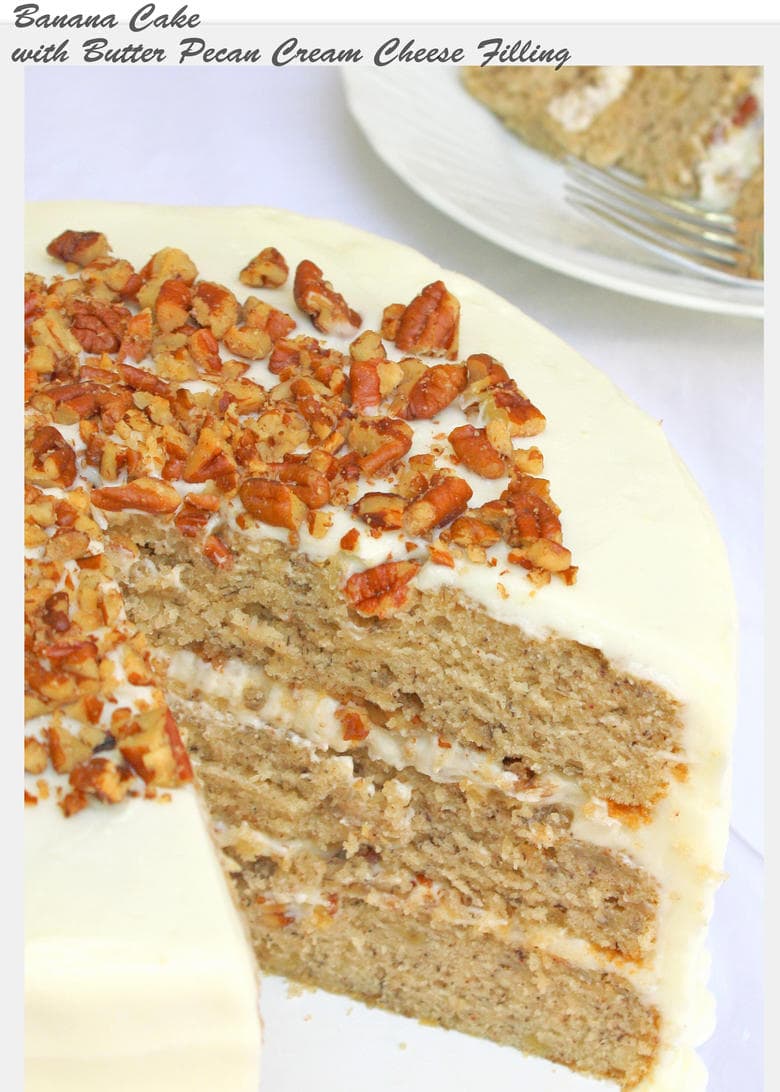 Banana Cake with Butter Pecan Cream Cheese Filling
Ingredients
Buttered Pecans for Filling:
2 cups (190g)

chopped pecans

3 tablespoons (14g)

butter, melted
Cake Ingredients
Preheat oven to 350 degrees.

Grease and flour three 8 inch pans

2 cups (400g)

granulated sugar

3 cups (375g)

all purpose flour

1 teaspoon (3g)

cinnamon

1 1/2 teaspoons (12g)

baking soda

1/4 teaspoon (1g)

salt

12 tablespoons (170g)

unsalted butter, softened

1 1 /2 cup mashed bananas (3 bananas)

2 teaspoons

lemon juice

3

large eggs

1 1/2 cups (363g)

buttermilk

2 teaspoons (8g)

vanilla extract
Cream Cheese Frosting
1 cup (2 sticks, 226g)

unsalted butter, softened. (Do not soften in microwave)

8 oz (226g)

cream cheese (cool. no need to soften)

2 teaspoons (8g)

vanilla extract

4 cups (420g)

powdered sugar. add additional if needed
Directions
Melt 3 tablespoons butter. When melted, add 2 cups chopped pecans and toss into butter to coat. Spread on a baking sheet and bake at 350 degrees for 6-8 minutes, stirring several times. Set aside for later.
FOR THE CAKE: (Makes 9 cups of batter)
In the mixing bowl, add the dry ingredients, sugar, flour, cinnamon, baking soda, salt. Turn on the mixer and blend for 30 seconds to incorporate ingredients
Add the softened butter to the dry ingredients and mix on low speed until the dry ingredients are moistened. Scrape the bottom and sides of the bowl
In a separate bowl, slice and mash the bananas, add lemon juice, eggs, 2 teaspoons vanilla and buttermilk. Lightly mix these ingredients with a fork to blend
Slowly add the banana/buttermilk mixture to the dry ingredients beating on medium speed for 1 minute, scrape the bottom and sides of the bowl and beat another minute.
Pour batter into the prepared pans and bake at 350 degrees for 25-30 minutes or until the cake springs back to the touch and a toothpick comes out clean.
Cool the cakes 10 minutes on the rack and then turn out.
FOR THE CREAM CHEESE FROSTING
In the bowl of your mixer, blend the butter and cream cheese until just combined. Add vanilla, with mixer on low speed gradually add the powdered sugar. Mix until smooth and combined.
For the filling, take out 1 1/2 cups of frosting and add 1 cup of the buttered pecans, stir to blend. Spread between the cake layers, extra pecans can be pressed into the filling, if you like. The extra pecans can also be used to decorate the top of the cake. The remaining cream cheese frosting will frost the cake.
Recipe makes 4 to 4 1/2 cups
This recipe was inspired by the "Banana Cake IV" recipe on Allrecipes.com
Cake Tip: To increase the moistness of your cake layers, cool another 10 minutes after removing from the oven, and while still very warm, double wrap the individual layers tightly in plastic wrap & freeze for up to a week. (To freeze longer, wrap the plastic-wrapped layers in aluminum foil and freeze for up to 2 months.) Even freezing your cake layers for a few hours will increase the moistness.
Thanks for stopping by! Don't forget to check out our collection of tried and true cake, frosting, and filling recipes in our Recipes Section!
Or, if you are interested in learning more about cake decorating, check out our section of Free Cake Tutorials! Or, you can become a member of our site for access to our entire cake decorating video library. We'd love to have you!