Nothing goes better with delicious Pink Champagne Cake layers than this flavorful and sophisticated Pink Champagne Buttercream!
This frosting is SO easy to make, and the distinct champagne flavor is unmistakeable without being overpowering.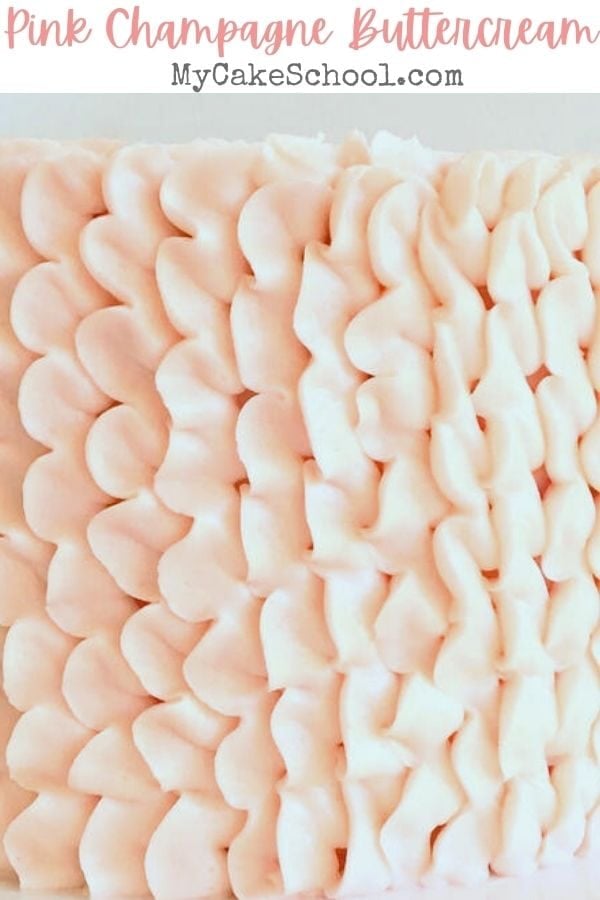 This silky smooth and perfectly pipeable Pink Champagne Buttercream Frosting is sure to make any occasion feel more special! Consider it for anniversaries, weddings, showers, 21st birthdays, New Years, and more.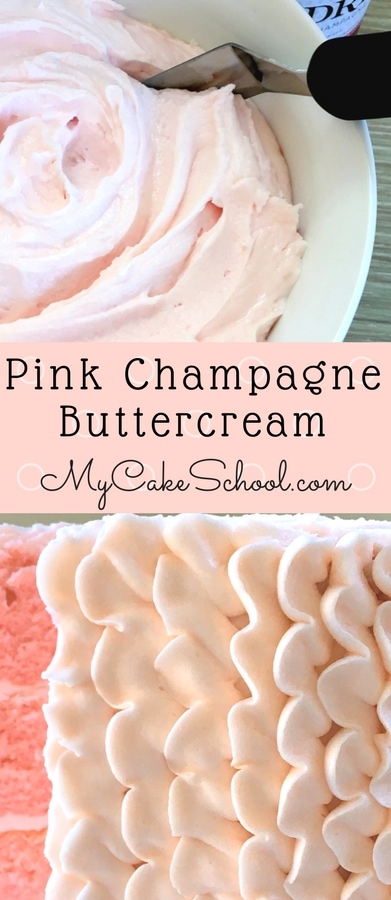 We have two Pink Champagne Cake recipes in our recipes section. One is our Pink Champagne Cake from Scratch, and the other is our Pink Champagne Cake (doctored cake mix) recipe. So whether you enjoy baking cakes from scratch, or working with doctored cake mixes, we have an amazing Pink Champagne Cake recipe for you to try!
We've received so much positive feedback from this recipe since we first posted it. Pink Champagne Cake is just one of those perfect special occasion go-to recipes that brings a bit of a "wow factor" from the name alone, and the taste is amazing.
Our Pink Champagne Buttercream Frosting is a crusting recipe, but if you prefer a lighter crust, see the adjustments to the recipe at the bottom of the post. The recipe makes approximately 8 cups of frosting to allow for a delicious filling and lots of decorative piping.
Champagne Cake Recipes
We love champagne Cakes! Here are a few of our favorites- they are sure to make any occasion feel more special!
You can make today's pink champagne buttercream recipe with other types of champagne as well.
Pink Champagne Cake from Scratch
Champagne Pound Cake
Pink Champagne Cake (Doctored Cake Mix Recipe)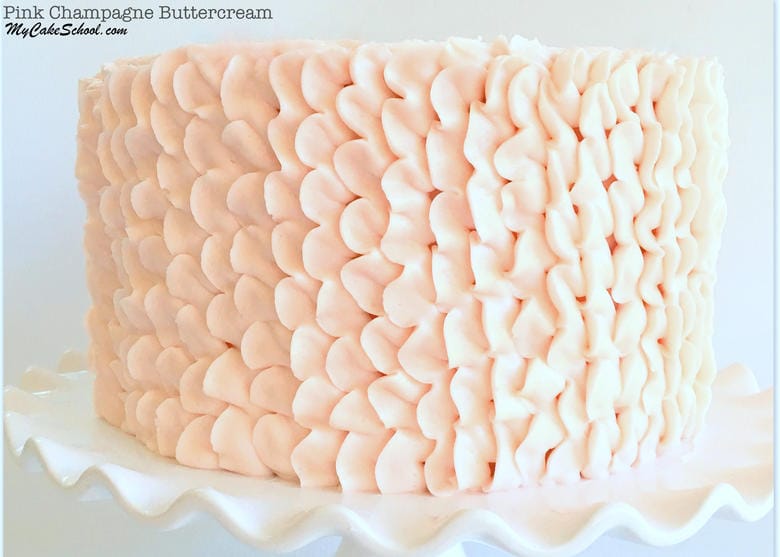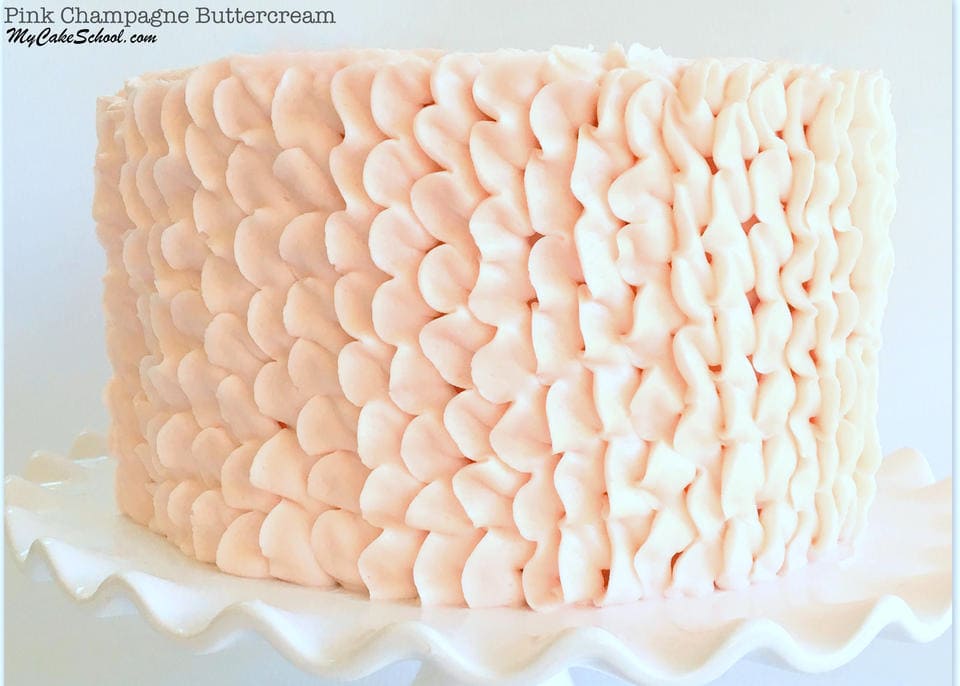 My Cake School Online Cake Tutorials, Recipes, and More!
Thanks so much for stopping by! If you give our pink champagne buttercream a try, we would love for you to leave a comment and photo below.
Don't miss the hundreds of delicious cake recipes and free cake decorating tutorials that are available in our Cake Recipes & Tutorials Section! We have so many great cakes to share with you!
Pink Champagne Buttercream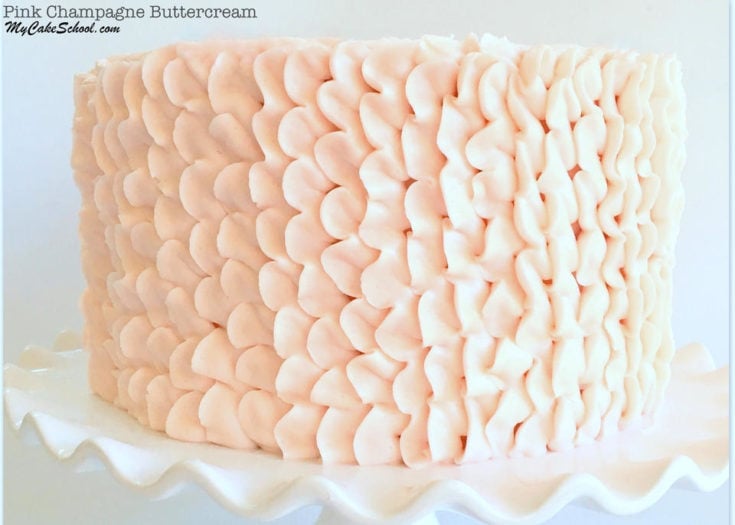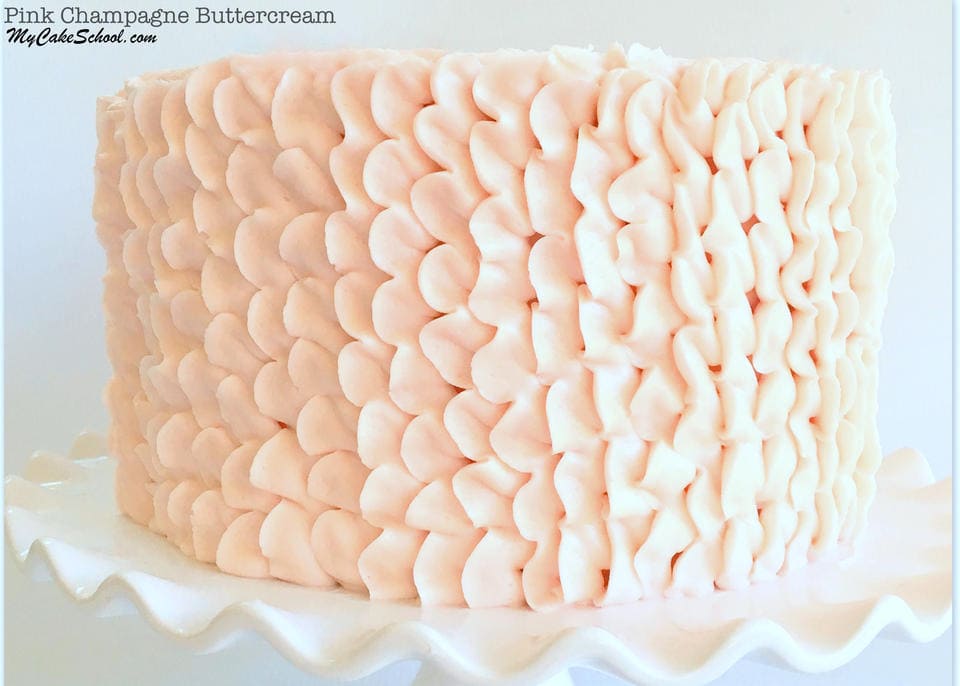 This delicious Pink Champagne Buttercream tastes amazing with Pink Champagne Cakes and Cupcakes! It pipes perfectly also!
Ingredients
*This is a double batch-- If you are not doing a lot of piping, you can make a half batch.
4 sticks (452g) unsalted butter, softened
12 cups (1380g) powdered sugar (depending on the desired consistency, more sugar = more crusting) If you prefer a frosting that crust less, see the note at the bottom of the recipe.
4 teaspoons ( 16g) vanilla
1 teaspoon (6g) salt
½ cup (122g) pink champagne
Pink Coloring Gel of Choice (We used a touch of Americolor Deep Pink)
Instructions
Cream the softened butter until smooth and lightened in color
Blend in the salt and vanilla
Gradually add the powdered sugar with the champagne until the powdered sugar is incorporated. Beat at medium speed 3 to 4 minutes. The texture will become very smooth. If you are tinting the entire batch of buttercream light pink, you can add a very small amount of coloring gel while it is mixing.
This recipe makes approximately 8 cups of frosting.
Notes
*For a softer buttercream with a much lighter crust, cut the amount of powdered sugar from 12 to 9 or 10 cups and cut the amount of champagne from ½ cup to ¼ cup + 1 Tablespoon. Also, cut the salt to ½ teaspoon. This lighter consistency works well for cupcakes or cakes that don't require the Viva method of smoothing.