In this quick & easy tutorial, I'm going to show you how to make CUTE leopard print cupcakes by creating leopard print buttercream and cupcake toppers!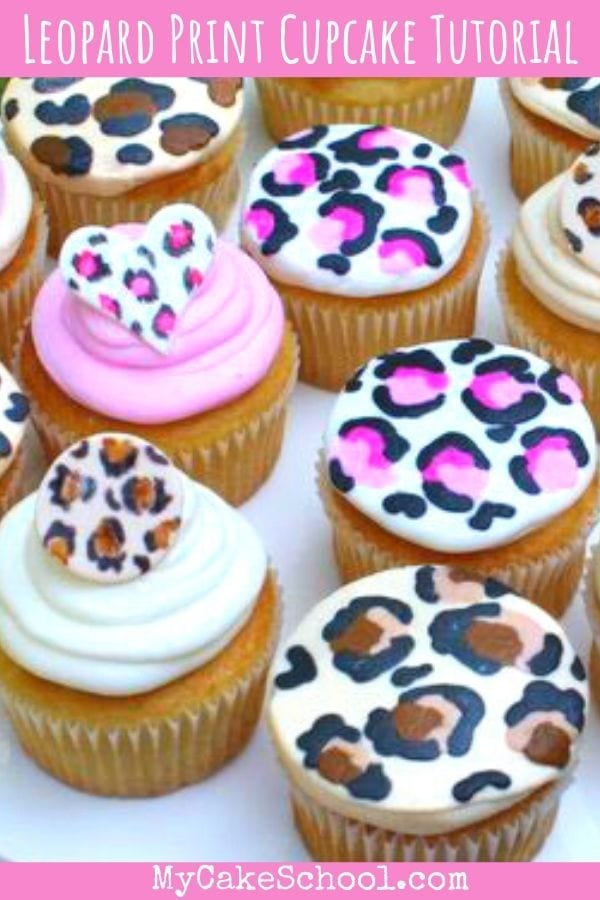 Who doesn't love a good animal print? Maybe I've been watching too many episodes of the Real Housewives lately (everyone seems to be walking around in leopard this season!) --but I decided that today was the perfect day to jump into the wonderful world of leopard print cupcakes!!!
I know that I say this a lot...but these adorable leopard print buttercream cupcakes really are not as hard as you would think to pull off!
Leopard print buttercream and leopard print cake toppers will lend themselves to so many FUN cake decorating and party themes!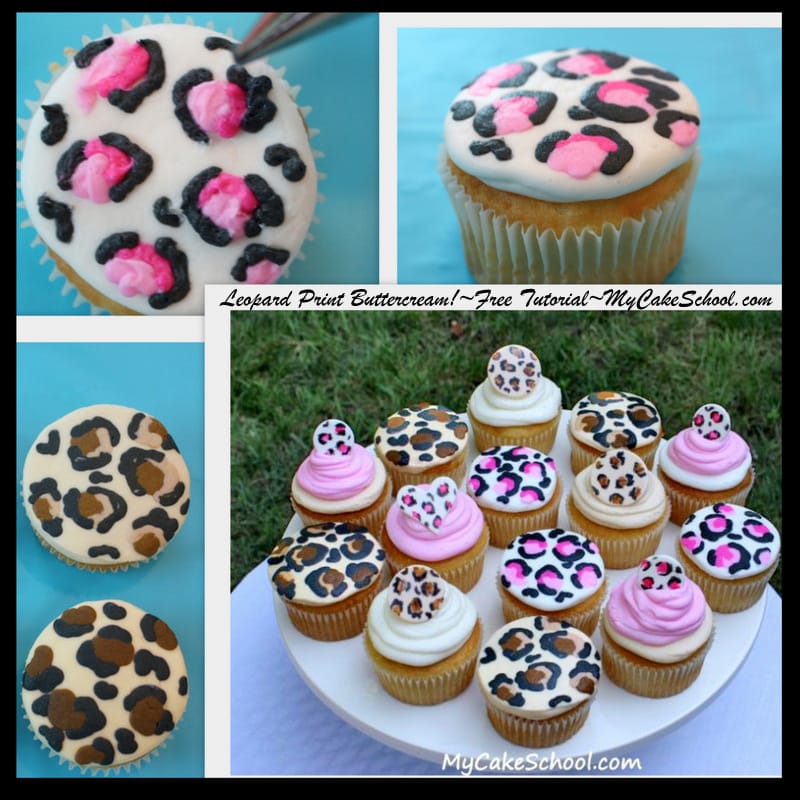 In this post you will find our step-by-step leopard print buttercream blog tutorial, as well as a quick minute video tutorial. (We made the blog tutorial first and recently decided to update with a quick video.)
Let's get started on our cupcakes!
How to Make Leopard Print Cupcakes
First, I started with various shades of crusting vanilla buttercream. (If you will be using the "Viva Paper Towel method" of smoothing as we are today, you'll want your frosting to crust.)
I piped a quick spiral of crusting vanilla buttercream onto my cupcakes using a Wilton tip 12.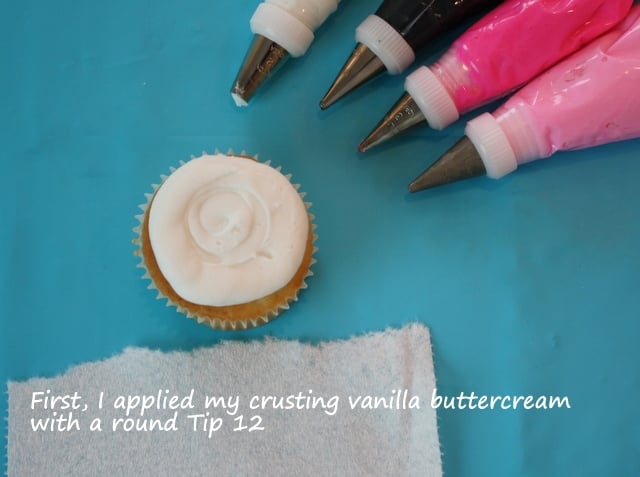 Allow to sit for about 3-5 minutes or until you can lightly touch the frosting without any coming off. The buttercream should develop a light crust. Then it's time to smooth! We like to use Viva brand paper towels because they do not have any quilting or impressions.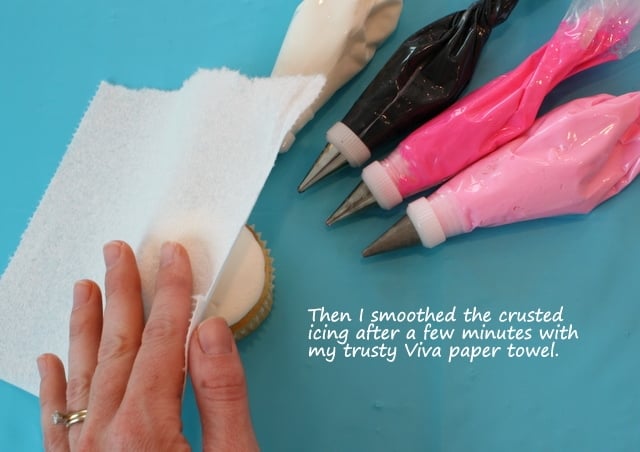 Next, apply some pink spots of buttercream to your cupcakes with a small round piping tip. (I'm using a Wilton 4)
Next, a darker shade of pink.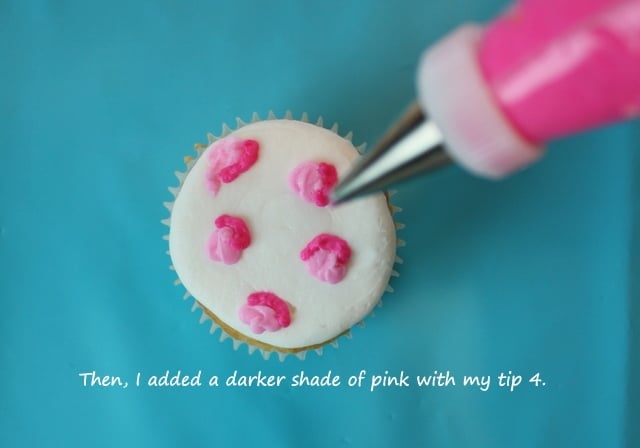 Next, a few black buttercream accents. You can see that I outlined the spots almost entirely, but not quite. Then, I added a few random black markings here and there. This cupcake is getting it's leopard spots before our very eyes ;0) -
*I wanted to mention that if you are working with a non-crusting buttercream, or if you just don't want to smooth your cupcakes, this pattern still looks great with texture!
Since I'm working with a crusting buttercream, I'm going with a smooth look but both options work perfectly.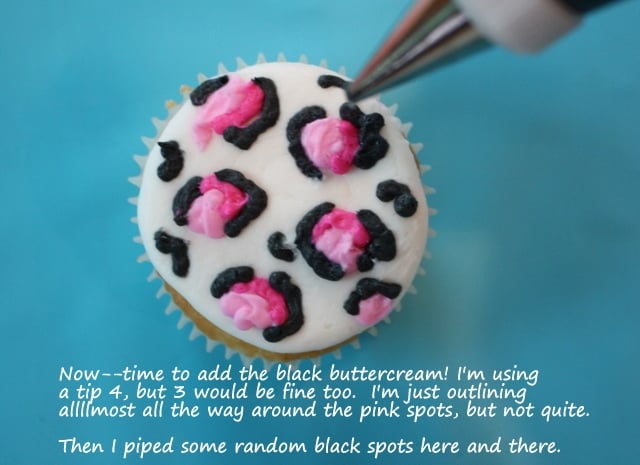 As you work on spotting all of your cupcakes, you can circle back with a Viva paper towel as the first cupcakes begin to crust.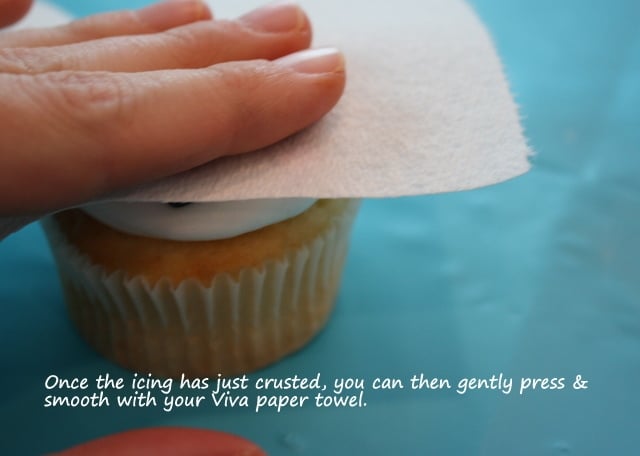 Ahhhh...I love this smooth leopard buttercream finish!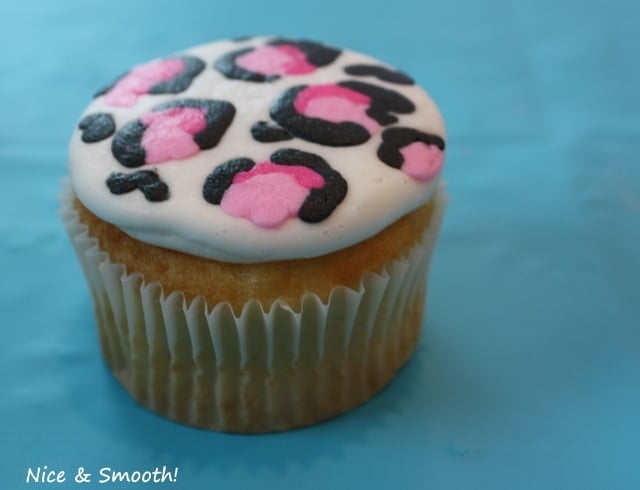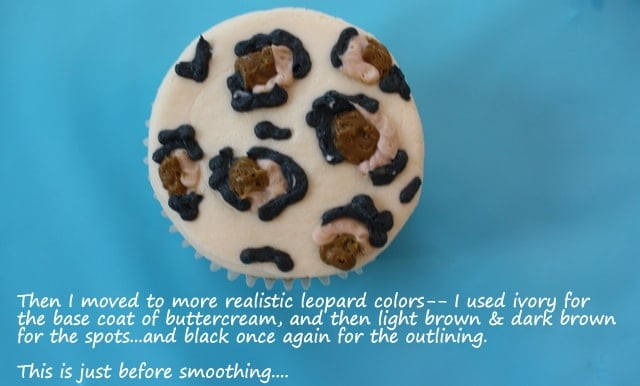 Next, I did the same but with a different color scheme.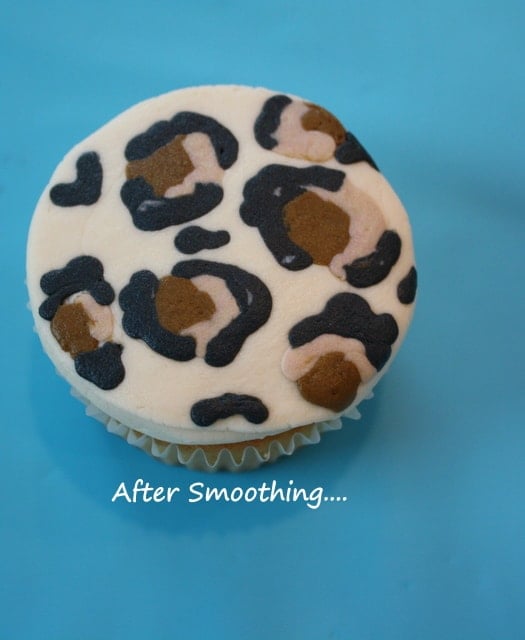 Here's a look at the difference between using three accent colors vs. two accent colors. I like both designs! Just go with what works best for you.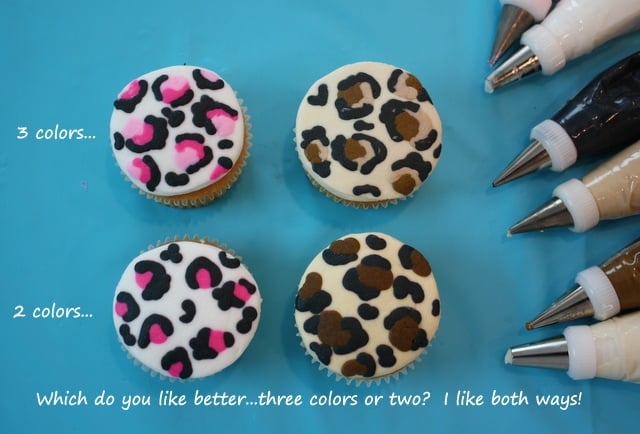 Sometimes I like to add fondant cake toppers. These painted leopard accents are so simple to make! For my paint, I mixed a bit of coloring gel with vodka and applied as if working with watercolor paints. The vodka allows the paint to dry very quickly.
(You can knead a little tylose or cmc powder into your fondant to make them dry firmer if you'd like! I prefer to add them just before the event.)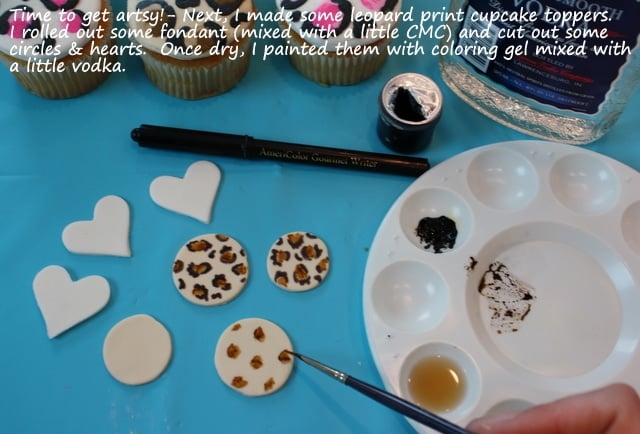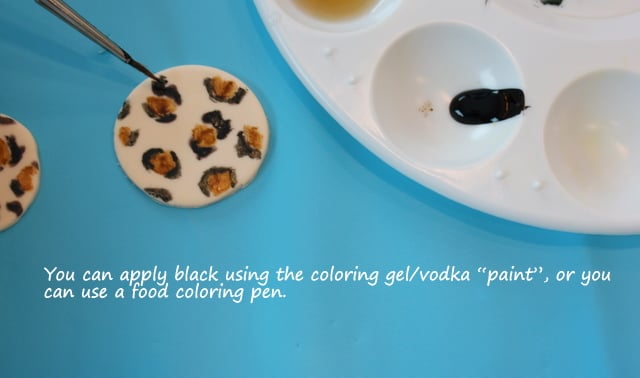 Aren't these leopard print cupcake toppers the cutest?!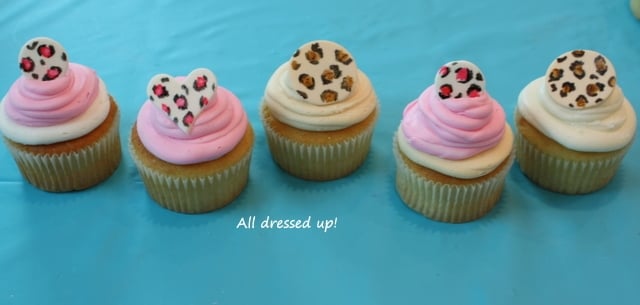 And finally....here's the entire platter! I love these cupcakes. They are so much fun to make, and would be perfect for jungle or safari themed parties, fashion themes, "Wild About You" themes or even "Born to Be Wild" baby showers!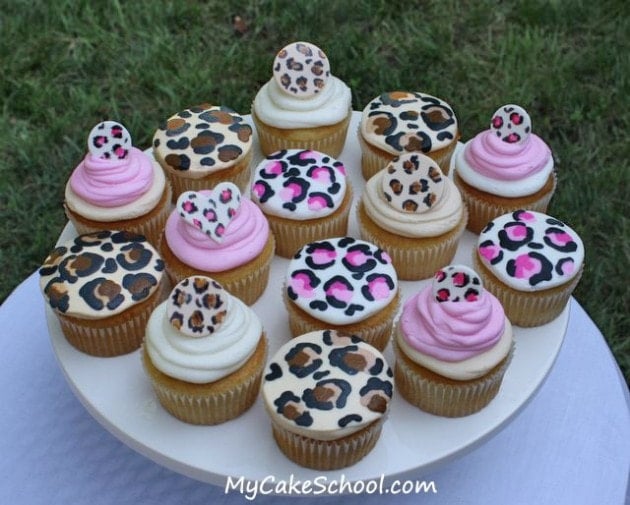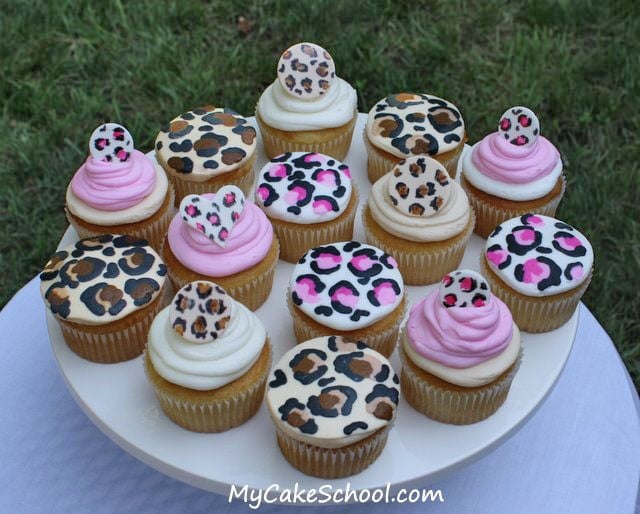 Isn't it nice when we can find a pattern that kids and adults will love?! Make sure to scroll below for a few notes about our favorite crusting buttercream recipes. Thanks for stopping by!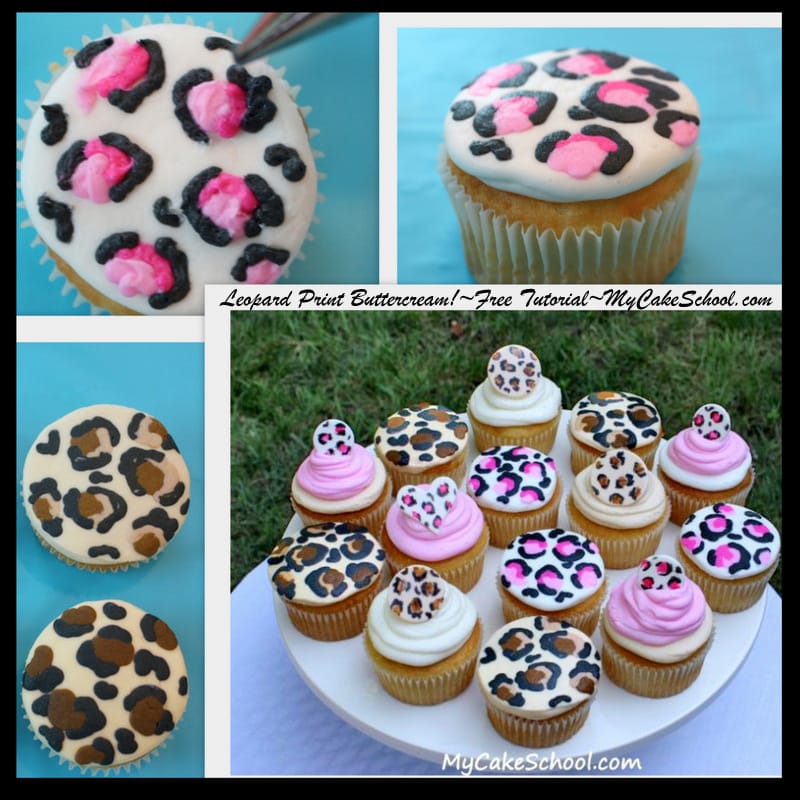 Crusting Vanilla Buttercream
In this tutorial, we used our Fluffy Vanilla Buttercream Frosting, which is a great option when you need a crusting buttercream.
The recipe is lighter in color than our Classic Vanilla Buttercream (which we also love). The reason for the difference in brightness is that the Fluffy Vanilla Buttercream recipe contains shortening in addition to butter.
Another option for a crusting vanilla buttercream is our High Ratio Frosting recipe. This recipe is the brightest white of all because it is shortening based.
This is a good choice for times when the weather is very warm and you need a frosting that can hold up a bit better in warmer temperatures.
All three of these crusting vanilla frostings are great to have in your recipe box. They all taste great, pipe beautifully and smooth very easily!
Even More Animal Print Cake and Cupcake Fun!
Looking for even more animal print cupcake cuteness? Don't miss these fun, free tutorials!:
"Wild About You" Cupcake Tutorial
How to Make a Zebra Print Cake (on the inside)
Leopard Print (on the Inside) Cake- Free Video Tutorial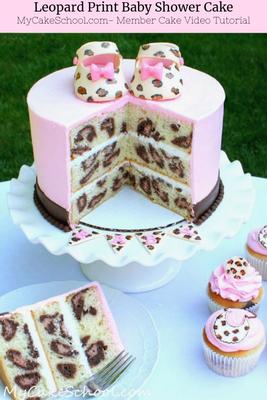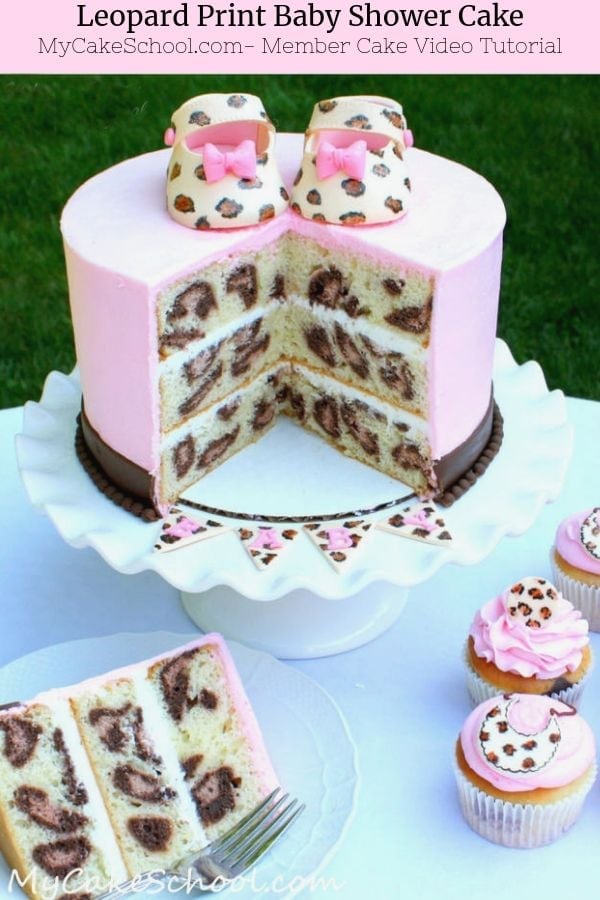 Leopard Print Cupcakes-Free Blog Tutorial!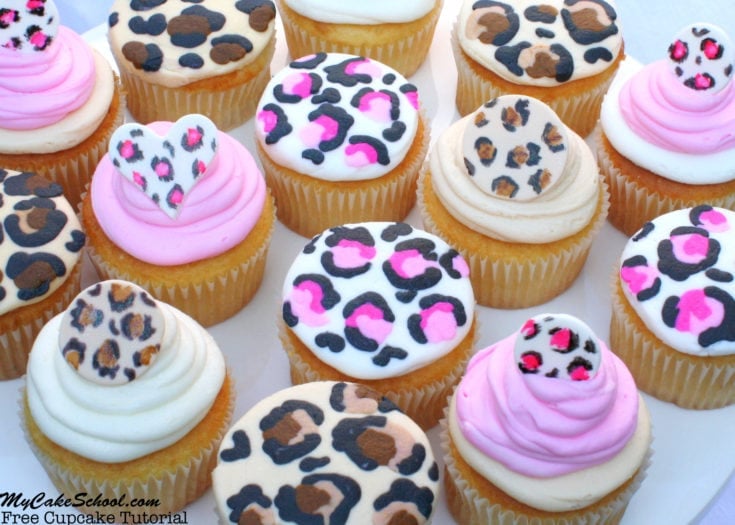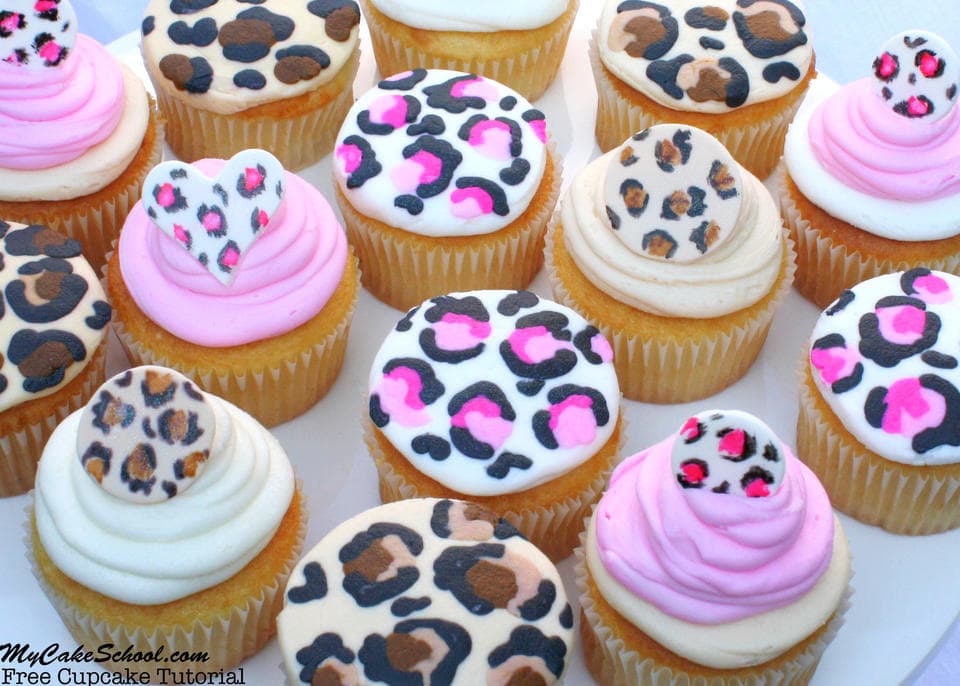 Learn how to make CUTE buttercream Leopard Print Cupcakes and Leopard Print Cake Toppers in this free cake decorating tutorial!
Ingredients
Cupcakes
Vanilla Buttercream (We used our Fluffy Vanilla Buttercream Recipe)
Fondant (if creating toppers)
Piping Tip 12 or tips of choice
Coloring Gels: Americolor Deep Pink, Black, Chocolate Brown (or colors of choice)
Tylose Powder (Optional-I like to knead a little into the fondant for quicker drying)
Small paintbrushes
Vodka or lemon extract for combining with coloring gel to create paint
Disposable Piping bags
Plate or Palette for mixing colors for painting
Instructions
FOR THE LEOPARD PRINT BUTTERCREAM
Start by creating a base layer of frosting onto your cupcake. I pipe on a flat spiral using a piping tip 12. (This is the background color that you will be piping leopard spots onto)
Smooth. (For an extra smooth finish, allow to crust for a few minutes and then smooth over the surface of the frosting with a Viva Paper Towel (Viva brand has no impressions)
Pipe on the leopard spots. I used a piping tip 3 (small round tip) to pipe on the pink or brown spots, followed by black.
You can smooth over the spots once they've crusted for a few minutes or so using a Viva paper towel, OR you can skip the smoothing and leave the leopard design with a raised look which also looks nice.
FOR THE CUPCAKE TOPPERS
Add a little tylose powder to your fondant if you have any for faster drying. Roll the fondant to about ⅛ inch thickness and cut out your shapes. You can use the round end of a large piping tip for circles if you'd like.
Paint on the leopard pattern using coloring gel or foodwriter pens. For coloring gel, create an edible paint by putting a dot of coloring gel onto a plate or palette and then mix with a touch of vodka. I usually just apply the vodka to the coloring gel with a small paintbrush. This will give you something similar to a fast-drying watercolor paint.

Allow the toppers to dry and add to the cupcakes. If you are using a non-crusting buttercream, apply the toppers close to the time of the event. Toppers will soften if placed in an airtight container.