If you like lemon, you are going to LOVE this easy and delicious homemade Lemon Curd Recipe!
It has a wonderful silky smooth consistency and flavor with just the PERFECT amount of lemony tartness.
This lemon curd recipe is our favorite lemon filling for cakes and cupcakes, and it is so simple to make!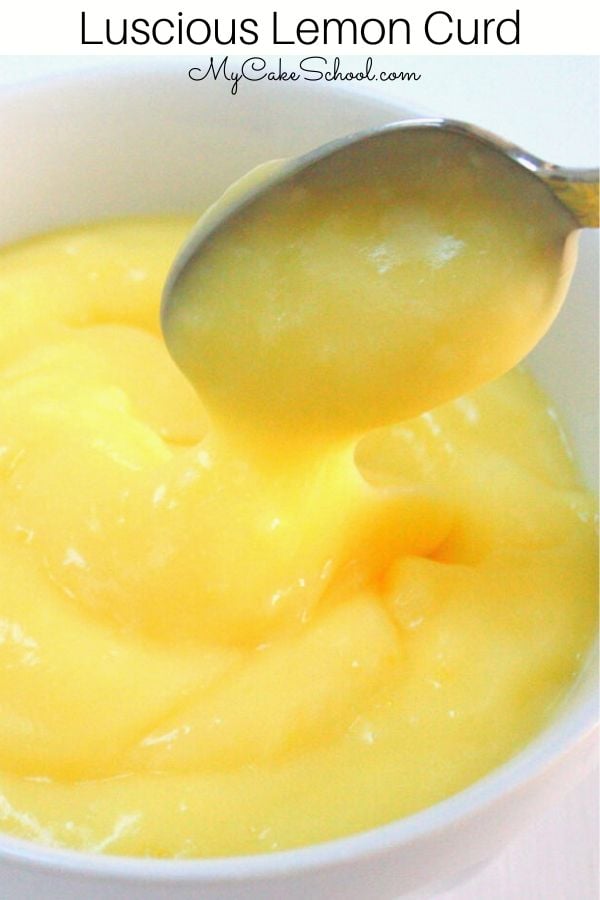 HOW TO MAKE LEMON CURD
*Find the full, printable recipe at the bottom of this post!
Curd fillings are so easy to make and they taste amazing! This luscious lemon filling has so much flavor! It all starts with just a few ingredients.
First, combine the sugar, cornstarch and water in a saucepan over medium heat. Stir constantly, until mixture thickens and comes to a boil (3-4 minutes).
Next, continue stirring as it boils for one minute more.. Remove the pan from the heat.
Spoon about a half cup of the hot mixture into a small bowl with egg yolks and stir quickly until combined. Continue stirring, while pouring the egg mixture back into the saucepan. The egg yolks are what give the curd its lovely yellow color.
Finally, return pan to medium heat and cook, stirring, until the curd is thickened and lemon colored (1-2 min). Remove from heat and stir in the butter, lemon juice, and lemon zest.
Let the lemon curd cool, then press plastic wrap onto the surface and refrigerate. The plastic wrap will prevent a skin from forming on the top. The lemon curd will thicken a bit as it cools.
What Cake Flavors go with Lemon Curd?
Lemon curd pairs wonderfully with white cakes, yellow cakes, and coconut cakes, but my FAVORITE is with our homemade Lemon Cake!
I just love lemon desserts, and everything about this filling is heavenly.
This lemon curd has a delightful silky smooth consistency, and you'll love how easily this light and flavorful lemon filling comes together!

How to Fill Cupcakes with Lemon Curd
When using this lemon filling for cupcakes, try injecting the lemon curd into the unfrosted cupcakes with a disposable piping bag!
I usually use a tip 12 for this. Simply insert the piping tip into the top of the cupcake and push it about halfway down. Then, give it a little squeeze for a second or two.
You can do a practice run on a plate to get an idea of how quickly the lemon curd comes out of the bag and adjust accordingly since you won't be able to see the amount of curd inside of the cupcake until you take a bite of it ;0)
Everyone is sure to love this instant boost of lemony goodness! Top off your cupcakes with a swirl of Lemon Cream Cheese Frosting (linked below) for an incredible dessert.
How to Fill Layer Cakes with a Soft Filling (like Lemon Curd)
When using a soft filling such as lemon curd, mousse fillings, whipped cream fillings, etc. you'll want to first pipe a dam of frosting around the edge of the cake layer (about ¼ inch from the edge).
I usually pipe the dam with a medium sized round piping tip, or you can simply snip the end of the disposable piping bag away to create a medium sized opening. Then, pipe your dam.
Next, spread the soft filling within the dam and add the next layer of cake. The dam will prevent the lemon curd or other soft filling from escaping and oozing from the sides of the cake once the next layers are added.
If you've ever had this happen to you, you know how difficult it can be to fix! Not only will it mess up the look of your cake, but it can also cause bulging or sliding cake layers. Frosting dams are always worth the extra minute or two of time to make one.
Delicious Lemon Cakes
If you love lemon cakes, look no further! We have so many delicious lemon recipes to share with you.
You can find the full roundup here: Best Lemon Cakes, Fillings, & Frostings, but here are a few of our favorites:
Lemon Cake- Doctored Cake Mix Recipe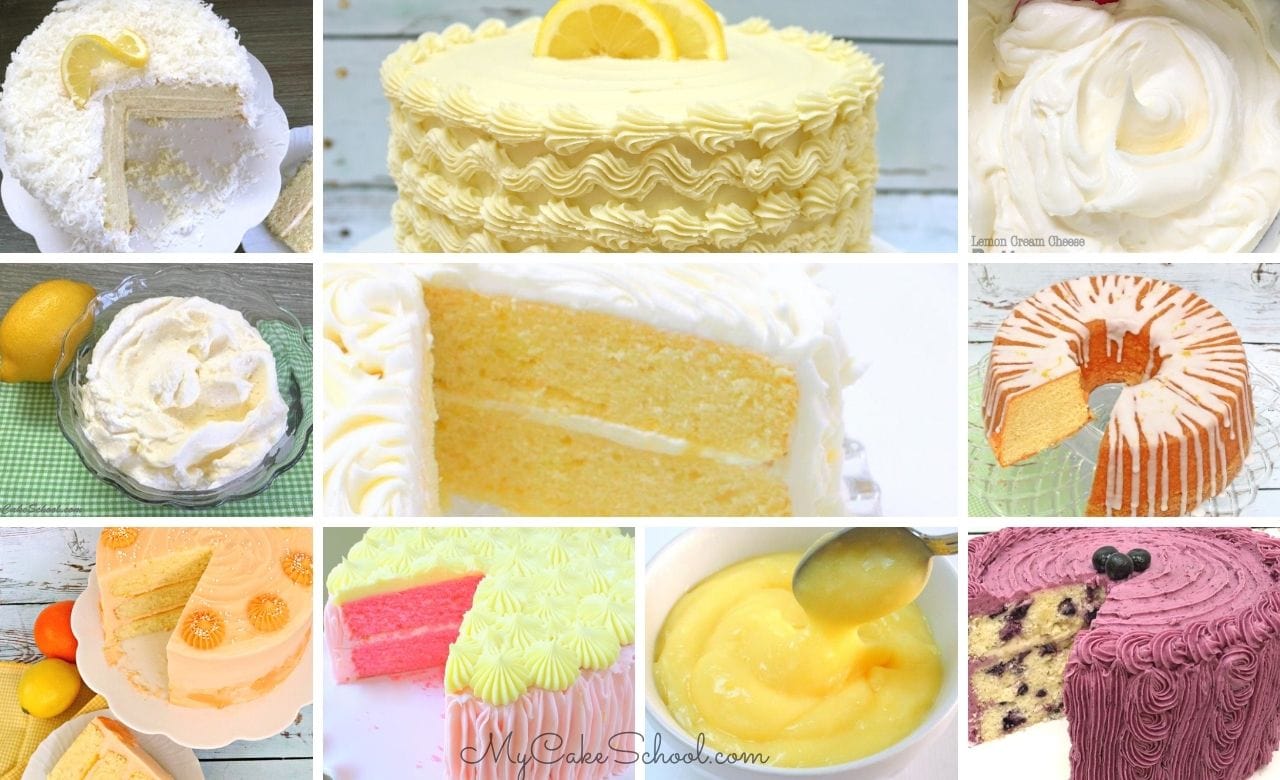 Learn Cake Decorating with My Cake School!
Thanks for stopping by! If you give this recipe a try, we would love for you to leave a comment and photo below.
You can find our full collection of favorite recipes and free cake decorating tutorials in our Recipes & Tutorials Section!
Enjoy the Recipe!
Lemon Curd Recipe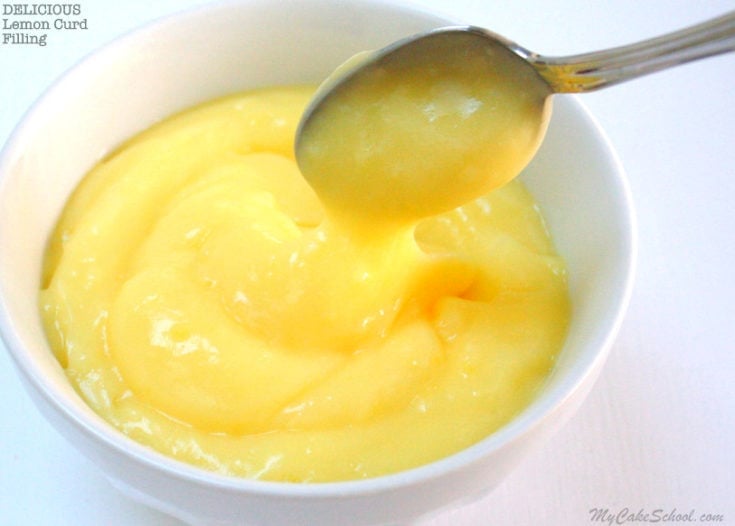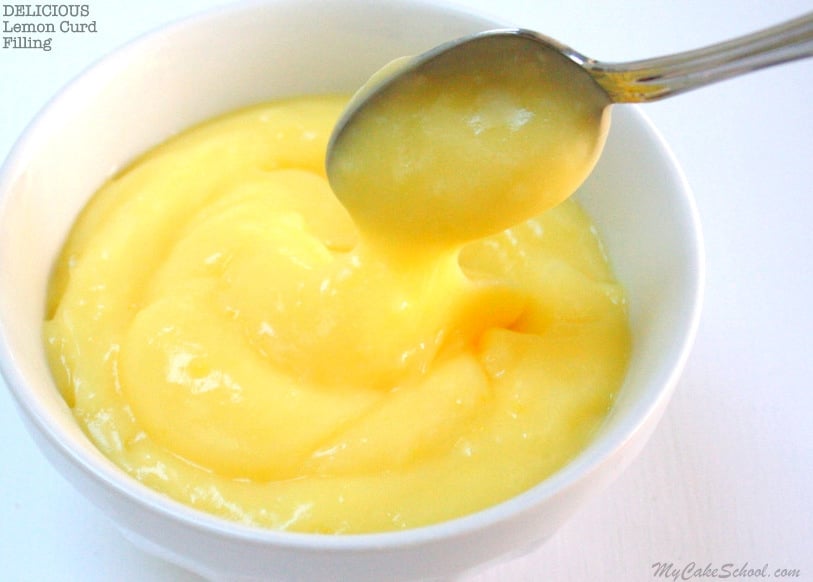 This easy, silky smooth lemon curd recipe tastes amazing and makes a wonderful filling for cakes and cupcakes!
Ingredients
¾ cup (150g) sugar
¼ cup (30g) cornstarch
1 cup (236g) water
2 large egg yolks, lightly beaten
2 Tablespoons (28g) butter
1 Tablespooon grated lemon zest
4 Tablespoons fresh lemon juice
Instructions
Combine sugar, cornstarch and water in a saucepan over medium heat. Stir constantly, until mixture thickens and comes to a boil (3-4 minutes).
Boil, stirring, for 1 minute more.. Remove the pan from the heat.
Spoon about ½ cup of the hot mixture into a small bowl with egg yolks and stir quickly until combined. Continue stirring, while pouring the egg mixture back into the saucepan.
Return pan to medium heat and cook, stirring, until the curd is thickened and lemon colored (1-2 min). Remove from heat and stir in the butter, lemon juice, and lemon zest.-- Let the lemon curd cool, then press plastic wrap onto the surface, this will prevent a skin from forming on the top. Refrigerate.
This will fill a 2-3 layer 8 or 9 inch cake with some leftover. The recipe can be halved.
I have refrigerated the lemon curd for a week and it was fine....I'm not sure how long it will keep beyond that
Makes 1 ¼ cups