Ruffled Flag Cake Tutorial
With the 4th of July just around the corner, we wanted to post a quick and easy Ruffled Flag Cake tutorial for you to keep in mind for any special occasion that calls for something patriotic!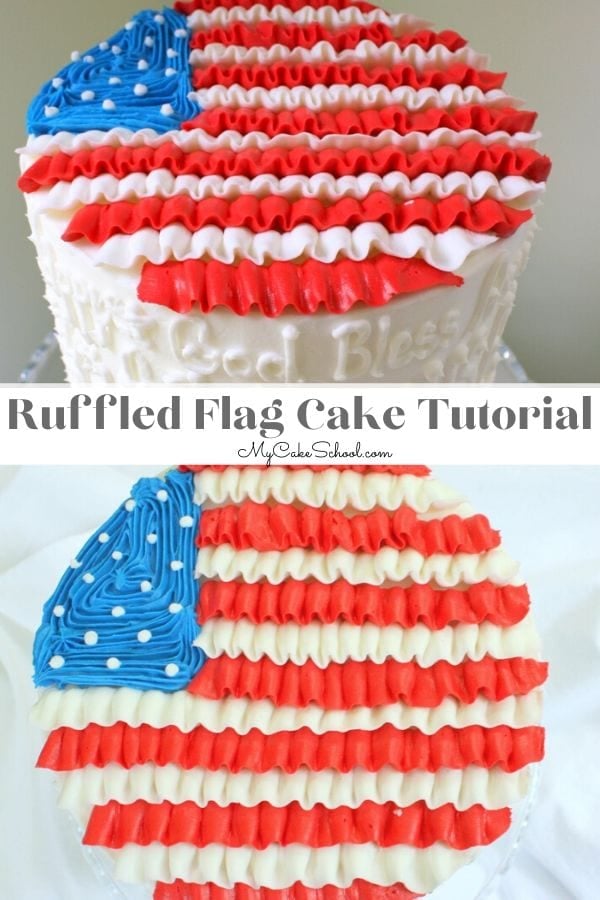 How to Make a Buttercream Ruffled Flag Cake
Piping buttercream ruffles is so easy and I just love the look!
For this cake, we chose to go with a 6 inch double barrel (tall) cake so that we would have plenty of room for writing around the sides, but the cake design can be adjusted for any size cake or sheet cake.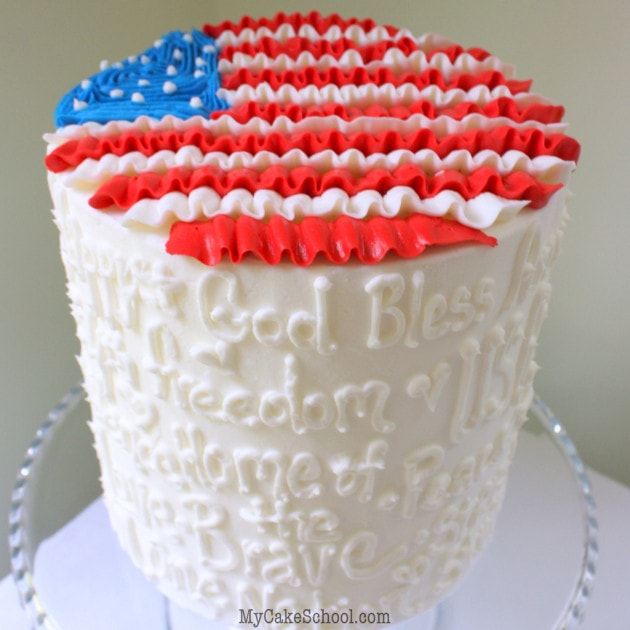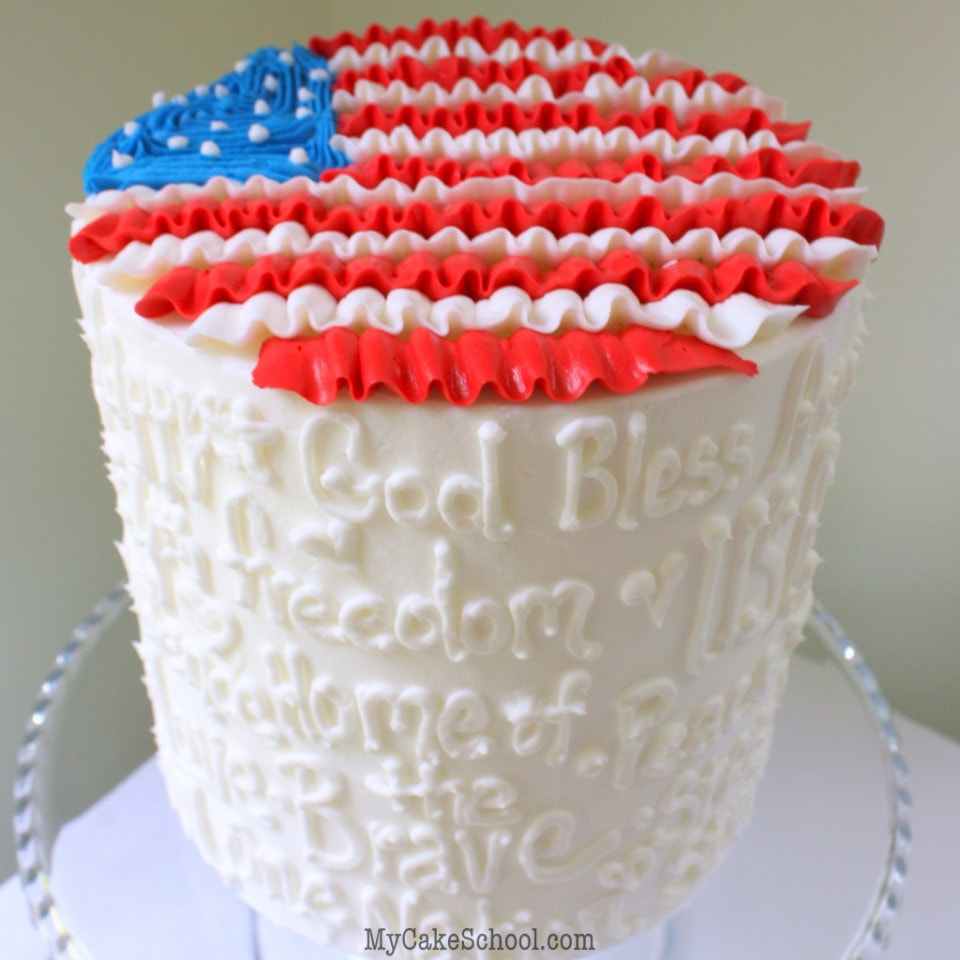 Double Barrel Cake
(If you're not familiar with double barrel cakes, they are tall cakes that are divided halfway up by a cake board an supports beneath. So basically, it is two stacked tiers of the same size, decorated as one.
In this case, I used four layers of cake. There is a cardboard cake circle halfway up with four bubble tea straw supports cut to the height of the first two filled cake layers beneath the cake board for support. You can see an example of building a double barrel cake in this Cookie Jar Cake Tutorial )
After smoothing the frosting, I filled it with patriotic words and phrases using my trusty Wilton piping tip 2. You can see that I wasn't too precise in the size of my lettering or placement...I just wanted to fill up the space with meaningful words and the occasional star or heart.
If writing on cakes isn't your favorite thing, this would be just as cute with polka dots or stars!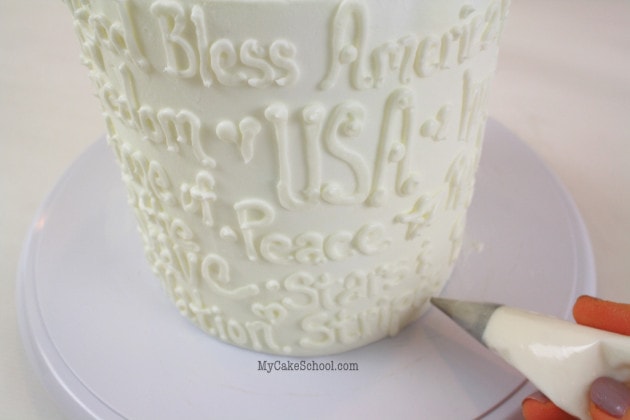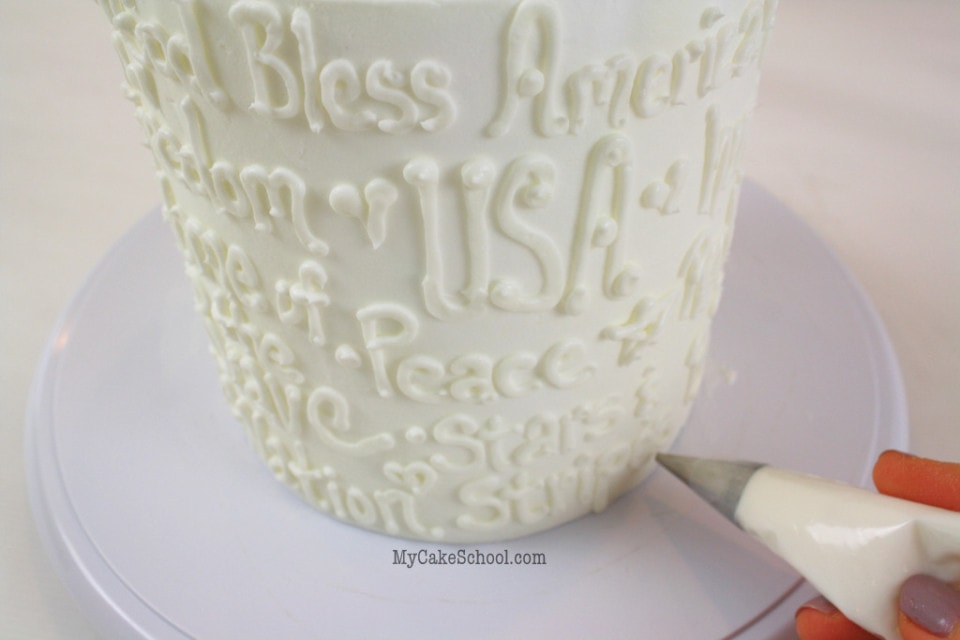 Now for the top of the cake! I piped our blue "square" with a Wilton star tip 21 and buttercream tinted Royal Blue.
Since we wanted our flag to cover the entire top of our round cake, our square needed to have a rounded "pie-shaped" edge. Quick & easy!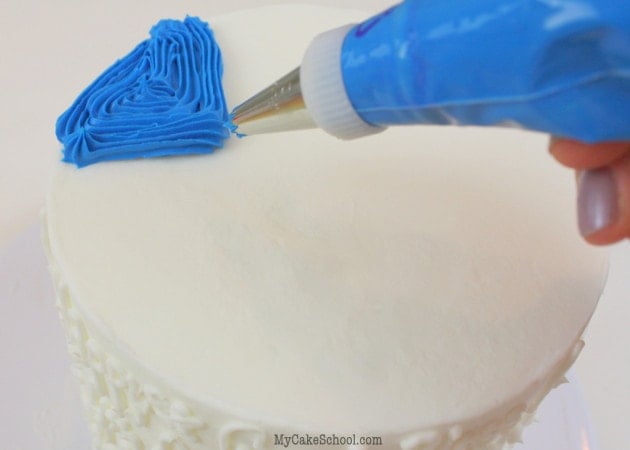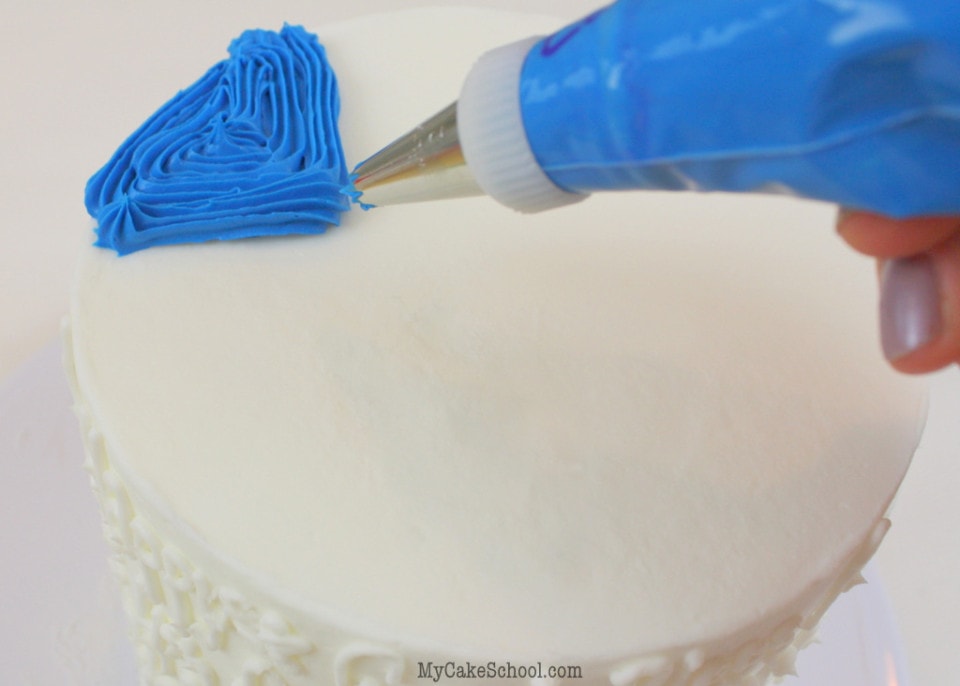 Now it's time to add our ruffled buttercream stripes, which will bring our ruffled flag cake together. As someone who loves ruffles, I think that a ruffled flag design is not only easy, but beautiful!
Using my trusty 104 petal tip, I piped rows of red and white ruffles. Remember, thin end is facing down. Start at the bottom of your cake and work your way up... slightly overlapping each row with the next.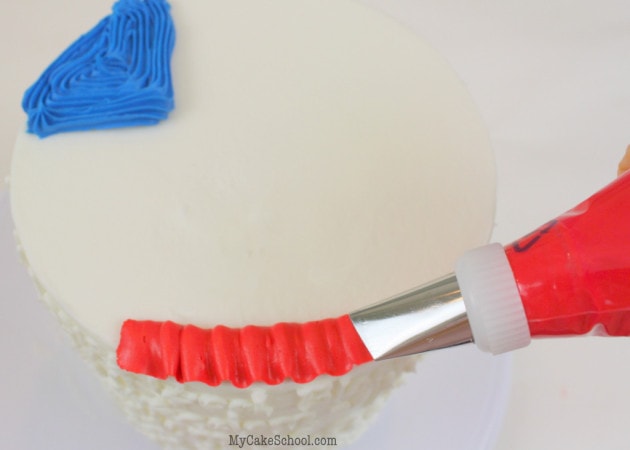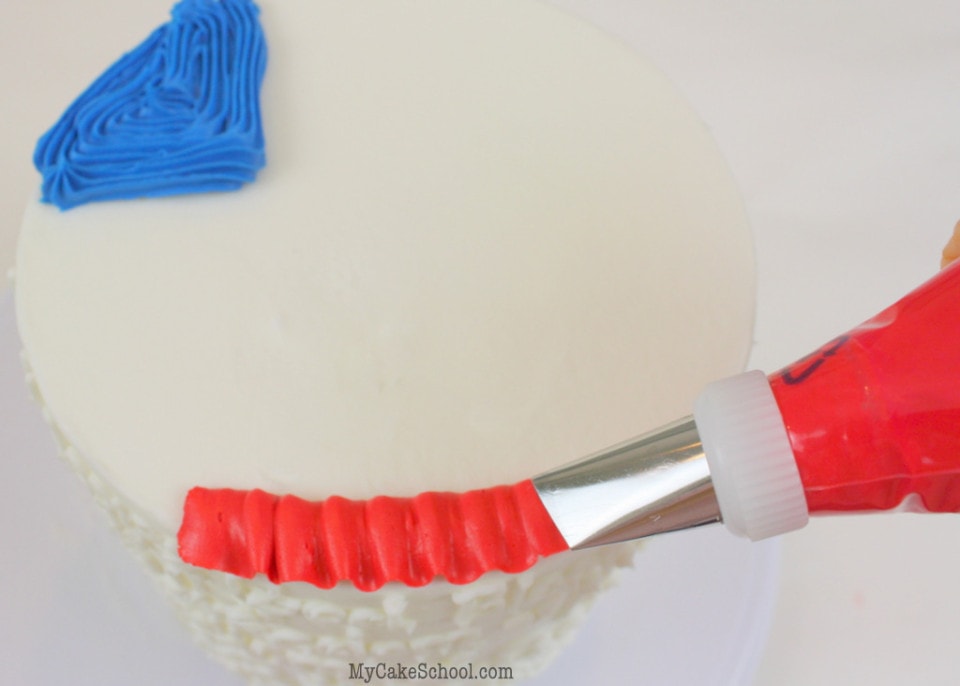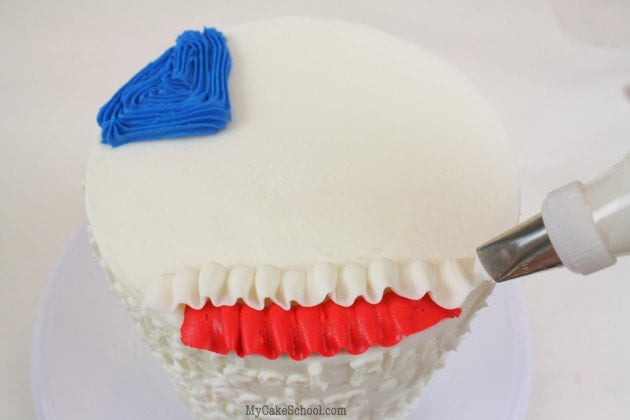 Would you believe that we had exactly 13 stripes? It's nice when things work out just right but I think that most people aren't counting ;0)
You also have a little wiggle room in how much space your stripes take up, and can adjust your piping as needed.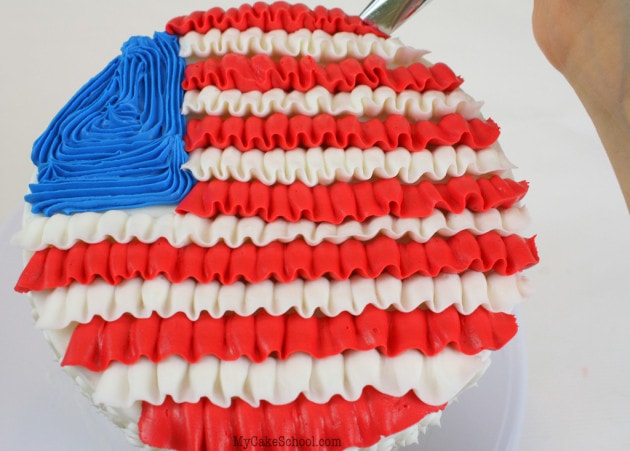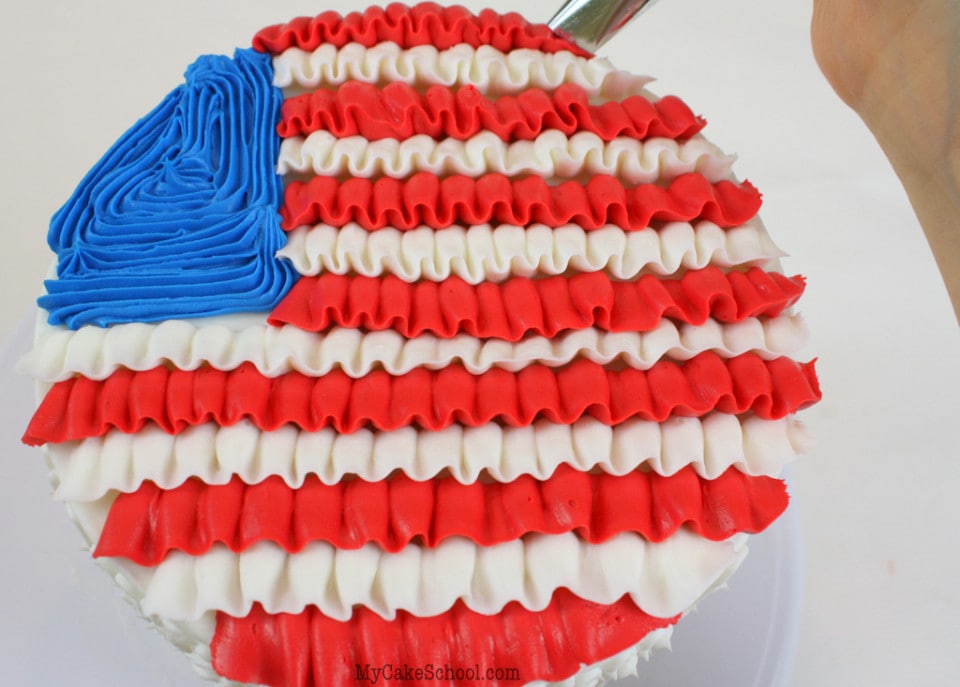 I added some polka dots for stars & that's all there is to it! So much fun.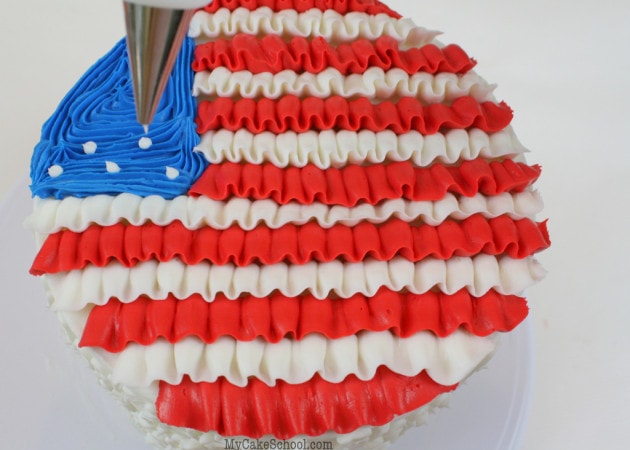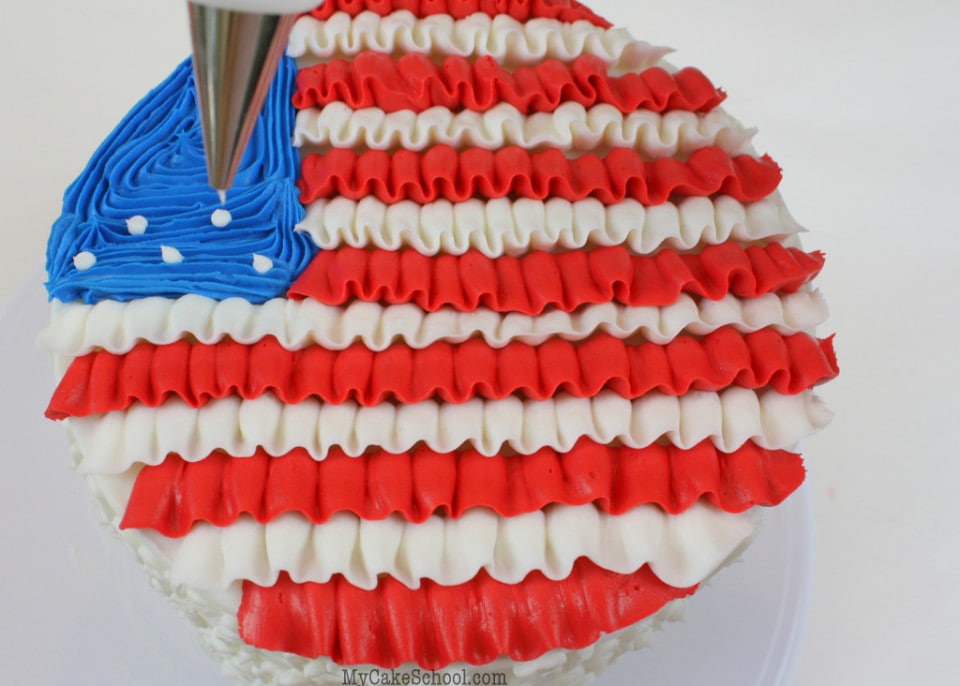 This flag took no time at all to create, and it may be my favorite one yet!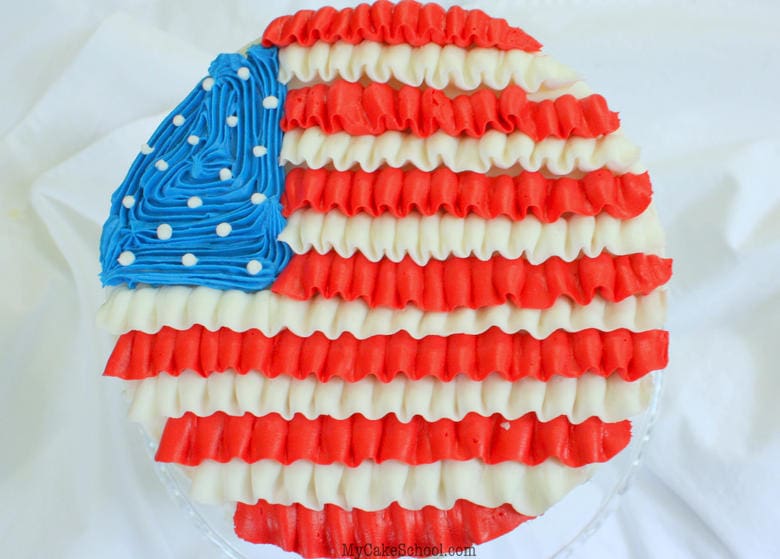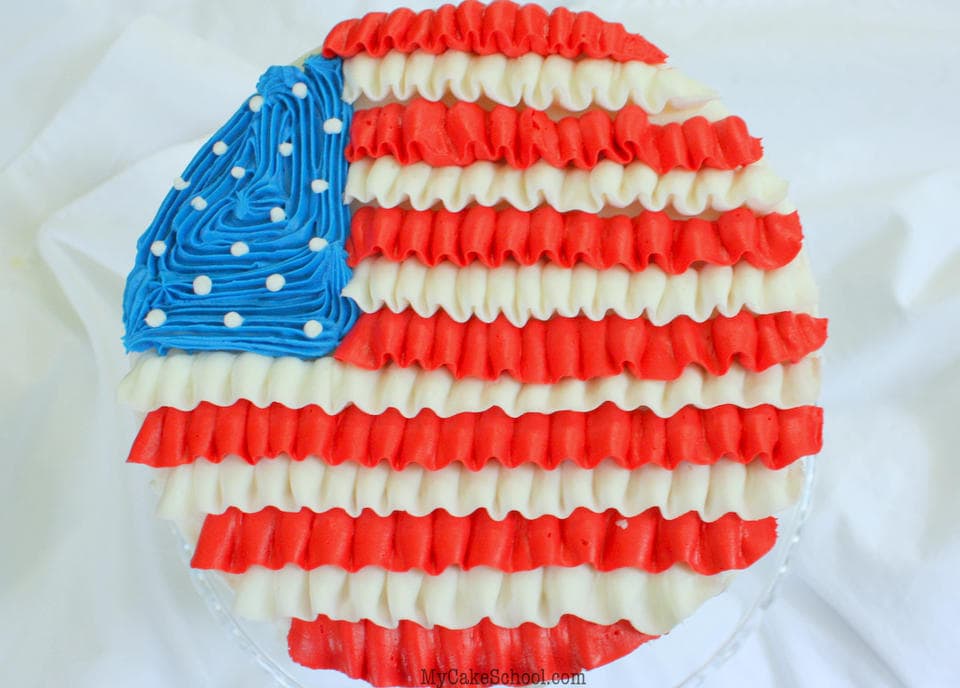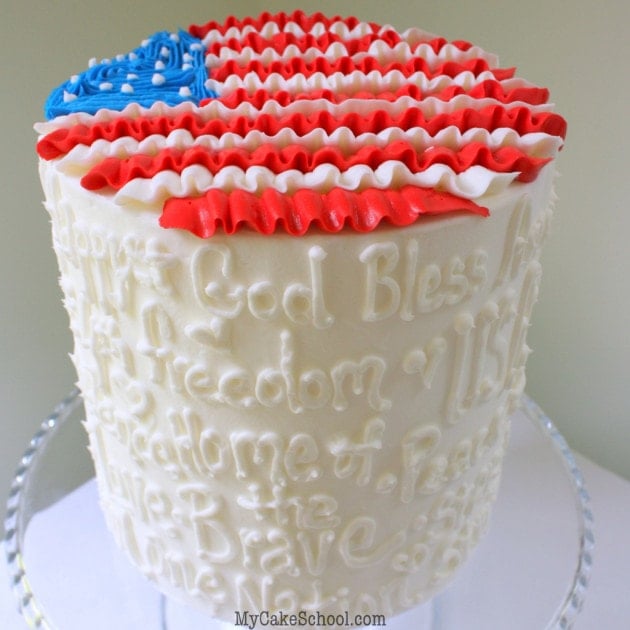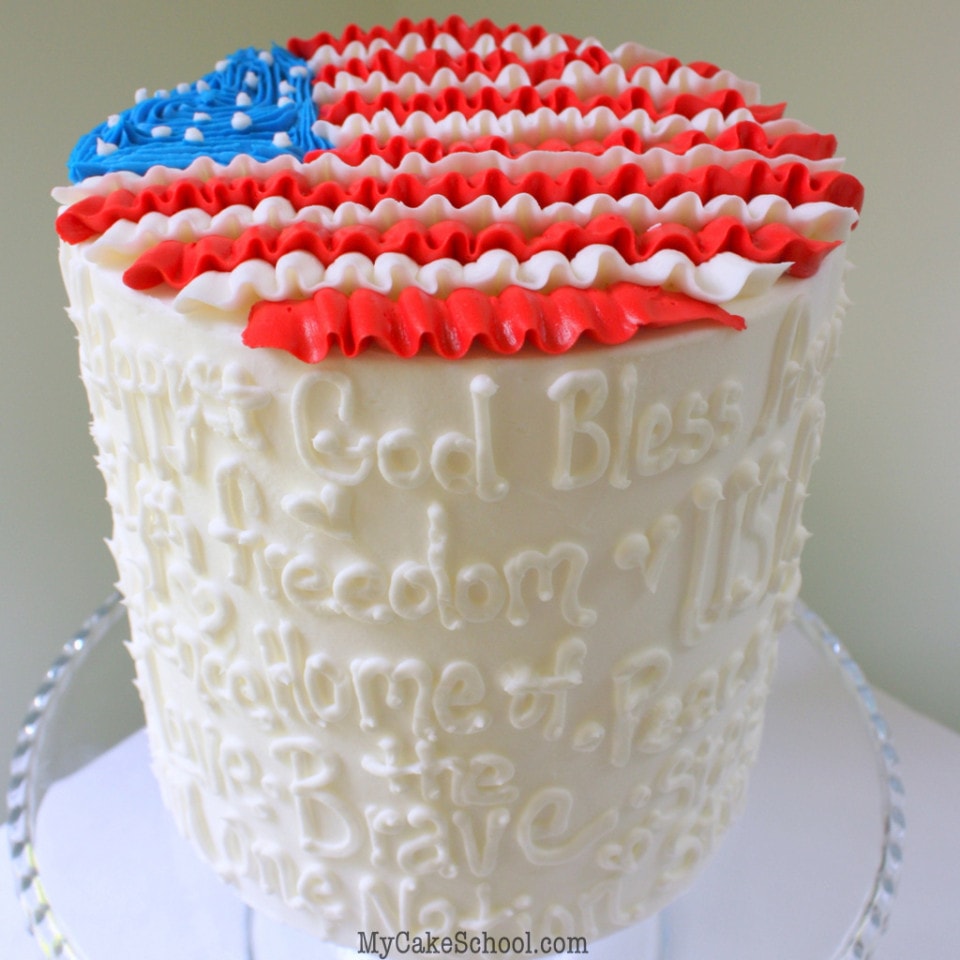 Thanks for stopping by! Have a Happy 4th! xo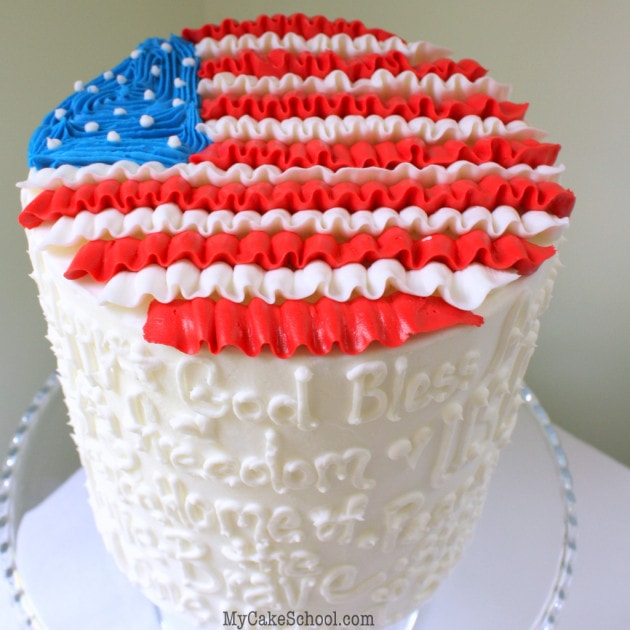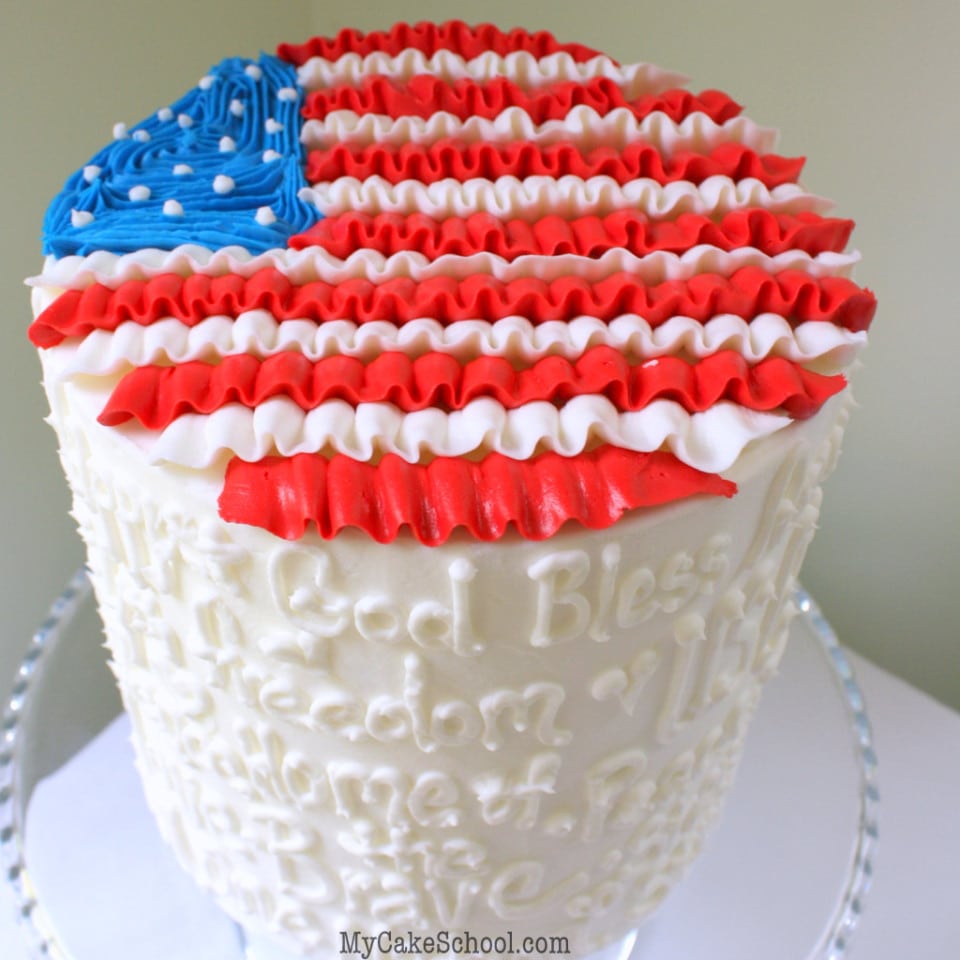 Looking for More Patriotic Cakes and Cupcakes?
We've made several cakes over the years that would be perfect for patriotic holidays and gatherings. Here are a few favorites!
July Fourth- Patriotic Cake and Cupcakes
We Heart America- A Patriotic Cake Tutorial
July Fourth Chocolate Panels Cake- Free Video Tutorial
Enjoy the Tutorial!
We hope that you enjoy this ruffled flag cake tutorial! If you give it a try, we would love for you to leave a comment and photo below!
How to Make a Ruffled Flag Cake Design in Buttercream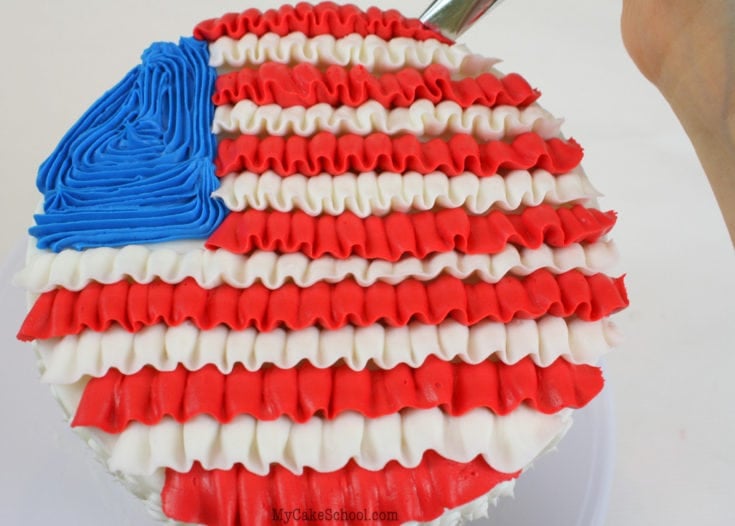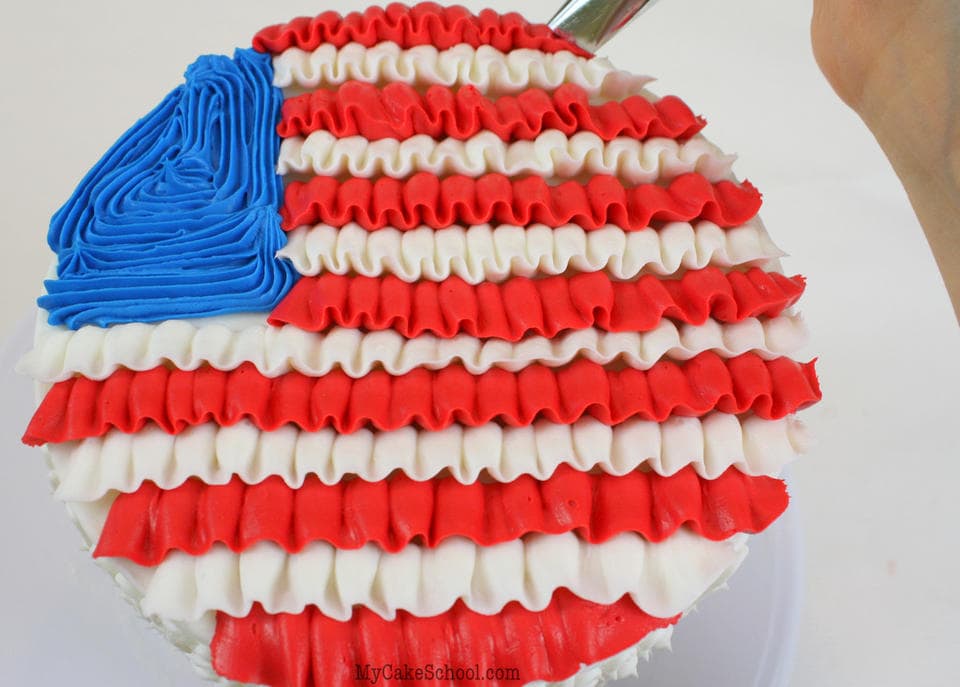 This patriotic Ruffled Buttercream Flag Cake is easy to make with simple buttercream piping! Learn how to make it in this free step by step cake decorating tutorial!
Materials
We decorated a double barrel (tall) 6″ cake but this design can be adapted to suit whatever cake you like. (For info on a double barrel cake, see this tutorial.) –
Vanilla Frosting- I like a crusting vanilla buttercream like this one.
Coloring Gels: We used Americolor Super Red & Royal Blue
Piping Tips: I used a small round tip 2, a petal tip 104, & star tip 21
Instructions
I frosted my tier in vanilla buttercream and piped patriotic words around the sides of the cake using a small round piping tip 2. (If you aren't comfortable with piping, polka dots or fondant stars around the sides would be cute also!)
With a tip 21, I used my royal blue buttercream to pipe a pie-shaped section on the top left of the cake.
Next, using 104 piping tips, I alternated between red buttercream and white buttercream. I started at the bottom of the flag and worked my way up. Position the piping tip so that the thin side is facing down (towards you). Move the piping tip up an down as you work in horizontal rows to create your ruffles. *Practice on waxed paper first if you'd like to get the hang of it!
Each row will slightly overlap the row before it.
Add white dots with a small round tip (tip 2 or similar) for "stars" on the blue section of the flag.