Fourth of July Cake and Cupcakes! Blog Tutorial
Today we are featuring a couple of cute Fourth of July Cake Ideas! These cakes and sweets are so simple to put together, and would be perfect for July 4th cookouts, gatherings, and any sort of patriotic gathering throughout the year.
First, we made an American flag-themed cake. I LOVE piping buttercream, and if you are familiar with some of the basic piping techniques, I think that you will find this very simple!
How to Make a Piped Buttercream Flag Cake Design
I started with a 6 inch tier, crumb coated with Vanilla Buttercream. I tinted some of our buttercream with Americolor Sky Blue, some Super Red, and left the rest was left white.
I fitted my piping bag with a Wilton star tip 21, and piped a section of blue rosettes. (You can see the markings in the frosting that I made with a toothpick...just a basic map to work from.)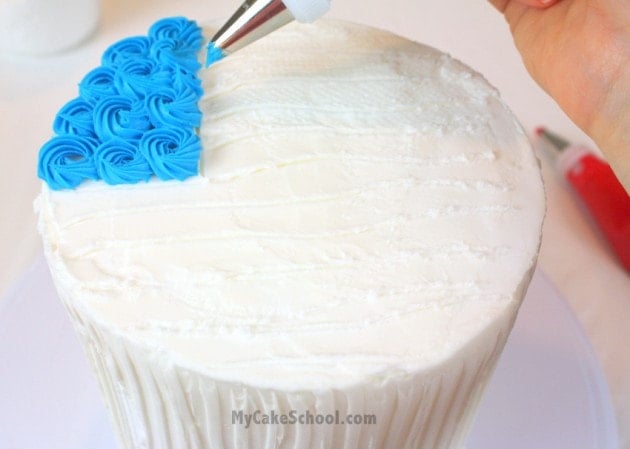 Next, I filled in with white and red piped shells (again, Wilton 21) to create our stripes!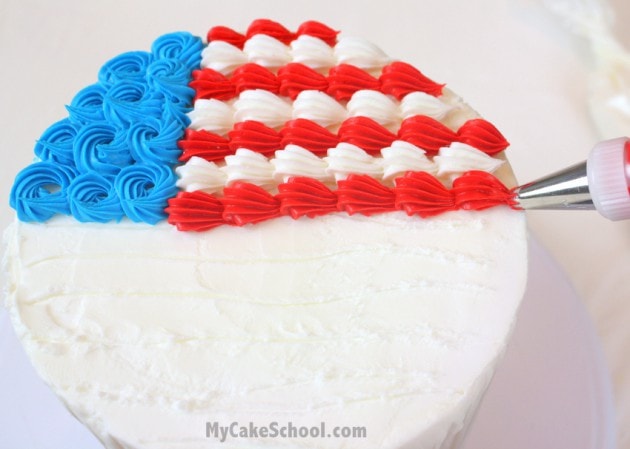 Top is finished!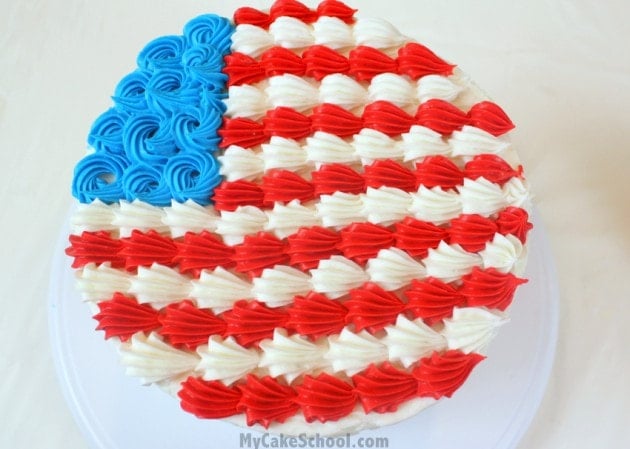 Starting with the bottom of the tier and working my way up, I filled in the sides with more white shells of buttercream! I really like the "shells-all-over" look! ;0)
If you are new to piping & aren't having good luck with the shells, you can easily pipe star shapes instead with the same tip! Just hold the piping tip perpendicular to the surface of the frosting as you pipe.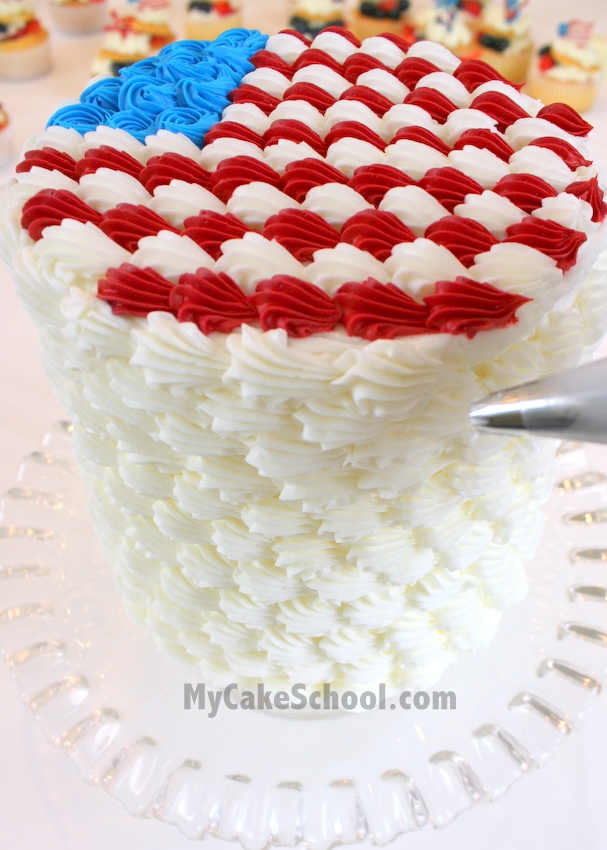 Using a piping tip 3, I made a few white dots on my blue rosettes to represent our stars.
That's it! Here's our finished cake~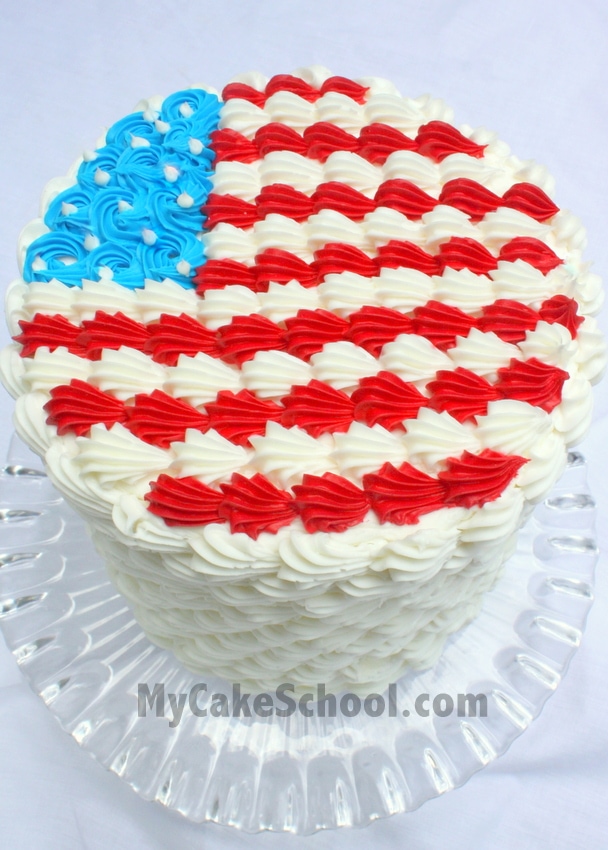 Helpful Tutorials for Buttercream Piping
If you are new to cake decorating or would like to brush up on your skills, we have free video tutorials for piping the buttercream shells and the buttercream rosettes that we used for our flag cake! You can find them here: Basics of Piping with a Star Tip.
For the July 4th Cupcakes
Now...for some cupcakes. When we were thinking of blog ideas for the 4th, I couldn't decide between the cake above or the cupcakes that I'm about to show you, so made both!
Candy Coating Flag Decorations for Cupcakes
The first step is to pipe some chocolate decorations. I used red and blue pre-colored candy melts (Wilton)...and also some white chocolate bark that I had on hand (Ambrosia brand).
I melted the chocolate in small bowls, in 30 second increments until melted. Then, I spooned the melted chocolate into disposable piping bags. Mine were fitted with small round piping tips (2 or 3's)...but some prefer to just snip the end of the bag.
*If you don't have tinted candy coating, you can use oil based candy color or powdered colors. I actually deepened the color of my blue candy coating with Americolor blue coloring powder..but only because our original plan for the chocolate was to also apply them to our flag cake--and I was trying to match our blue buttercream. Normally, I would not have altered the shade of blue.
Chilling the Cupcake Toppers
I piped the patriotic little cupcake toppers onto a parchment lined cookie sheet. Then, I chilled them in the freezer for just a few minutes as I worked on my cupcakes. I don't recommend freezing for very long. If you won't be decorating right away, you can just leave the chocolate at room temperature until closer to decorating time.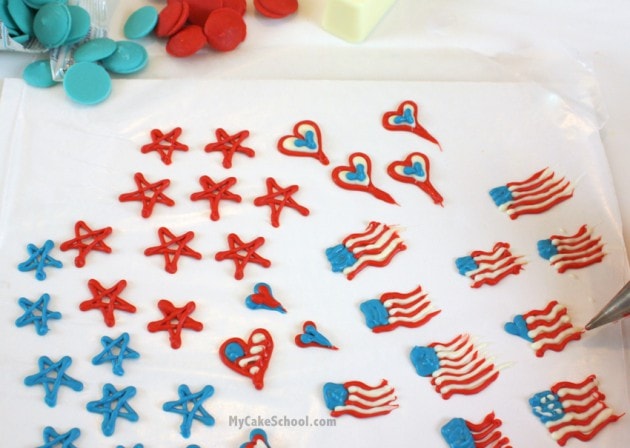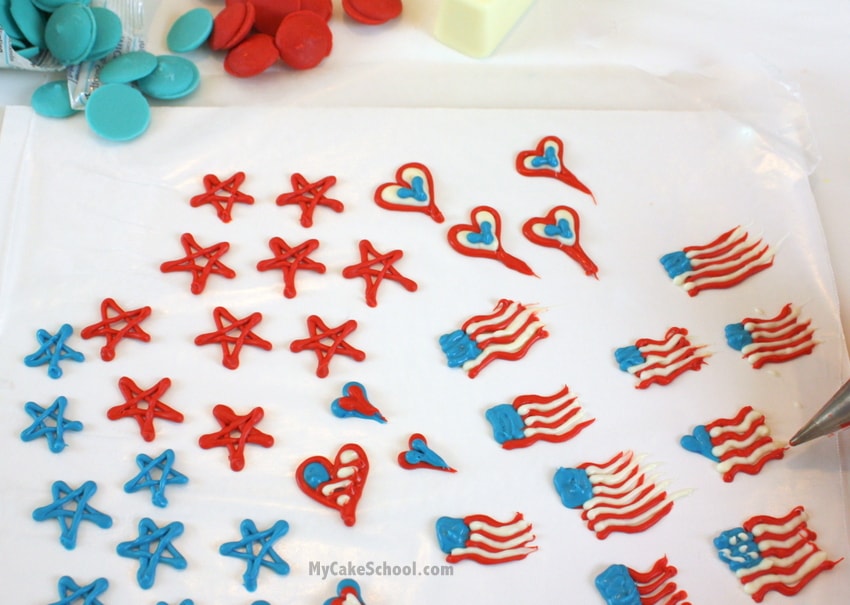 Assembling the Patriotic Cupcakes
Here are some basic white cupcakes (I used Pillsbury white mix for these but use whatever brand/recipe is your favorite!). Then, holding a sharp knife at an angle as I rotated the cupcake, I cut out & removed a little cone shaped "lid". I'm making room for our fruit!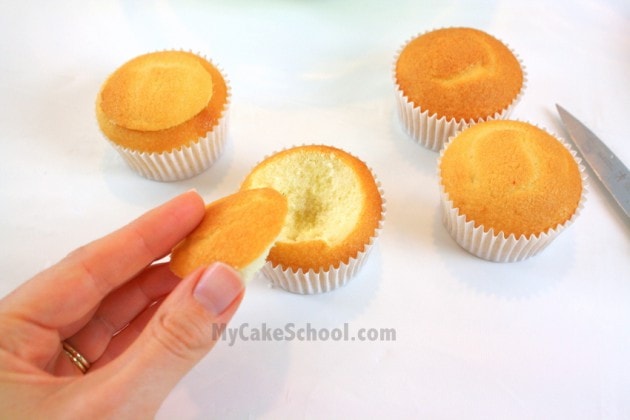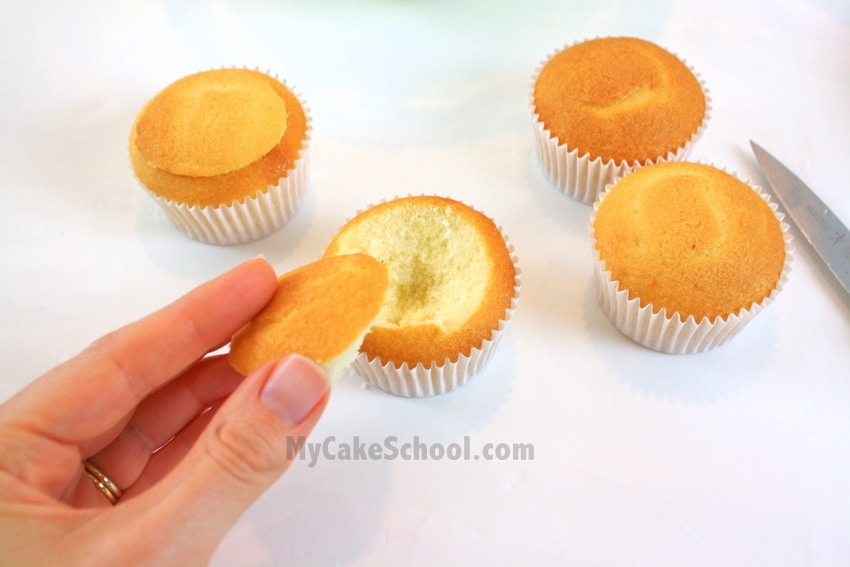 Next, I spooned strawberries into the cupcake. I sliced the strawberries into a bowl and sprinkled on a little sugar to bring out the juices.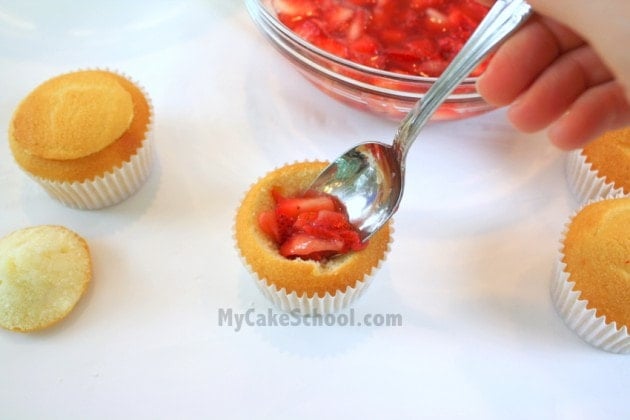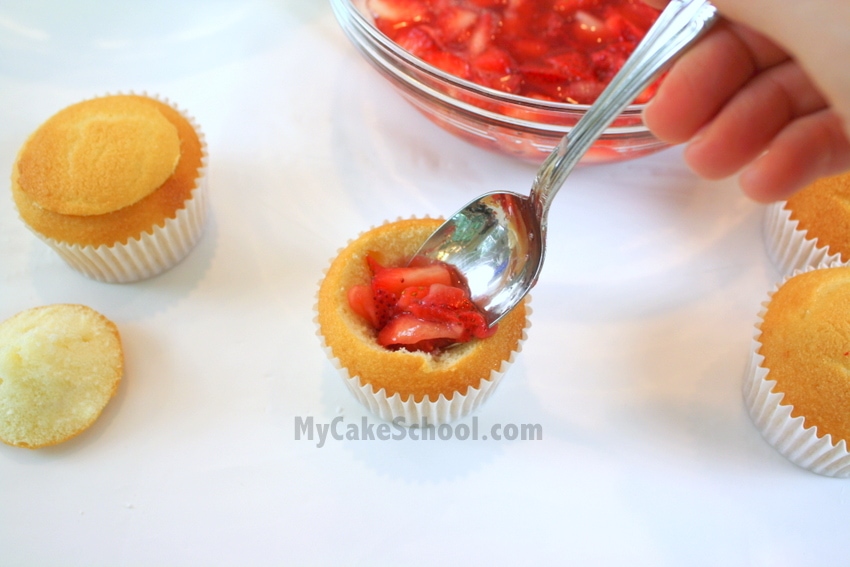 Next, I used a Wilton 2D large star tip to add a little cream cheese buttercream to the center. Use whatever you'd like--they are great with buttercream and whipped cream too!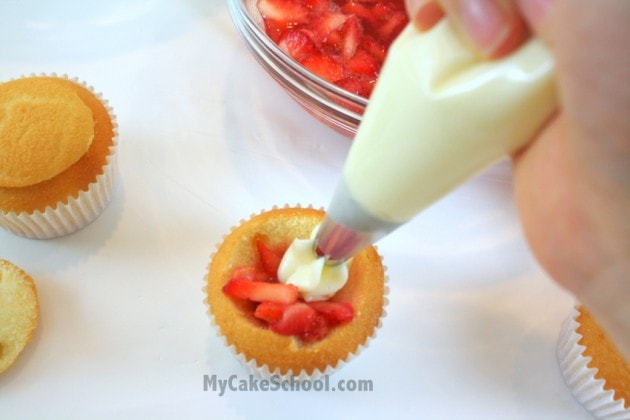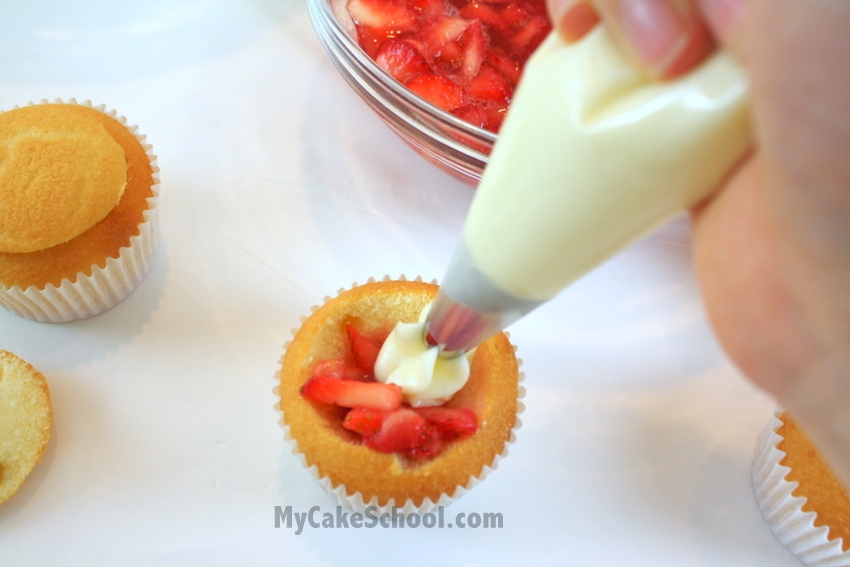 I added a couple of blueberries too!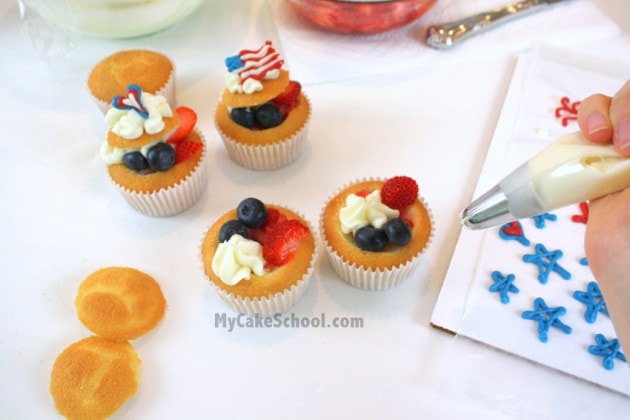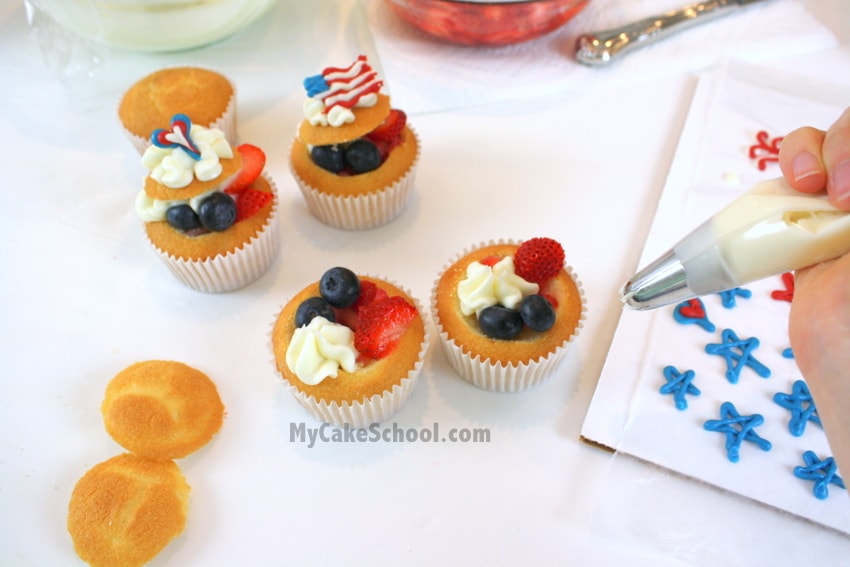 After filling the cupcakes, I replaced the "lid" and added a swirl of cream cheese buttercream on top. Then, I added our chocolate toppers!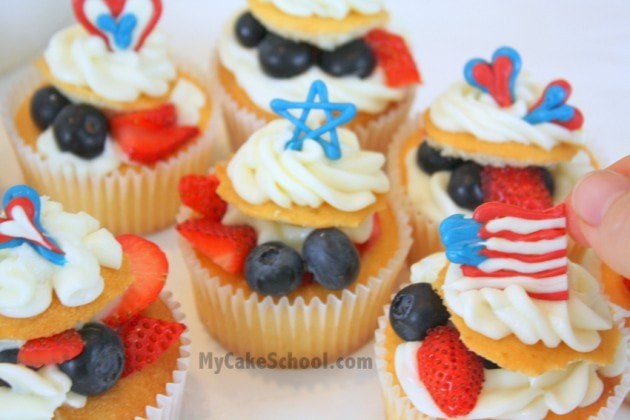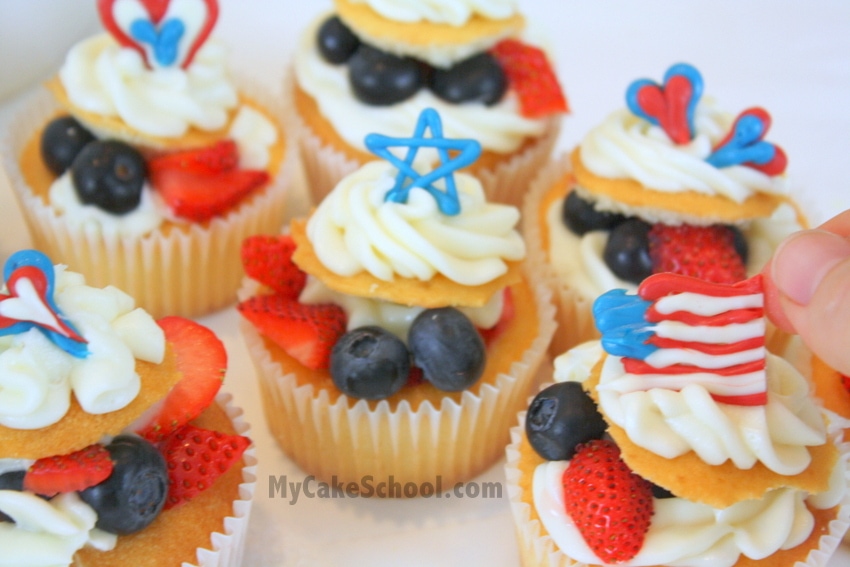 I love the red, white, & blue! If you like a lot of fruit like I do, you may need a fork for these! I just love the height & color...and the simplicity!
Helpful Tips
Because of the amount of exposed cake on my cupcakes, and because of the amount of fruit that I used, I would recommend assembling these fairly close to your event.
They come together very quickly!! "Naked cakes" can dry out, and so if you bake in advance, you'll want to lay plastic wrap over the cupcake tops until you are ready to assemble.
If you need to decorate in advance, just use a little more frosting than I did so that the moisture of the cake is locked in! More frosting is never a bad idea!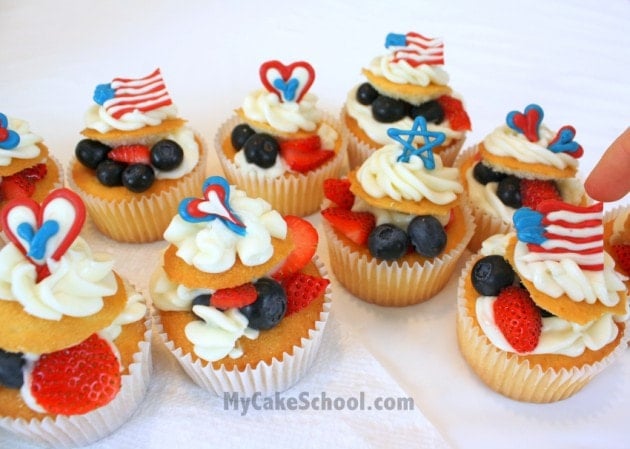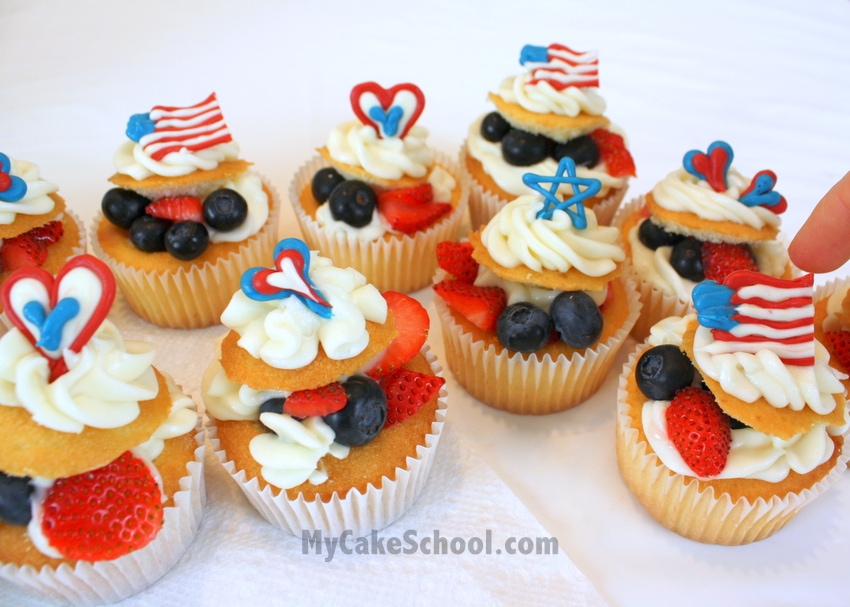 I hope that you enjoyed our July 4th Cake & Cupcake tutorial!! Have fun experimenting with these ideas, and I hope you'll share your creations with us! Happy Fourth!