July 4th Cake with Chocolate Panels and Fireworks! -Free Video
July 4th is just around the corner and we're sharing a festive and patriotic cake design with colorful chocolate panels and fireworks!
This Patriotic Cake is easy to make with the help of melted candy coating. Once you've learned this easy decorating technique, you can apply easy chocolate panels to all sorts of cake designs!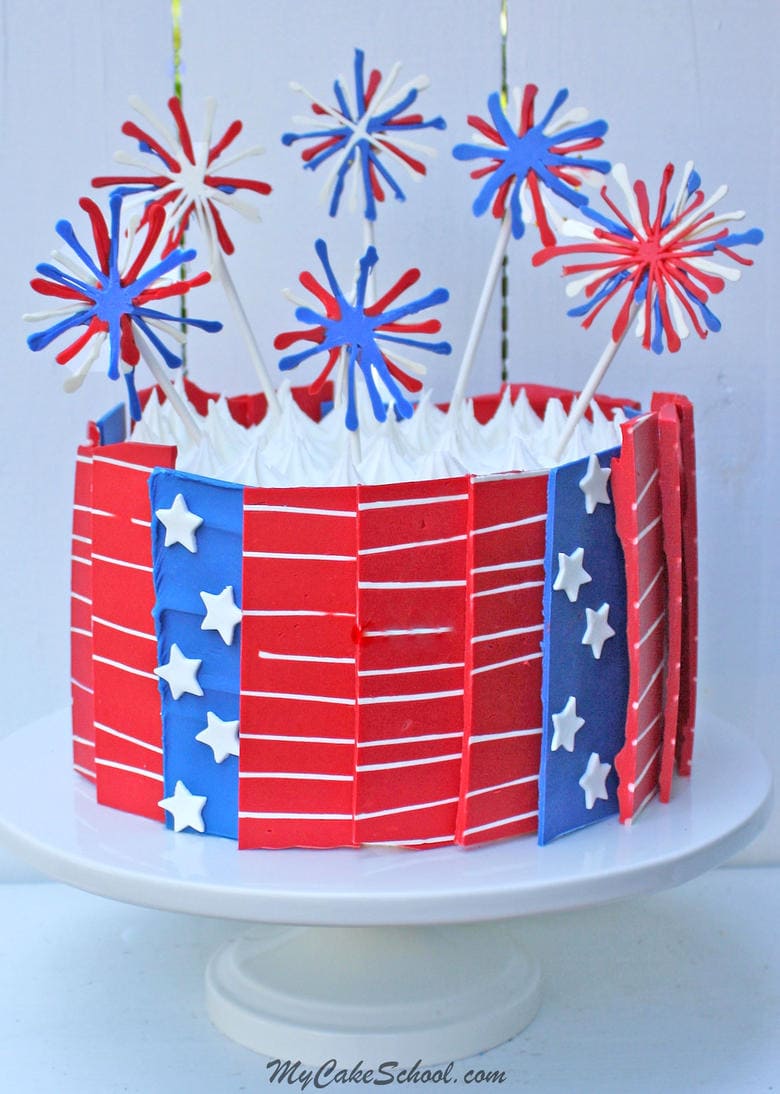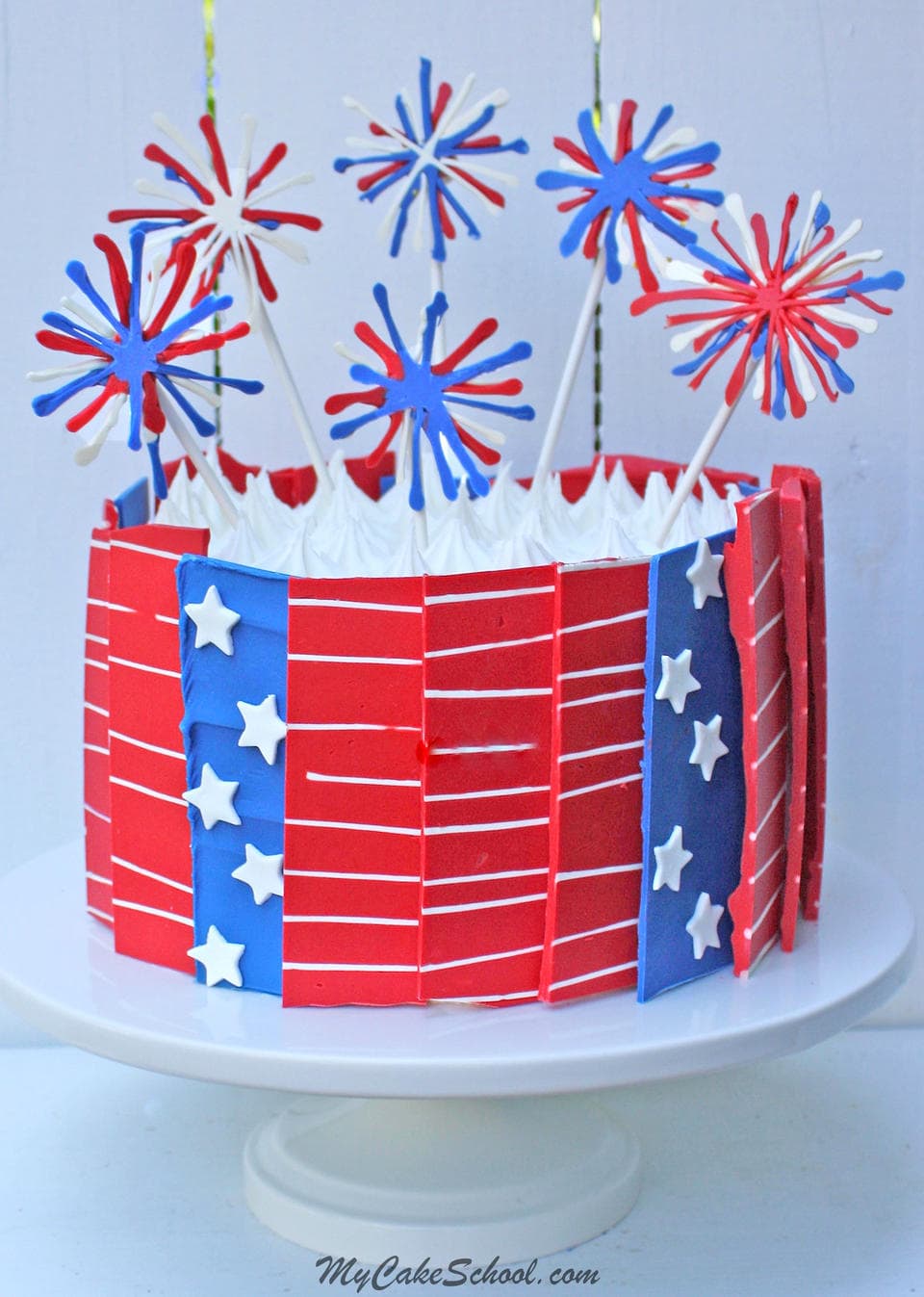 Why We Love It
There are lots of reasons to love this simple July 4th cake! Here are just a few:
Festive and fun
Perfect for any skill level of cake decorating
Great for Fourth of July parties
Candy coating colors can easily be changed up to suit any occasion!
Easy July 4th Chocolate Panels Cake
I love that these colorful chocolate candy coating panels look so unique and festive but require no special cake tools.
It's truly a cake design that is achievable for all skill levels of cake decorating.We hope that you enjoy this simple Fourth of July cake video. Don't miss the additional details and materials listed below!
Materials:
In today's cake tutorial, we are decorating an 8 inch cake that has been frosted in our Fluffy Vanilla Buttercream. Pick your cake and frosting of choice!
Chocolate candy coating panels can be made with bark coating, candy melts, or your candy coating brand of choice. We used Wilton pre-colored candy melts for convenience.
Candy Melts/Candy Coating: ½ bag (approx 6 oz) White Candy Melts, ½ bag Royal Blue Candy Melts, 2 bags (24 oz) Red Candy Melts.
Spatula or Bench Scraper
Waxed Paper
Disposable Piping Bags for piping fireworks. (We snipped off the ends rather than using piping tips.)
Lollipop Sticks for toppers
White fondant
small star cutter (You could also just pipe small white dots on the blue panels for "stars"!)
Misc.: Sharp Knife, Cookie sheet or cake cardboard

Notes:
After spreading the chocolate, we allowed it to cool on the countertop for several minutes until the chocolate had taken on a matte finish and could be sliced. We then refrigerated until firm. You could also freeze.
Our panels were approximately 5 ½ inches in length.We used a little buttercream as our "glue" for the panels.
Alternate Design Ideas
I opted to go with a smooth finish for my red and white panels. However, if you'd rather, you can make solid red panels and then pipe on your white lines of chocolate afterwards. The white stripes will be raised but would still look good!
You could also choose to go with solid red, white, and blue panels, or incorporate sprinkles into the design (while chocolate is still soft).
We filled the top with piped buttercream dollops, but another fun option is to fill it with chocolate candy (July 4th M&Ms) or strawberries and blueberries!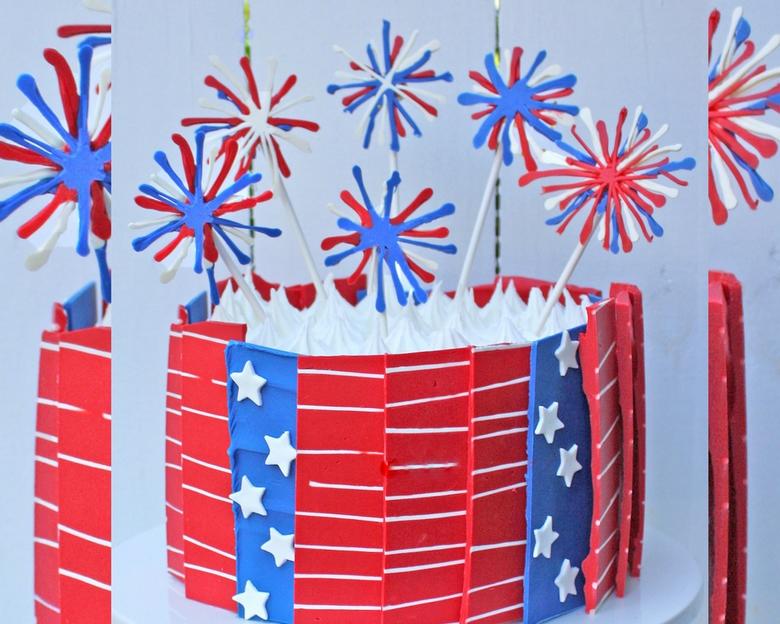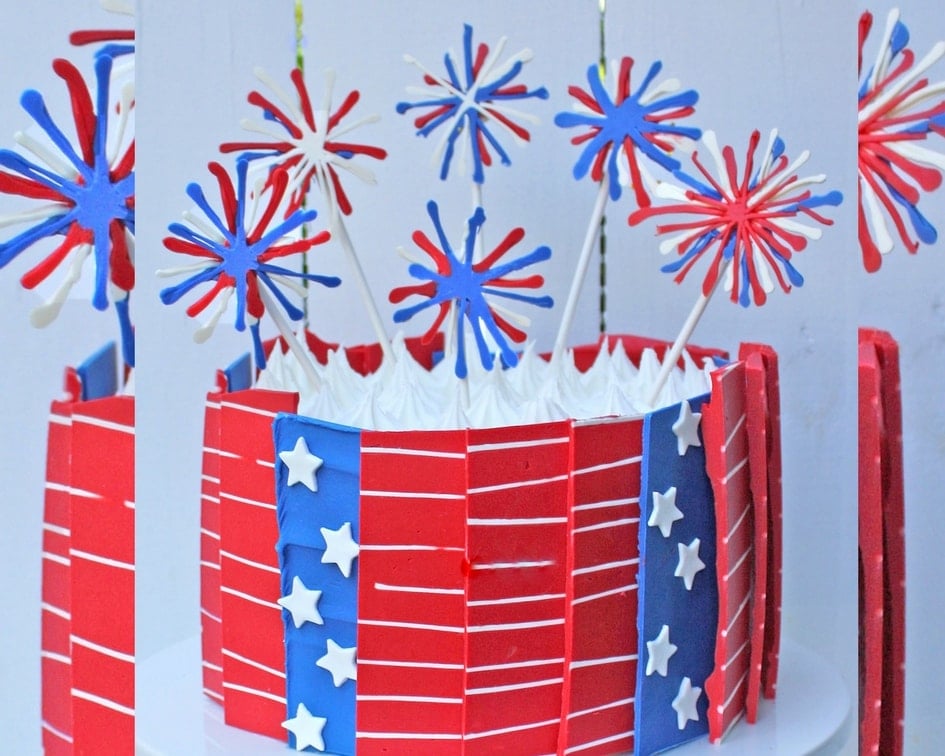 More July 4th Cakes
We've made several Fourth of July Cake Designs over the years! Makes sure to check out our collection of Patriotic Cakes! Here are just a few more favorites:
Fourth of July Cake (with Buttercream Shells) and Cupcakes
Strawberry Shortcake (with pound cake)
Enjoy the Video!
We hope that you enjoy this fun little July 4th Cake Tutorial!
Make sure to leave a comment or photo below if you give it a try, we would love to see!