Popsicle Cake Tutorial!~ Fun Fourth Blog Tutorial
This GIANT Popsicle Cake Tutorial is perfect for July 4th! In fact, with a few color and design changes, it would be perfect for any summer party!
Whether you are planning a birthday party or a summertime gathering of friends, keep this cake design in mind. It's SO much fun and surprisingly simple!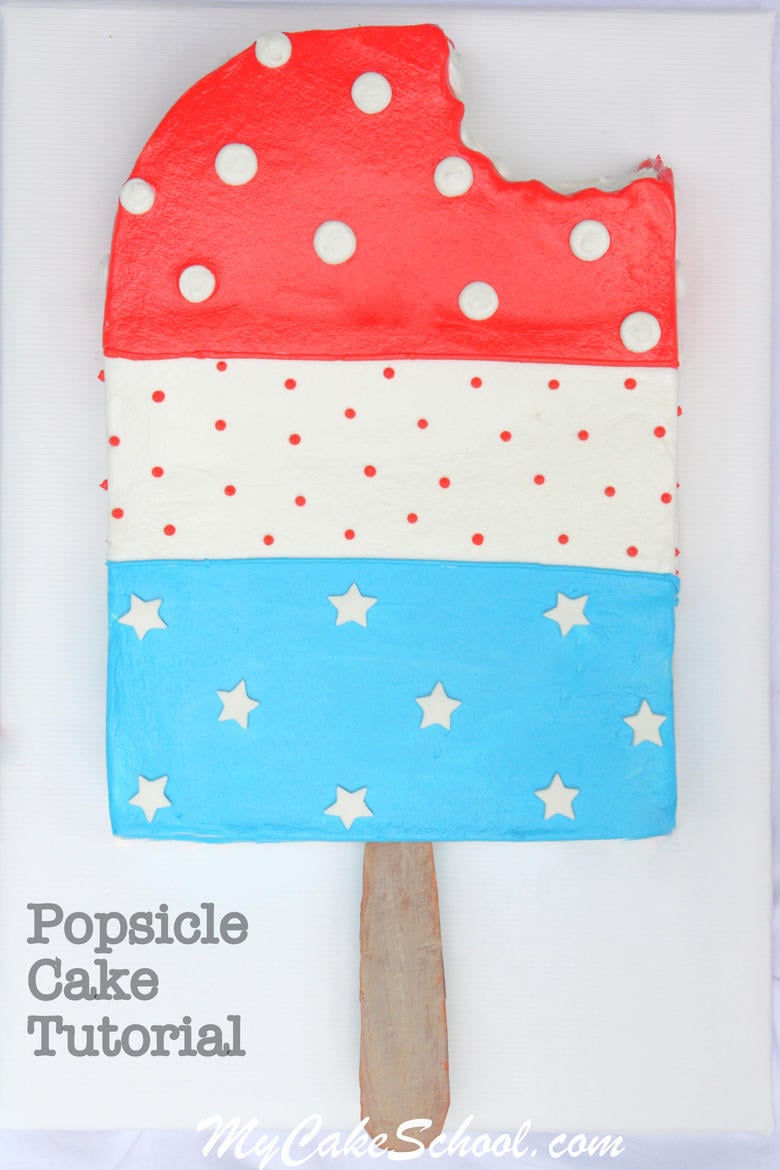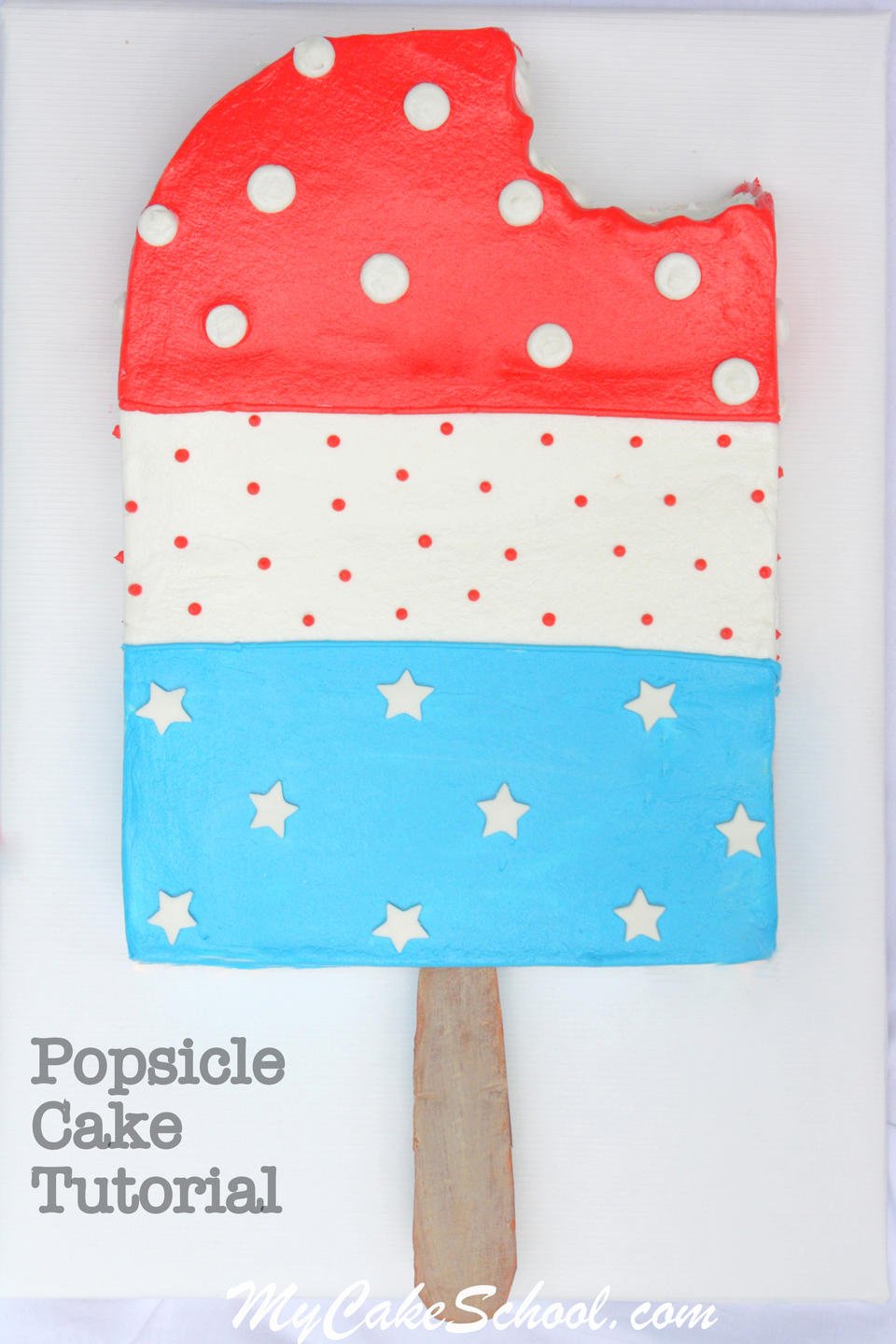 How to Make a Giant Popsicle Cake
Give the tutorial a whirl now, or file this fun and easy cake idea away for any of your casual summertime gatherings. Your guests will love the look, and YOU will love how easily the design is put together!
Let's get started...
First, I began with two filled 9x13 cake layers. Of course, if you are expecting a crowd, this popsicle cake design works for any size of sheet cake!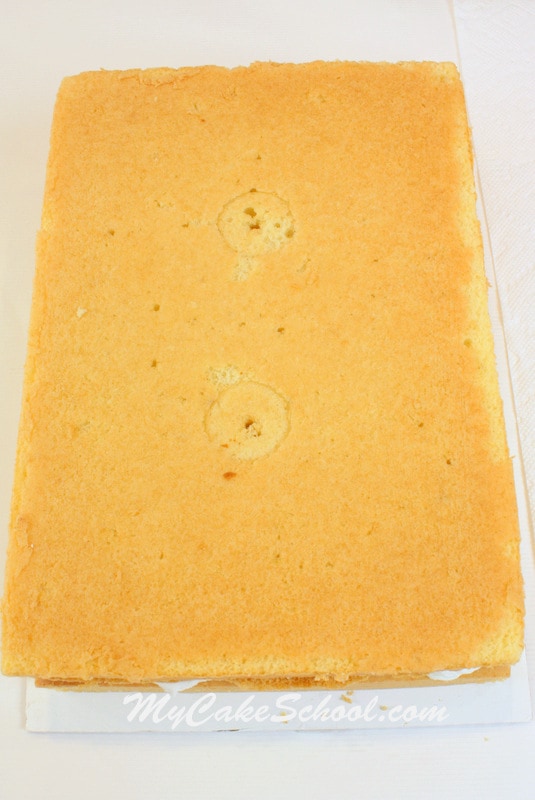 Next, I used a cake round as a template to mark off what will become a rounded top to our "popsicle" with an edible ink marker. I carved away the top corners & crumb-coated the cake in our crusting Classic Vanilla Buttercream.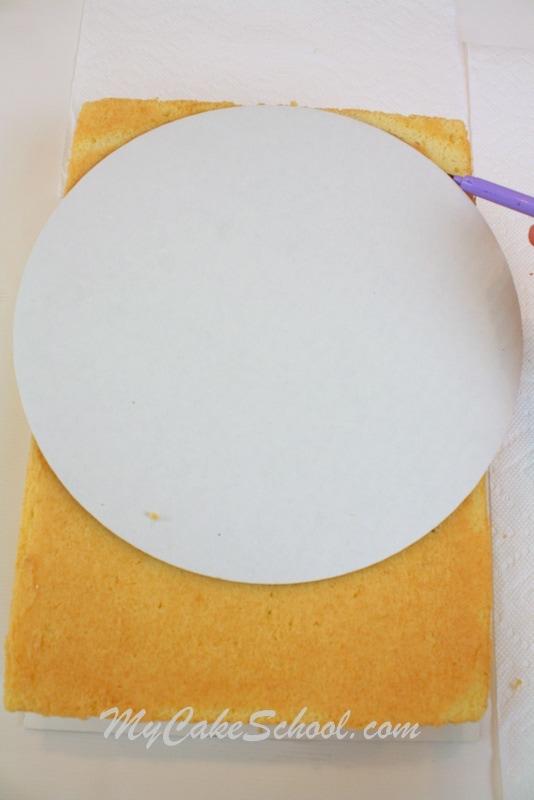 Next, I carved out a bite from our popsicle & frosted over the newly exposed cake.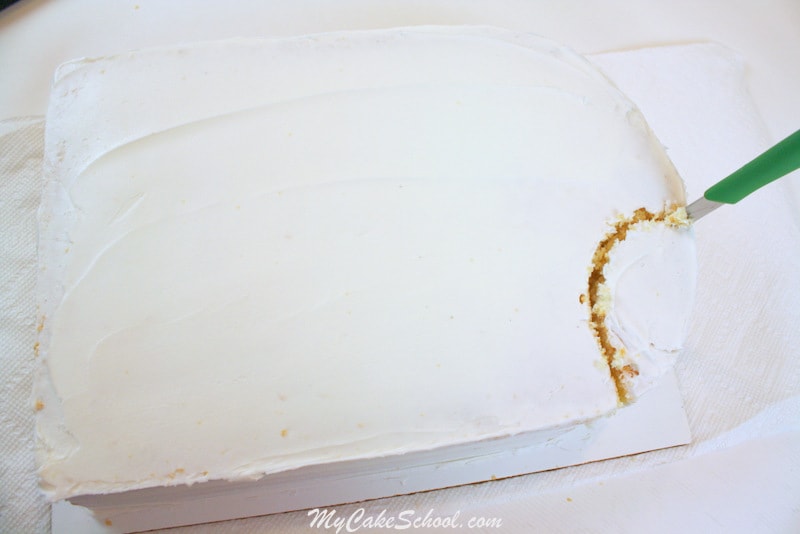 I tinted some of our buttercream with Americolor Super Red and Americolor Royal Blue. Using a round piping tip 12, I mapped out where my red and blue sections would be, and then spread on my colors.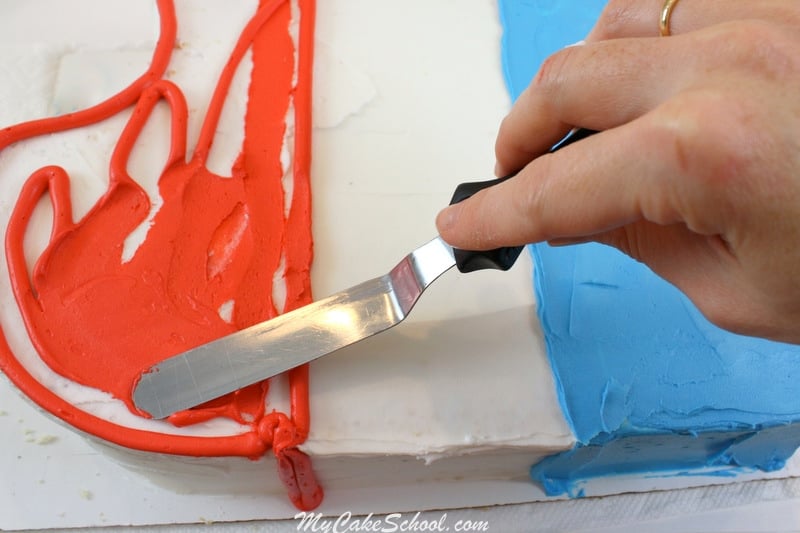 I piped on a bit more white so that the red, white, and blue layer was nice and even. Then smoothed over everything with a Viva paper towel once the buttercream had crusted.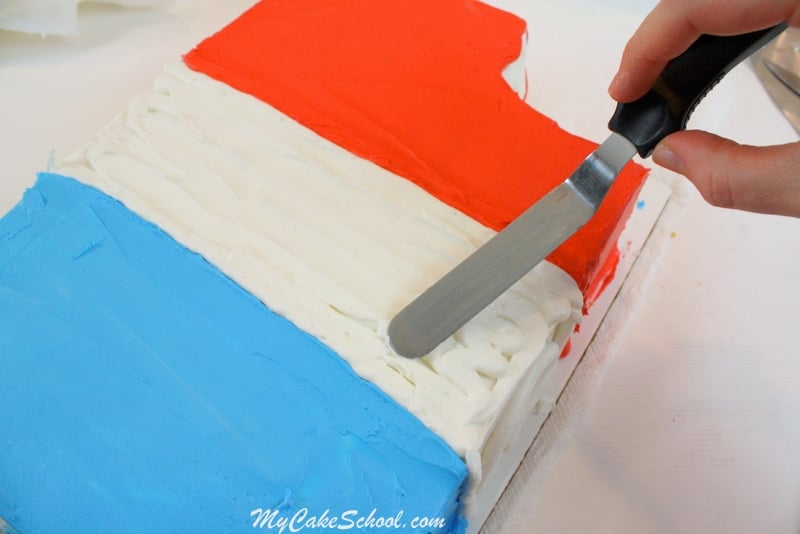 I gently smoothed over everything with my fondant smoother, which feels a bit like ironing ;0) -- If you don't have a fondant smoother, gently smooth your hand over your paper towel.
*If you don't want to use this method of smoothing, just get it as smooth as you can with a spatula or bench scraper, or you can freeze the frosted cake until firm (about 15 minutes), and glide over the frosting with a hot spatula.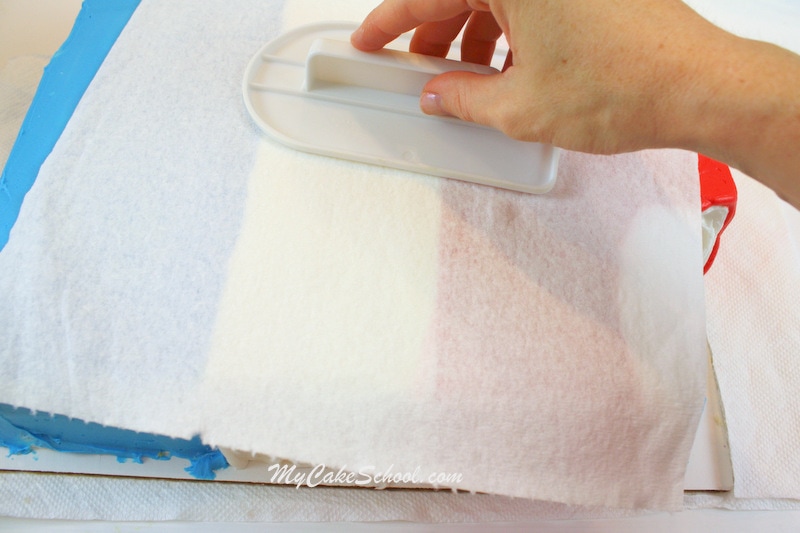 I made "bite marks" by gently pressing in along the edges of the bite. The crusted buttercream can be easily pushed in for this fun extra detail!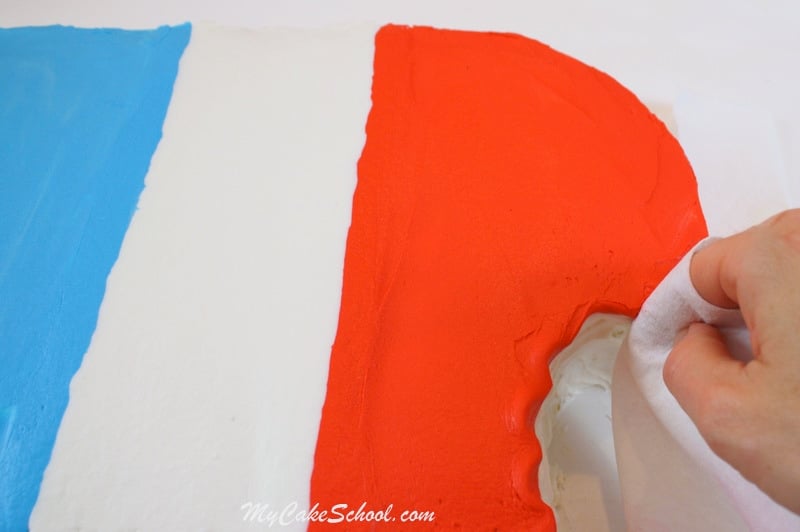 You can see in my photo above that while my lines are pretty even when looking from color to color, they are a little irregular.
If this bothers you, and if you good at piping a fairly straight line, you can pipe along the borders to clean things up. This is what I'm doing in the photo below, using a small round tip (4).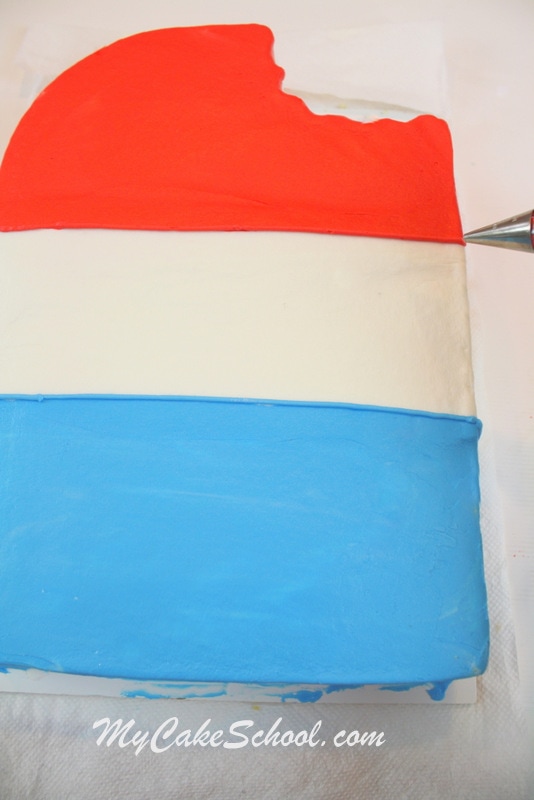 Have I ever mentioned that I like polka dots ? ;0) -- These are piped with a Wilton 12 (large dots) and a Wilton 4. I also rolled out a bit of fondant & used a star cookie cutter to make stars. The stars were placed on our blue section for a July 4th feel.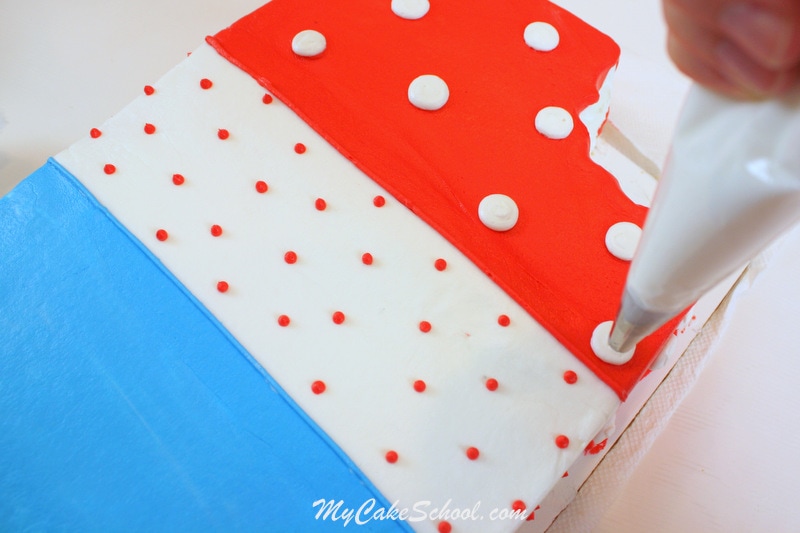 Finally, you can't have a popsicle without a popsicle stick! We toyed with the idea of a fondant or gum paste stick, but opted instead for a much easier & more lightweight choice.
You can see below that I cut out a stick from a cardboard cake circle! I painted the white side using a combination of Americolor Bright White & Warm Brown (& a bit of vodka). Quick & easy!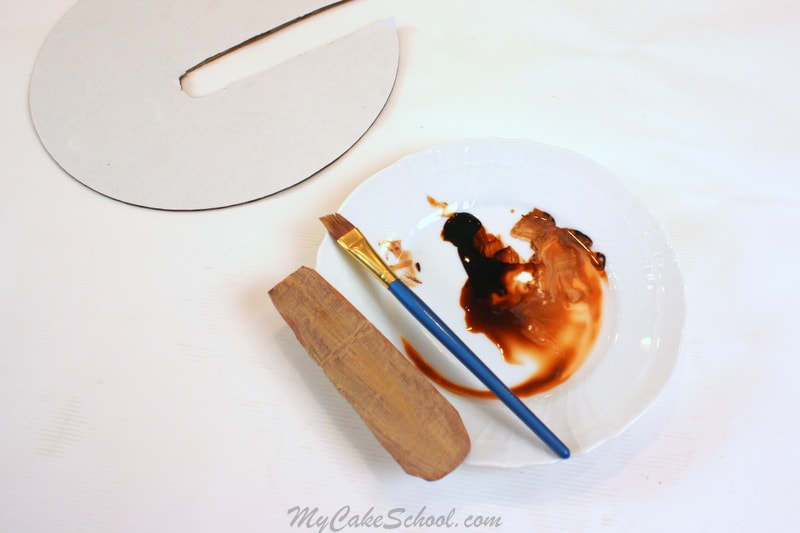 I was a little worried about the cardboard stick holding it's place without sagging, so I inserted a lollipop stick into the cake first before pushing in the cardboard stick just above it. This gives just a little extra support!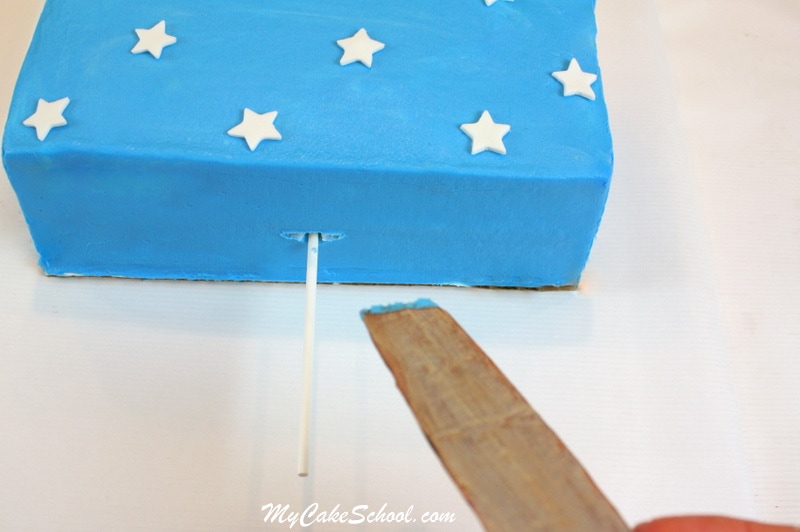 And that's all there is to it!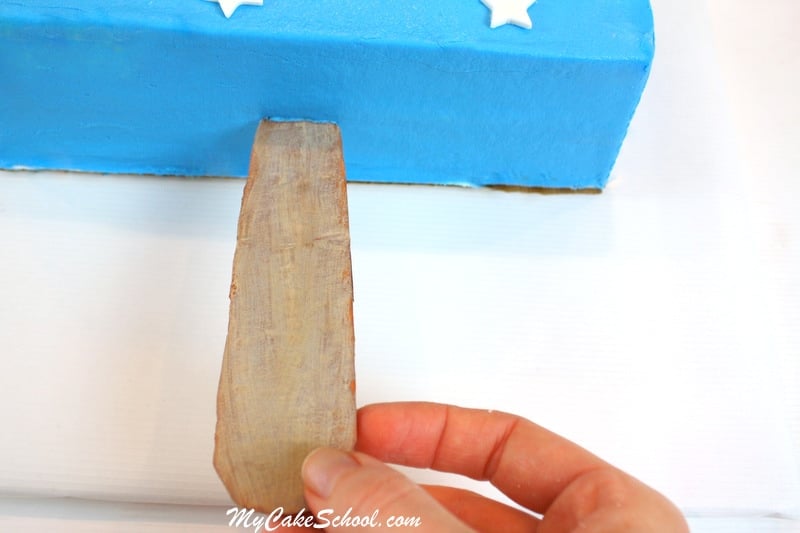 I love how this simple popsicle cake came out! It is so easy and SO much more fun than an ordinary sheet cake, don't you think? Make this for your next summertime gathering, it's sure to bring smiles!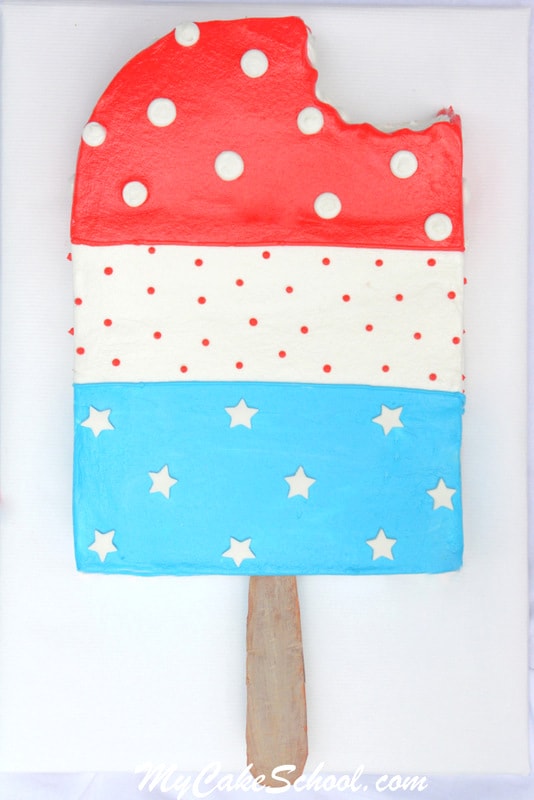 Thanks for stopping by, and don't forget to check out even more Free Tutorials, or our full collection of FAVORITE cake and frosting recipes in our Recipes Section!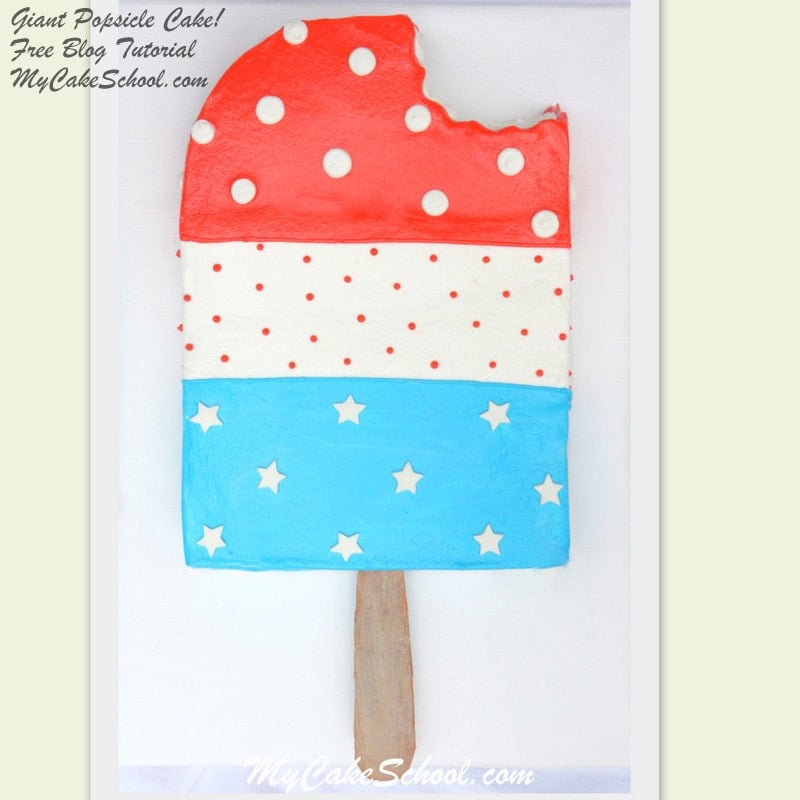 We have more favorite summer cake ideas and recipes to share!
Looking for even more summer cake ideas? We have you covered! Don't miss our roundup of summertime favorites! These cakes are great for summer birthdays, neighborhood gatherings, or just because! Hop over to see: Roundup of the BEST Summer Cake Ideas and Recipes