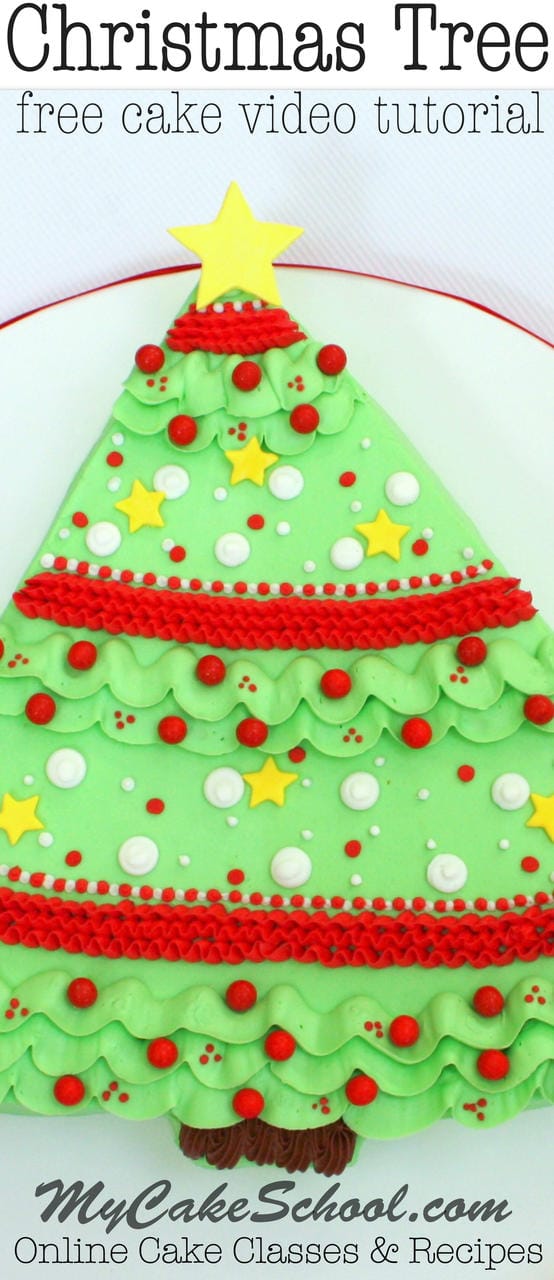 Hi everyone! We are excited to share a new Christmas cake decorating tutorial with you! This buttercream Christmas Tree Sheet Cake could not be easier to create, and I love the simple, sweet design!
This Christmas Tree cake  design is perfect for holiday parties, and kids would love to help decorate the tree with candies and sprinkles! There are so many fun decorating options!
Since the steps are so simple, I've made a short & quick cake video tutorial set to music. Make sure to check out my materials and notes beneath the video. Enjoy!!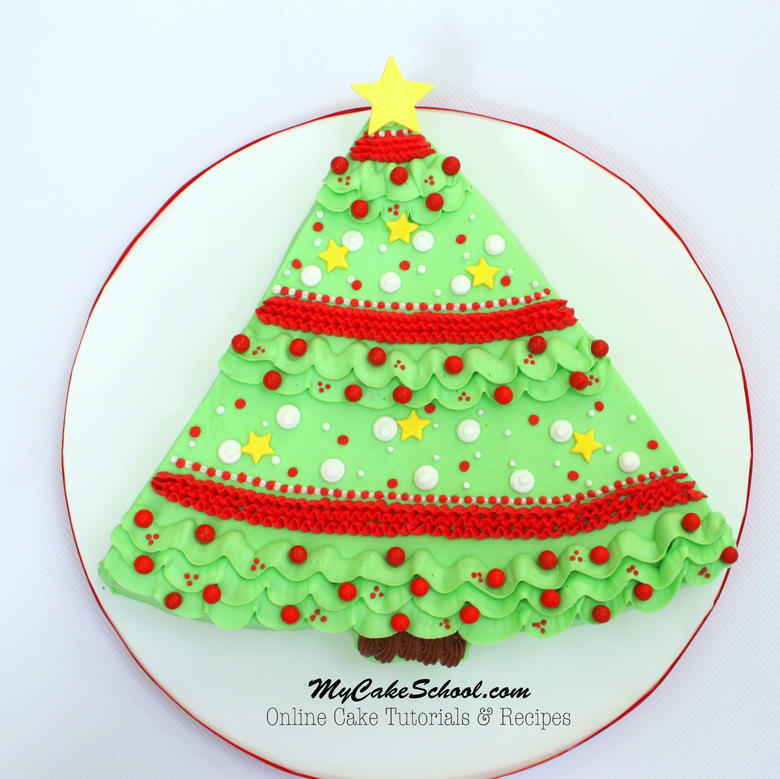 Materials:
9×13 sheet cake (although this can be easily adapted for any sheet cake)
Buttercream Frosting- We used our Classic Vanilla Buttercream Recipe
Coloring Gels – We used Americolor Mint Green, Super Red, Yellow, Chocolate brown
Candy/Sprinkles of Choice- We used Red Sixlets and Christmas Confetti sprinkles
Piping Tips- Wilton 125 for large ruffles, Wilton 102 for red ruffles, Wilton 3 for small red & white dots, Wilton 21 for trunk
Fondant- Optional. Used along with a small & medium sized star cutter to make small stars & larger star on top.
Food coloring pen- optional, but helpful when marking my cake for carving
Waxed paper- Optional, but helpful for keeping the platter clean if the cake is not resting on it's own cake board. See details in Notes.
Cake Base- I used three 16 inch cake cardboards glued together and wrapped with a white plastic table cloth (stapled on the underside to secure)
Viva Paper Towels- Optional, but if you are using a crusting buttercream, it's an easy way to smooth your frosting!
Notes:
My cake was partially frozen when I carved it. This makes it much easier to carve and handle.
When marking off my tree for carving, my trunk was centered & marked 2 inches wide and about 1 inch long. From the bottom two corners of the big triangle, I marked each side at approx. 2.5 inches. This gave a slightly curved bottom edge once carved.
When using a petal tip for the ruffled leaves, the small end of the teardrop shape is pointed towards you. For the red ruffles, the small end of the tip is pointing straight up.
I did not use a cake cardboard beneath my sheet cake but sometimes I do. It's up to you. If you decide to, you can carve your cake, place on a cake board, and trim away the excess board before decorating. Then, lift the decorated cake onto the cake base.
Since I decorated the cake directly on it's final cake base, I used sheets of waxed paper to keep the board clean. Be sure to just barely slide the waxed paper beneath the cake on all sides before frosting so that it can be easily removed later. I like to chill the cake to firm things up before removing the waxed paper.
I used the Viva paper towel method of smoothing. When using a crusting buttercream, frost final coat of frosting onto your room temperature cake. Allow to crust (approx 10 mintues). Then smooth over with a Viva paper towel. Viva brand has no impressions or quilting and so it makes the frosting nice and smooth. The hot knife/spatula method is another good option for smooth frosting.
*This is a very forgiving design. Don't worry too much about perfectly smooth frosting as you'll have lots of ruffles and decorations to fill the cake! You may even decide to fill the cake from bottom to top with ruffles which would be a great look too! ;0)
Thank you for stopping by! I hope that you enjoyed the video!