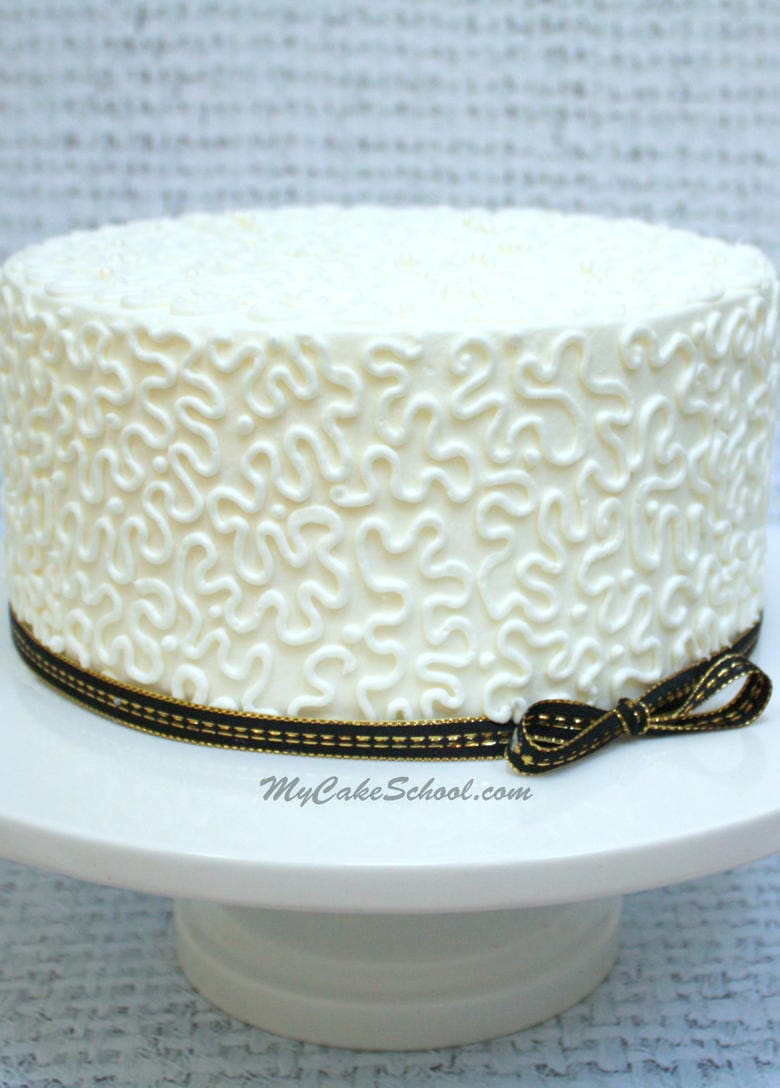 Cornelli lace piping is a wonderful way to add a touch of elegance to your cakes. Whether applied to an entire cake, a small portion, or even a simple fondant bow, cornelli lace is one of the simplest ways to dress up your design.
Enjoy the tutorial!

Materials:
In this tutorial, I am piping onto an 8″ cake that has been frosted with our fluffy vanilla buttercream recipe, and smoothed with the Viva paper towel method of smoothing. (We have a video on the Viva method if you would like to see!)
Medium consistency frosting of your choice (easily flows through the piping tip but holds its shape)
Wilton piping tip 3 (or small piping tip of your choice)
Miscellaneous: Cake board for your tier to rest on as usual, turntable (optional), Ribbon for Border (optional)
Notes:
The key to piping cornelli lace is even pressure in your piping. It's a good idea to do a practice run on a sheet of waxed paper first until you are more comfortable with the technique. Just as I do when piping words, I do not bend my wrist with this technique. Instead, my wrist is straight and my forearm is what moves. You are going for the feeling of continuous piping…although you will surely have to stop and start many times, it won't be noticeable because of the nature of the pattern.
When piping cornelli lace onto a buttercream frosted cake, I always use buttercream. When piping cornelli onto a fondant covered cake, I like to use either a crusting buttercream (like the fluffy vanilla buttercream I'm using in this tutorial) or a medium consistency royal icing. If you are piping cornelli onto a fondant accent that will need to be handled (a bow), then you may opt for royal icing since it dries firm.
While this is a simple technique, it can be time consuming…especially when piping around the sides of the cake. You may prefer to have a cornelli lace border or pipe the lace on the bottom half of your cake..or just on top. Have fun experimenting!