We have a new favorite homemade Strawberry Cake recipe to share! We have fallen in love with this moist and flavorful scratch Strawberry Cake recipe. If you've been searching for "the one", this is it! The search is over ;0)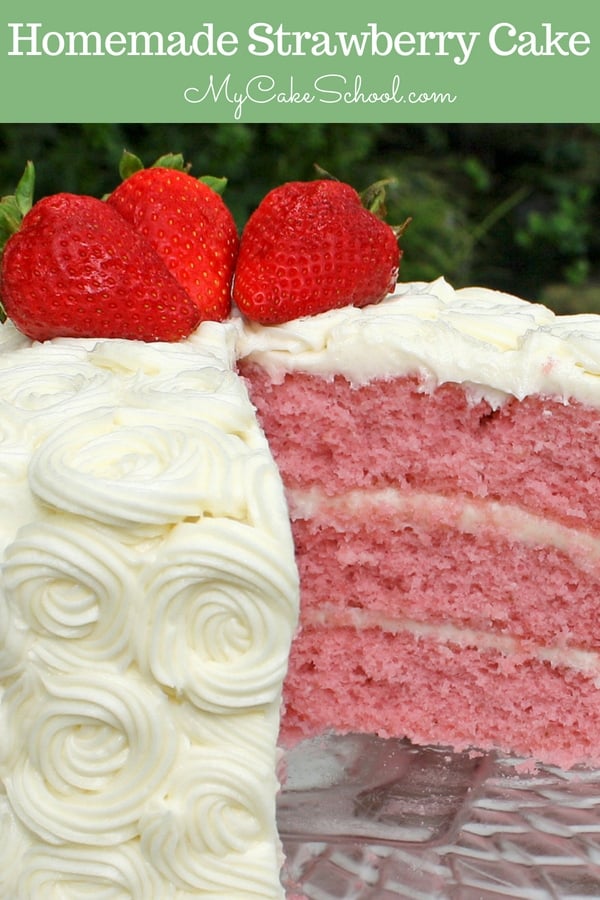 Frostings that Taste Great with Strawberry Cake
This strawberry layer cake is bursting with wonderful strawberry flavor, and tastes amazing with these frostings (and many more)!
Pipeable Cream Cheese Frosting recipe or Classic Cream Cheese Buttercream
Strawberry Buttercream Frosting Recipe
Strawberry Whipped Cream Cheese Filling
White Chocolate Buttercream Frosting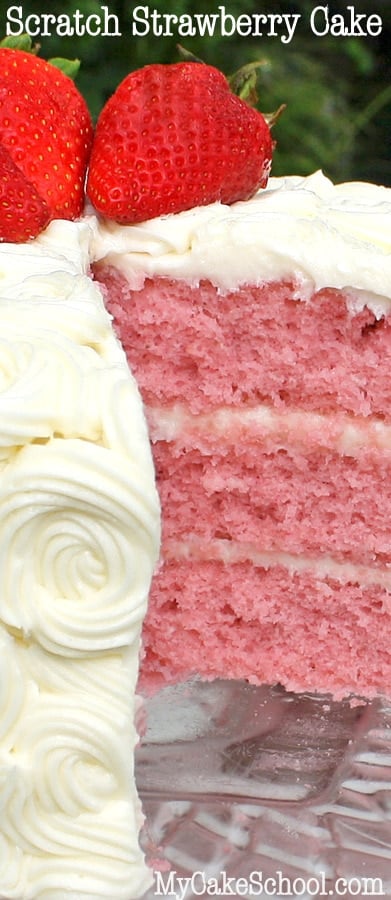 A Strawberry Cake Recipe with Frozen Strawberries
Not only do I absolutely LOVE the flavor of this strawberry cake, I also love that it calls for frozen strawberries!
This means you don't have to wait for strawberry season to roll around in order to enjoy a delicious homemade strawberry cake. You can make it year-round, and you should! Of course, if you would rather use fresh strawberries, that is a great option too.
Thanks to Mom (our BeBe) for making sooo many versions of strawberry cake until we found our favorite. I have to admit though, it was fun sampling all of those different versions of strawberry cake along the way!
Reverse Creaming Method of Mixing
*This cake calls for the Reverse Creaming Method of mixing, for a moist & tender cake. The ingredients are added in a different order than the traditional creaming method, resulting in a slightly tighter crumb and velvety texture. We explain the steps in our recipe instructions, but you may find it helpful to watch our free video tutorial on the Reverse Creaming Method, which you can find here: The Reverse Creaming Method of Mixing.
*If you would prefer to use the traditional creaming method for this strawberry cake recipe, you can find it in the Chocolate Covered Strawberry Cake recipe linked below!
Doctored Cake Mix Version of Strawberry Cake
If you prefer a doctored cake mix recipe, we have a great one for you: Strawberry Cake: Doctored Cake Mix Recipe.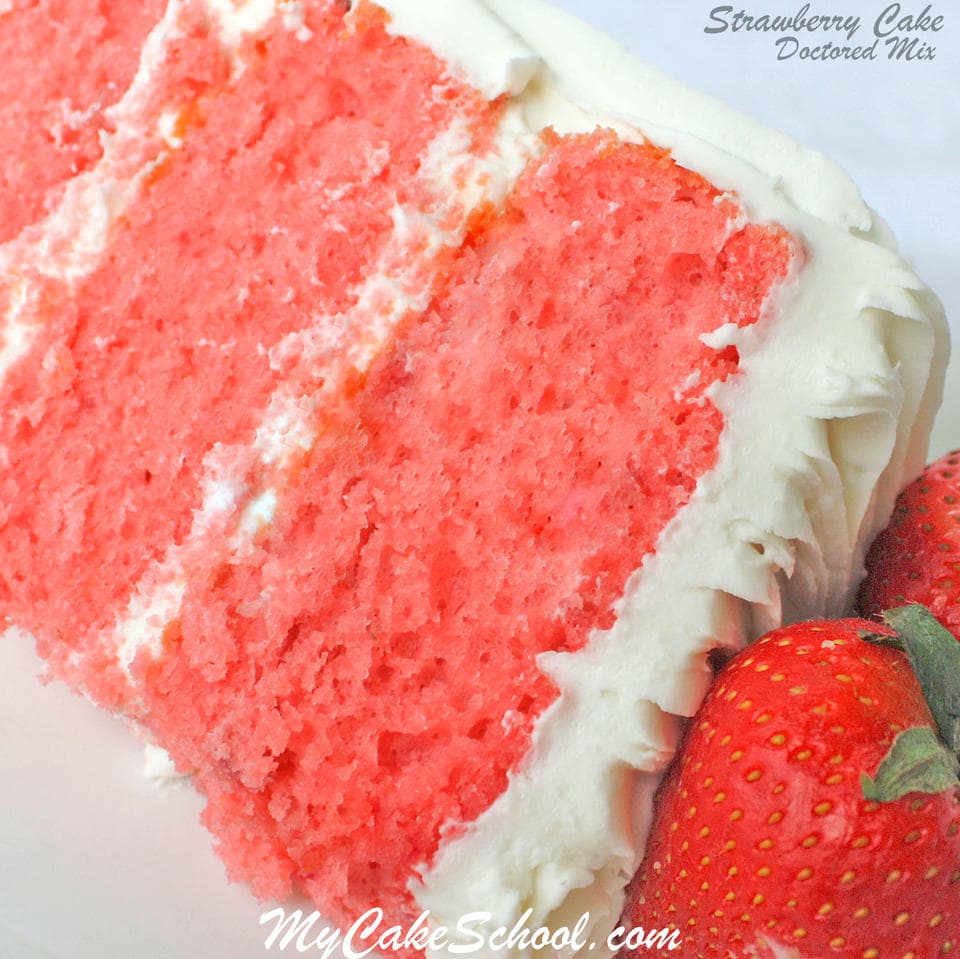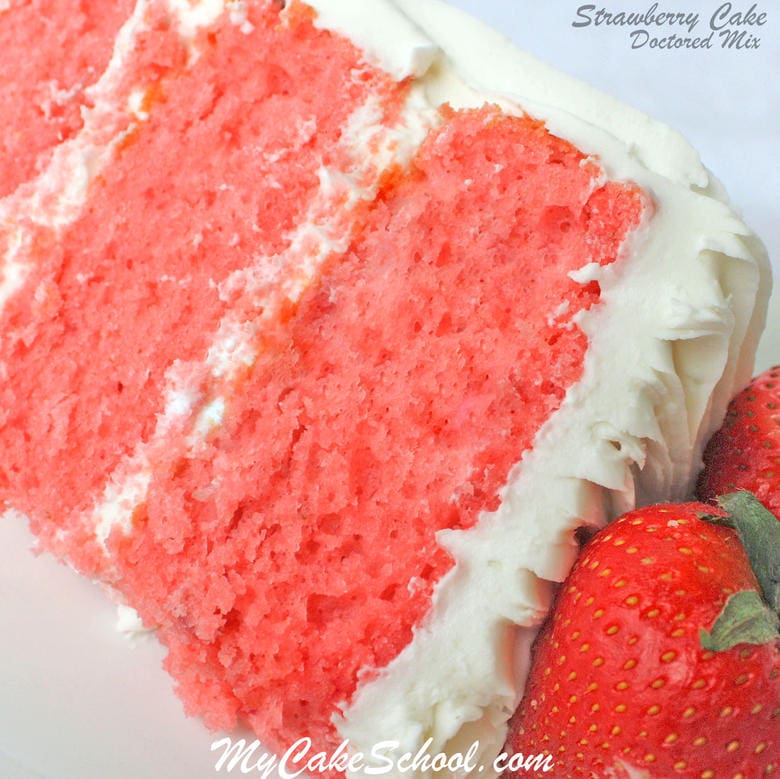 A dressed up version of Strawberry Cake
If you REALLY want to dress things up, consider our Chocolate Covered Strawberry Cake recipe! We've used our delicious scratch strawberry layer cake, frosted in Strawberry Buttercream and drizzled it with a decadent ganache drip.
I love the drama of a chocolate drip, and who doesn't love chocolate covered strawberries! This strawberry cake would be perfect for Valentine's Day, anniversaries, and more. Also, if you would like to try today's recipe using the conventional method mixing (rather than the reverse creaming), this recipe is written in this way.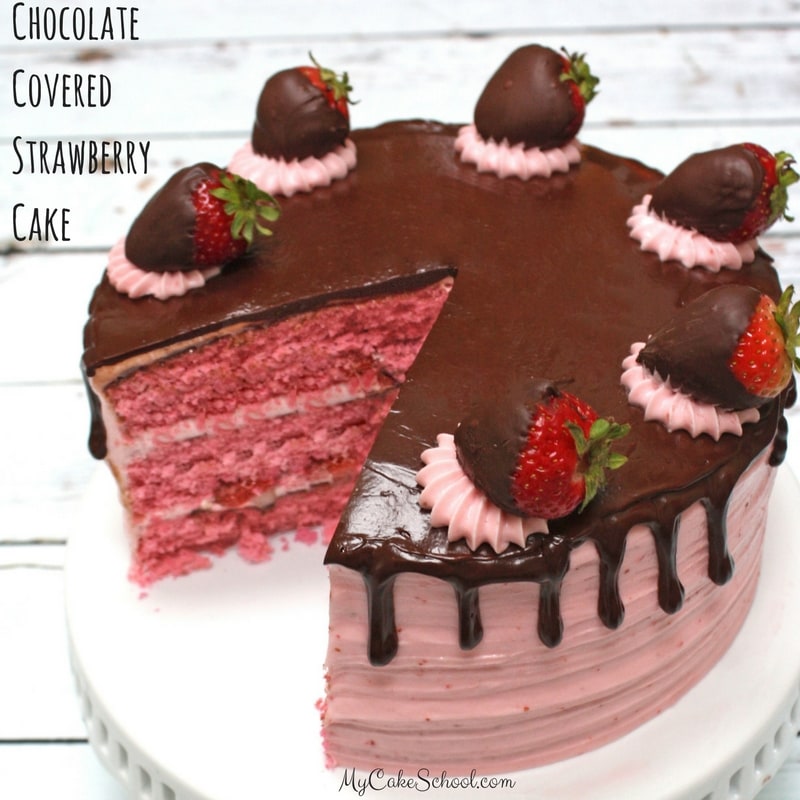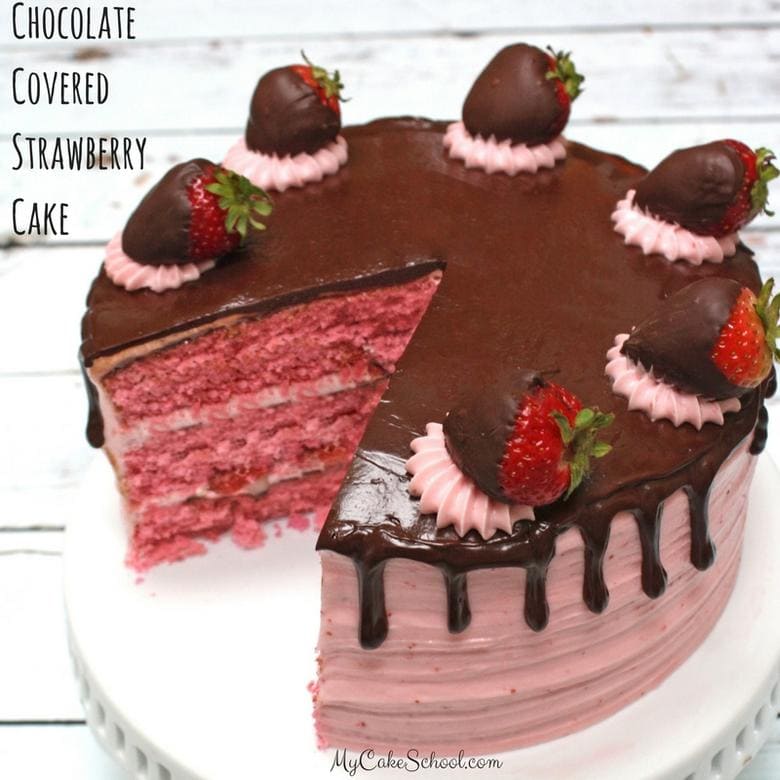 My Cake School- Sharing Our Best Cake Recipes and Cake Tutorials!
Don't miss our full collection of favorite cake and frosting recipes in our Recipes Section! We also have a huge Free Cake Tutorials Section if you're interested in learning sweet and simple cake decorating techniques.
Finally, if you'd like to access our full collection of hundreds of cake decorating video tutorials, we would love to have you as a member of MyCakeSchool.com! Find all of the joining details here!: MyCakeSchool.com Membership Information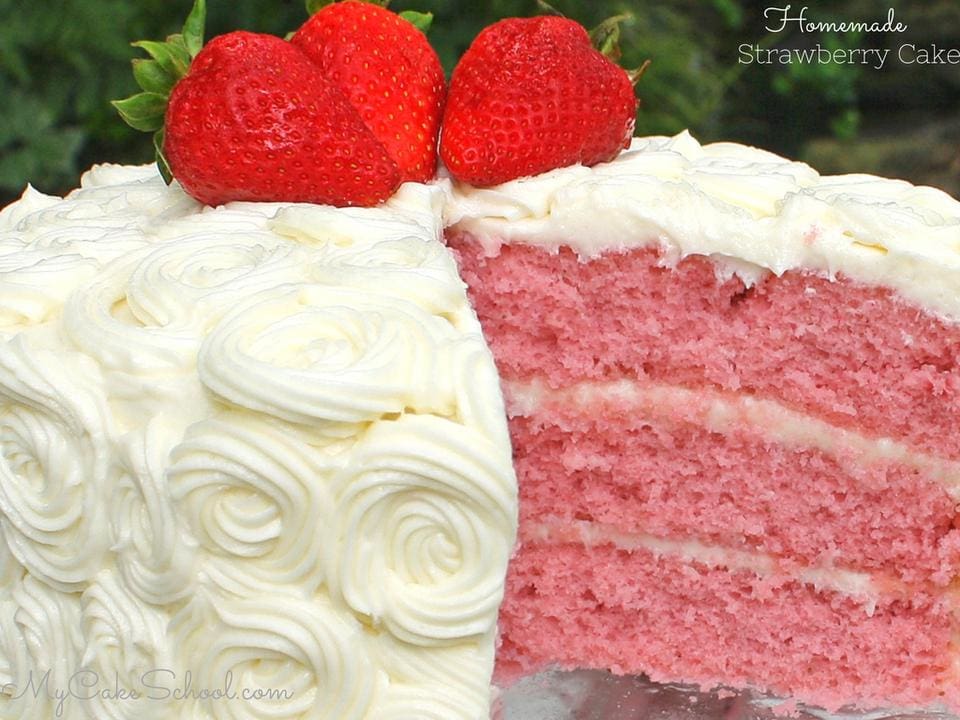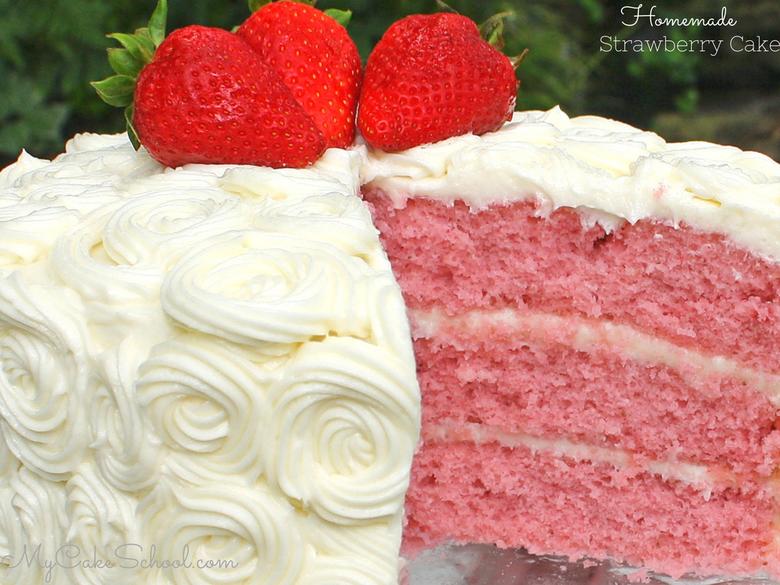 *Update 5/1/20- In addition to this delicious homemade strawberry cake, we also have a scratch Strawberry Sour Cream Cake for you to add to you "must-bake" list! Thanks for stopping by, we hope that you enjoy the recipe!
Strawberry Cake from Scratch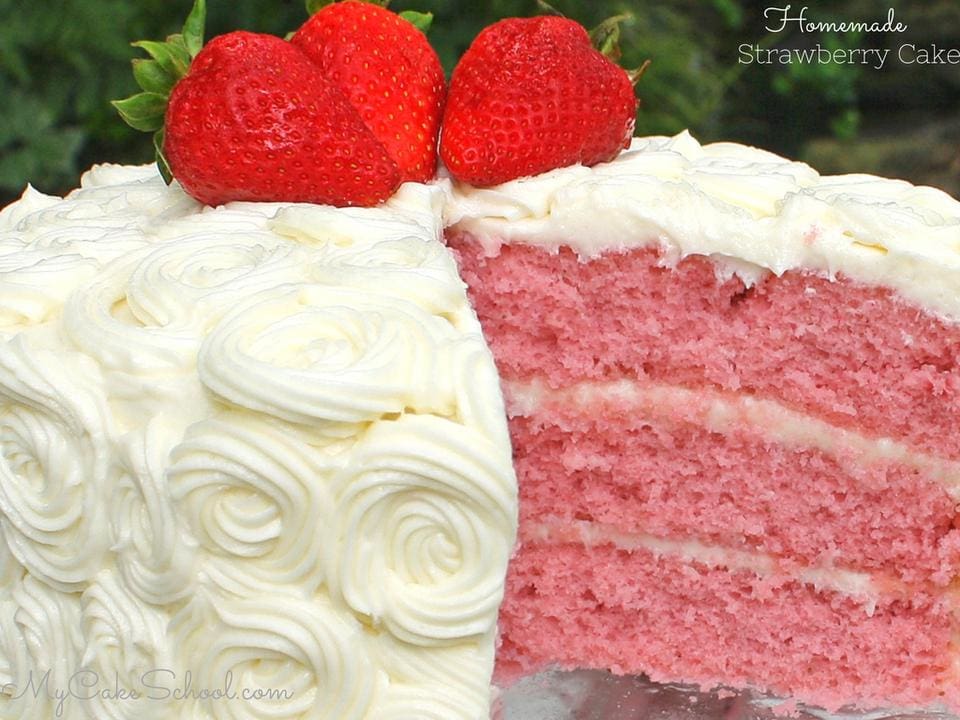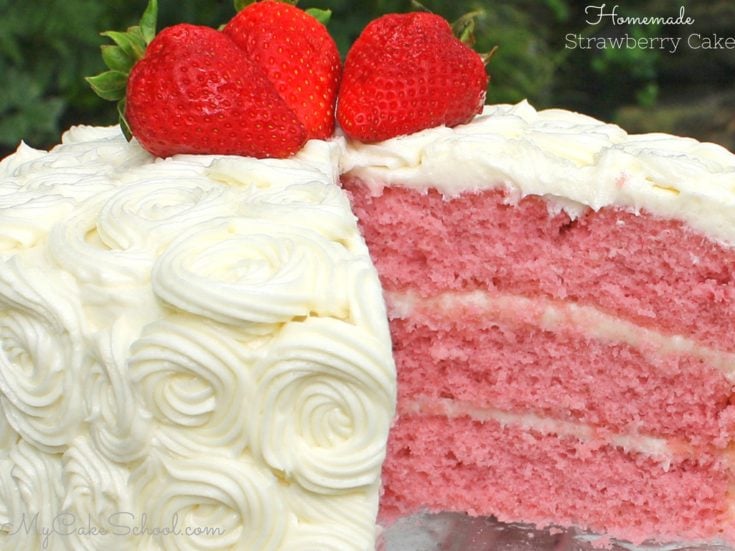 This moist and flavorful Strawberry Cake from scratch is a favorite year-round!
Ingredients
4 large eggs, room temperature ( can warm the eggs by putting in a bowl of warm water for 5 minutes)
1 1/2 cups (340 g) strawberry puree ......I used frozen strawberries that were lightly sweetened, you could also use fresh.....puree the strawberries in food processor or blender
1 teaspoon (4 g.) vanilla
2 teaspoons (8 g) strawberry extract
2 to 3 drops AmeriColor Pink or your pink coloring of choice (optional but makes for a prettier shade of pink)
3 cups (342 g) cake flour
1 3/4 cups (350 g) granulated sugar
1 Tablespoon plus 1/2 teaspoon (14 g) baking powder
1 teaspoon (6 g) salt
1/4 cup (50g) vegetable oil
1 stick (1/2 cup) (113 g) unsalted butter, cut butter into small pieces so it can be added slowly during mixing process. I cut mine into 1/2 to 1 inch slices onto waxed paper on the countertop, letting it soften only about 5 to 6 minutes.
Instructions
Preheat oven to 350 degrees. (This recipe uses the reverse creaming method.)
Grease and flour three 8 x 2 inch round pans
In a separate bowl, combine eggs, strawberry puree, vanilla, strawberry extract, pink coloring (as desired). Blend together with a fork.
In the bowl of your mixer, hand whisk the dry ingredients (cake flour, granulated sugar, baking powder, and salt) for 30 seconds to combine. With your mixer on low to medium speed, add the pieces of butter, a few pieces at a time, also add the oil at this time. Mix until the dry ingredients form moist crumbs that look like coarse sand.
Scrape the sides and bottom of the bowl. Method is important when using Reverse Creaming, so with the mixer on LOW speed, SLOWLY add 1/2 of the egg mixture to the dry ingredients, increase the mixer to medium speed and beat for 1 1/2 minutes, the batter will be thick and fluffy.
Scrape the bottom and sides of the bowl, then add the remaining egg mixture in 2 pourings, beating 20 seconds after each. Scrape the sides and bottom of the bowl and pour into prepared pans.
Bake at 350 degrees for 30 to 35 minutes or until a toothpick inserted in the center comes out clean. Let the cake cool in the pans 10 min. then turn out.
Makes 7 1/2 cups batter IF USING FONDANT: If using fondant to cover the cake, our first choice is to cover the cake in ganache for a nice firm shell before laying on the fondant. You could also use all butter buttercream, that is well chilled to firm it up before the fondant.
Cupcakes: This recipe will work for cupcakes, they will have only a slight dome**We frosted our cake with this Cream Cheese Frosting Recipe. (I piped spirals of frosting in varying sizes with my Wilton star tip 21.)
Recommended Products
As an Amazon Associate and member of other affiliate programs, I earn from qualifying purchases.