This Gingerbread Cake (doctored cake mix) recipe is moist, so flavorful, and so EASY to make!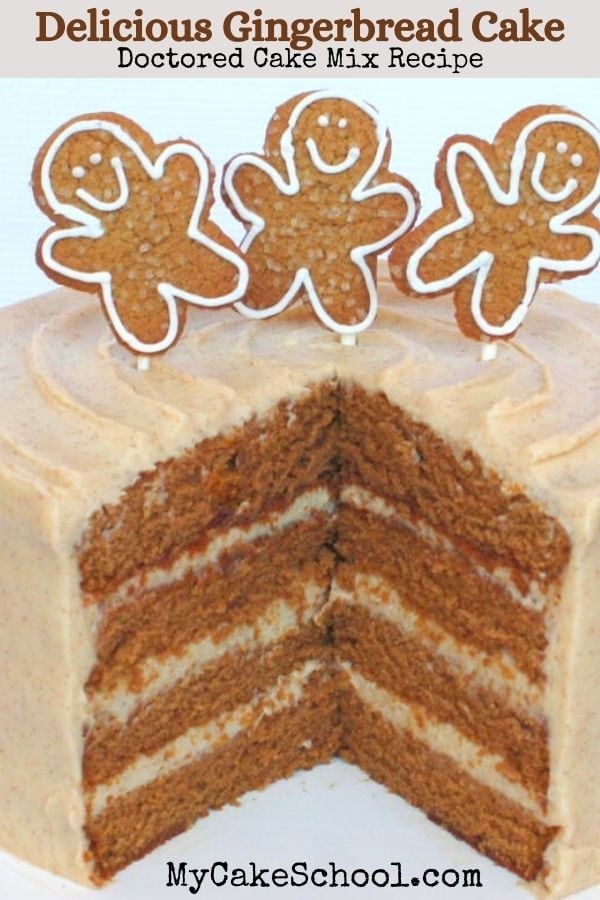 We love this recipe year-round, but I especially crave gingerbread in fall and winter months! The taste is amazing, and when paired with our Spiced Cream Cheese Frosting! (You can find it at the end of our post!)
How to Make Easy Gingerbread Man Cake Toppers!
In the photo above, we added a few fun little gingerbread men toppers! They give our cake a little added height and cuteness.
I used a few Pepperidge Farm Ginger Men cookies to make them. Simply flip them over, pipe a little melted candy melts or chocolate on the back, place a lollipop stick into the chocolate, and pipe a bit more chocolate on top, and chill for 5-10 minutes in the freezer until firm.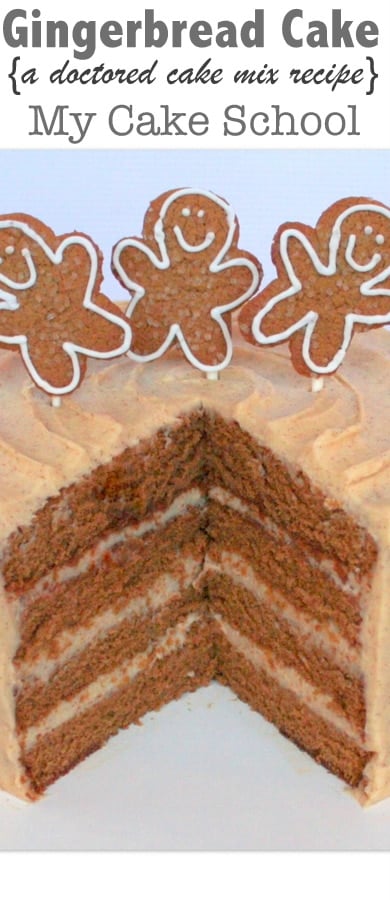 Next, I angled my gingerbread men at various angles when gluing on the anchors so that they almost look like they're dancing! I just love simple decorations!
You can see below that white candy melts probably wasn't the best choice for a subtle "glue" against the dark gingerbread…maybe I'll use plain (brown) chocolate candy melts next time! Ha!
I outlined them in buttercream for added cuteness but you can see that I kept things very simple! Anyway, they make me smile. When you're ready to place them into the cake, the lollipop sticks make great great anchors.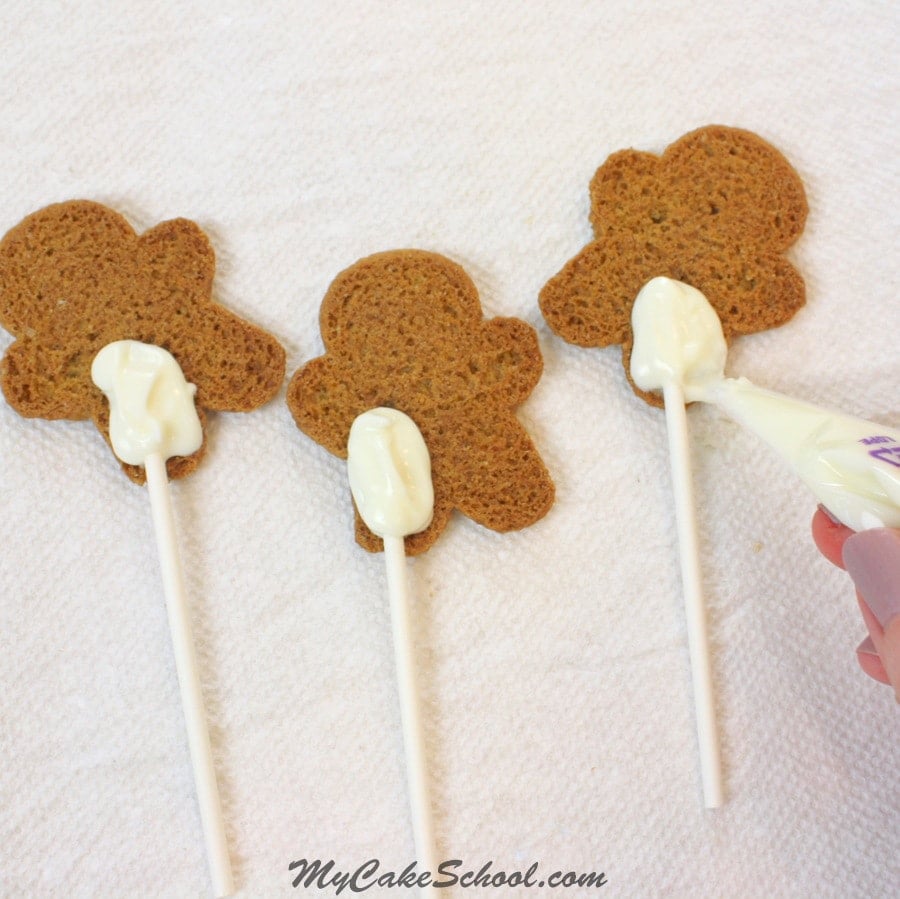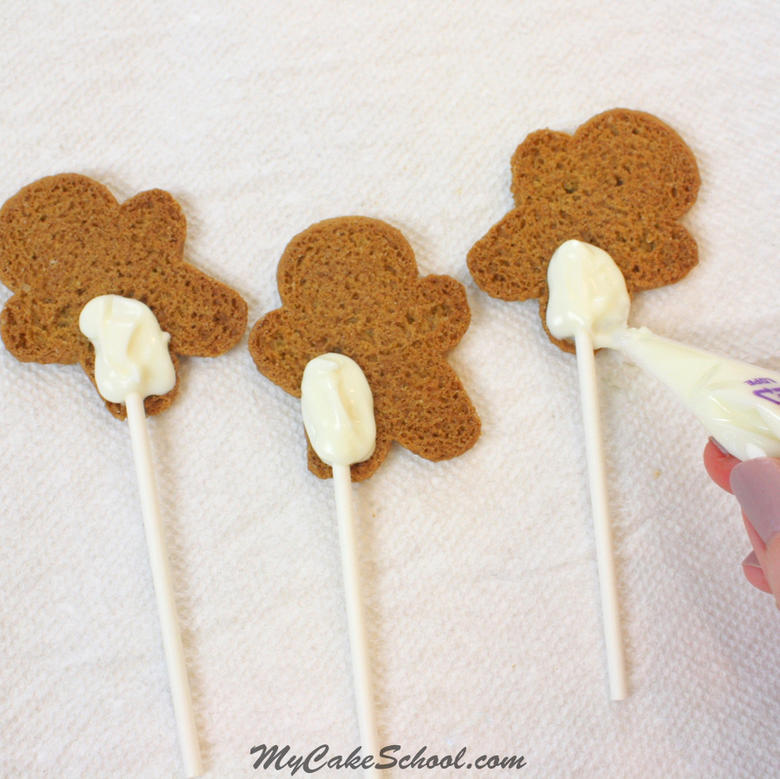 Ta da! Now this is a happy cake!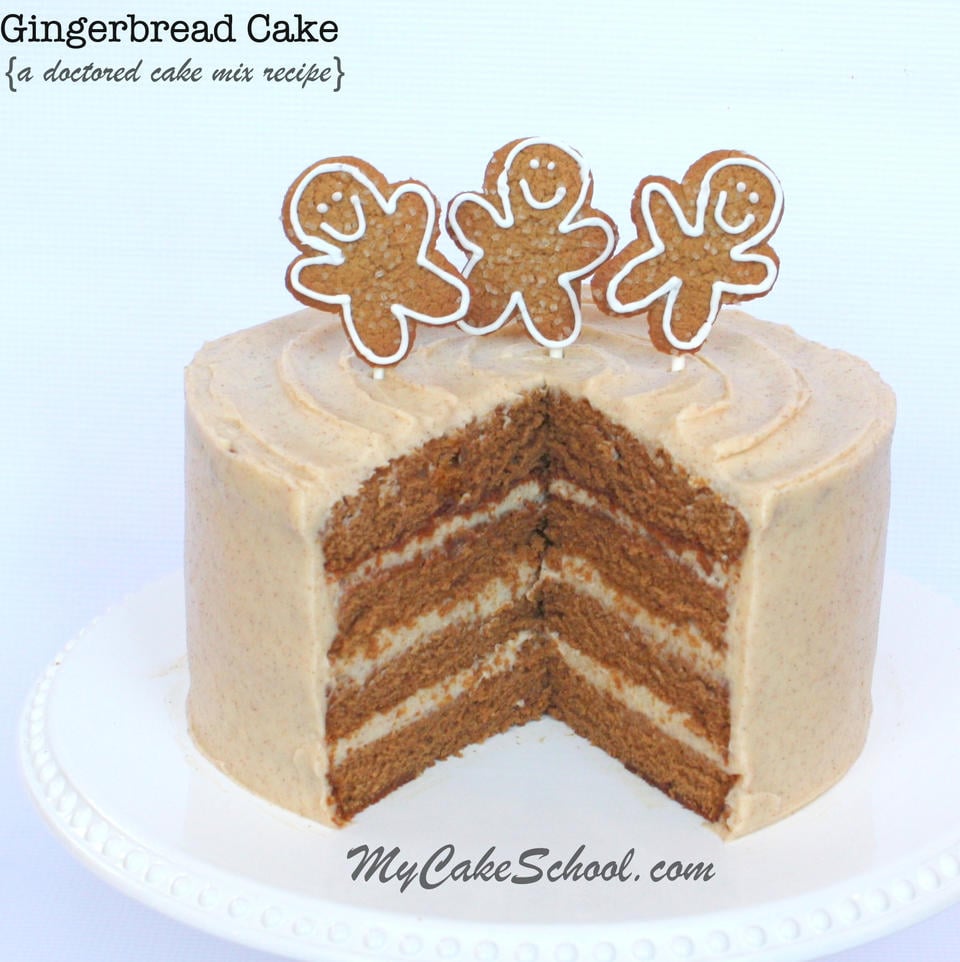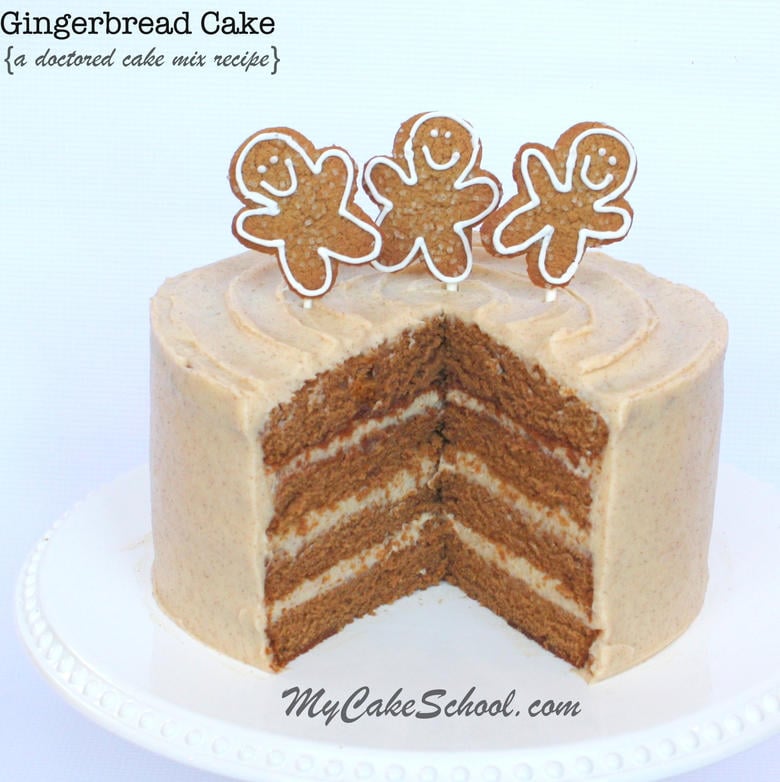 How Many Cake Layers?
For our gingerbread layer cake pictured above, we made two thick 8 inch cake layers, which we torted into four layers. It would have worked great as a two layer cake also, but we wanted a bit more filling!
Delicious Spiced Cream Cheese Frosting
Our FAVORITE frosting for gingerbread cakes and all things spiced is our Spiced Cream Cheese Frosting! So simple to whip up in minutes and the flavor is fantastic!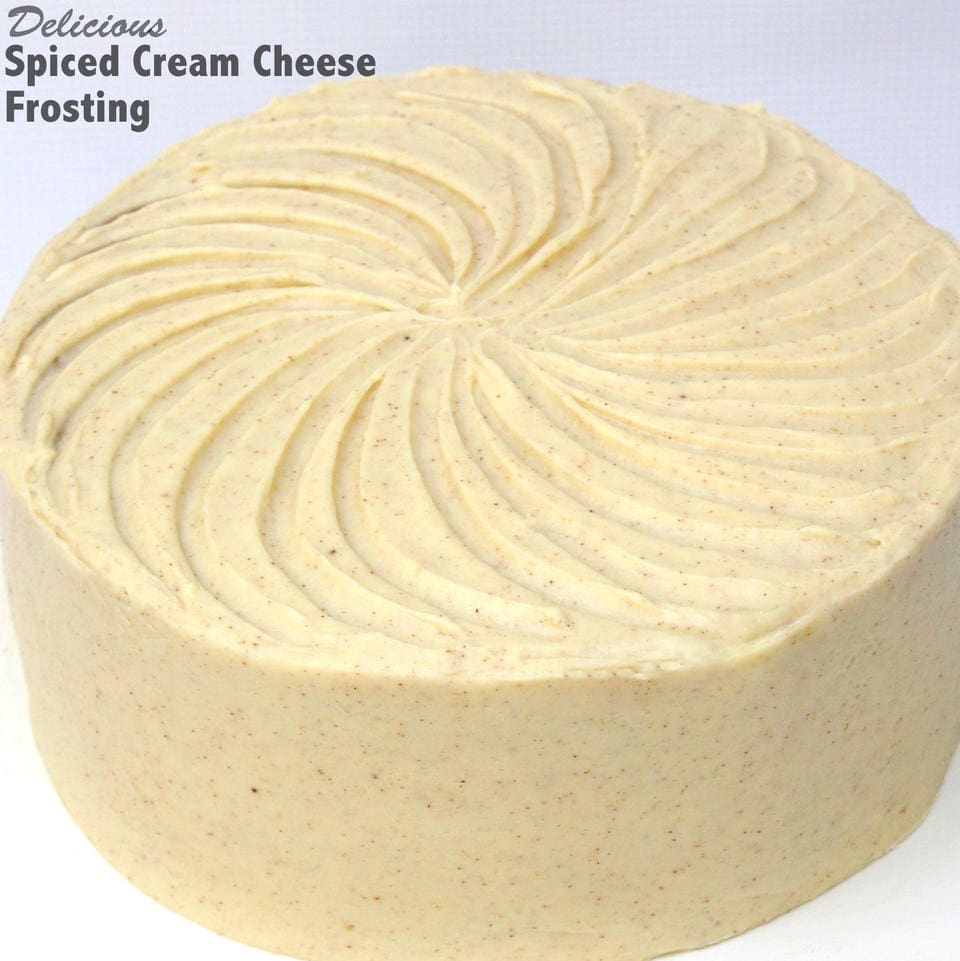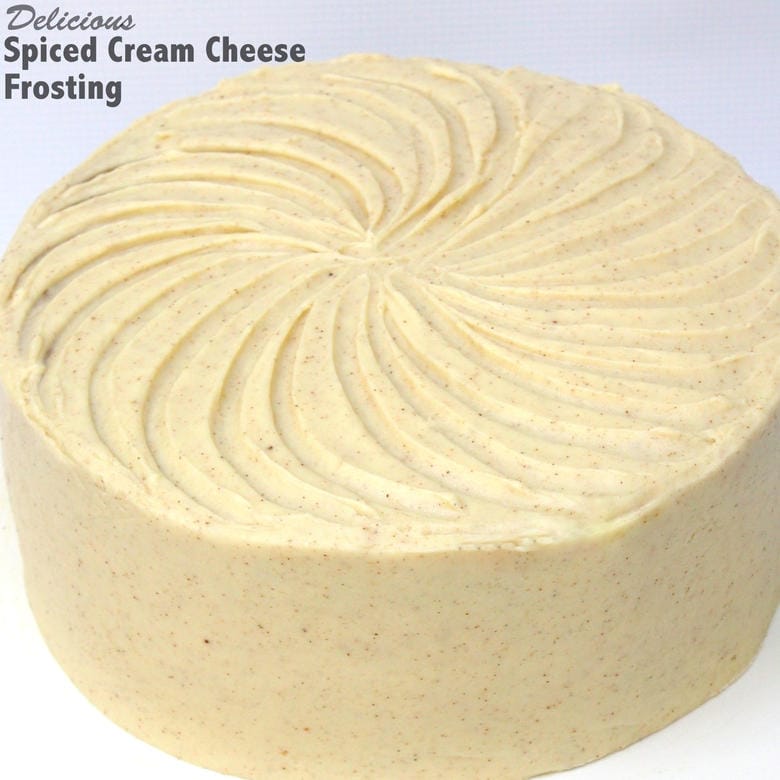 Gingerbread House Cake!
Not only is this a delicious recipe, but it is sturdy enough for fondant as well as light carving. This was the recipe that we used for our Gingerbread House Cake Video Tutorial in our member cake video section.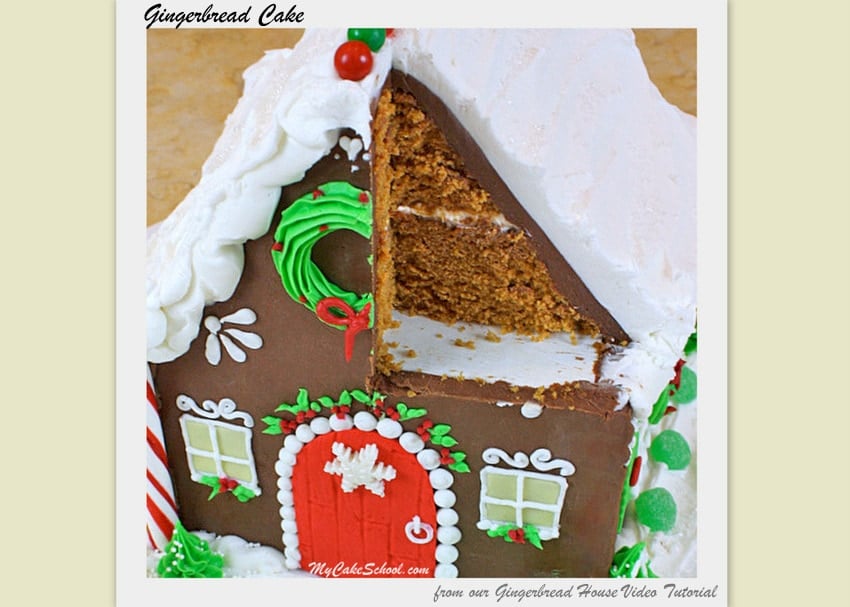 Scratch Version of Gingerbread Cake
Finally, if you are looking for a fabulous scratch Gingerbread Layer Cake Recipe, we have a great one!! You can find it here: Scratch Gingerbread Cake Recipe. We love them both!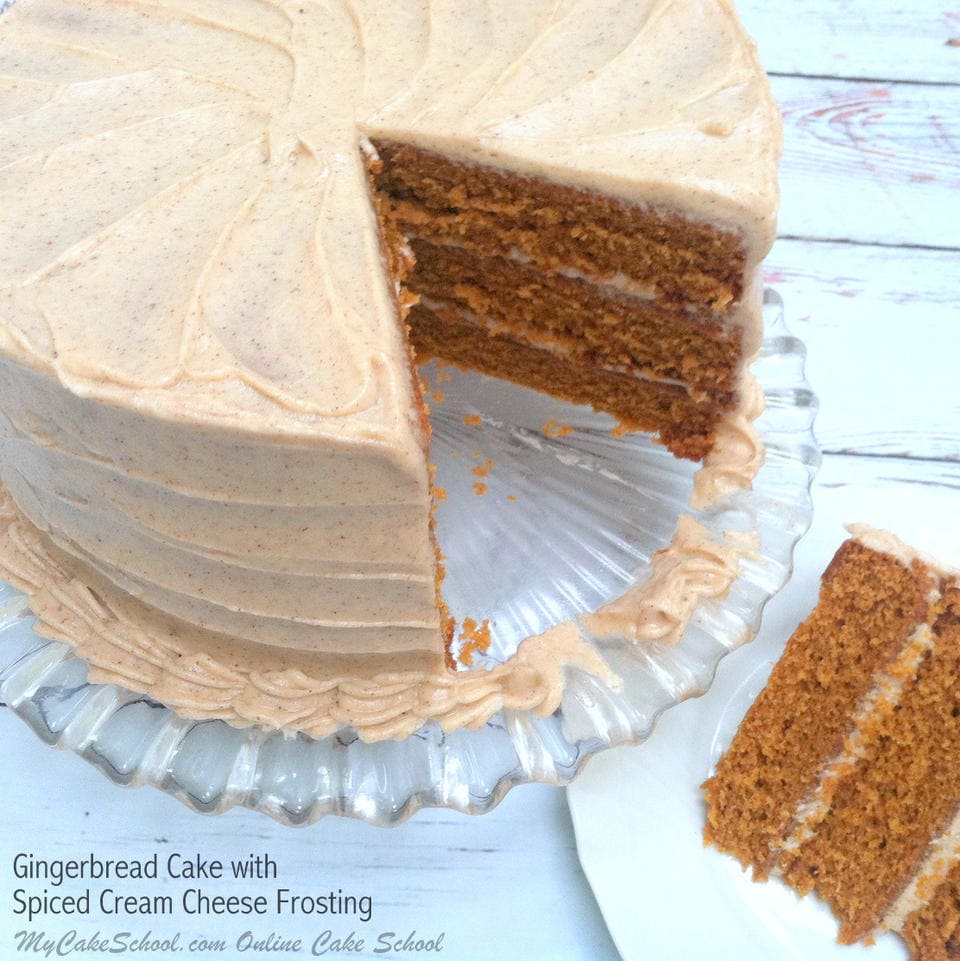 Sharing More Holiday Cake Recipes and Tutorials!
Looking for even more Doctored Cake Mix recipes for the holidays? Don't miss our Doctored Red Velvet Cake recipe or our Doctored Eggnog Cake Recipe! These easy and DELICIOUS recipes are sure to please any crowd!
For a full roundup of our FAVORITE Christmas and winter cakes, don't miss our Roundup of Christmas Cake Recipes, Tutorials, and Ideas!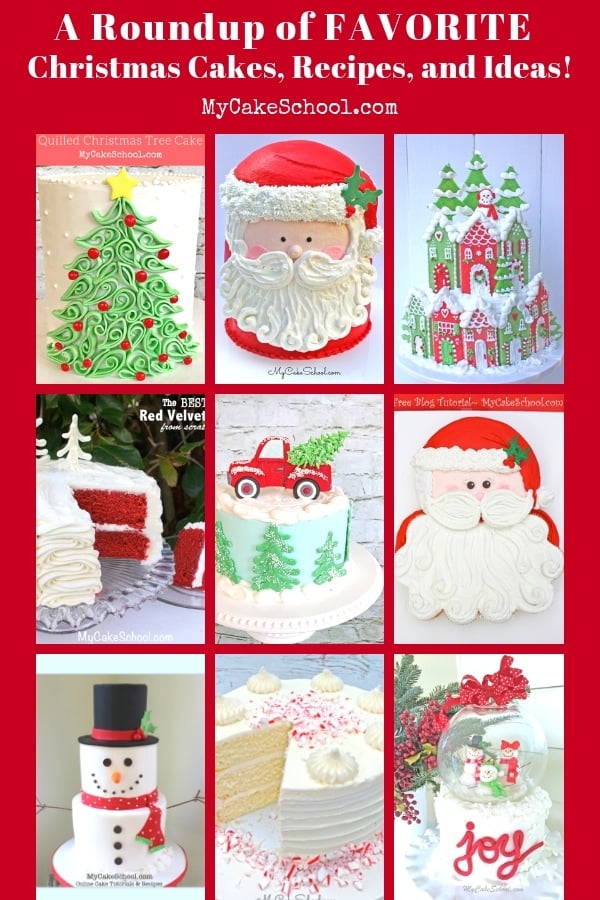 We Have More Cake Mix Recipes to Share!
If you love working with doctored cake mix recipes, we've made many over the years that we just love! Scroll through this quick list and pick out a few more to try!
Thanks for stopping by! We hope that you enjoy this delicious Gingerbread Doctored Cake Mix Recipe!
Gingerbread Cake ~ A Doctored Cake Mix Recipe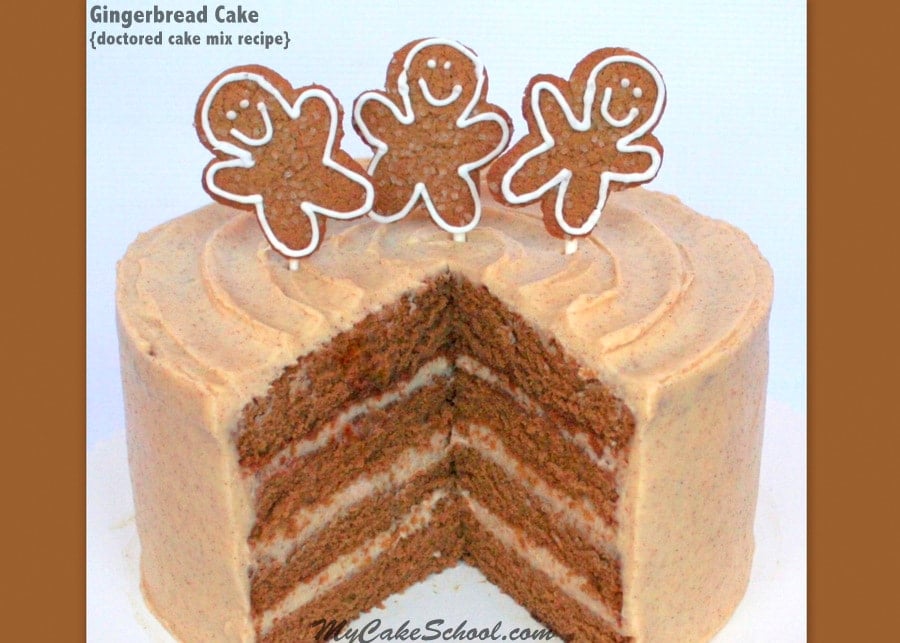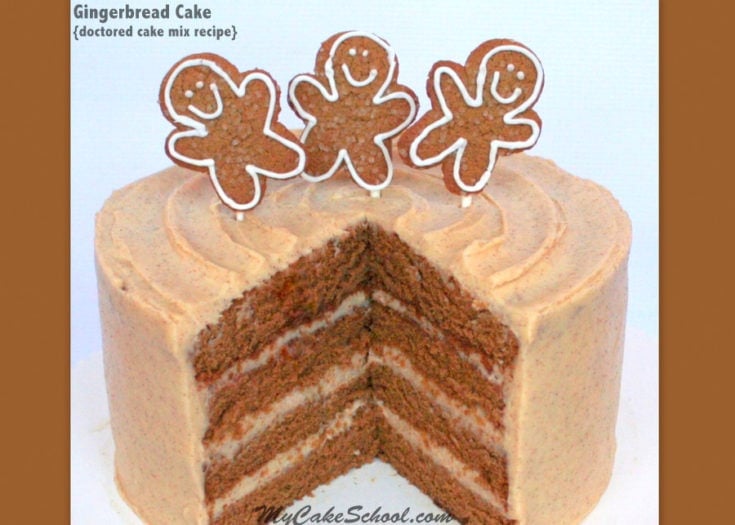 This easy and delicious Gingerbread Layer Cake starts with a simple cake mix! This recipe is a fantastic choice for fall and winter gatherings! We love it with our Spiced Cream Cheese Frosting!
Ingredients
Preheat oven to 325 degrees. Grease and flour two 8 inch cake pans (We torted our layers to make 4)
Do not follow ingredients on the back of the cake mix box, use the ingredients listed below.
1 box Spice Cake Mix, sifted
1 cup (121g) all purpose flour
1 cup (200g) granulated sugar
1/2 (3 g) teaspoon salt
1 cup (242 g) sour cream
1/2 cup (118 g) water
1/2 cup (161g) Molasses,
3 large eggs
1 teaspoon (3 g) cinnamon
1 1/2 teaspoon (3 g) ginger
1/4 teaspoon nutmeg
*For our Cake Toppers we used store-bought Gingerbread men and attached them to lollipop sticks with melted candy melts!
Instructions
In the bowl of your mixer combine the dry ingredients and whisk 30 seconds to throughly combine.
To this add the remaining ingredients and mix on medium speed for 1 minute ( a bit longer if using a hand held mixer). Scrape the sides and bottom of the bowl and mix 1 minute more.
Makes approximately 7 cups of batter.
Pour into prepared pans and bake at 325 degrees. Check at 35 minutes, the cake will be slightly pulled away from the sides of the pan and a toothpick inserted in the center should pull out clean or with only a few crumbs.
Notes
This gingerbread cake recipe is delicious, and works great with the carving necessary for our Gingerbread House Cake Video Tutorial in our member library. I hope that you enjoy it!