Today I'm going to show you how to make an adorable Gingerbread House Cake!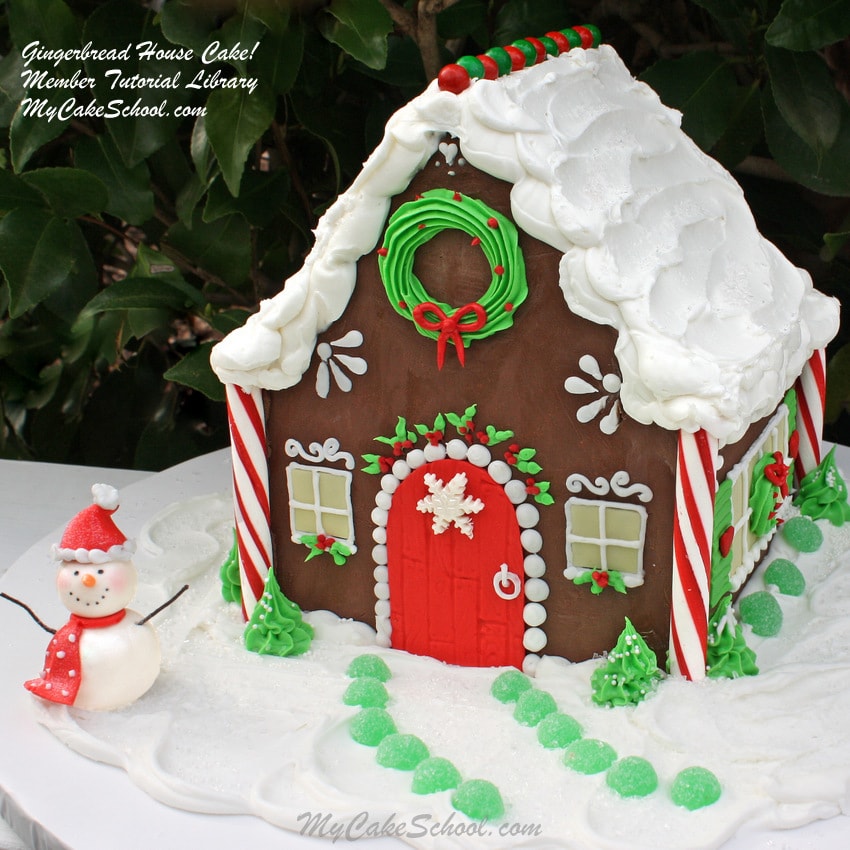 Many of our design ideas came from scrolling through countless photos of actual gingerbread houses online.
There are so many amazing options for decorating, and no matter how simple or how complex a design may be, a gingerbread house always brings smiles!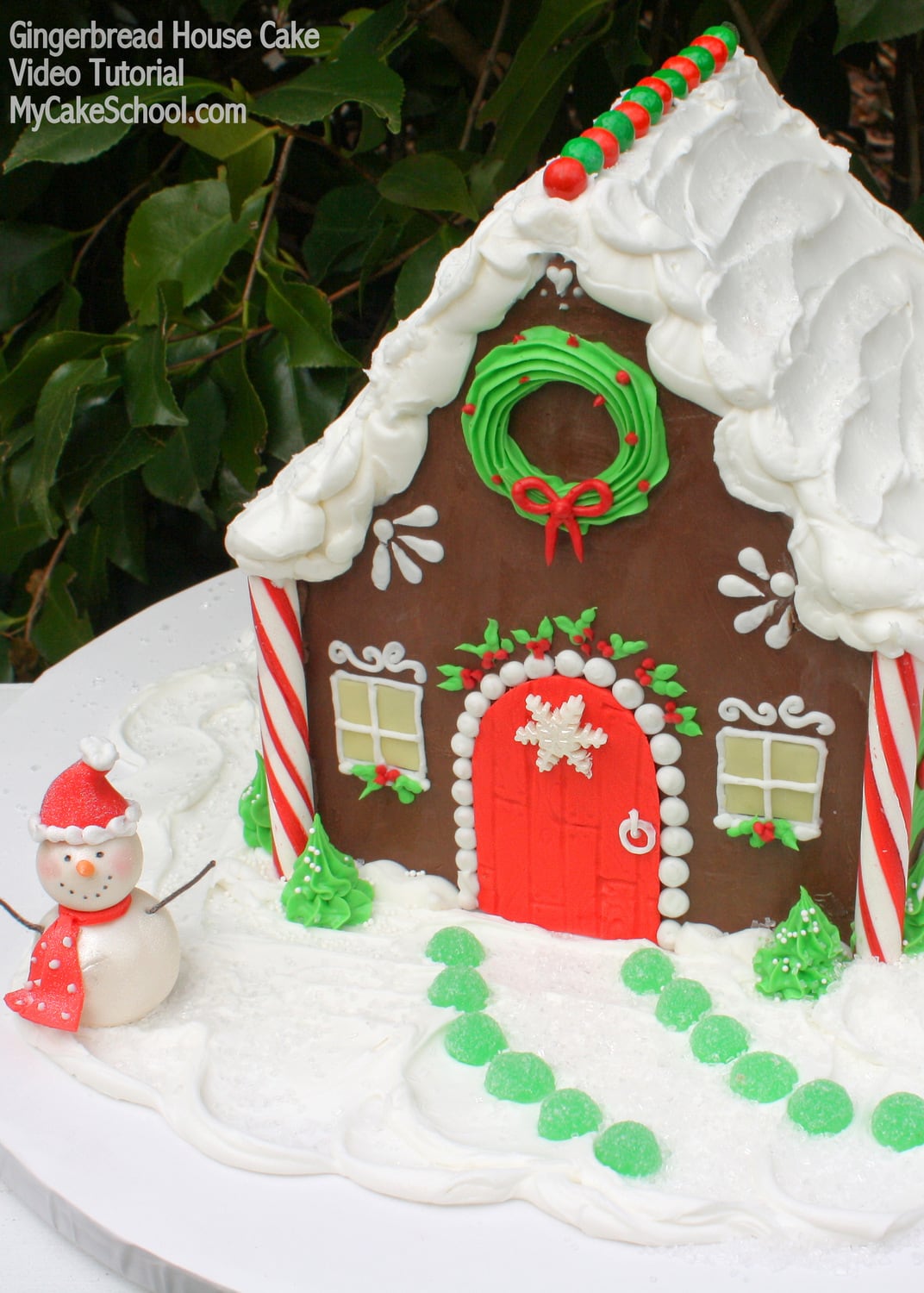 Materials for Gingerbread House Cake:
We made 4 (six-inch-square) layers of GingerBread cake and carved into the shape of the house.
Ganache: We used milk chocolate ganache (a ratio of 3: parts chocolate to 1 part cream) *See amts. below
Cake Boards- I used two square cake boards and then for the cake base, we used four 16" circles.
Bubble Tea Straws or your supports of choice (I used 5)
Buttercream: Your crusting buttercream of choice. We used our Fluffy Vanilla recipe for snow.
Piping Tips: Small round tips- I used a round tip 6, 4, and 2, as well as a star tip 21
Coloring Gels: I used Americolor Super Red, Wilton Leaf Green, Golden Yellow, Orange
(I also used pre-colored red fondant for the scarf & hat, but tinting is fine also)
tylose powder: Optional. I like it for stiffening up the fondant and speeding up dry times
Food Coloring Pen (black)- I used for marking off my lines for carving, as well as snowman's features.
"Wooden board/wood grain" Impression Mat- Optional. I used for the front door.
Miscellaneous Candy- I used peppermint sticks, green gum drops, and sixlets on the roof.
Sugar Crystals/Sanding Sugar- for a little more sparkle
Pearl Dust- Optional. Used on snowman.
Pink Petal Dust- Optional. Rosy cheeks for snowman (The shade that I used is Watermelon
Piping Gel- or your edible "glue" of choice
Small paintbrushes
Gingerbread Cake
This recipe is the same as the White Almond Sour Cream Cake - Doctored Cake Mix with just a few changes. The cake is dense enough for carving the roof of the Gingerbread House Cake.
Preheat oven to 325 degrees
Grease and flour cake pans
Do not follow ingredients on the back of the cake mix box, use the ingredients listed below.
1 box Spice Cake Mix, sifted..... I used Duncan Hines
1 cup (121g) all purpose flour
1 cup (200g) granulated sugar
½ (3 g) teaspoon salt
1 cup (242 g) sour cream
½ cup (118 g) water
½ cup (161g) Molasses,
3 large eggs
1 teaspoon (3 g) cinnamon
1 ½ teaspoon (3 g) ginger
¼ teaspoon nutmeg
THIS MAKES APPROXIMATELY 7 CUPS OF BATTER
In the bowl of your mixer combine the dry ingredients and whisk 30 seconds to throughly combine.
To this add the remaining ingredients and mix on medium speed for 1 minute ( a bit longer if using a hand held mixer).
Scrape the bottom and sides of the bowl and beat another minute. Pour into prepared pans and bake at 325 degrees. Check at 35 minutes, the cake will be slightly pulled away from the sides of the pan and a toothpick inserted in the center should pull out clean or with only a few crumbs.
Milk Chocolate Ganache Frosting:
To frost and fill the 4 six inch layers:
Using a ratio of 3 parts chocolate to one part cream for milk chocolate ganache I used:
50 ounces (1418 g) milk chocolate ....I used Trader Joe's
16 ounces (454 g) heavy cream
In Part One of the Video, I demonstrate carving our cake layers into the shape of a house & covering with ganache.
In Part Two, the house really comes to life as I add the decorations!