This classic Chocolate Buttercream Frosting Recipe is the only chocolate buttercream recipe that you will ever need. It tastes amazing, pipes beautifully, and has been our go-to chocolate buttercream for years!
You are going to LOVE how easy this chocolate frosting is to make. Throw that canned chocolate frosting in the trash, it won't taste good to you anymore!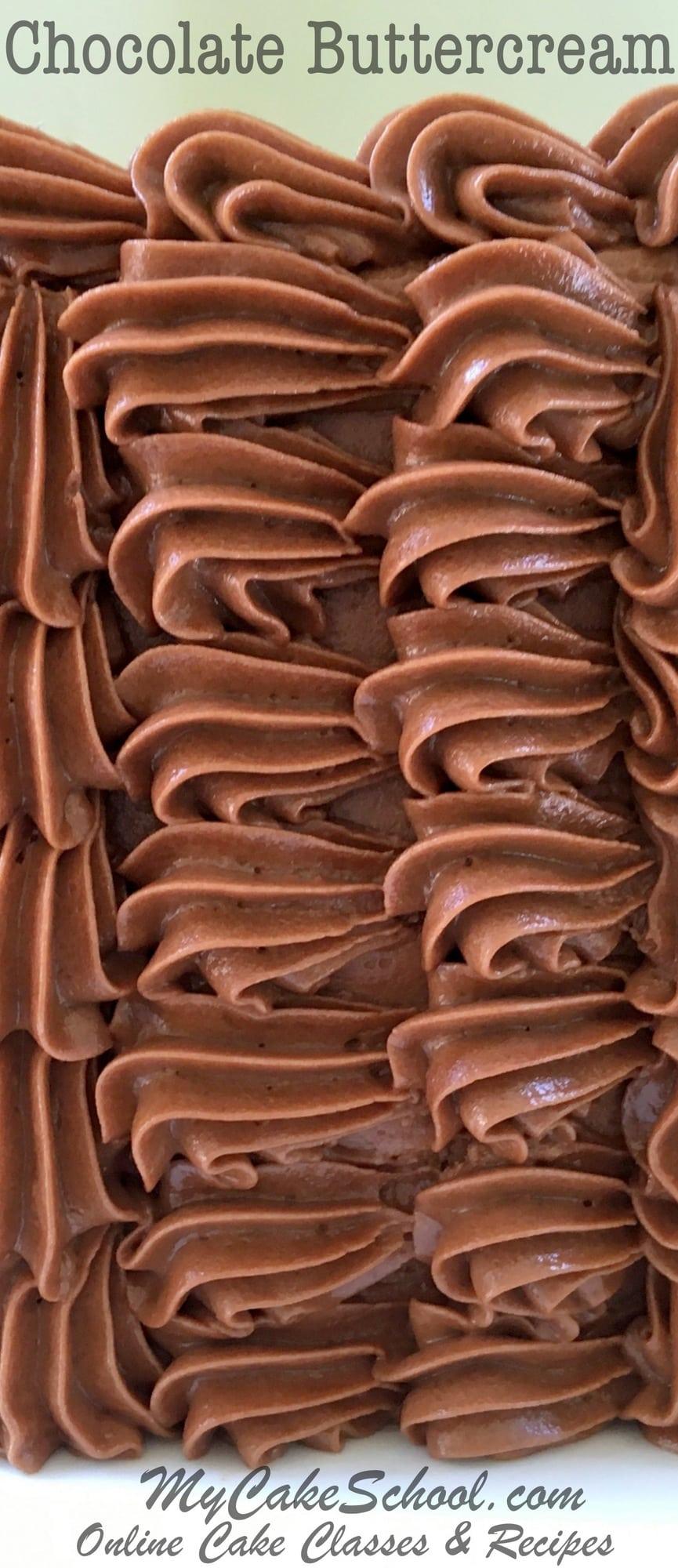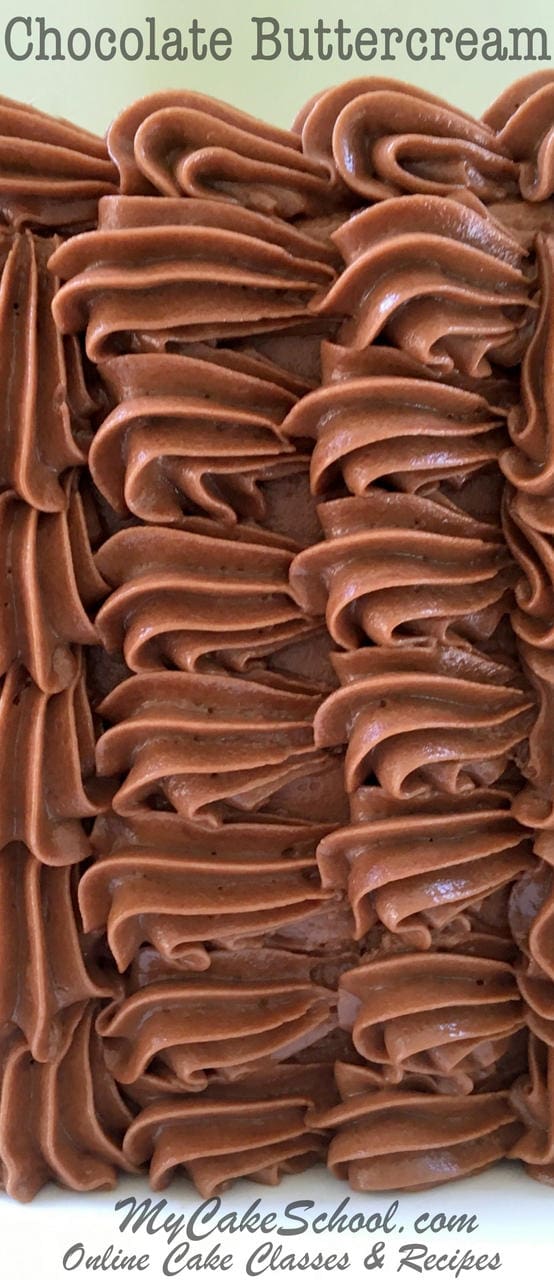 What Cakes Taste Great with Chocolate Frosting?
This Classic Chocolate Buttercream is silky smooth, has a fantastic chocolate flavor, and it is the perfect complement to SO many flavors of cakes and cupcakes!
We love it as a filling or frosting for so many of our cake recipes, including:
Peanut Butter & Chocolate Cake
Classic Chocolate Cupcakes, and many more.
What I'm realizing in making this list of cakes that pair well with chocolate frosting is that I want to put every cake on the list! Haha.. that's when you know you have a good frosting (or maybe I just like chocolate a little too much).
This Chocolate Frosting is Perfectly Pipeable
This Chocolate Frosting recipe should give you a nice medium consistency, making it perfect for piping. Whether you're making buttercream ruffles, buttercream roses, or piping pretty scrolls or borders, this frosting couldn't be simpler to work with.
You'll have a bit of wiggle room when it comes to the amount of sugar and liquid. For a thicker frosting, mix in more confectioners sugar. For a softer frosting, add a bit more milk. I also prefer to use whole milk rather than skim or 1% as it gives a richer flavor and a lighter crust when it sets.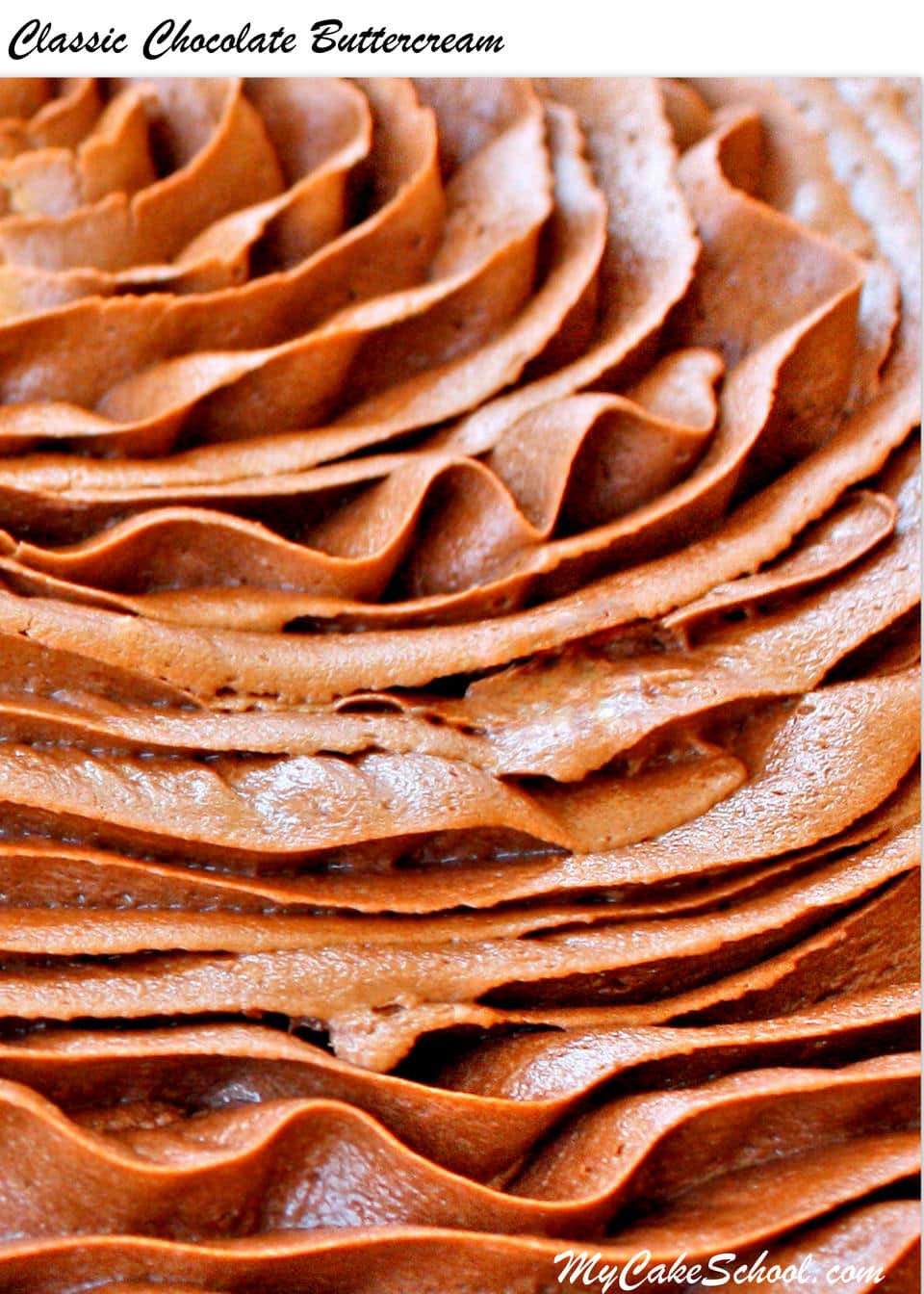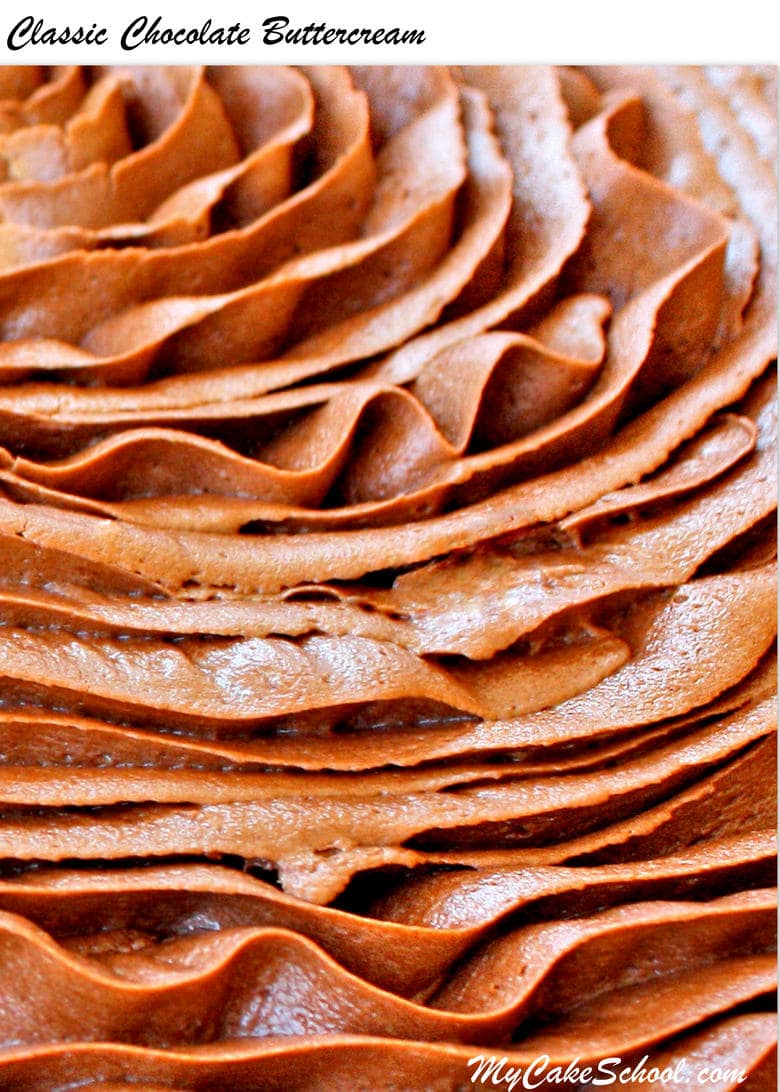 Other Chocolate Frostings to Try…
We have a couple of other delicious chocolate frostings in our recipes section! Our Fluffy Chocolate Buttercream recipe is similar to this classic chocolate buttercream, as it is a crusting recipe which is great for piping. The difference is that it contains shortening, which makes it more heat resistant.
It's always nice to have a heat friendly option for those hot summer days. Just remember that no frosting is 100 percent heat-proof. Shortening based frostings will hang in there for a bit longer though! You can find the recipe here: Fluffy Chocolate Buttercream Frosting.
Next, if you are looking for something even more rich, you will also love our Chocolate Ganache Frosting in the Recipes section! If you've never tried ganache, it is a decadent mixture of chocolate and cream. Hop on over for the details!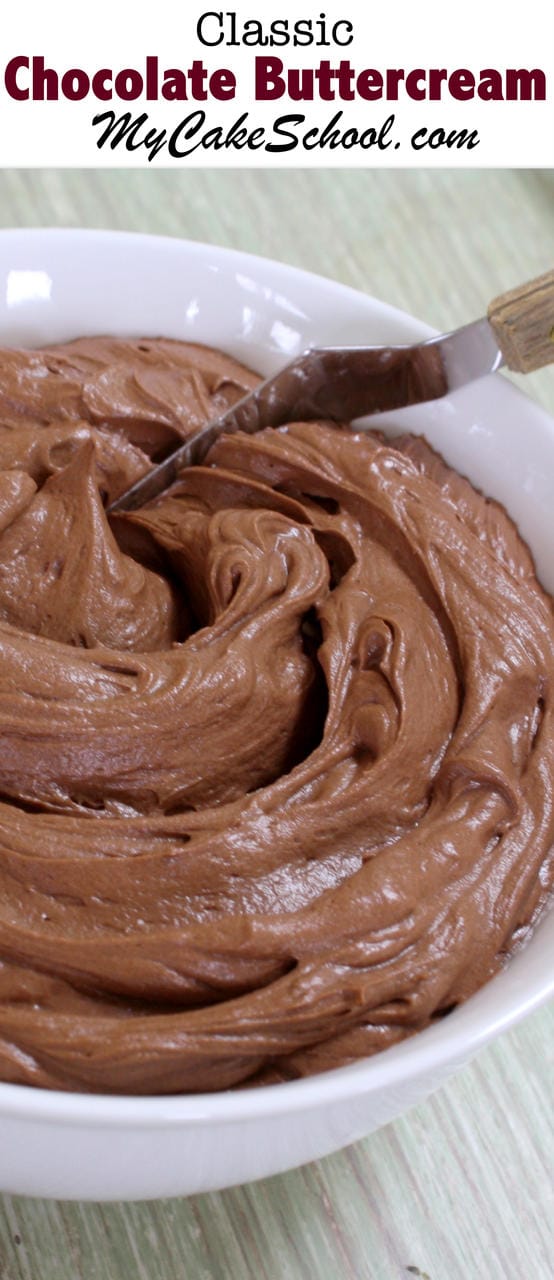 Chocolate Buttercream Frosting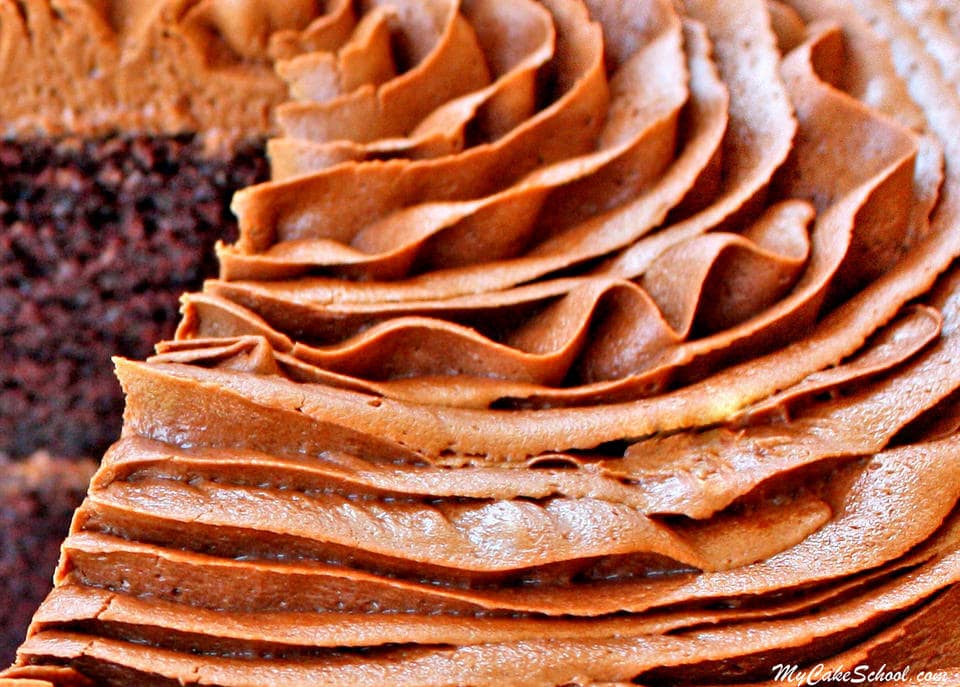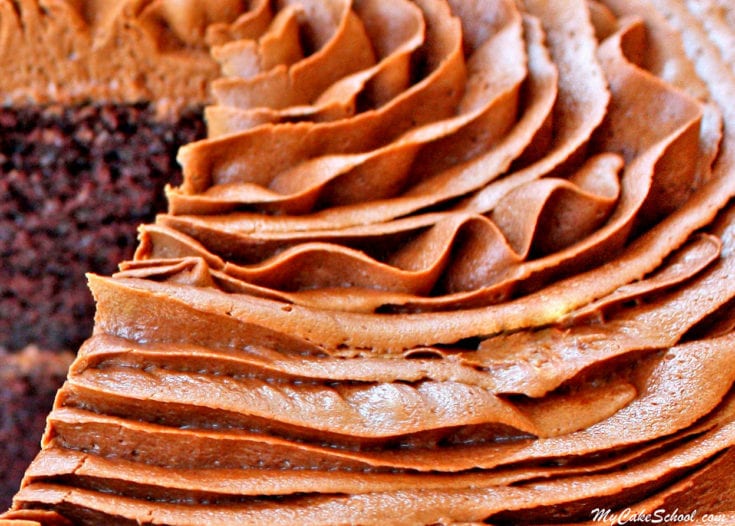 The most delicious and simple Chocolate Buttercream Frosting recipe! This chocolate frosting pipes great also.
Ingredients
3 sticks (339g) unsalted butter, softened (do not soften butter in the microwave)
9 cups powdered sugar (icing sugar in UK) (1034g) more if needed. ** For cupcakes, I like to use 8 c. (920g) for a softer frosting
1 1/2 cups unsweeteded cocoa (124 grams) (not Dutch processed, measure then sift
1/2 cup milk (121 grams) more if needed to reach the spreading consistency you like
2 teaspoons vanilla (12 grams)
1 teaspoon salt (6g) we like the finer grain of plain popcorn salt
Instructions
Add butter and mix on low to medium speed until smooth. Add vanilla and blend into the butter. Add powdered sugar, salt, and cocoa powder.
Add most of the milk. Begin mixing at low speed so you won't have a cloud of powdered sugar in your kitchen. Continue to mix adding remaining milk as needed. It may take 5 to 6 minutes to reach the smoothness and consistency you like. It will take longer if using a hand mixer. As you mix the frosting will become very smooth. You can add additional milk (1 Tablespoon at a time) if the frosting is too thick or additional powdered sugar if too soft.
This is my favorite chocolate frosting! Recipe can easily be doubled or halved.
This recipe makes approximately 6 cups of frosting.
That's all for now! Don't you just want to dive into a bowl of chocolate buttercream? Ahhhhh….so good. We think that you'll love this Classic Chocolate Frosting!
Make sure to check out our full collection of favorite tried and true cake and frosting recipes in our Recipes Section!
If you are interested in learning more about cake decorating, don't miss our Free Cake Tutorials section, which also includes a Free Cake Video Tutorial Section.
If you are interested in learning even more about cake decorating, we would LOVE to have you as a member of My Cake School! As a member, you will have access to every cake decorating video tutorial that we've made over the years (hundreds)! You can find out all of the details here: Learn Cake Decorating Online with My Cake School!