This Cherry Cream Cheese Frosting recipe is silky smooth, extremely flavorful, and pipes beautifully!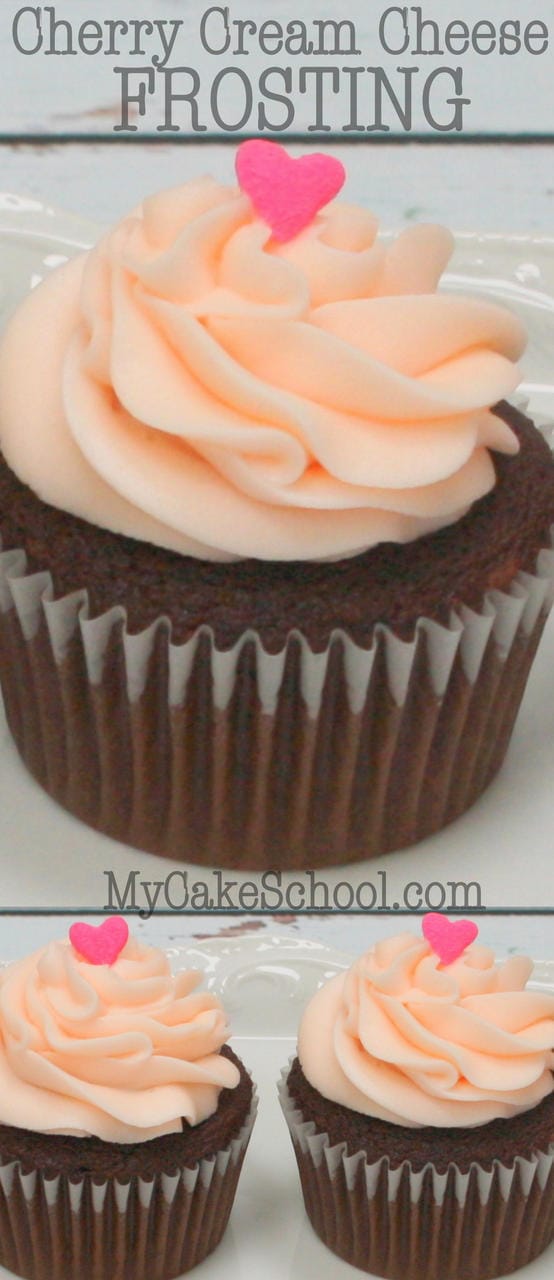 I LOVE this frosting with chocolate cakes and cupcakes, although it also pairs nicely with yellow & white cakes too! In fact, it's so good that you'll want to skip the cake & just grab a spoon!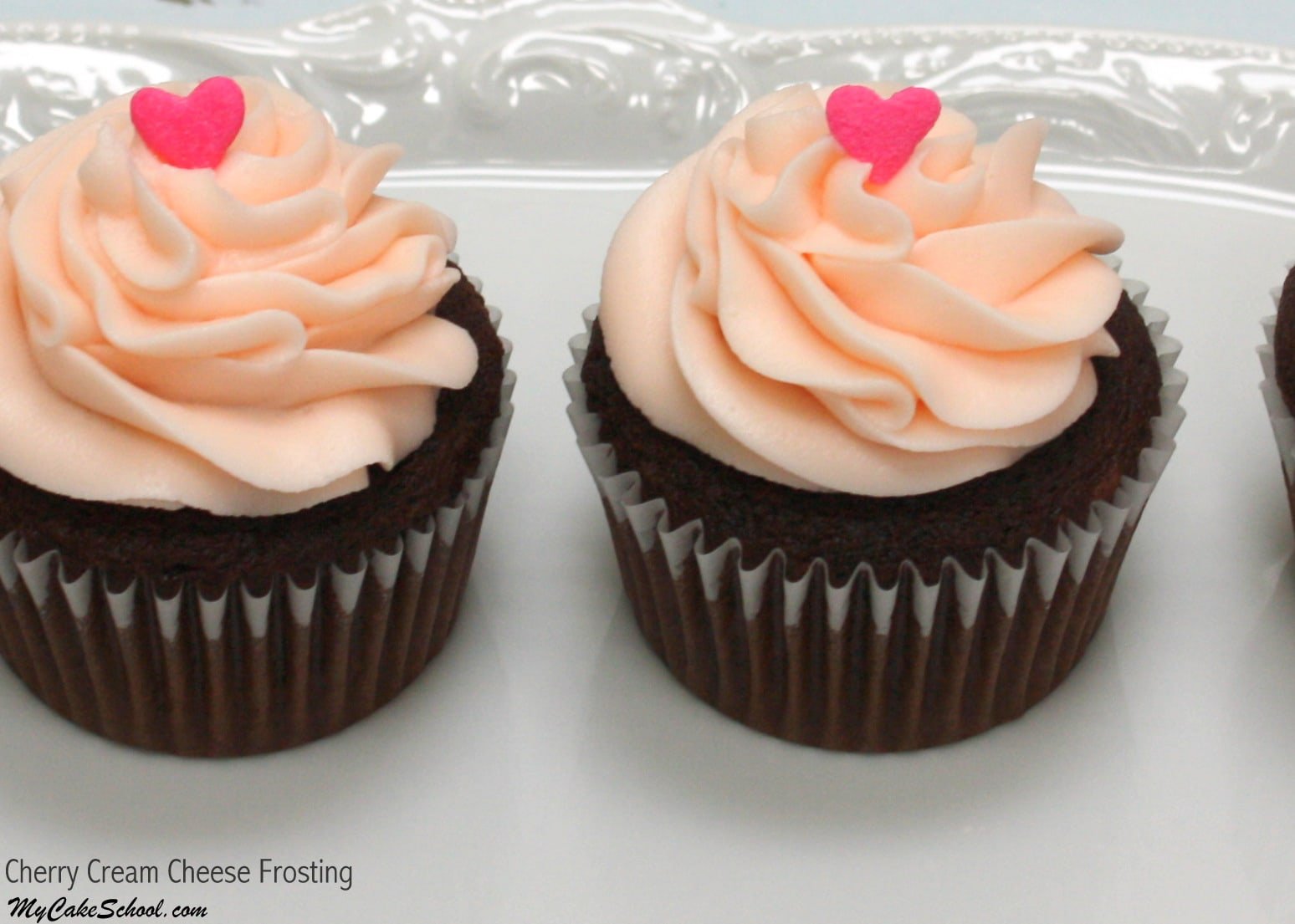 Helpful Hint: We've found that there's no need to soften the cream cheese beforehand. Actually, this recipe works best when the cream cheese has not been softened at all!
The cupcakes pictured above were made with our scratch Chocolate Cake Recipe & swirled with a 2D piping tip. For a surprise inside, insert a frosting-filled piping bag fitted with a 10 or 12 piping tip into your unfrosted cupcakes and fill with a bit of Cherry Cream Cheese Frosting, and finish with a swirl on top!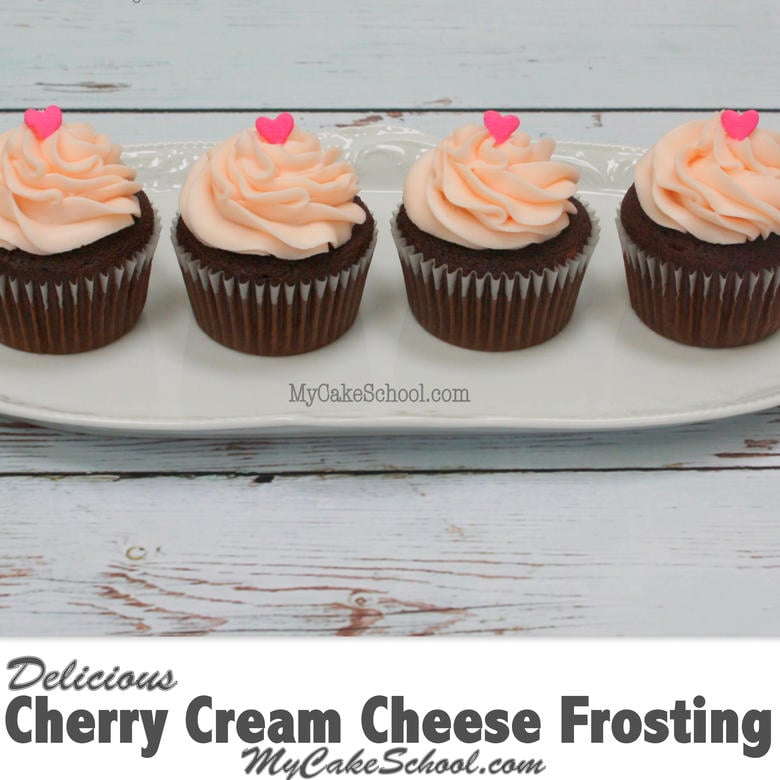 Cherry Cream Cheese Frosting
Ingredients
2 sticks

(1 cup) (226g) unsalted butter - Let the butter sit out for approximately 10 minutes. It should feel cool to the touch

2( 8oz.)

packages cream cheese (total weight 452g)- I used full fat cream cheese. Using reduced fat or the spreadable cream cheese will cause the frosting to be too soft. Do not soften the cream cheese.

1 teaspoon

(4g) vanilla extract

1 teaspoon

(4g) cherry extract

6 to

61/2 cups (690g to 747g) powdered sugar

Wilton Rose

Gel Color, optional - I used a very small amount, putting the color on a toothpick to add to the frosting.
Directions
Cut the butter into slices and add to the bowl of your mixer. Beat on low to medium speed until the butter is softened and smooth.
Cut the cold cream cheese into pieces and add to the butter, beating at low to medium speed until incorporated.
Add the vanilla and cherry extract. Gradually add the powdered sugar beating on low speed until blended (cover bowl with
a towel to keep a cloud of powdered sugar from floating over your kitchen).
Add the gel color at this point, increase mixing speed and beat until fluffy, approximately 1 minute, don't over beat.
This frosting will pipe best when chilled. You can make it in advance, refrigerate and when ready to use, let it soften slightly (do not microwave) and remix.
Will frost a 3 layer 8 or 9 inch cake.
We also love this Cherry Cream Cheese Frosting with our homemade Cherry Cake! Enjoy!