This moist and flavorful Butterscotch Cake is the recipe that we didn't know that we needed, but are SO glad that we tried!
This Butterscotch cake is truly is a new favorite for us, with it's fluffy butterscotch layers filled and topped with a light butterscotch cream filling and frosted in cream cheese frosting!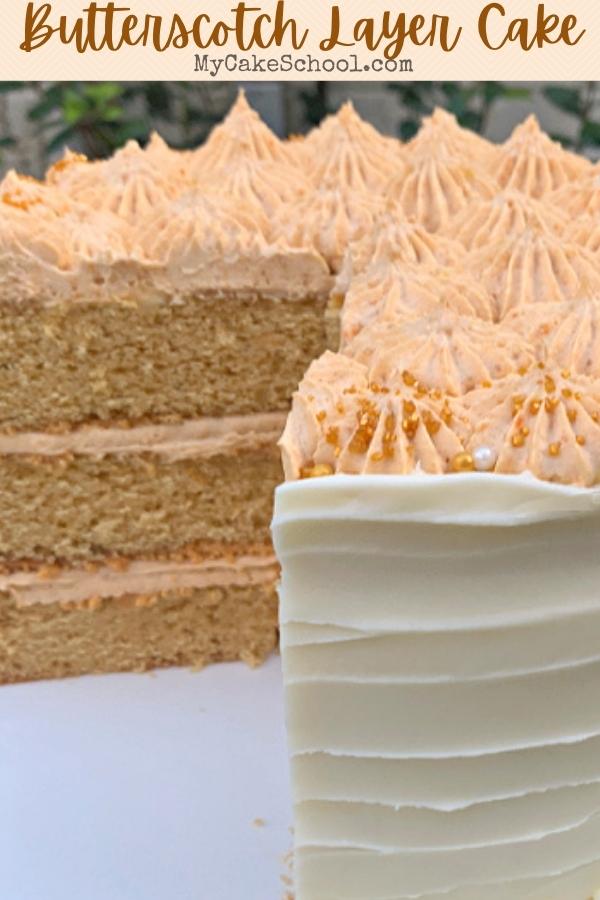 How to Make Butterscotch Cake
**See the full Butterscotch Layer Cake Recipe in our Recipe Card at the bottom of this post! Here is a quick rundown:
What gives this moist Butterscotch Cake so much flavor is the melted butterscotch (combined with a small amount of oil) that we've added to the batter.
This cake recipe uses the conventional mixing method (rather than reverse creaming) which results in fluffy and delicious cake layers. After baking three 8 inch layers, we allowed the pans to cool on a cooling rack for about 5 minutes before flipping them out.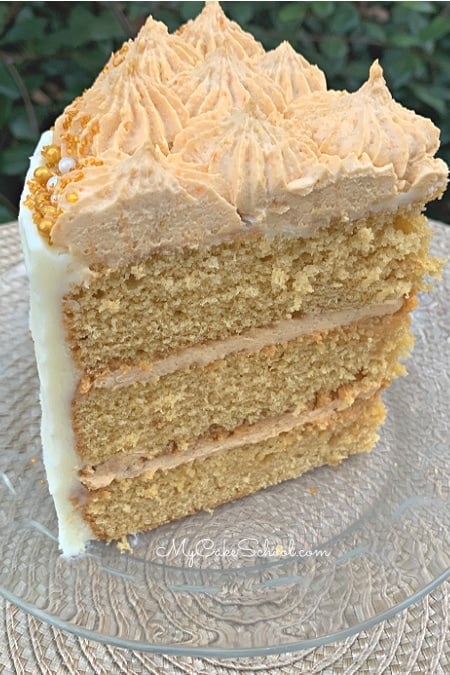 Freezing the Cake: Optional Step!
This is an optional step but for all of our cakes, whether we're making a scratch cake or doctored cake mix, we like to freeze our cake layers while they are still warm. It will make the cake even more moist!
To do this, double wrap the layers individually in plastic wrap while they are still warm and place in the freezer.
For extra support, we like to wrap cake boards in foil (so that they can be unwrapped and re-used later), and we place each warm cake layer on a board. Then proceed with wrapping the cake layers in plastic wrap and foil and pop into the freezer.
I do this step whenever time allows, even if it is just for a few hours (but they will stay fresh for up to three months as long as they are properly wrapped).
When you're ready to assemble the cake, allow the cake layers to thaw, still wrapped, until condensation forms on the foil. Then unwrap and continue to thaw on the counter.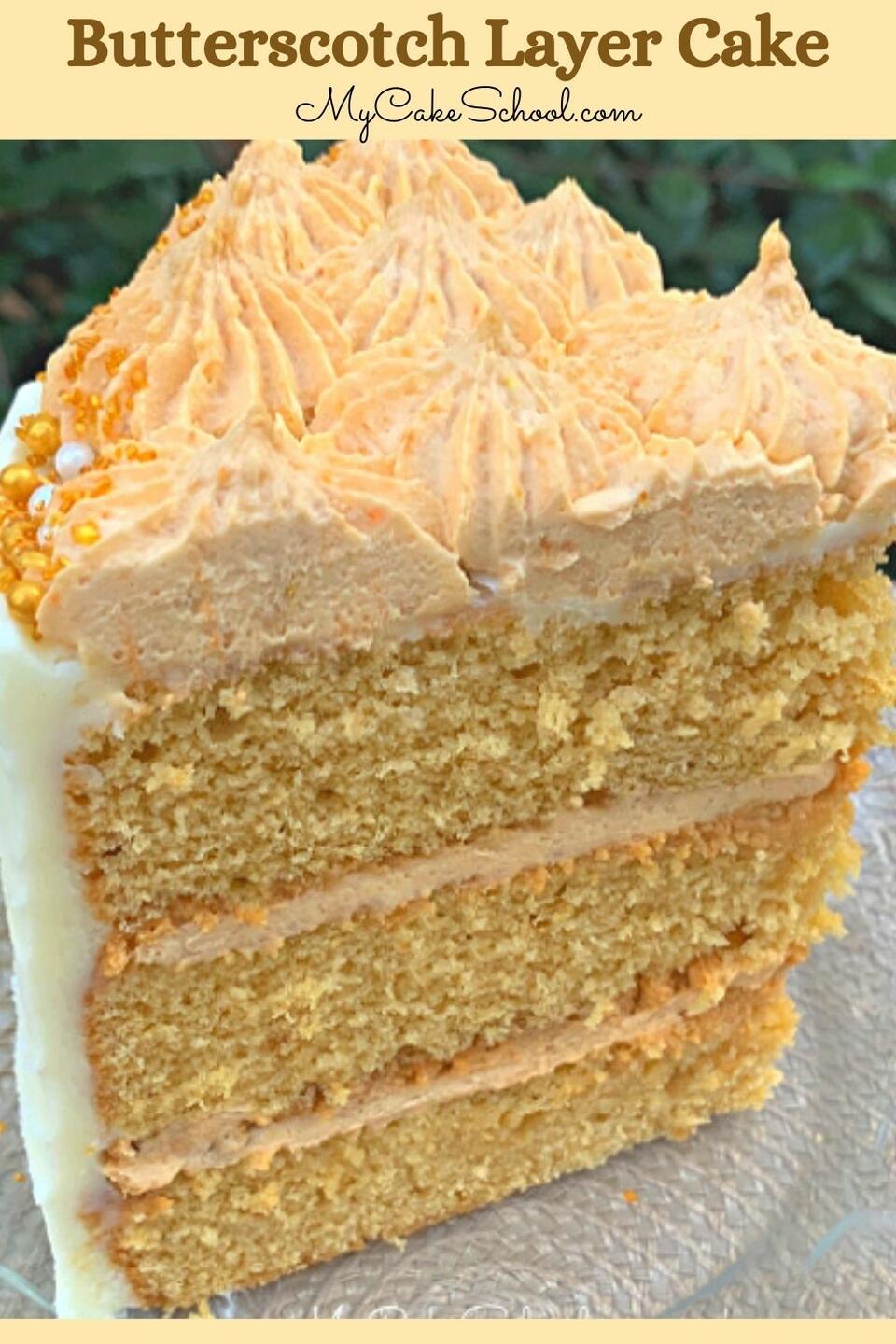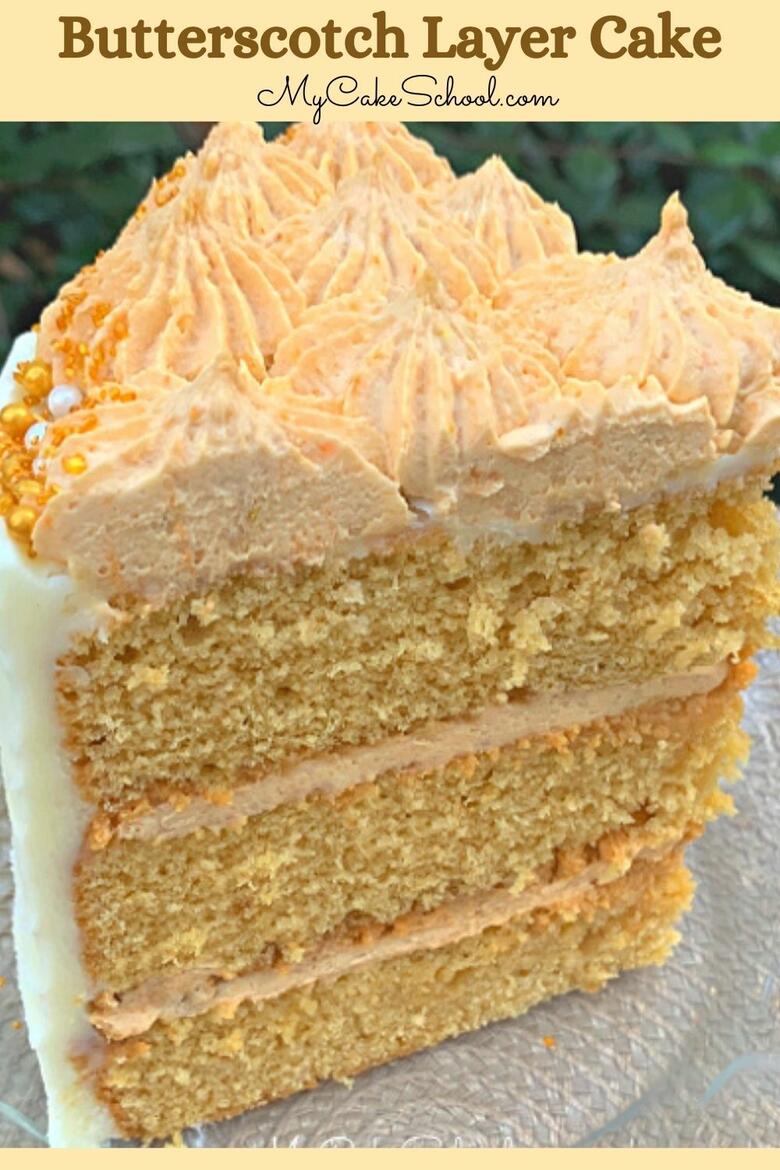 Assembling the Butterscotch Cake
We filled our cake with a delicious Butterscotch Cream Filling (also known as a "mock mousse") which can be easily whipped up using instant pudding and heavy cream! We've used several versions of this cream filling over the years!
**See our Note about Settling Cakes Below (optional)
After filling the cake layers, we frosted around the sides with Cream Cheese Frosting. We only needed a half-batch since we were not using the frosting on top of the cake or in the filling.
I added texture to the sides of the cake using a small rounded offset spatula which I applied to the frosting as I rotated it on the turntable.
Next, we used a french tip to pipe stars of Butterscotch Cream over the top of the cake. I finished things off with a small piped bead border using a Tip 3 as well as a few matching sprinkles around the top edge of the cake.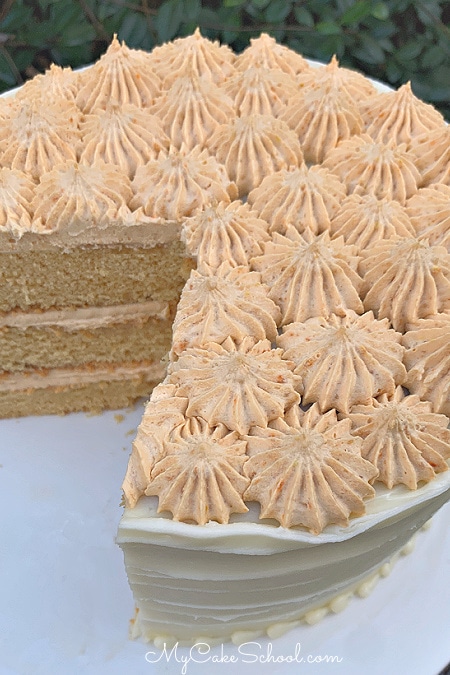 Should I allow the Cake to Settle?
When time allows, I like to wrap the filled, unfrosted cake with plastic wrap and settle it under the weight of a small book, cake pan, or something that will add light, consistent pressure across the top of the cake for a few hours.
Layer cakes are prone to settling over time, which can cause bulging between the layers around the sides of the cake.
While this isn't harmful to the cake, it can be frustrating- especially if your cake design calls for a completely smooth effect around the sides. ** The textured frosting design that I used today is much more forgiving of settling ;0)
Adding the weight to the cake as we discussed above will minimize the chances of bulging. A gentle press-down on the cake doesn't hurt either just before frosting. Since this cake has a perishable filling, you would settle it in the refrigerator.
Doctored Cake Mix Version of Butterscotch Cake
Did you know that we also have a cake mix version of Butterscotch Cake? This layer cake is delicious as well and is flavored with butterscotch instant pudding and melted butterscotch chips. We hope you will give it a try also! You can find the recipe here: Butterscotch Cake Mix Recipe.
Thanks so much for stopping by! We hope that enjoy this Butterscotch Cake as much as we have! If you give it a try, we would love for you to post a photo or comment below.
Butterscotch Cake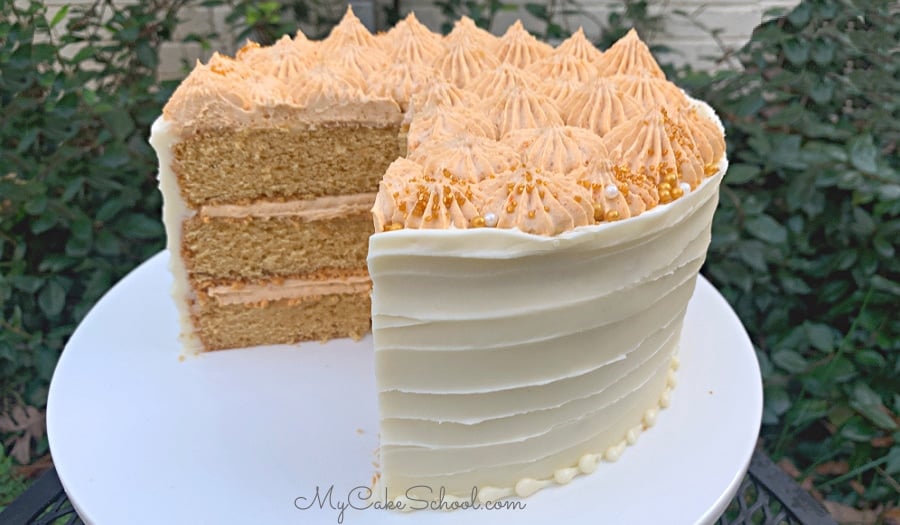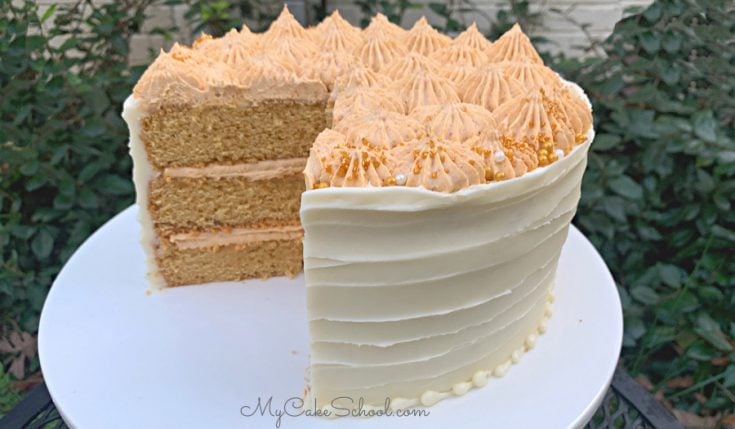 This moist Butterscotch Cake has so much flavor! We've paired it with an easy and deliciously light Butterscotch Cream Filling as well as Cream Cheese Frosting for a dessert that is sure to please!
Ingredients
1 1/2 sticks (170g) Unsalted Butter, Slightly Softened
1 1/2 cups l(320g) Light Brown Sugar
3 Large Eggs
3 cups (342g) Cake Flour (Substitution in Note below)
2 teaspoons (8g) Baking Powder
1/2 teaspoon (3g) Baking Soda
1/2 teaspoon (3g) Salt
1 cup (242g) Milk
1 Tablespoon (8g) Vegetable Oil
1 Tablespoon (12g) vanilla
For the Melted Butterscotch to be poured into the batter
1/2 cup (156g) Butterscotch Chips, melted (see method below)
2 Tablespoons Vegetable Oil (16g) ( use for melted butterscotch )
For the Butterscotch Cream Filling
1 small box instant Butterscotch Pudding (3.9 oz/96g) We used Jello- Brand
2 c. (464g) heavy cream or whipping cream (stir in a little more if recipe is too thick)
For the Cream Cheese Frosting (This is a half batch of our usual Cream Cheese Frosting)
1 stick (1/2 cup 112g) unsalted butter, slightly softened
1 package (8 oz 226g) cream cheese, slightly softened
1 teaspoon (4g) vanilla extract
1/4 teaspoon salt (optional)
3 to 3 1/2 cups (345 to 402 g) powdered sugar
Instructions
For the Melted Butterscotch Morsels (Which will be added to the batter)
*You will need only 1/2 cup of the melted butterscotch. (There may be about 2 Tablespoons leftover)

Add 1 cup (156g) butterscotch chips and 2 Tablespoons oil to a microwave-safe bowl. Microwave for 20 seconds, remove and let sit for a minute, stir, another 10 seconds, let sit and stir, and a final 10 seconds .
Stir until the chips are completely melted. It may take a bit of stirring. Be careful not to over microwave, the chips can burn easily.
For the Butterscotch Cake
Preheat the oven to 325 degrees
Grease and flour three 8x2 inch round pans, you could also use two 9 inch round pans
In a medium size bowl, whisk the flour, baking powder, baking soda, and salt for 30 seconds. Set aside.
In a measuring cup add the milk, 1 Tablespoon oil and 1 Tablespoon vanilla. Set aside.
In the bowl of your mixer, add the butter and mix at medium speed until smooth. Gradually add the brown sugar and mix for 3 to 5 minutes until well blended and lightened in color.
Mix in 1/2 cup of the melted butterscotch morsels (as described above)
Add the eggs one at a time mixing until the yellow of the yolk disappears.
Alternately add the flour mixture and the milk mixture, beginning and ending with the dry ingredients - 3 additions of dry ingredients and 2 of liquid.
Bake at 325 degrees for 22 - 25 minutes or until a toothpick inserted in the center comes out clean or with just a few crumbs attached. Let cool 5 to 10 minutes and turn out.
For the Butterscotch Cream Filling
Combine the pudding mix and heavy cream in a mixing bowl. I prefer to mix with a hand held mixer, but a whisk is just fine too. If using a mixer, start on low speed until well combined. Then, switch to high speed and whip the pudding until thick and fluffy.
If butterscotch mousse/cream is too thick, mix in small amounts of heavy cream to reach desired consistency.
If mixing by hand, simply whisk rapidly for a couple of minutes or until mixture is nice and thick.
Refrigerate until ready to use. Cakes with this filling should be chilled until close to serving time.
For the Cream Cheese Frosting
Cut the butter into slices and add to the bowl of your mixer, mix on low to medium speed until the butter is softened and smooth.
Cut the cream cheese into pieces and add to the butter, mixing at low to medium speed until incorporated. If you are using a hand mixer, you may need to soften the cream cheese a bit longer.
Add the vanilla. Gradually add the powdered sugar beating on low speed until blended. Don't over mix or it will become too soft. If it becomes too soft, just refrigerate a short while to firm it up a bit.
This frosting is perishable and will need refrigeration.
Assembly of the Butterscotch Cake
Place the first butterscotch cake layer onto your cake base or cake pedestal. Spread with the Butterscotch Cream Filling--
( I did not pipe a dam of frosting around each cake layer (to keep the filling from escaping). The filling is thick enough that I simply spread the filling up to about 1/4-1/2 inch from the edge of each cake layer so that the filling would not escape during the stacking process.)
Frost around the sides of the cake with the cream cheese frosting, and top the cake off with piped butterscotch cream. (I used a french piping tip but any large star piping tip will give you a similar effect!)

Notes
Substitution for cake flour - Measure out 3 cups all purpose flour  (plain flour in UK) remove 6 Tablespoons (21g) and replace with 6 Tablespoons (21g) cornstarch (cornflour in UK) Whisk to blend
I used Canola Oil for the vegetable oil
Recipe makes 6 cups batter
If making standard size cupcakes, Bake at 350 degrees for 18 to 20 minutes
Recommended Products
As an Amazon Associate and member of other affiliate programs, I earn from qualifying purchases.
MY CAKE SCHOOL ONLINE CAKE CLASSES, FAVORITE CAKE RECIPES, AND MORE!
Don't miss our full collection of the BEST cakes and frostings in our Recipes Section! Whether you enjoy baking from scratch or are searching for easy and delicious doctored cake mix recipes, we have something for you!
If you would like to learn more about cake decorating, we have lots of fun and creative cake tutorials in our Free Tutorials Section, which also includes a Free Video Tutorials Section.
Or, for access to our entire library of hundreds of cake decorating video tutorials, you should consider becoming a member of our site! We would love to have you!! You can find the details here: Joining Information for MyCakeSchool.com