Leopard Print Buttercream Cupcakes~ Minute Video!
In this quick "minute video" tutorial, we'll show you how to create beautiful Leopard Print Buttercream Cupcakes! This technique is so fun and cute!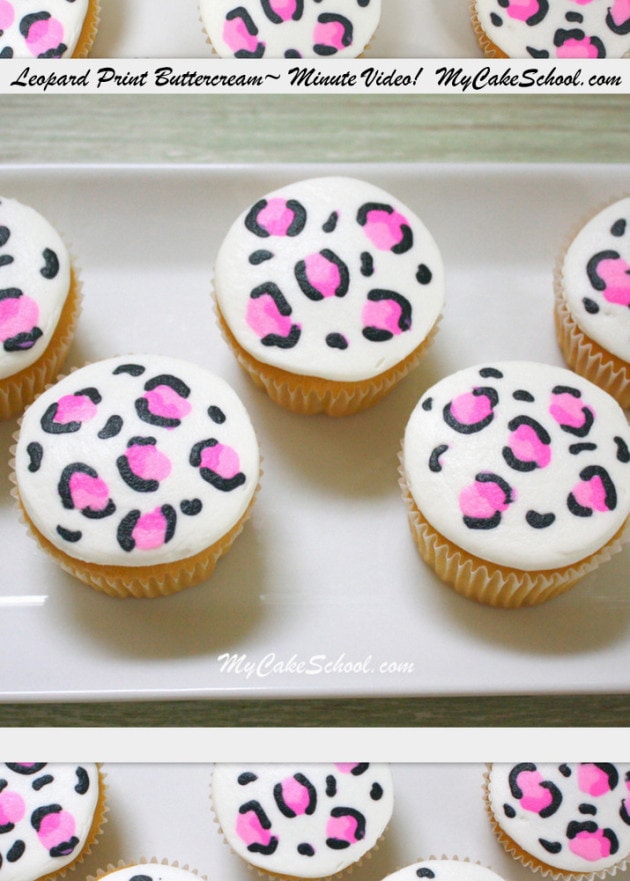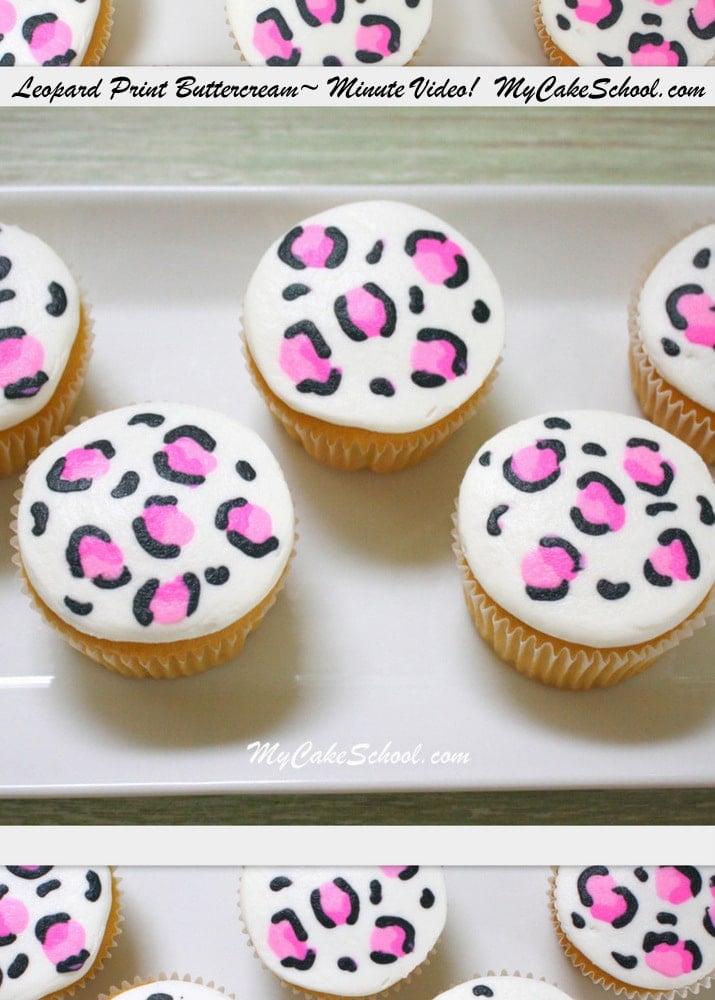 This is a short & sweet video demo of a favorite cake decorating technique of ours. We'll show you how to make leopard buttercream spots with a smooth finish in buttercream (using the Viva Paper Towel method of smoothing).
This technique can be applied to all sorts of different patterns. We first created a leopard print buttercream tutorial in our step by step blog tutorial which you can find here: Buttercream Leopard Print Cupcake Tutorial .
We're happy to now have a video version of the technique to share with you!
What is the Viva Paper Towel Method?
The Viva Paper Towel Method of smoothing buttercream involves using a Viva brand paper towel to give your buttercream a perfectly smooth finish.
I wish I knew who first came up with this method, but it has been around for as long as I have been cake decorating (14 years and counting!) ;0) - As with any method, I've seen the demand for perfectly smooth, fondant-like finishes to buttercream come and go over the years.
However, when you want an ultra smooth finish, the Viva Method is a great technique to have in your bag of tricks.
For this method, simply frost your cake or cupcake in a crusting buttercream frosting, allow it to sit for 10-15 minutes or until it can be lightly touched without removing any frosting, and then gently lay a piece of Viva paper towel on top and lightly rub over it either with your hand or a fondant smoother. That's it!
We have a free video tutorial that goes more in depth on this method of smoothing - find it here: Viva Paper Towel Method of Smoothing Frosting
What is a Crusting Buttercream Frosting?
Crusting buttercream frostings, also known as American Buttercream, are sweet frostings that contain butter and/or vegetable shortening, confectioners sugar, a little salt, and your flavorings and liquid (usually milk) of choice. It pipes beautifully and is a great choice for an easy, delicious frosting.
These frostings develop a slight "crust" once they've been exposed to the air for 10-15 minutes.
Of course, you do not have to smooth your crusting frosting, but for those that are in search of a perfectly smooth look, you can use a Viva paper towel to smooth over your base frostings or designs as in this quick leopard print video!
What Buttercream Frostings are good to use with the Viva Method of Smoothing?
The two buttercream frostings that I use most often are crusting recipes and they work great with this method. The first is our Classic Vanilla Buttercream Recipe. This recipe is an all-butter (no shortening) recipe. It pipes and crusts perfectly.
Next, our Fluffy Vanilla Buttercream- This frosting is similar to our classic recipe, but it contains shortening in addition to butter, making it a little more stable in warmer temperatures.
*We also have a High Ratio Buttercream Frosting recipe which holds up even better in warmer conditions because it contains no butter at all. Instead, it calls for high ratio shortening. You can find the recipe here: High Ratio Frosting
Textured Buttercream Designs
I just want to add that over the years, textured frostings have also increased in popularity. The leopard cupcakes in our video would still look very cute with their freshly piped look (before smoothing).
If you prefer the textured look or if you are working with a non-crusting frosting (like swiss meringue buttercream for instance), you can skip the smoothing method altogether! It's good to have options!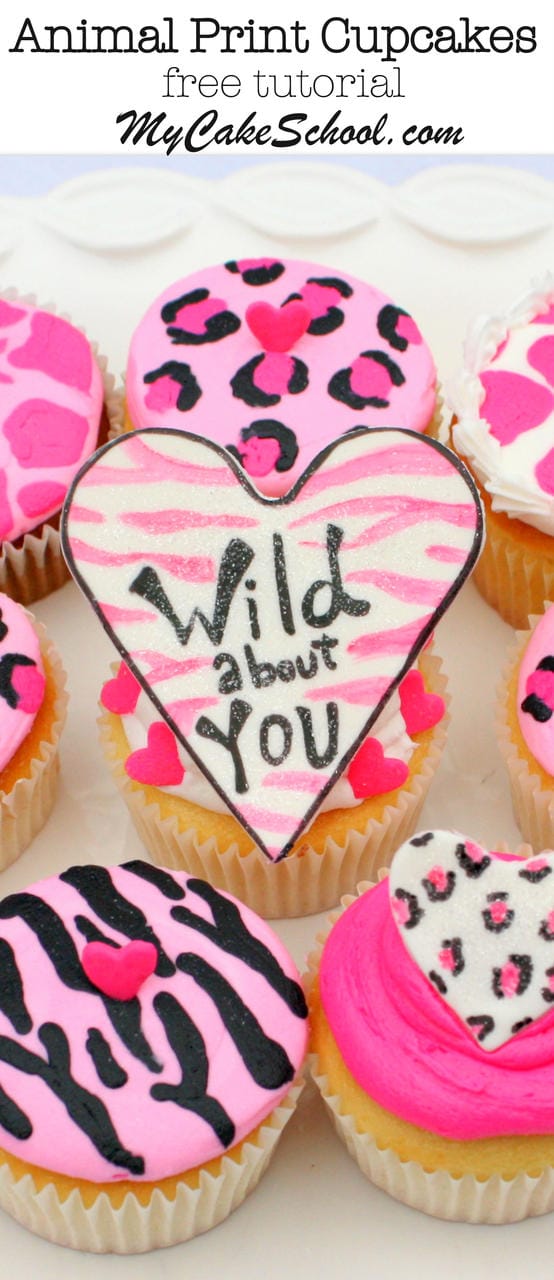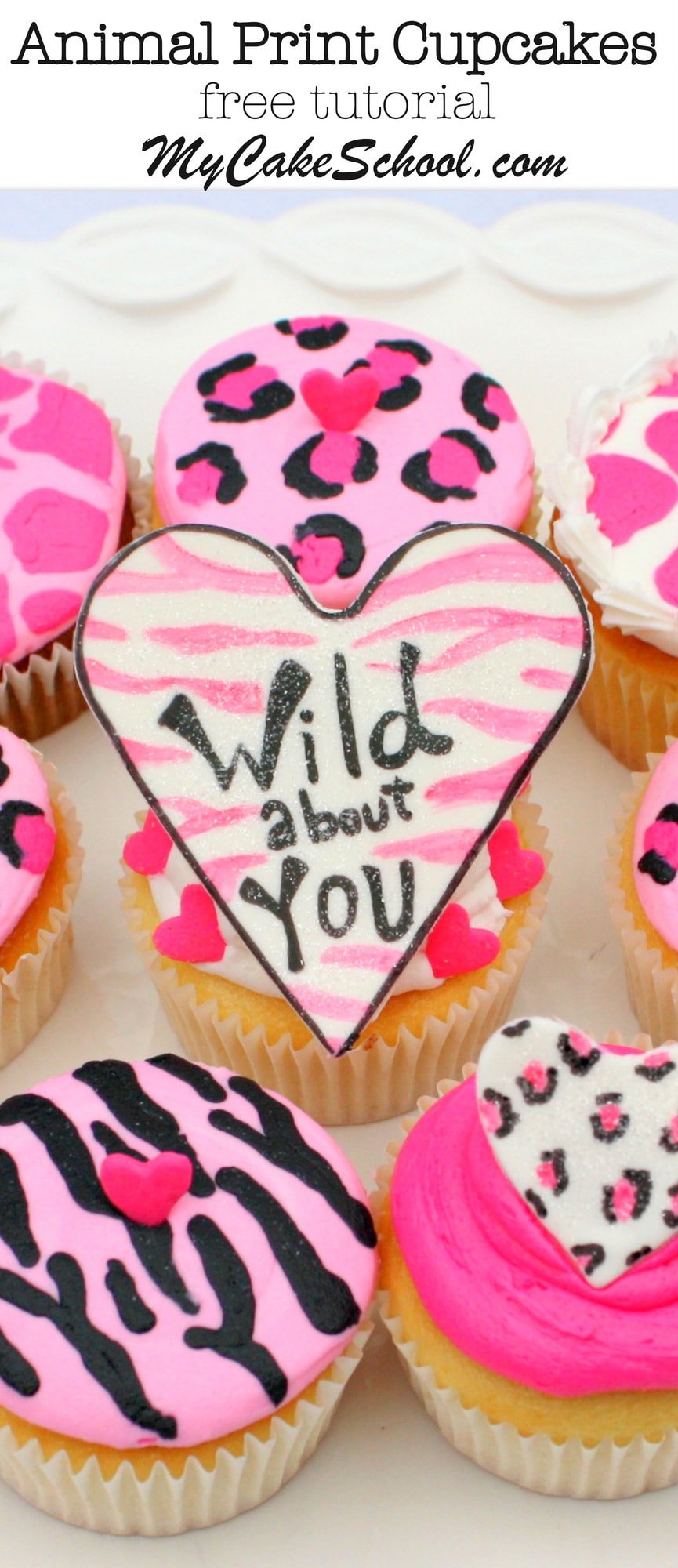 More Leopard Print Cupcakes and Decorations!
For even more animal print fun, don't miss our "Wild About You" Cupcake Blog Tutorial! We'll show you how to create more animal print buttercream designs as well as cute fondant animal print cupcake toppers!
These are great for Valentine's Day safari themes (with a few color changes!) or just to let someone know that you are wild about them! Fun cupcakes are always a good idea. Enjoy!
Also, make sure to check out our Leopard Print Baby Shower Cake which shows how to make Leopard Print Cakes and Cupcakes with a Leopard Pattern on the Inside!!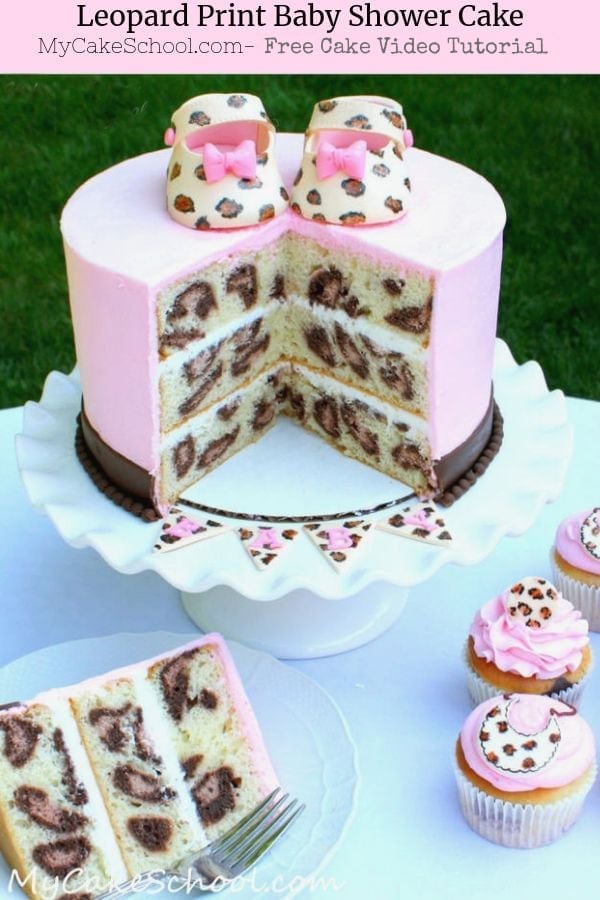 Enjoy the Video!
Thanks so much for stopping by! We hope that you enjoy this super quick video tutorial. Let us know if you have any questions!
Leopard Print Buttercream Cupcakes~ Minute Video!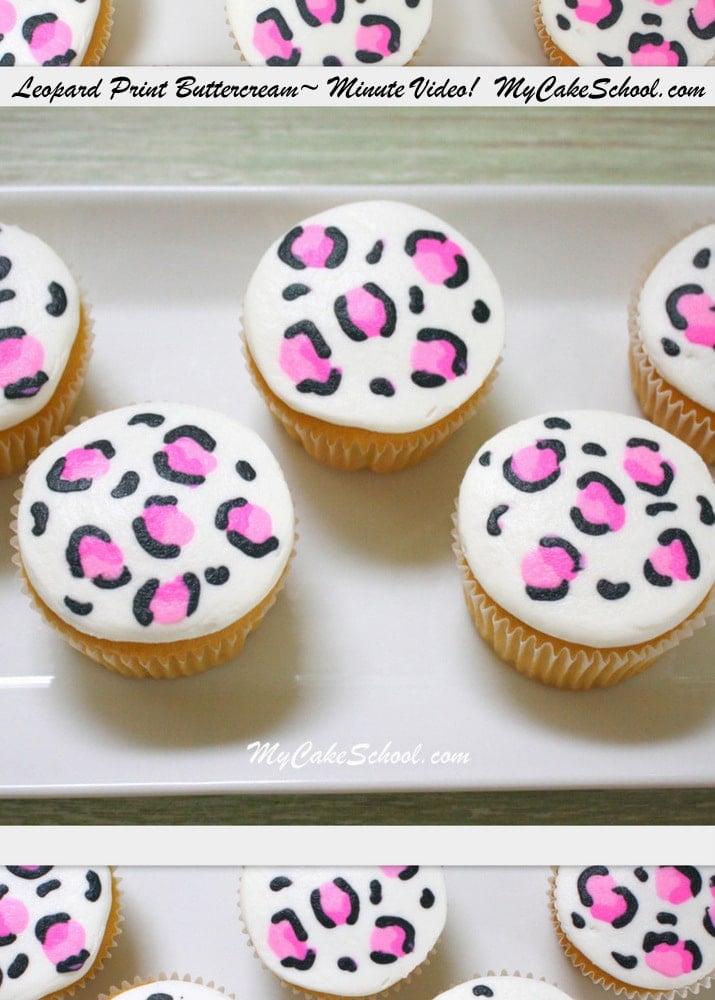 Materials
Cupcakes
A crusting buttercream (like our Fluffy Vanilla Buttercream or Classic Vanilla Buttercream)
Coloring Gels: We used Wilton Rose for both shades of pink, and Americolor Super Black
Viva Paper Towels or any paper towel/napkin that does not have impressions (for smoothing the buttercream)
Piping Tips: We used a Wilton 12 for the base frosting, tip 4 for the pinks, and tip 3 for the black.
Misc: Piping bags, etc.
Instructions
In the demo, I pipe my base frosting of crusting buttercream. (You can use a round tip 10 or 12 to do this, or you can just ship the end off of a disposable piping bag.)
Wait 3-5 minutes until the buttercream has crusted. You know it has crusted if you can lightly touch it without the frosting sticking.
Next, smooth with a Viva paper towel. We use Viva paper towels because they are smooth and do not leave an impression in the frosting.
Next, pipe the buttercream design, allow to crust, and smooth again.
For best results, do not pipe your base coat of frosting onto a cold cake or cupcake if you want the frosting to crust. (It will greatly delay the process.) You'll want to do your piping when the cupcakes are room temperature with this technique.