Hi everybody!  Today we're trying something a little different in the blog~ our first "minute video" for Leopard Print Buttercream Cupcakes!
This is a short & sweet video demo of a favorite decorating technique of ours.  We'll show you how to make leopard buttercream spots with a smooth finish in buttercream (using the Viva Paper Towel method of smoothing).
This technique can be applied to all sorts of different patterns, and this particular method was demonstrated a while back in in a step-by-step photo tutorial which you can find here: Buttercream Leopard Print Cupcake Tutorial .  Enjoy!
Materials:
Cupcakes
A crusting buttercream (Like this one)
Coloring Gels:  We used Wilton Rose for both shades of pink, and Americolor Super Black
Viva Paper Towels or any paper towel/napkin that does not have impressions (for smoothing the buttercream)
Piping Tips: We used a Wilton 12 for the base frosting, tip 4 for the pinks, and tip 3 for the black.
Misc: Piping bags, etc.
Notes:
In the demo, I pipe my base frosting of crusting buttercream, wait 3-5 minutes until crusted, smooth with a Viva paper towel, pipe my design, allow to crust, and smooth again.
Never pipe your base coat of frosting onto a cold cupcake if you want the frosting to crust. (It will greatly delay the process.) You'll want to do your piping when the cupcakes are room temperature.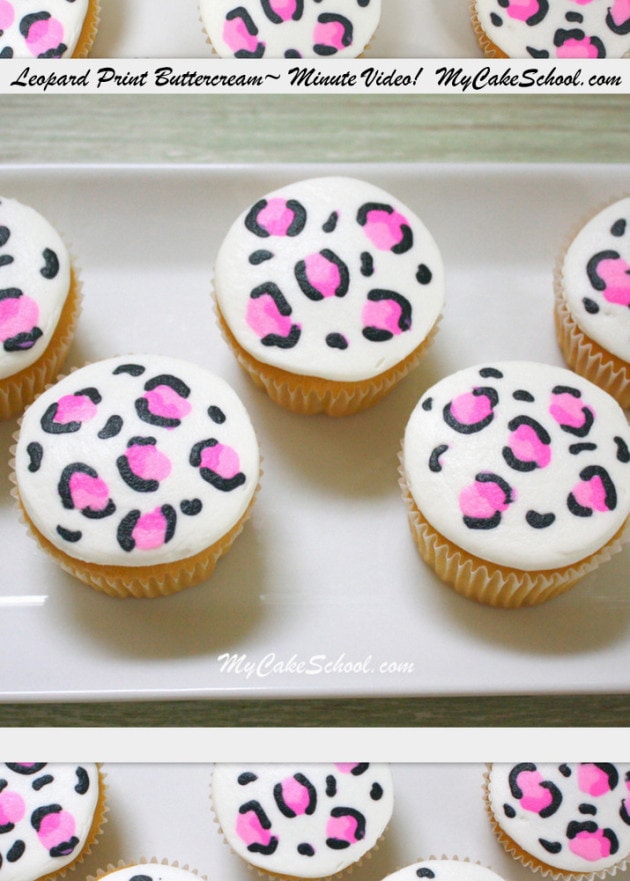 For even more animal print fun, don't miss our "Wild About You" Cupcake Blog Tutorial! We'll show you how to create more animal print buttercream designs as well as cute fondant animal print cupcake toppers!
These are great for Valentine's Day safari themes (with a few color changes!) or just to let someone know that you are wild about them! Fun cupcakes are always a good idea. Enjoy!