Tie Dye Cake Decorating Video
In this tutorial, I'm going to show you how to make a tie dye cake in buttercream!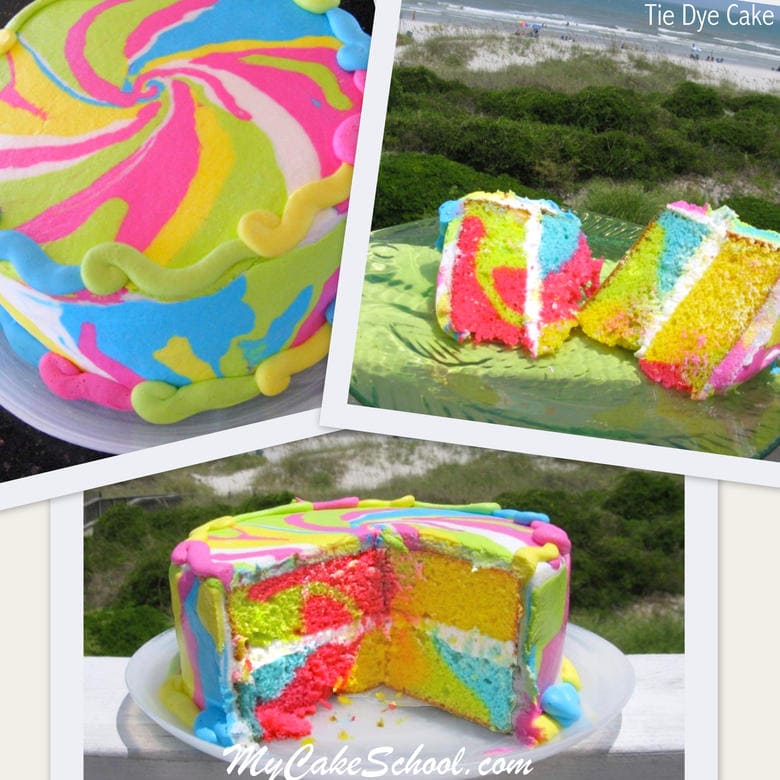 This Tie Dye Cake tutorial is a video that BeBe and I made while on our family beach trip!
The cake was a big hit--my brother-in-law says all of the colors make it taste even better. Ha! I don't know about that, but I do know that that the kids thought it was the coolest ever. Give it a try at your next groooovy party!
A Few Details about the Cake
In this tutorial, you will not only learn how to create a tie dye pattern inside of the cake, but we'll show you how to make tie dye in buttercream, too!
In this video, we made a double batch of white cake mix batter. We used it to make 2 FAT 8" layers & had enough leftover for about 6 cupcakes.
It is also important to use a crusting buttercream frosting (vanilla) if you will be using the Viva Paper Towel Method of smoothing as we demonstrated in the video.
Two great crusting buttercream frostings are our Classic Vanilla Buttercream recipe as well as our Fluffy Vanilla Buttercream recipe. (The Classic recipe uses butter, the Fluffy recipe uses butter & shortening).
Enjoy the Video!
Thanks so much for stopping by. If you give this tie dye cake a try, we would love for you to leave a comment and photo below!