Today I'm going to demonstrate how to create CUTE gum paste baby shoe cake toppers for young birthday and baby shower cakes!
With the simple templates and techniques used in this tutorial, you will be able to make these adorable toppers no matter what your level of cake decorating.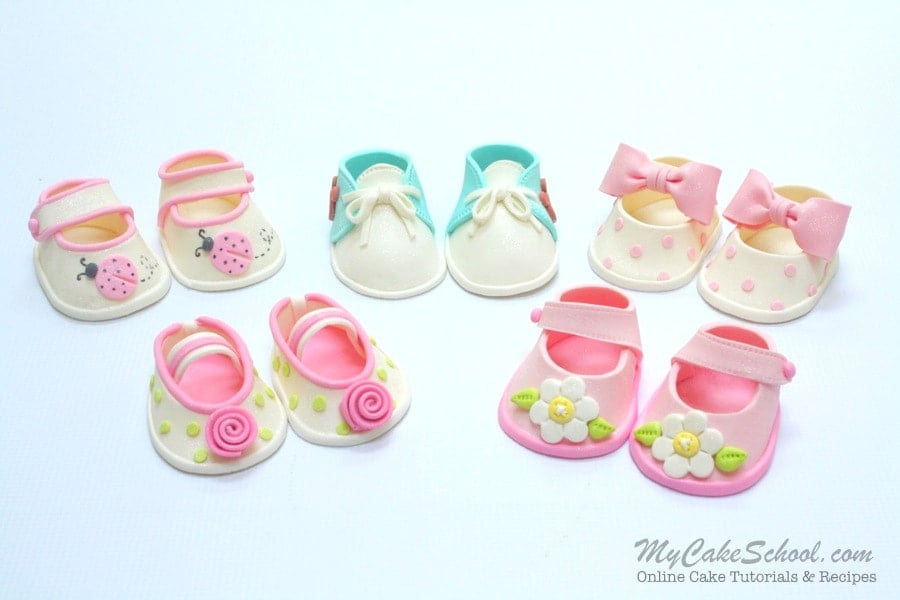 These designs are very versatile, and the colors and details can be changed up to fit all sorts of cake or party themes. Enjoy the videos, and have fun experimenting!
Materials:
Templates Used: Mary Jane Template, Small Bow for Mary Janes, Baby Slipper, Baby Booties (blue & white shoe)
Gum Paste (We like Satin Ice pre-made Gum Paste)
Piping Gel (or your "glue" of choice)
Stitching Wheel- Optional. Mine is Wilton. If you don't have one, you can use a toothpick to create your impressions
FMM Multi Ribbon Cutter- Optional. Helpful for cutting strips of fondant.
Filling of Choice: We used "pillow stuffing" or poly-fiberfill. You can use pieces of paper towel or plastic wrap also.
Clay Extruder- Mine is Makin's Ultimate Clay Extruder (aff). (For trim on baby slippers & the Lady Bug Mary Janes)
Colors used: Americolor Deep Pink, Electric Green, Lemon Yellow, Chocolate Brown (teddy bears on shoes)
Americolor Black Coloring Pen (or your food coloring pen of choice).
Polka dots were made with a Wilton Piping Tip 10 (any similar tip will work)
Fondant/Gum Paste Rolling Pin
Knife or x-acto knife
Notes:
As I mention in the video, it's best to make the shoes 1-2 days in advance. Mine were often dry after sitting out overnight, but dry times can vary depending on humidity levels, the brand of gum paste, etc. It's best to allow more time than you think you'll need, especially if you are new to gum paste.
Gum paste dries fairly quickly. While you are working on one shoe, it's a good idea to cover the other gum paste pieces with plastic wrap or a mat so that it will not become too dry.
Part One: Learn how to make baby slipper shoes and baby booties! (templates listed below)
Part Two: Learn how to make three styles of Mary Janes! (template listed below)