Today we are going to show you how to make meringues for a uniquely elegant cake design which features beautiful, simple meringue roses!
Not only are these meringue cookies very simple to whip up, but they are perfect for making beautiful, edible cake decorations which can also easily be made in advance and stored.
These meringues are light, sweet, and I love the slightly puffed, matte appearance that they take on white baking. They are so lightweight that they can be used on the side of fondant or buttercream cakes without worry.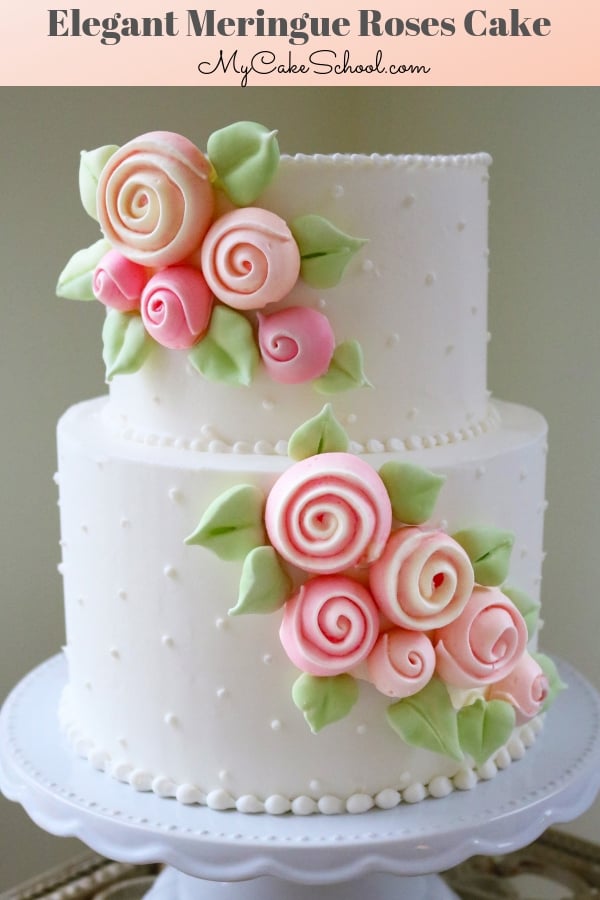 Materials:
(Our tiered cake is an 8 inch tier with a 6 inch tier stacked on top of it. Each tier is on it's own cardboard cake circle cut to the size of the cake, and the top tier is supported from beneath with 4 bubble tea straws cut to the height of the bottom tier.)
Recipe for Meringues (see below)
Crusting Vanilla Buttercream Frosting (I haven't attempted this design with a non-crusting recipe) – We used our Fluffy Vanilla Buttercream, but our Classic Vanilla recipe or High Ratio frosting would also be a good choice.
Piping Tips: Large Bead Border: Tip 8, Small Bead Border & Dots: Tip 4. Roses are piped from a Tip 125. Leaves are Wilton Tip 366.
Coloring Gels: We used Americolor Deep Pink (in varying amounts depending on desired shade), Wilton Leaf Green
Parchment Paper
Cookie Sheet
Rose Nail, Parchment cut into squares
Disposable Piping Bags
Meringues Recipe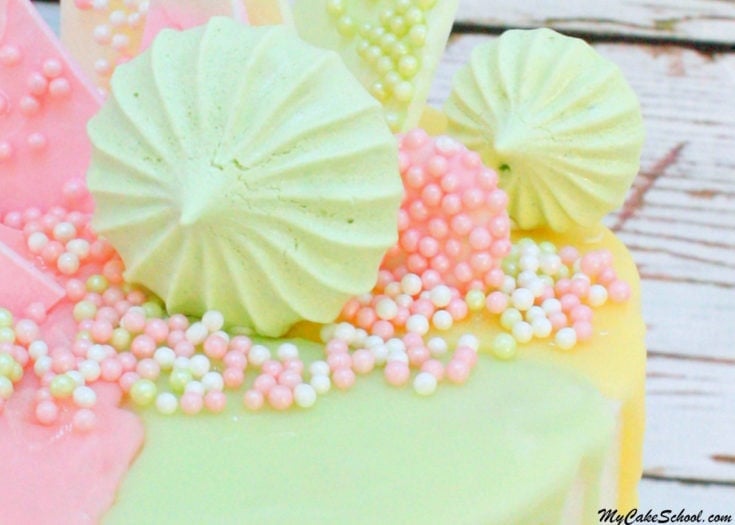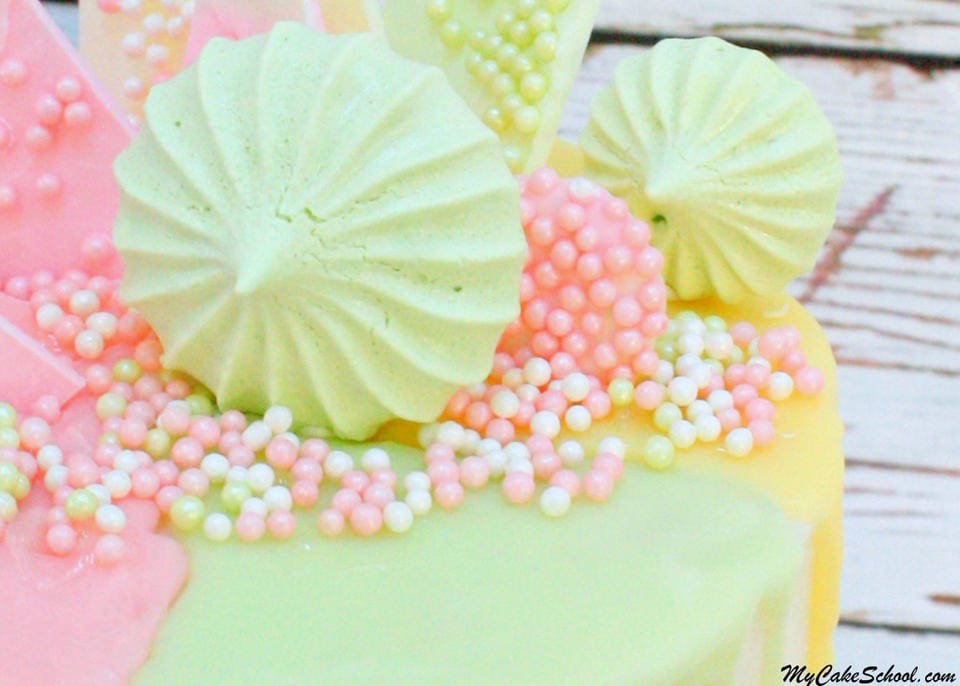 These Meringue Cookies are delightfully light and sweet, and make the cutest decorations for cakes and cupcakes!
Ingredients
4 egg whites
Pinch of salt (we used popcorn salt because it is finer)
¾ cup super fine sugar - if you do not have this you can make your own by processing granulated sugar in a food processor or bullet blender.
½ teaspoon (2g) clear vanilla (real vanilla will change the color)
1 cup powdered sugar, sifted
Coloring gel, optional
Instructions
You'll want to use the lowest rack position in your oven. Preheat to 175 degrees F
Line baking sheet with parchment paper.
It is very important that your mixing bowl & whisk attachment/beaters are completely clean & free of grease so that the egg whites whip up properly.
In your mixing bowl, beat the egg whites & salt at medium-high speed (using whisk attachment) until foamy and soft peaks form (about 50 seconds).
Gradually add the super fine sugar and vanilla while mixing at medium speed. Follow with the powdered sugar (reduce speed as needed to prevent a cloud of powdered sugar!). Return to medium high speed until stiff peaks form. ***See Notes section below
If you wish to tint your meringues, gently fold in your color.
Pipe the desired shapes onto parchment-lined cookie sheet.
Bake for 2 hours (lower rack of the oven) or until meringues are dry and easily moved. Turn oven off but leave the pan in the oven for an additional hour to cool.
Once they are completely cooled, store in an airtight container away from strong lighting or sunlight. Light could cause the colored meringues to fade.
Meringues can be kept at room temperature in an airtight container for 3 weeks, or longer in the freezer.
Notes
***In our Meringue Roses video tutorial, we folded in the powdered sugar after stiff peaks formed. We have since changed the recipe slightly to add the powdered sugar soon after adding the superfine sugar. Then beat until stiff peaks form. Although both methods will give great results, the updated method helps reduce the chance of deflating the meringue. (You can see this updated version in our Monster Meringues free video tutorial).