Tiramisu layer cake with it's flavors of vanilla, espresso, mascarpone, and a hint of Kahlua & cocoa is a new favorite at our house for special occasions!
We're not making tiramisu today, but instead a heavenly tiramisu-inspired layer cake which incorporates the flavors that we love in this popular dessert.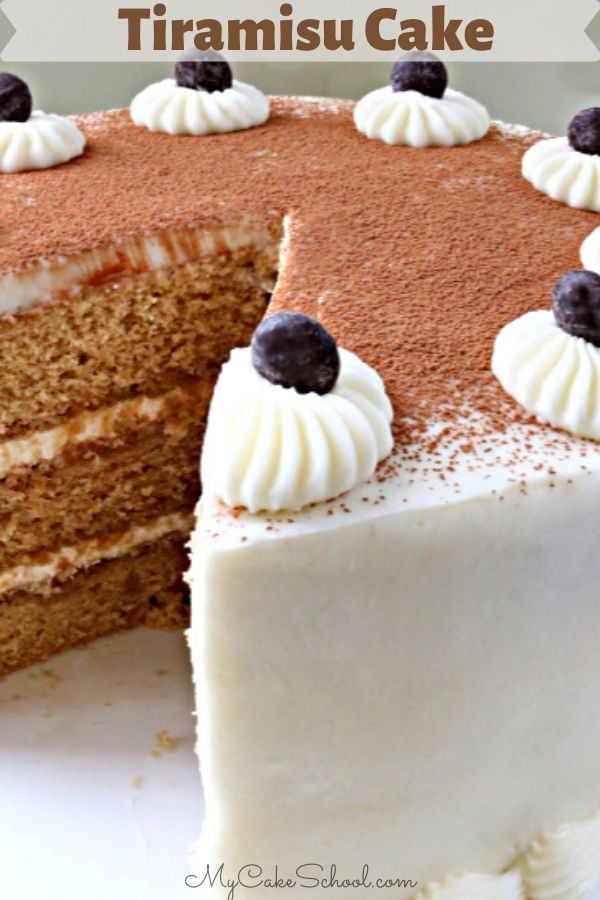 What is Tiramisu?
Tiramisu (which translates to "pick me up" or "cheer me up" in Italian) is true to it's name–it does cheer everyone right up with it's amazing flavor.
More specifically, this dessert which was first invented at an Italian restaurant in the 1960s consists of coffee-soaked ladyfingers layered with a sweetened mascarpone filling and a hint of cocoa.
Many versions of the recipe call for liqueur as well. The result is a delightfully creamy, indulgent dessert that is sure to make any occasion feel more special.
How to Make the BEST Tiramisu Layer Cake
This cake, while different than actual tiramisu, has all of the fantastic flavors– espresso, mascarpone, a hint of Kahlua, and a dusting of cocoa.
This cake has SO much flavor, we have fallen in love with it! As someone who lives for all things coffee, it truly is a new favorite.
Our cake layers are based on our Vanilla Bean Cake Recipe, but we substituted vanilla extract for the vanilla bean paste (just for convenience) and added espresso to the batter.
The baked layers have a coffee flavor that is unmistakable–I love the recipe just as it is written (but if you prefer a milder coffee flavor, you can adjust to your liking)!
After baking the three cake layers, we created small holes into the layers with a skewer before brushing with a slightly sweetened mixture of Kahlua and espresso.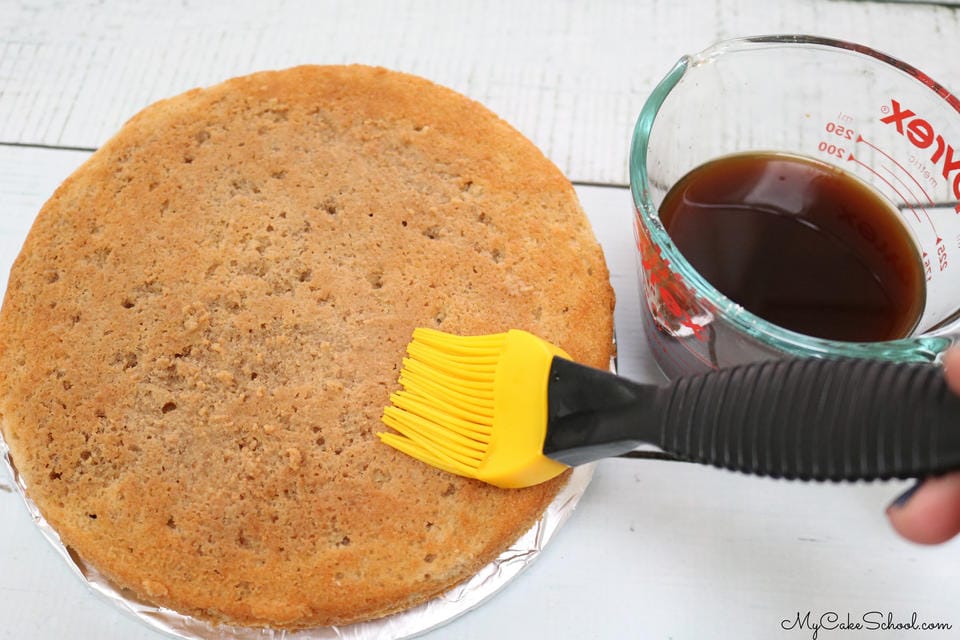 We filled and later frosted the layers in a luscious whipped Mascarpone frosting.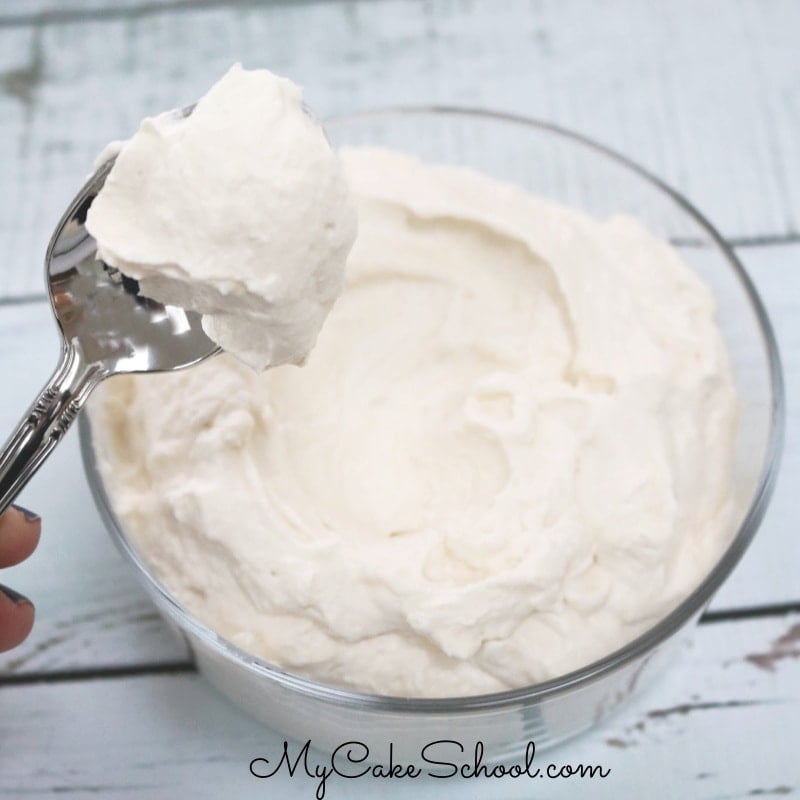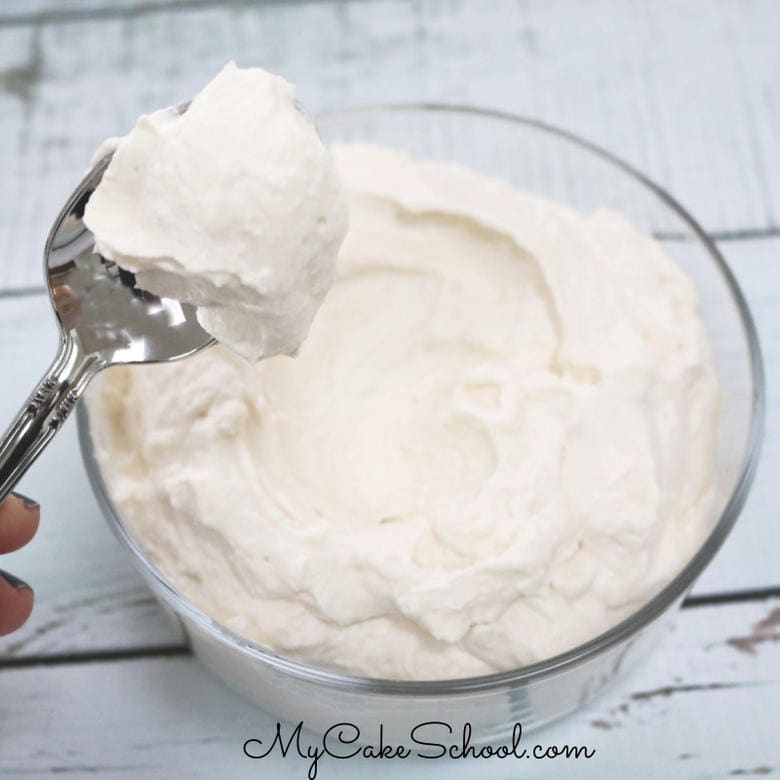 As a final touch we dusted the top with cocoa (tapping it through a small sifter) and added a simple shell border, french tip stars around the top, and a few chocolate chip accents.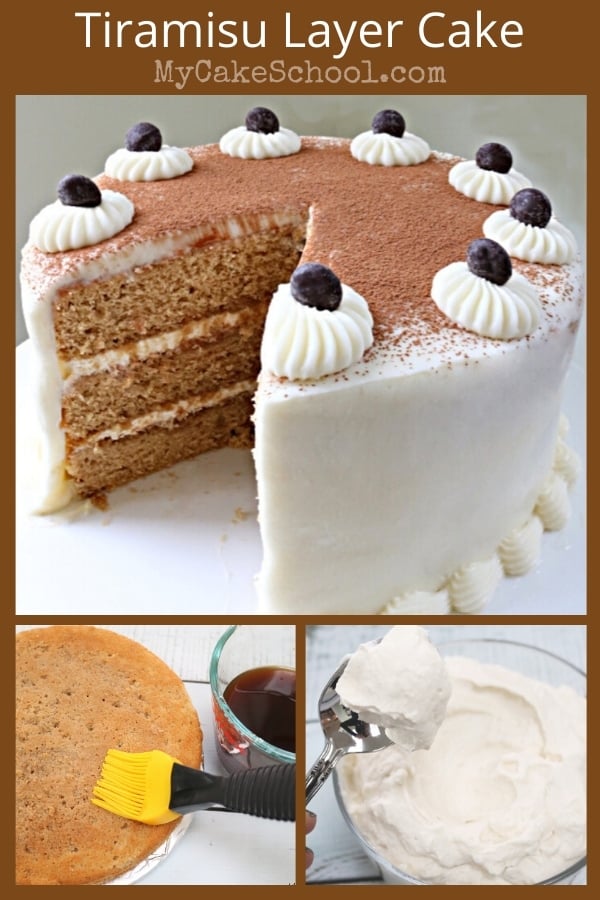 What is Mascarpone Cheese? Can Cream Cheese be substituted?
Mascarpone is an Italian cheese, made by curdling milk cream with citric acid. The end result is a thick, creamy cheese with a high fat content.
It is used in both sweet and savory dishes, and in our case, we sweetened the mascarpone filling & frosting, making it almost impossible not to dive right in (completely delicious). It is the perfect complement to the espresso cake layers. Mmmmm….
The Difference between Cream Cheese and Mascarpone: For this recipe, cream cheese is a completely acceptable option to use as a substitute for the mascarpone in the filling.
Mascarpone is often referred to as Italian Cream Cheese, but it does have a higher fat content, making it creamier and richer than regular cream cheese. Cream cheese also has a bit more tanginess.
Since mascarpone may not always be available at your local grocery store, cream cheese is a common substitution.
*We have another Italian-inspired cake recipe that contains a mascarpone filling– our Cannoli Cake! Make sure to check it out too! Cannoli Cake Recipe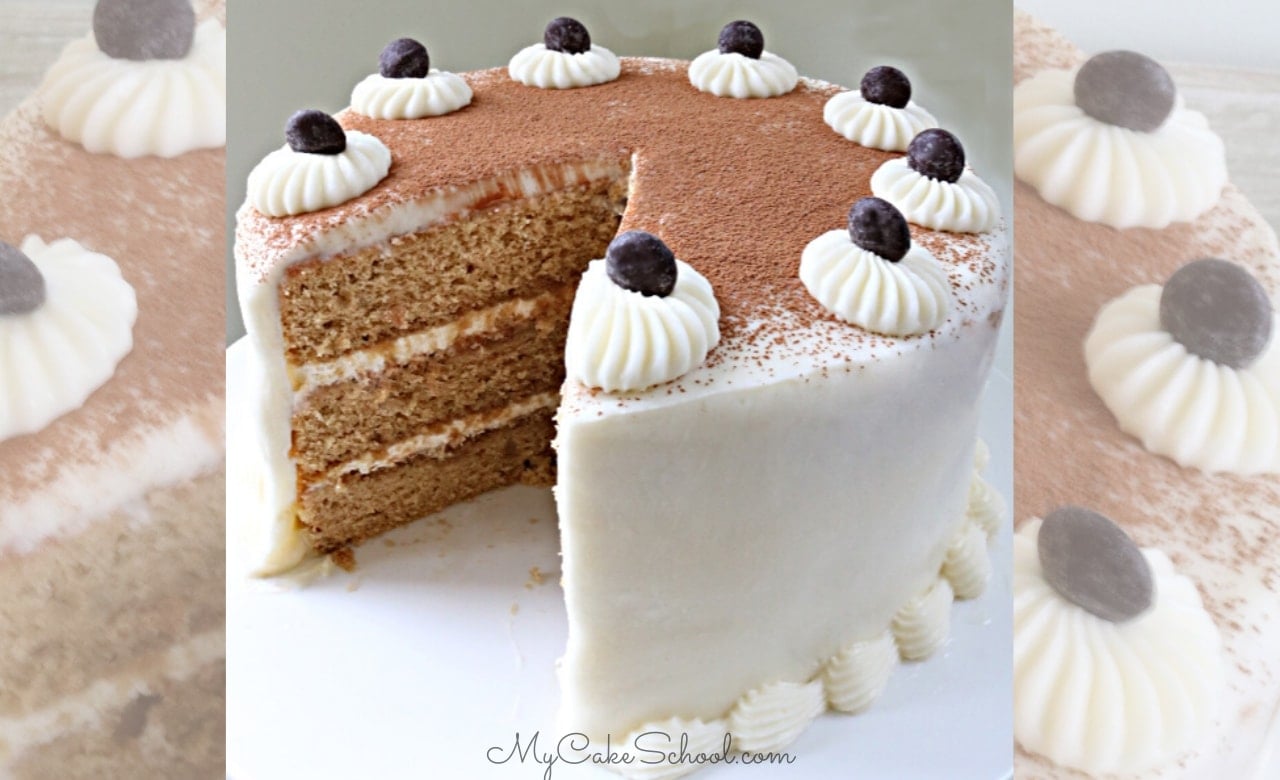 Love Cakes with Coffee or Espresso? So Do We! Don't Miss these Favorites:
Chocolate Version of Tiramisu Layer Cake
If you love chocolate, we have a Chocolate Tiramisu Layer Cake for you too! Light chocolate cake layers are brushed with espresso and Kahlua, and frosted with whipped chocolate espresso mascarpone frosting. You can find it here!: Chocolate Tiramisu Cake
Enjoy the recipe!
Tiramisu Layer Cake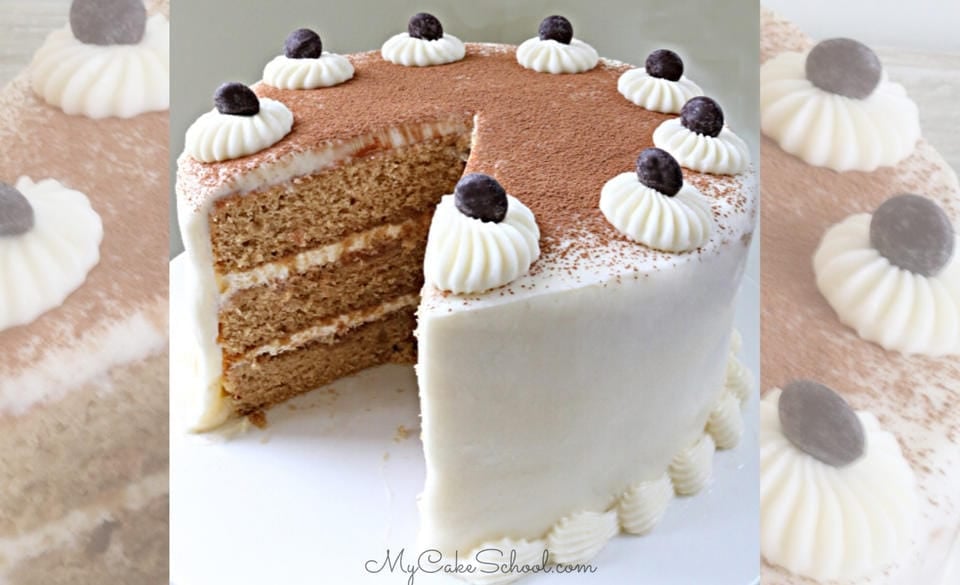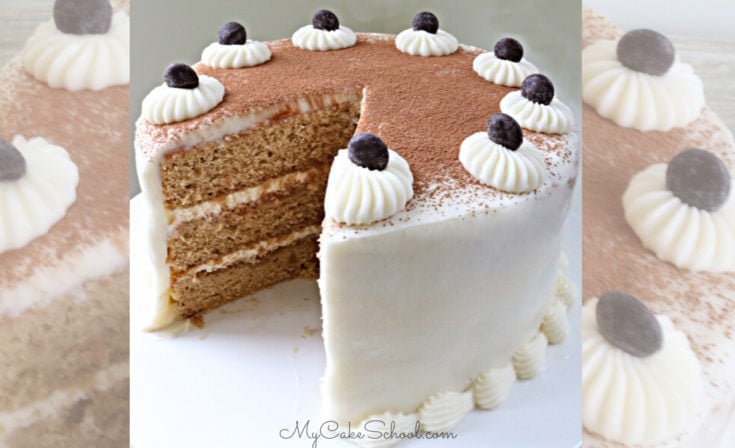 Inspired by the popular Italian dessert, this Tiramisu Layer Cake is a heavenly combination of espresso, mascarpone, and a hint of Kahlua.
Ingredients
For the Espresso Cake Layers
2 Sticks (226 g) unsalted butter, slightly softened
2 cups (400 g) sugar
3 large eggs, room temperature (you can add eggs to very warm water, to bring to room temp)
1 cup (242 g) sour cream (we use full fat)
1/3 cup (81g) milk (we use whole milk)
3 teaspoons Vanilla Extract
3 cups (342 g) cake flour (plain in the UK) *See substitution below
3 teaspoons (12g) baking powder
1/2 teaspoon (4g) salt
2 Tablespoons Instant Espresso (6g) (you can substitute instant coffee)
For the Coffee Syrup
1 cup (242g) hot espresso coffee or strong coffee (brewed or instant)
2 Tablespoons Kahlua (optional)
2 Tablespoons powdered sugar
For the Whipped Mascarpone Filling and Frosting
2 (8 ounce) containers of mascarpone, softened (or the same amount of cream cheese)
2 cups (464g) heavy cream, whipped to stiff peak stage.
1/4 cup (58g) heavy cream ( to dissolve the instant espresso)
2 cups (230g) powdered sugar (measure then sift)
1 Tablespoon (9g) vanilla extract
1 Tablespoon (3g) instant espresso granules
Final Touches/Decorative
Cocoa powder to tap through sifter over the top of the cake
Chocolate Chips (optional) - We used Ghirardelli dark chocolate chips for accents
Tip 21 (for bottom border), 8B french tip for stars around the top.
Instructions
For the Espresso Cake Layers
Preheat the oven to 350 degrees, grease and flour three 8 inch x 2 inch round cake pans.
In a medium sized bowl, add the flour, baking powder, and salt. Whisk to blend for 30 seconds. Set aside.
In another bowl or measuring cup, combine the sour cream, milk, instant espresso granules, and vanilla.
In the bowl of your mixer, beat the softened butter until smooth. Gradually add the sugar and beat on medium speed for 3-5 minutes until fluffy and lightened in color.
Add the eggs one at a time, mixing until the yellow of the yolk disappears.
Add the flour mixture and the sour cream mixture alternately, beginning and ending with the flour mixture (3 additions of dry ingredients, 2 of wet).
Mix until combined and smooth, do not mix above medium speed or over-mix.
Bake at 350 degrees for 25-28 minutes or until a toothpick inserted into the center comes out clean or with just a few crumbs attached. Let the cakes cool 5-10 minutes, then turn out.
Makes 7 cups batter. The recipe works well for cupcakes.
For the Coffee Syrup
Mix coffee, Kahlua and powdered sugar and set aside to cool.
For the Whipped Mascarpone Filling and Frosting
First, Place a bowl and the whisk attachment or beaters if using a hand mixer in the freezer about 10 minutes. This will help in whipping the heavy cream.
Dissolve the espresso powder in 1/4 cup heavy cream.
In the bowl of your mixer, add the softened mascarpone, powdered sugar, vanilla and dissolved espresso powder. Cover the bowl with a towel to avoid a cloud of powdered sugar.
Begin mixing on low speed gradually increasing the speed to medium until the mixture is combined and smooth. Set this aside while you whip the heavy cream to stiff peak stage. Stiff peak stage is when you raise the beater, the cream will form a peak standing straight up or the tip will curl over only slightly. Be careful not to over beat.
Fold the whipped cream into the mascarpone mixture.
Assembly of Cake
Place espresso cake layer on the pedestal or cake base
Brush espresso syrup over the cake layer.
Apply Mascarpone filling (staying about 1/4 inch from the edge of the cake layer.
Repeat for the other layers
If settling the cake, wrap the tier in plastic wrap and place a pan or book on top while chilling the cake in the refrigerator for a few hours. Frosting needs to be refrigerated as well.
When ready to decorate, crumb coat the cake with a thin layer of mascarpone frosting and follow with the final coat of frosting.
Dust the top with cocoa (we tapped it through a sifter). Add border and piping around the top to your liking. (We used an 8B star tip for the top, and a tip 21 for the shell border around the base. We also topped each piped star with a Ghirardelli dark chocolate chip (I like these because they are a little larger & flatter than most chocolate chips).
My Cake School Cake Recipes, Tutorials, and More!
We hope that you enjoy the recipe! If you give it a try, please leave a comment or photo below. Don't miss our full collection of the BEST Cake and Frosting Recipes in our Recipes Section!
If you're interested in having full online access to every cake video tutorial we've made, you should consider joining our site!
We've made hundreds of cake decorating tutorials over the years! Hop over for more details: Membership Details
For non-members, we also have a Free Cake Tutorials section as well as our collection of Favorite Cake & Frosting Recipes! There is truly something for everybody. Enjoy!