Coffee Toffee Ice Cream Cake
If you like chocolate, coffee, and toffee, you are going to fall in love with this easy and delicious Coffee Toffee Ice Cream Cake!
Although it looks impressive, this recipe could be any easier-- you just the need the ability to soften ice cream (and the patience & will power not to eat the ice cream as it softens). ;0)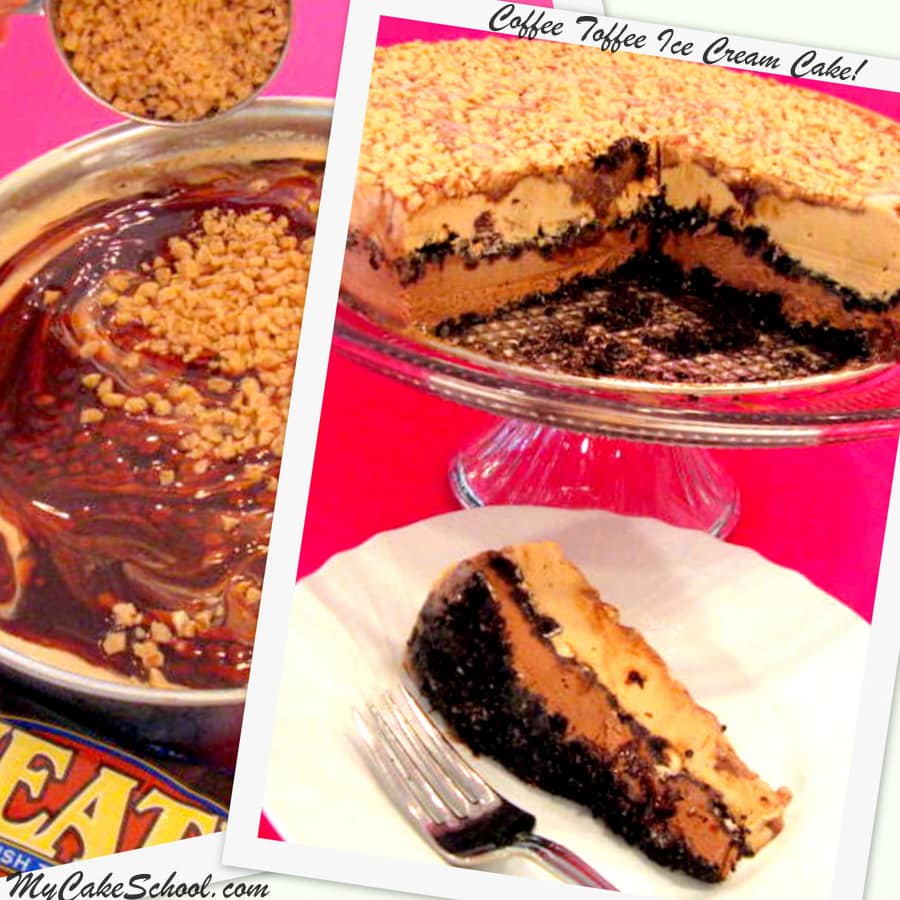 This Coffee Toffee Ice Cream Cake has been a favorite dessert of ours for YEARS. The recipe is waiting for you at the end of the post-- and for the sake of your family and friends, you must Print it Out!! But first, let me persuade you with pictures...
How to Make Easy Coffee Toffee Ice Cream Cake
First, fourteen crushed Oreos make a simple crust. Here I am, sprinkling cookie crumbs into my trust spring form pan.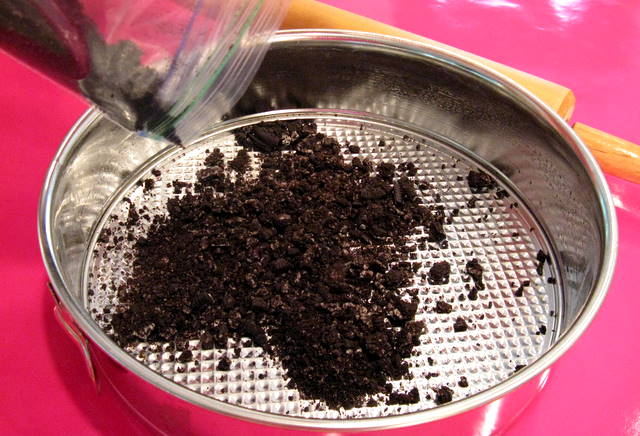 Next, I topped the crushed Oreos with a 1.5 quart (48oz) container of softened chocolate ice cream. Yum!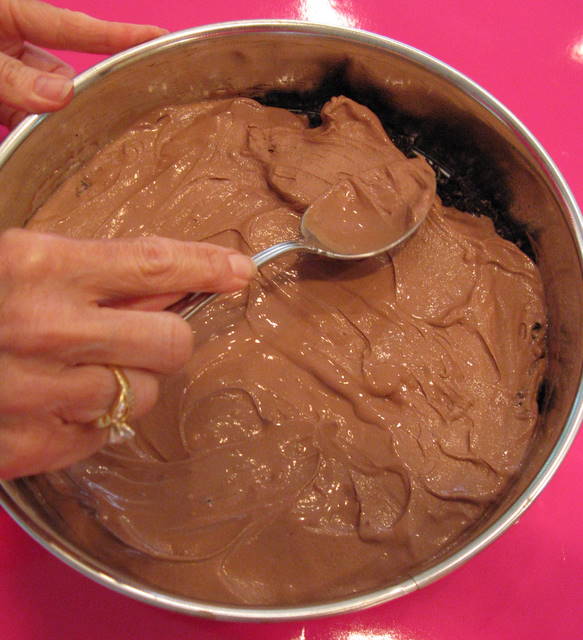 Next, drizzle with 3 oz. chocolate syrup!
Next I added fourteen more crushed Oreos & ½ cup toffee bits! (You can find Heath toffee bits on the baking aisle next to the chocolate chips, etc.)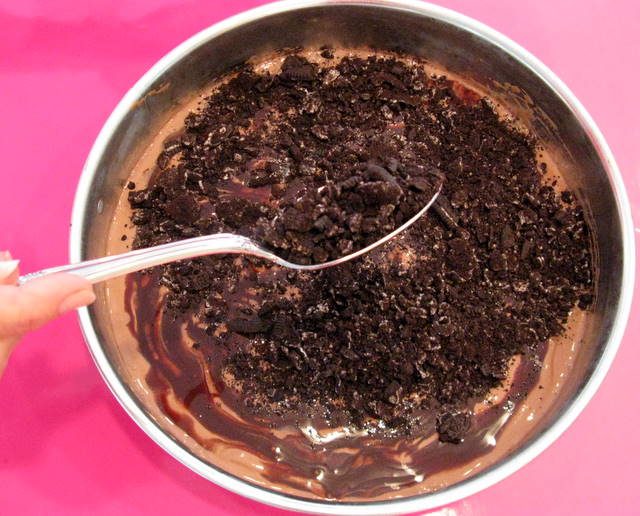 Now pop this in the freezer while your coffee ice cream becomes a nice, soft consistency. When it's ready, remove the pan from the freezer and spread a half gallon of softened coffee ice cream into the pan.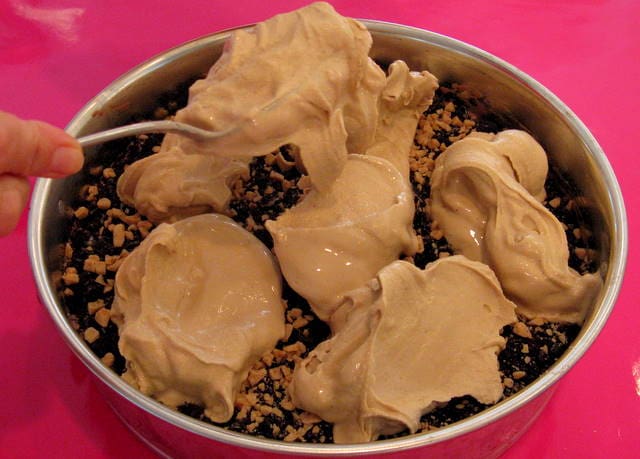 More syrup.....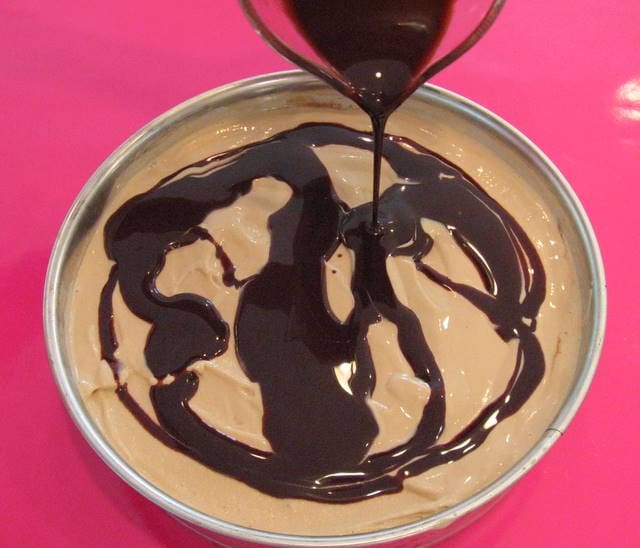 More toffee...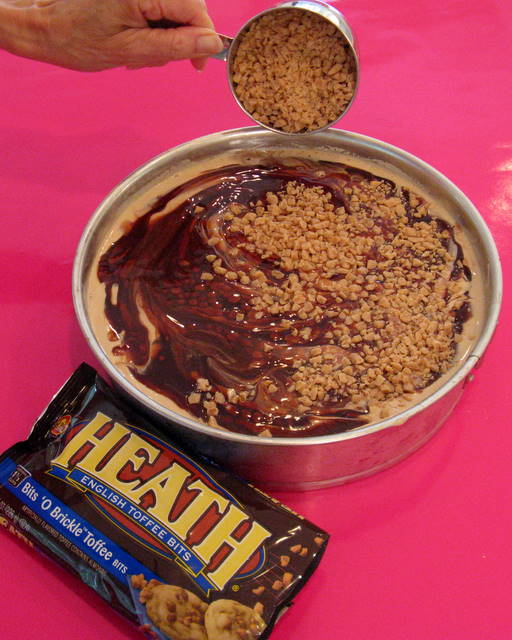 Now, wrap with foil & FREEZE, FREEZE, FREEZE....overnight.
The next day, when it's almost time to serve, remove the cake from the freezer and look at the beauty that you have created!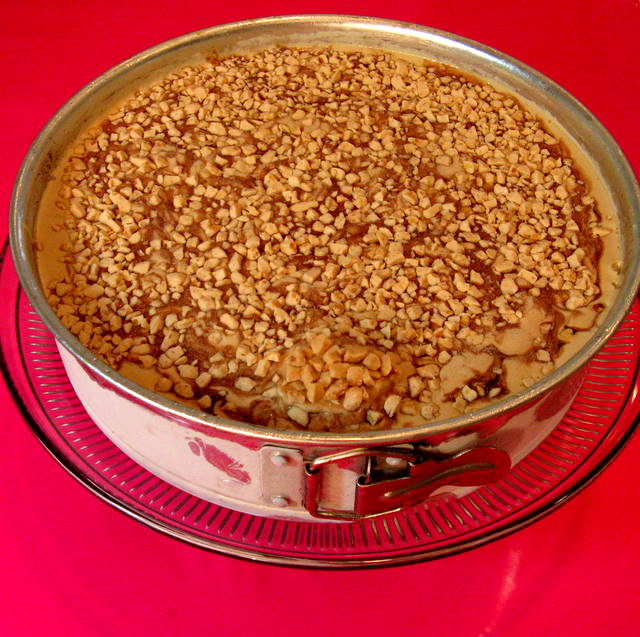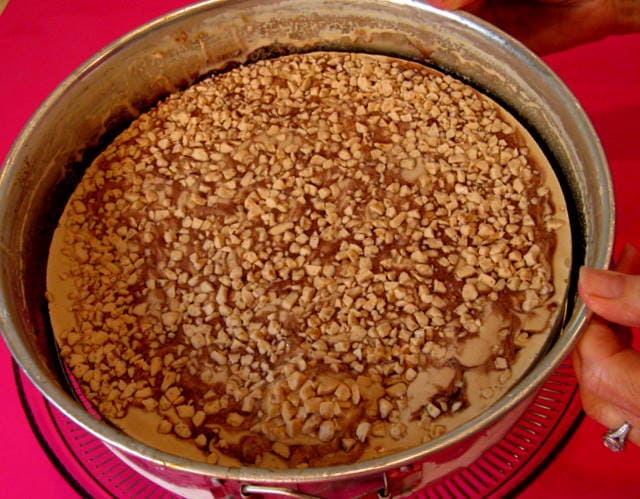 Wrapping a dish towel dampened with hot water around your spring form pan for a few minutes will ensure an easy release!

And we're done!! Look at what you can do with 5 ingredients! This ice cream cake is every bit as good as you think!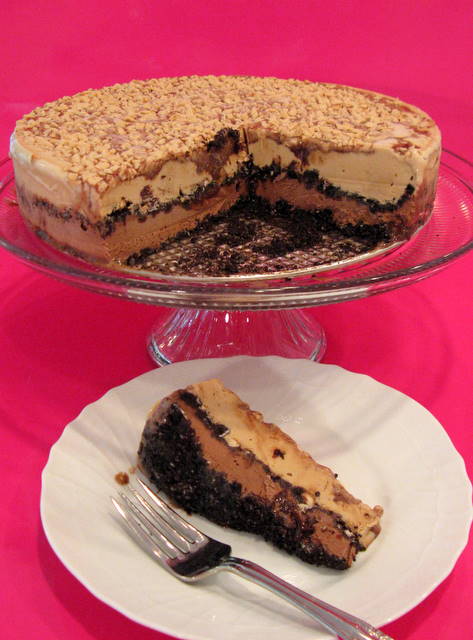 Please, try this recipe for your dessert-loving friends and family. They'll never suspect how easy it is...and that's just the way we like it!
Coffee Toffee Ice Cream Cake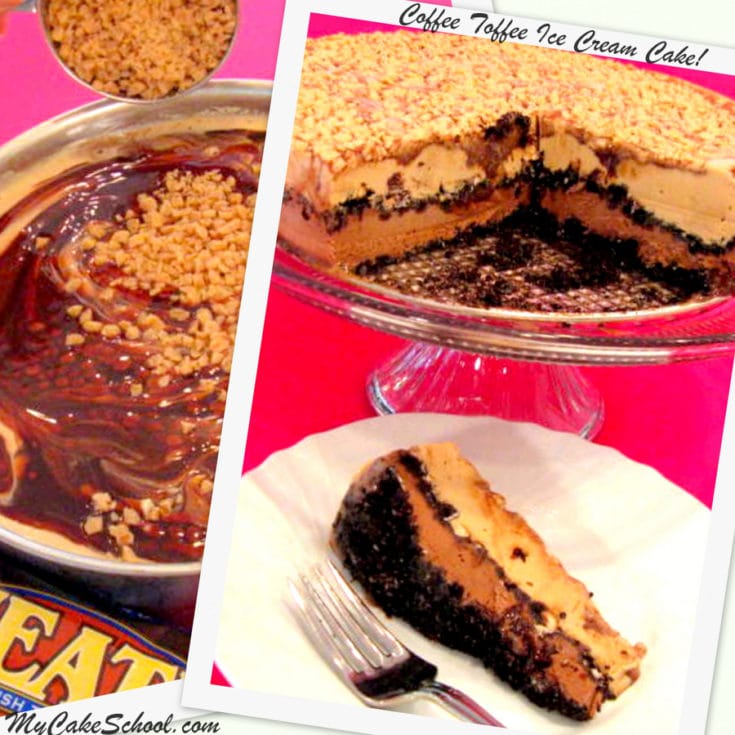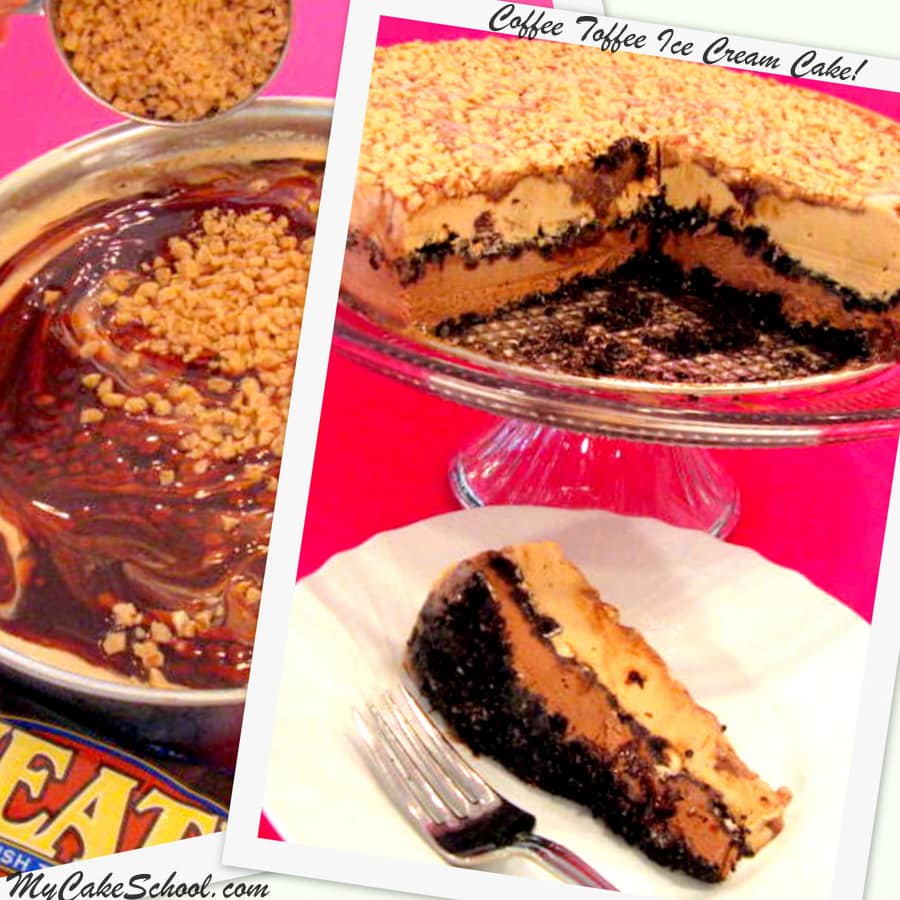 This easy ice cream cake is so easy and delicious- the perfect combination of flavors!
Ingredients
1 container (1.5 quarts 48 oz) coffee flavored ice cream
1 container (1.5 quarts 48 oz) chocolate ice cream
28 Oreos (divided and crushed)
1 cup toffee bits (I used Heath Bits O'Brickle Toffee Bits)
6 oz Hershey's chocolate syrup
8 or 9 inch spring form pan — (I like to use a spring form pan for a prettier presentation)
Instructions
Lightly oil the bottom and sides of your spring form pan with cooking oil or spray.
Separate Oreos into 2 zip lock bags. 14 cookies in each bag, and crush, crush, crush with a rolling pin.
Empty contents of ONE of your ziplock bags into the pan, pressing the crushed oreos to cover the bottom.
Spread softened CHOCOLATE ice cream over the crushed Oreos. I usually scoop my ice cream into a bowl (rather than thawing in the carton) & mash around so that it all softens at the same rate. We're not melting…just softening to a spreadable consistency. ****Spreading with a hot metal spoon makes it even easier to spread.
Drizzle 3 ounces of chocolate syrup over the chocolate ice cream, then top with the 2nd bag of 14 crushed Oreos, and ½ cup toffee bits. Place in the freezer to allow to firm up a while you soften your coffee ice cream.
Next, spread your softened coffee ice cream into the pan.
Drizzle with 3 more oz. of chocolate syrup, and the remaining ½ cup of toffee bits. Wrap pan with foil and freeze OVERNIGHT.
Release from spring form pan. You can help this along by wrapping a dish towel that has been dampened with hot water around the pan for a few seconds before releasing. Serves 20 to 25.
Thanks for stopping by! Don't miss our other favorite dessert recipes in our Recipes section!