Today I'm sharing a deliciously moist Chocolate Chip Cake Recipe from scratch. This homemade cake recipe has all of the flavor that you love in a chocolate chip cookie!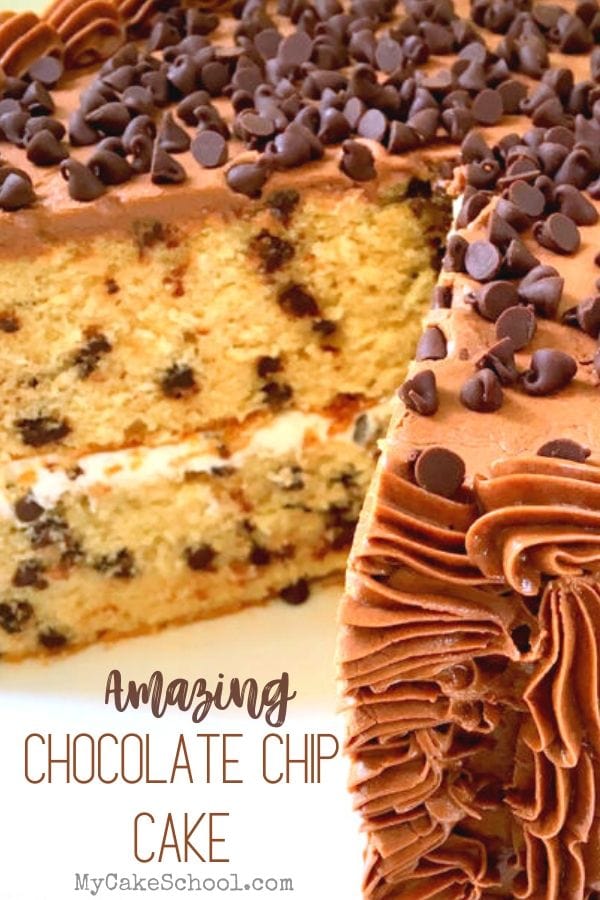 In the past, I've always made chocolate chip cakes by adding chocolate chips to my favorite yellow or white cake recipes. There's nothing wrong with going this route because most things taste even better with some chocolate chips thrown in, but THIS recipe takes the chocolate chip cookie flavor to a new level!
What makes this Chocolate Chip Cake Great? The brown sugar!
The brown sugar, in addition to the amazing flavor combination of butter, vanilla, and chocolate chips gives this cake all of the familiar deliciousness that we love in a chocolate chip cookie!
This recipe is the first chocolate chip cake that I've tried that contains brown sugar and it really makes a difference!
Brown sugar not only adds wonderful flavor to the cake recipe, but it also makes for a cake that is even more moist and tender.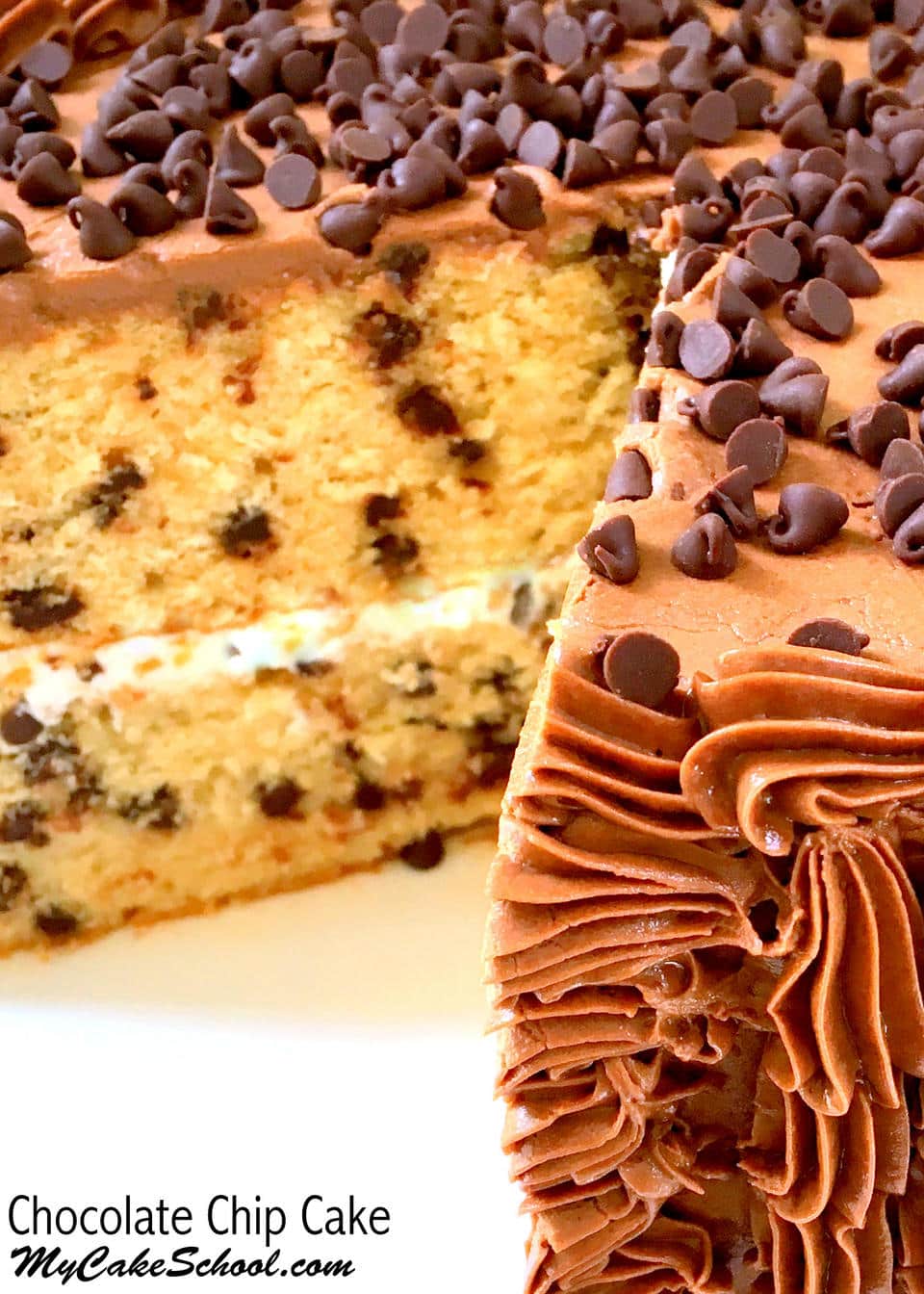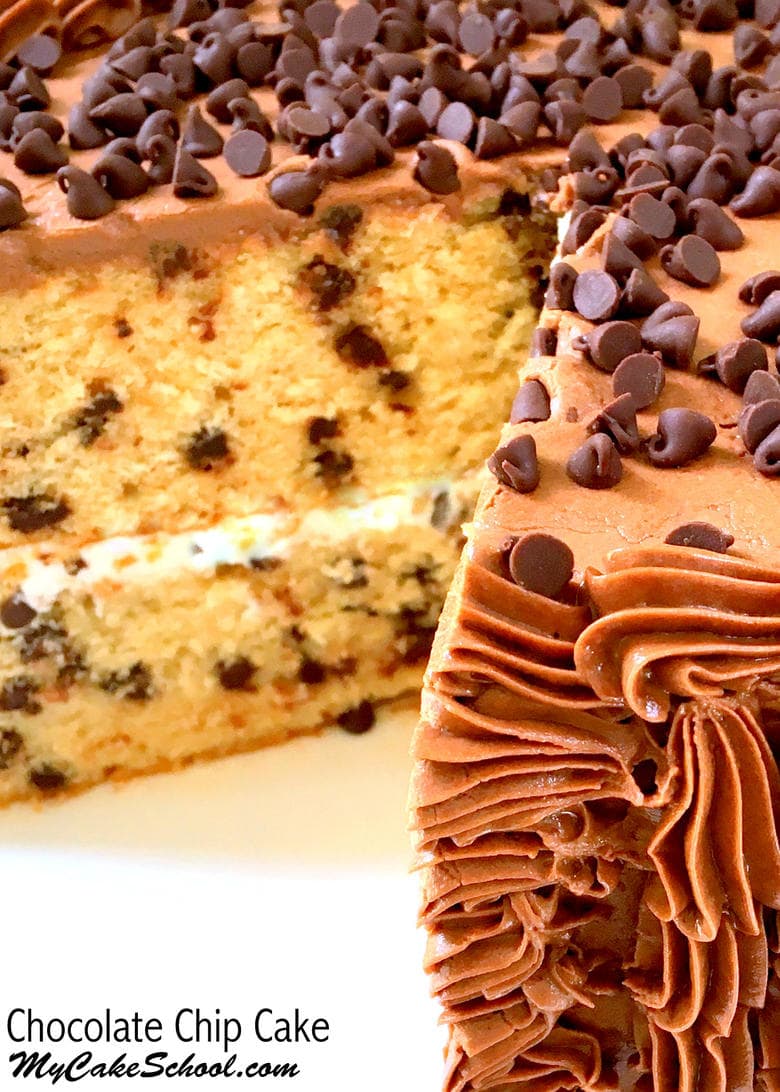 What Pairs well with Chocolate Chip Cake?
You could also use chocolate buttercream frosting for the filling, or a simple
Chocolate Ganache
if you're looking for something even more rich.
Also, this recipe uses the Reverse Creaming Method of mixing. We use this method of mixing for many of our recipes because we find that it gives the cakes a slightly denser, velvety texture.
This Chocolate Chip Cake uses the Reverse Creaming Method of Mixing
If you've never used the Reverse Creaming Method of Mixing before, it is not difficult but it takes a little getting used to because the ingredients are added in a different order than the traditional method.
Cakes made with this method have a tighter crumb and velvety texture.
The steps in our recipe are easy to follow, but you may want to give our free video on the Reverse Creaming Method a quick look! Free video: Reverse Creaming Method of Mixing.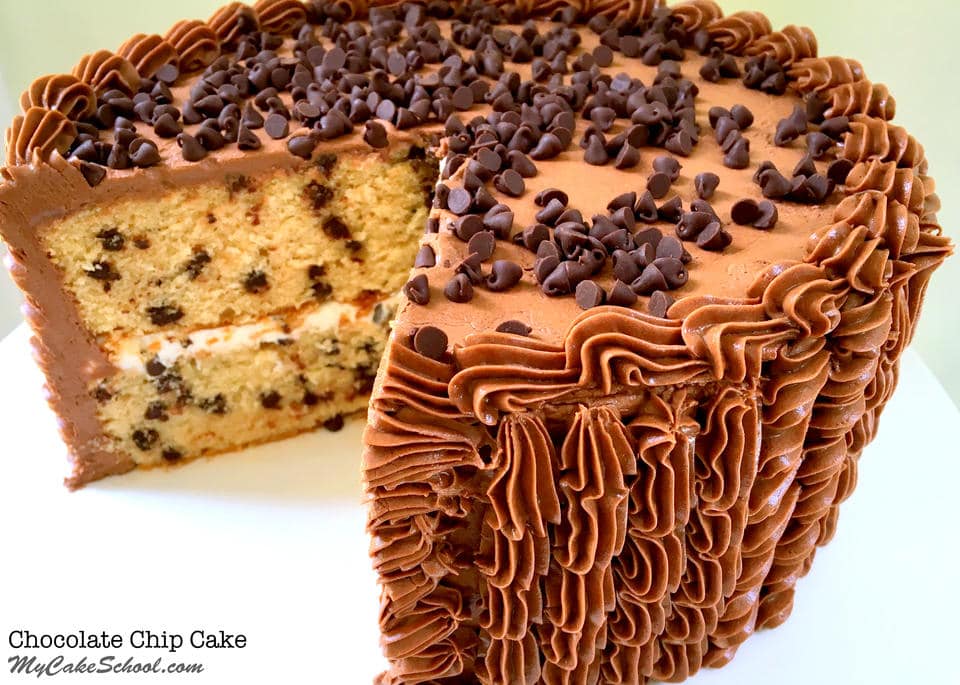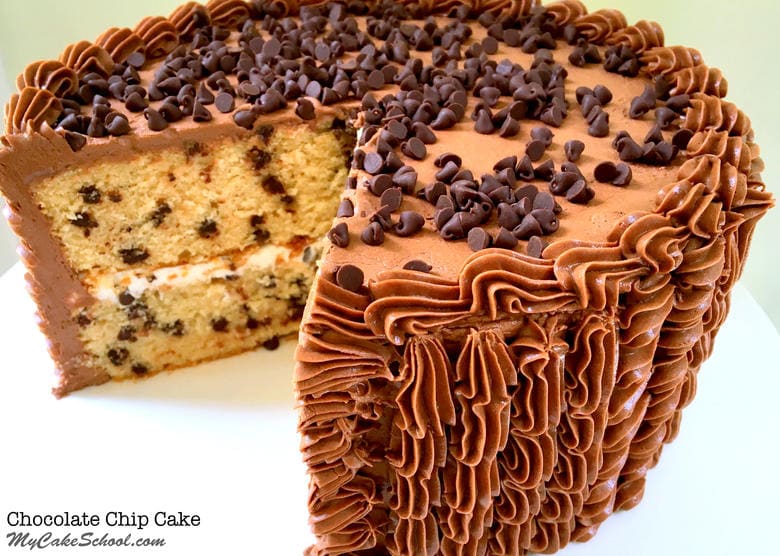 Chocolate Chip Cake Recipe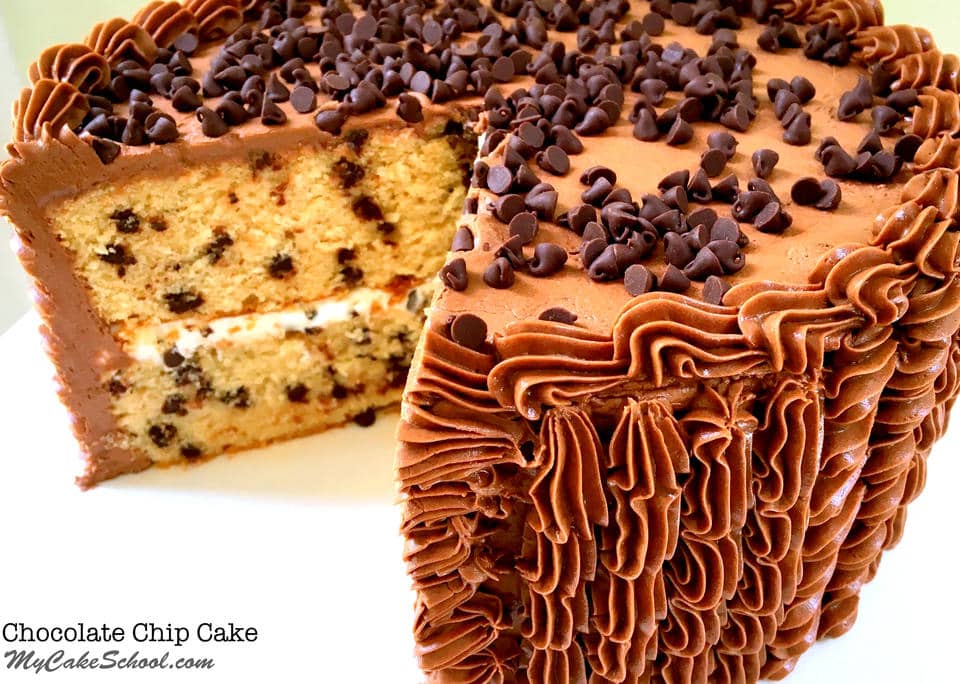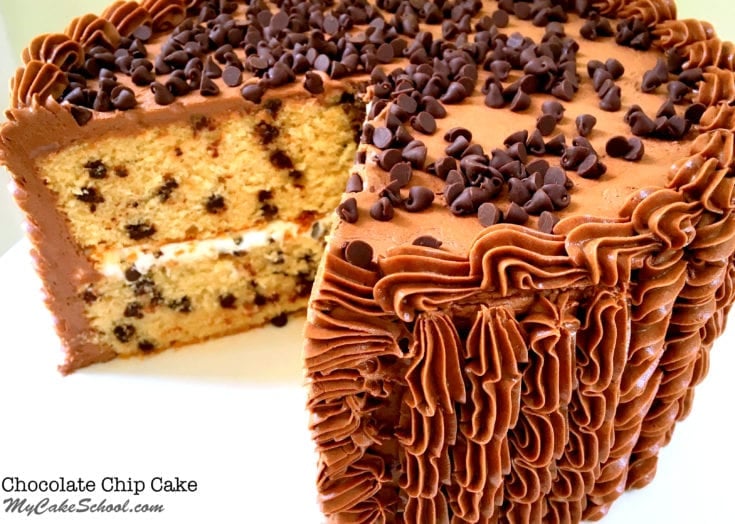 This homemade Chocolate Chip Cake recipe has all of the flavors that you love in a chocolate chip cookie. You'll love the hint of brown sugar flavor!
Ingredients
For the Cake
2 3/4 cup (332 g) all purpose flour
1 1/2 cups (325 g) light brown sugar (packed into the cup)
1 1/2 teaspoons (7 g) baking powder
1/2 teaspoon (3 g) baking soda
1/2 teaspoon 3 g) salt
10 Tablespoons (1 1/4 sticks) (141 g) unsalted butter.... softened (do not microwave). I cut the butter into 1/2 inch slices onto waxed paper to soften a short while before needed.
3 large eggs
1 1/3 cup (302 g) buttermilk (low fat or full fat)
2 teaspoons (8 g) vanilla
1 cup (170 g) mini chocolate chips
Instructions
Preheat the oven to 350 degrees, grease and flour two 8 inch round cake pans
In the bowl of your mixer add the dry ingredients, flour, sugar, baking powder, baking soda and salt. Hand whisk for at least 30 seconds so the ingredients are well combined.
In a separate bowl, add the eggs, buttermilk and vanilla. Stir with a fork to combine.
With the mixer on low speed gradually add the slices of butter, a few pieces at a time. Increase the mixer to medium speed and beat until the dry ingredients look crumbly and moistened by the butter. Scrape the bottom and sides of the bowl.
Add 1/2 of the egg mixture, beating at medium ( do not beat above medium ) for 1 1/2 minutes, the batter will become thick and fluffy. Scrape the sides and bottom of the bowl. Add the remaining egg mixture in 2 pourings, beating for 20 seconds after each addition.
Fold in the chocolate chips
Bake at 350 degrees for 30 - 35 minutes or until a toothpick inserted into the center comes out clean or with just a few crumbs attached.
Let the cake cool in the pans 10 minutes, then turn out.
Makes 7 cups batter
Will hold up to fondantThis recipe works well for cupcakes, they will have very little dome.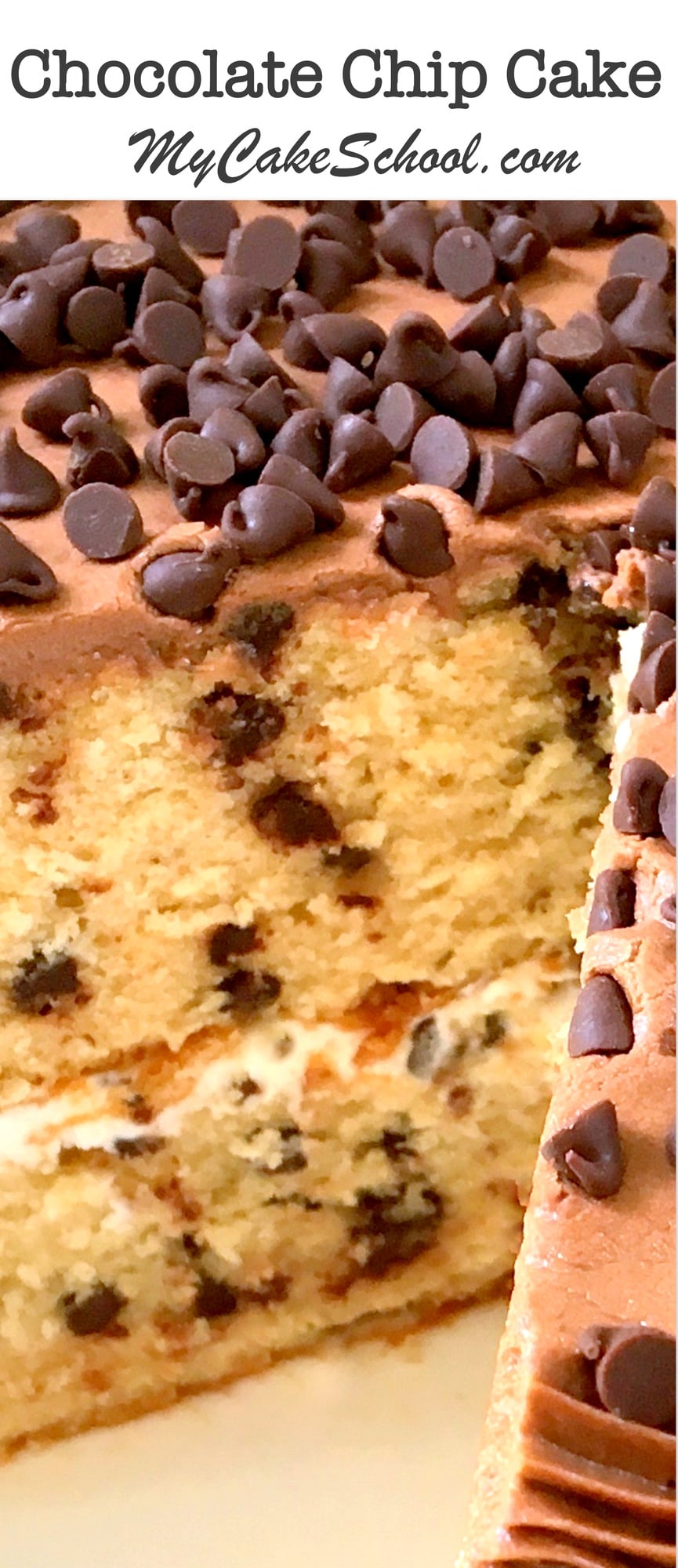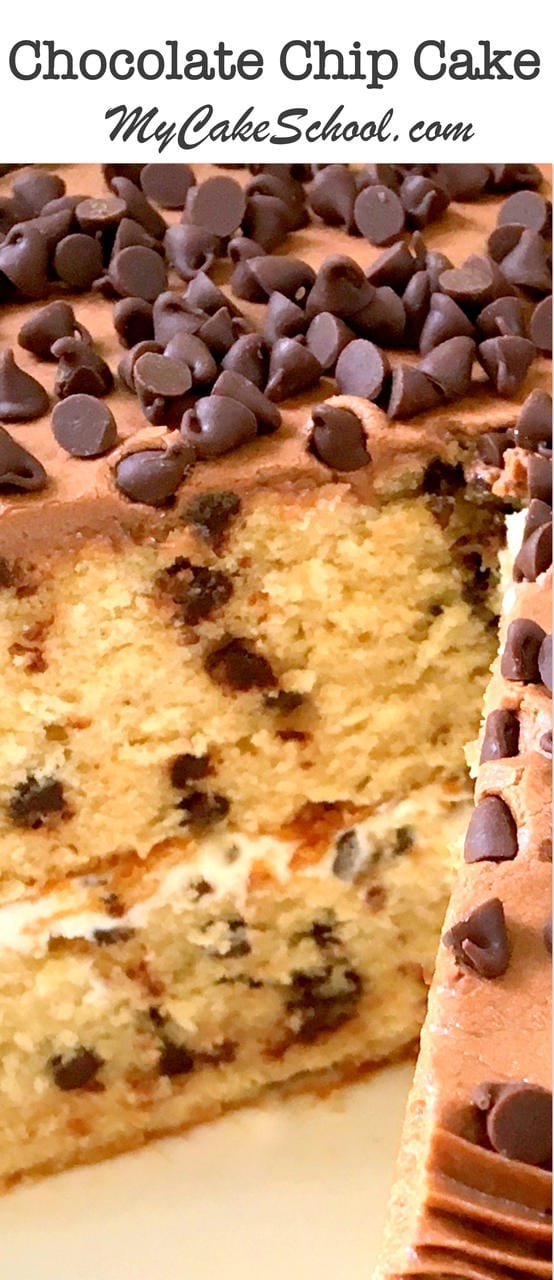 Thanks for stopping by today! We hope that you enjoy the recipe. Don't forget to scroll through our full collection of favorite cake, frosting, and filling recipes in our Recipes section! You can find them here: My Cake School Recipes
Also, if you are interested in learning more about cake decorating, don't miss our free cake tutorials, including our Free Cake Video tutorials!
Or, if you are interested in having access to hundreds more cake decorating videos (every tutorial we've made over the years), you should consider becoming a member of My Cake School! We would love to have you!
Find all of the details here: Learn Cake Decorating Online with MyCakeSchool.com- Joining Information