Quilled Christmas Tree Cake - Video Tutorial
Christmas is almost here and I have a beautiful Quilled Christmas Tree Cake video tutorial to share with you!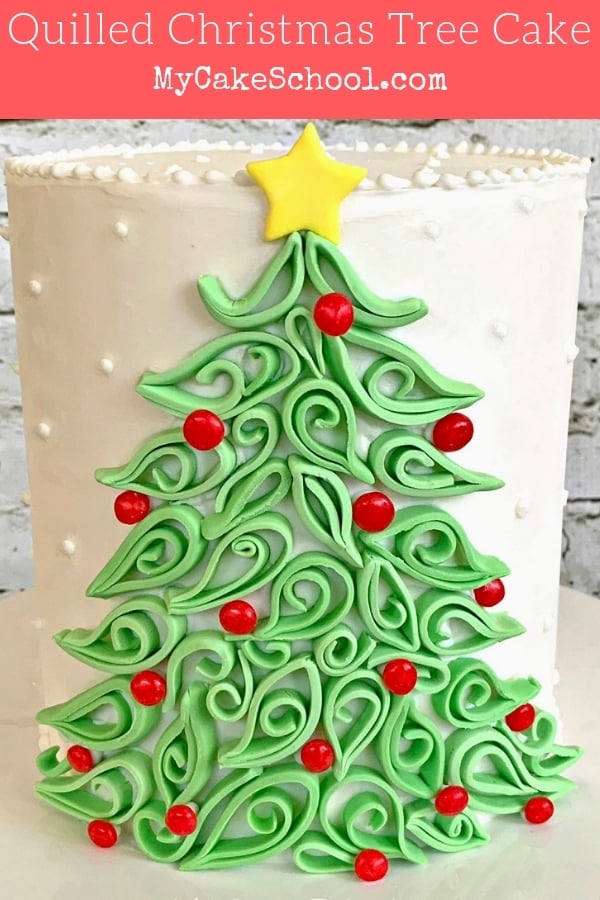 We've created other quilled cake designs in the past for fall and spring, and we loved them so much that we just had to create one for Christmas! I love how the quilled Christmas Tree turned out, and I hope that you'll be inspired to try this design, or take what you learn from our tutorial and apply to other unique designs!
You can find all sorts of quilling inspiration on Pinterest for any theme-- Paper quilling is so beautiful, and I love that it can be recreated in cake form! We hope that you enjoy our video! Make sure to below for materials and and additional notes!
Materials:
*For our cake, we used gum paste because it dries quickly, can be rolled nice and thin, and holds it's shape well. However, you could also use fondant with a little tylose powder kneaded into it if you want something close to gum paste but a little less firm (depending on how much powder is added.)
*We decorated a four layer double barrel cake for this tutorial. As usual, the bottom two layers are on their own cake cardboard cut down to size, with four bubble tea straws inserted and cut to the height of the bottom two layers. Then the next two (filled) cake layers are on their own cardboard cake circle cut to size, and placed on top of the bottom tier. Cake is frosted as one.) We frosted this cake with our fluffy vanilla buttercream frosting.
Quilled-Christmas-Tree-Template-image
Gum Paste- We used about 142g
Coloring Gels: Americolor Leaf Green, Lemon Yellow
Buttercream: We used our Fluffy Vanilla Buttercream. Our Classic Vanilla would be a good option too, although it wouldn't be quite as light in color.
Red Cinnamon Drops or your round candies/sprinkles of choice for ornaments.
FMM Multi Ribbon Cutter (affiliate link)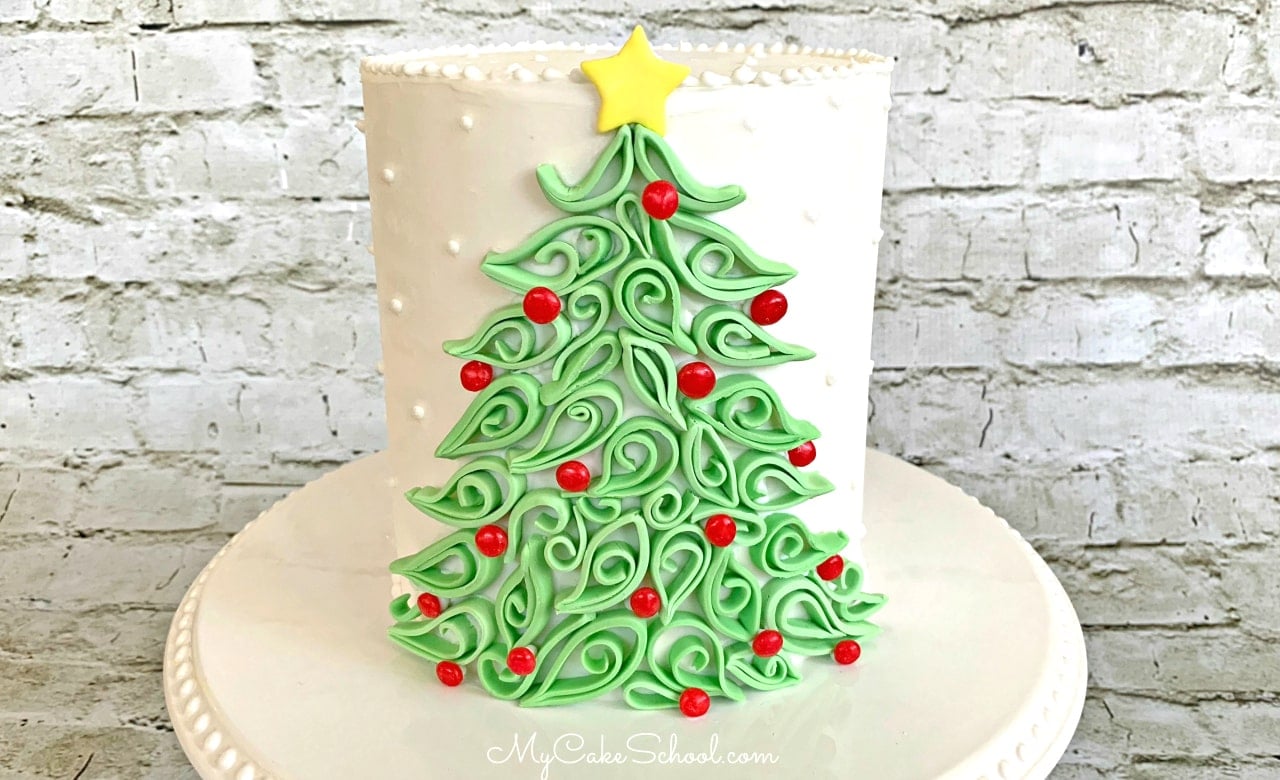 Notes:
If you are working with gum paste, your quilled pieces should be firm enough to pick up within a few hours-- although it never hurts to work further in advance!
If you are working with fondant or fondant with tylose, allow more time to dry, to be on the safe side.Humidity can also effect dry times. I would recommend using either gum paste or fondant with tylose added. I dried my pieces on a parchment lined cookie sheet.
I used an FMM brand Multi Ribbon Cutter to cut out my strips of gum paste. The gum paste was rolled to about ⅛ inch thickness, and the width of the strips was set to about ¼ inch. I didn't measure out my strips when creating the shapes, but the one that I measured for reference was about 5.5 inches long before I curled it into a teardrop shape (which once finished was around 1.5 inches).
It's a good idea to follow a template, just so that that you know about how many shapes you'll need, the size that you need, etc. Also, make a few extra just in case you need them!
In the video, I intended to apply the gum paste pieces to freshly chilled (firm) buttercream so that if I needed to rearrange my pieces once on the cake, it wouldn't mess up the frosting.
However, as it turned out, my buttercream was actually close to room temperature by the time that we started filming. The plus of that was that I could just press the leaves right into the frosting (but it didn't leave me much wiggle room for making changes).
If you are working with a chilled cake or a fondant covered cake, you may need to add a little buttercream or piping gel to the back of the gum paste pieces before applying.
Make sure that the tree template that you're working from will fit with the size of cake that you are planning to make, and adjust as needed. The template was really helpful for me to use as a guide in making my shapes, and also gives you a good idea of how many pieces you'll need to create your tree.
More Christmas Tree Cakes!
We have more Christmas Tree Cake Designs to share with you! I'll include a few free tutorial links below, but make sure to check out our full roundup of Favorite Christmas and Winter Cake Tutorials!
Pastel Christmas Cake (with candy coating trees)
Christmas Tree Cake in Chocolate (candy coating)
Christmas Tree Sheet Cake- Free Video
White Chocolate Ganache Christmas Tree Cake