Maple Cream Cheese Frosting
Today we're sharing a delicious Maple Cream Cheese Frosting that is so silky smooth and flavorful, you'll want to put it on everything!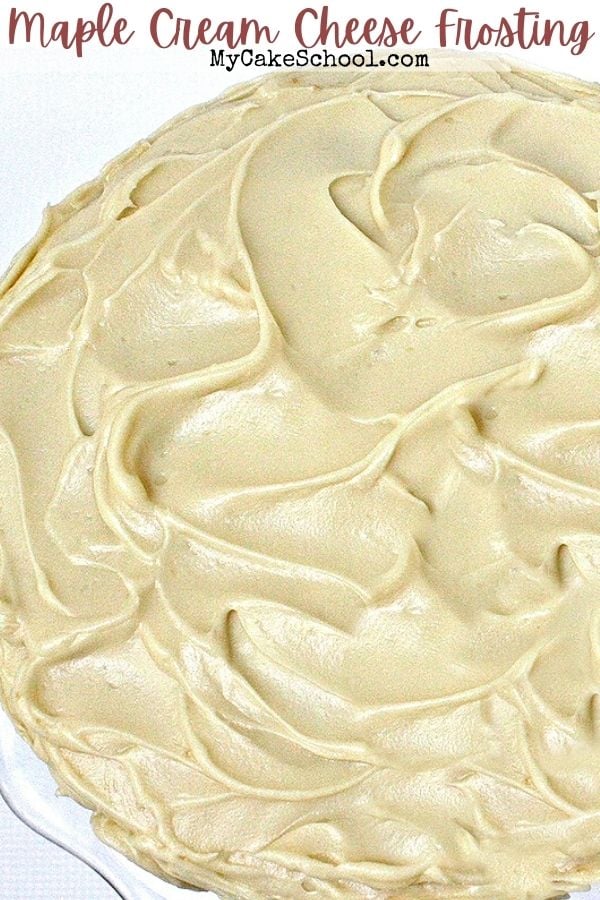 We love to pair this Maple Cream Cheese Frosting with our fall cakes and spice cakes, including our Maple Carrot Cake, Maple Toffee Cake and Apple Walnut Cake recipe!
If you love pound cake recipes, we also have an amazing maple pound cake with caramel glaze (but this frosting could be substituted as well!)
How soft is Maple Cream Cheese Frosting?
Just as with our classic cream cheese frosting, orange cream cheese frosting, and more, this maple cream cheese frosting recipe has a softer consistency.
If you notice that your frosting is too soft, you can add a bit more confectioners sugar just as we do to thicken up many of our American buttercream recipes.
However, the culprit is often the temperature of the frosting. If you suspect that this is the issue, just go ahead and chill it for a bit.
We like to chill our cream cheese frostings for a few minutes just after making a batch, and then as needed during the decorating process.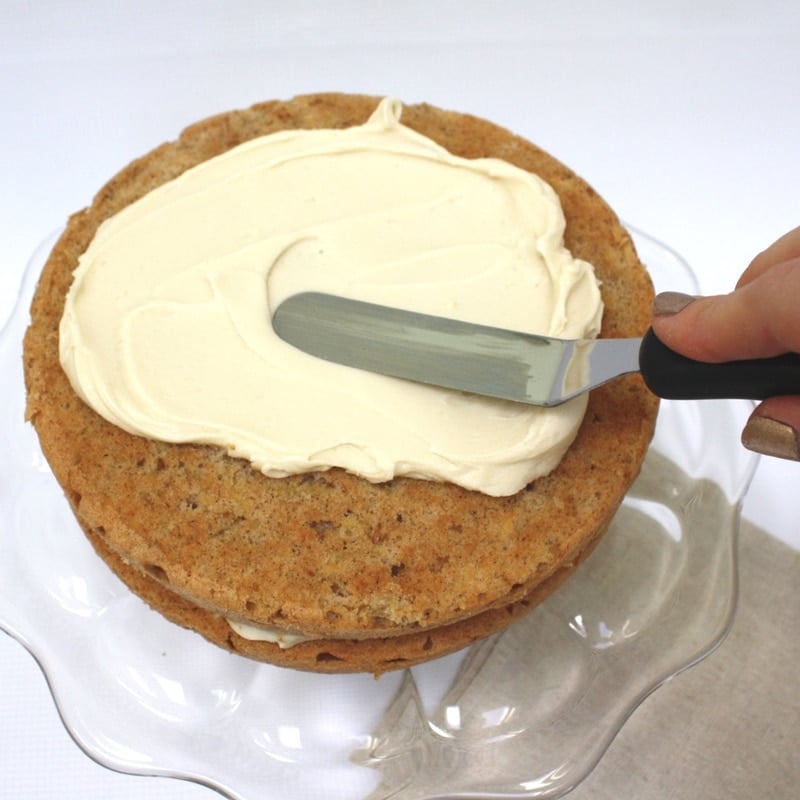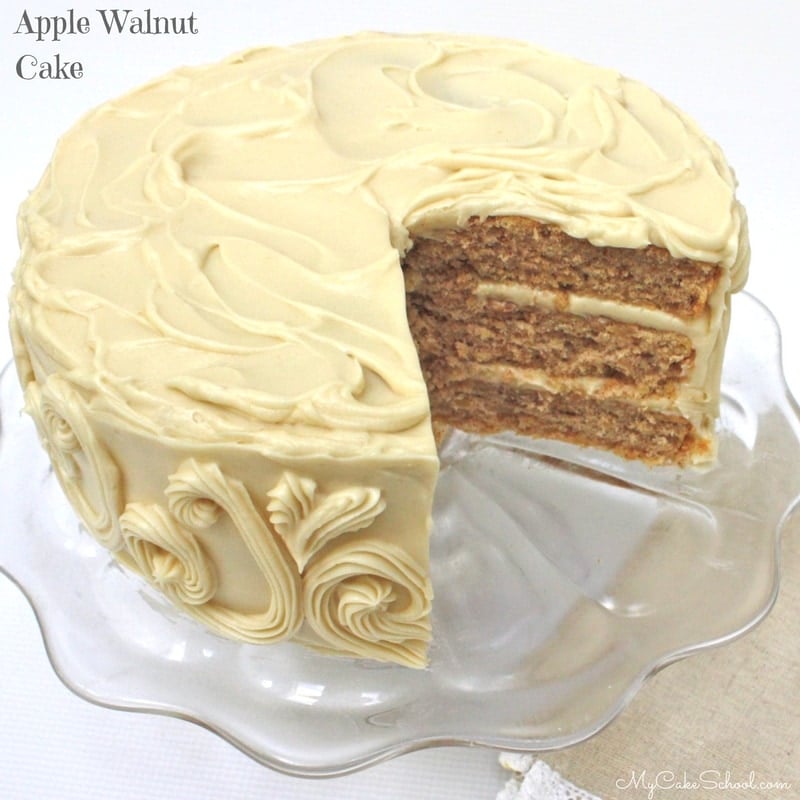 Maple Buttercream Frosting
Although we absolutely love this Maple Cream Cheese Frosting, sometimes you may need a frosting that can sit out at room temperature for longer. This Maple Buttercream frosting (as used in our Maple Pecan Cake) is a wonderful option!
It is an American buttercream, meaning it is composed of softened butter, confectioners sugar, a pinch of salt, a splash of milk, and flavorings (in this case, vanilla extract and maple extract). It would be okay to sit out at room temperature for 1-2 days.
More Fall Cakes
We have several layer cakes that we just love for fall celebrations- everything from pumpkin cakes to caramel cakes, carrot cake and Pumpkin Spice Cake, to gingerbread cakes, and more.
Whether you are celebrating a fall birthday or need something to bring to Thanksgiving dinner, you just can't go wrong with any of these delicious options.
Here are a few of our favorites, but don't miss our full roundup of fall cake recipes here: Sharing the BEST Cakes for Fall!
Recipe FAQs
Maple Cream Cheese Frosting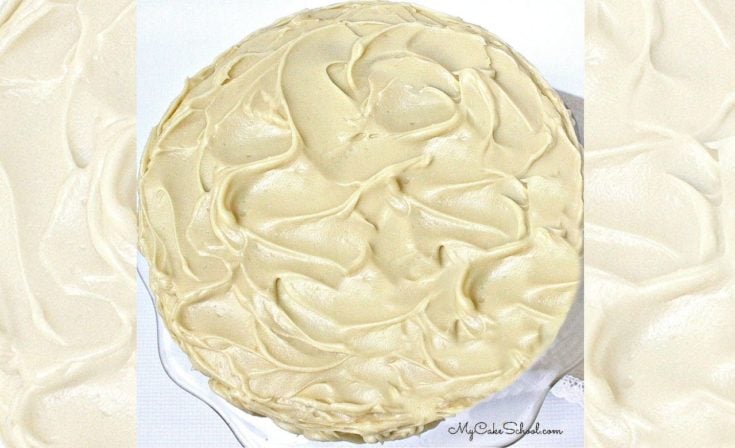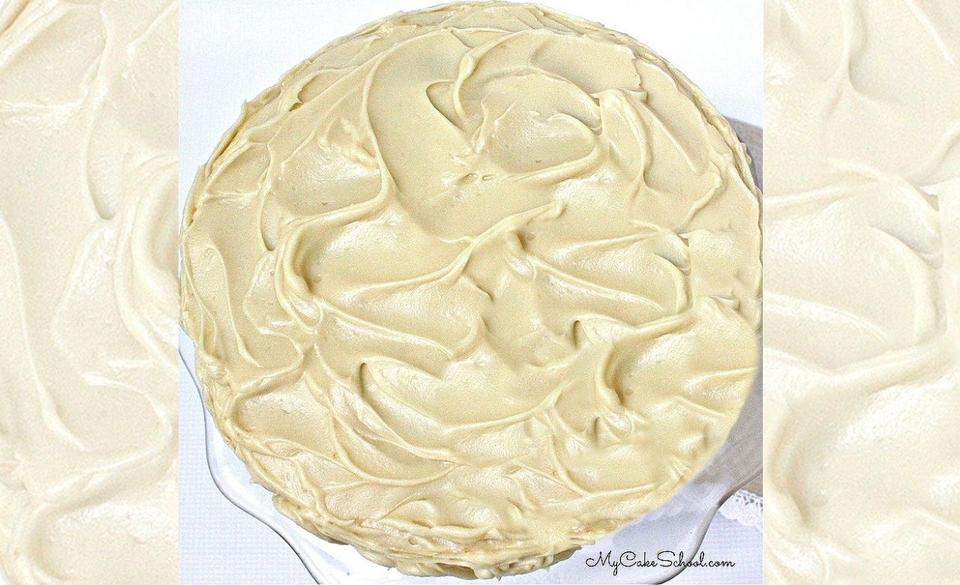 This heavenly Maple Cream Cheese Frosting is so delicious and easy to make! We love it with our fall and spice cake recipes!
Ingredients
2 sticks (226g) unsalted butter, slightly softened
2 8oz packages cream cheese (453 total gram weight) softened very slightly. Use full fat cream cheese. Do not use reduced
1 Tablespoon maple syrup (optional)
2 teaspoons (8g) maple extract
6 to 6 ½ cups (690g to 747g) powdered sugar, adding more if necessary
Instructions
Cut the butter into ½ inch slices and add to the bowl of your mixer, mix on medium speed until smooth
Cut the cream cheese into pieces and add to the butter, mixing on medium speed until well blended.
Add the maple syrup and maple extract
Gradually add powdered sugar and mix until well blended. Do not over mix or beat above medium speed . If beaten too long it will become very soft. If this happens, just put in the refrigerator for a short while to firm it up a bit, then frost the cake.
This frosting will pipe best if used while chilled. You can make in advance, refrigerate and when ready to use let it soften slightly and remix. Do not microwave to soften.
Will frost a 3 layer 8 or 9 inch cake