Carved Ganache Cake Tutorial
In this free cake video, you will not only learn how to make chocolate ganache, but you'll also learn a wonderfully simple and elegant technique for decorating the cake with a carved ganache effect.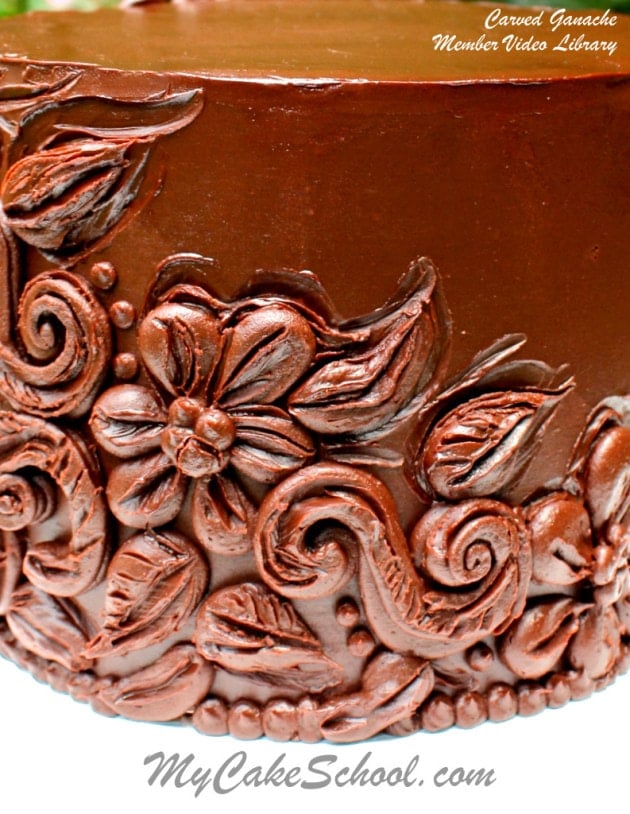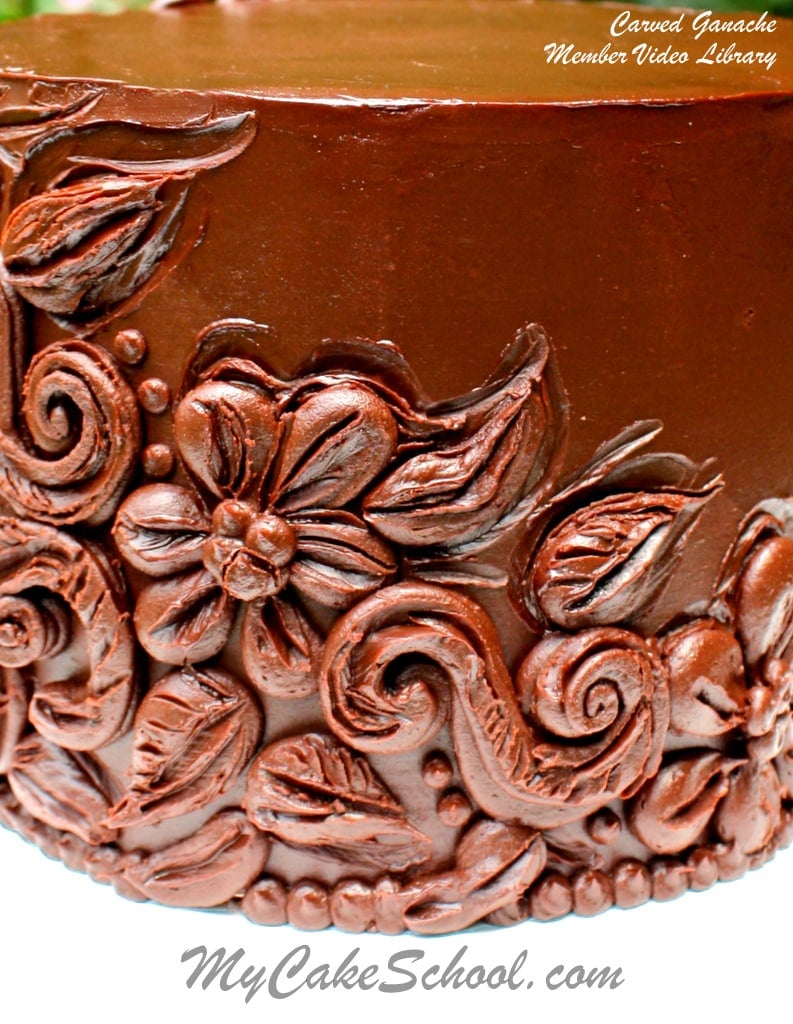 Carved Ganache Cake Design
This "carved ganache" technique is one that I had never experimented with before. While we often use ganache as a foundation beneath our fondant, it was really nice to let the ganache be the star of the show for a change!
I was inspired over a year ago by a "Carved Ganache Cake" which was featured on TheCakeBlog.com, and was created by Sweet Ruby Cakes. (Click here to see!) -- While I don't know the details on how she created her beautiful cake, I was definitely inspired to see ganache in a different light.
How to Create a Carved Ganache Effect
The cake that I will demonstrate is much simpler than you would think, because the dramatic, raised look is achieved simply by piping.
The "carved effect" comes together very quickly afterwards, with the use of simple tools. While I use gum paste/clay tools in my tutorial, my first practice run on a paper plate was done with toothpicks. So, there's definitely room to improvise!
I hope that you enjoy the tutorial! Please check beneath the video for additional tips and a list of materials.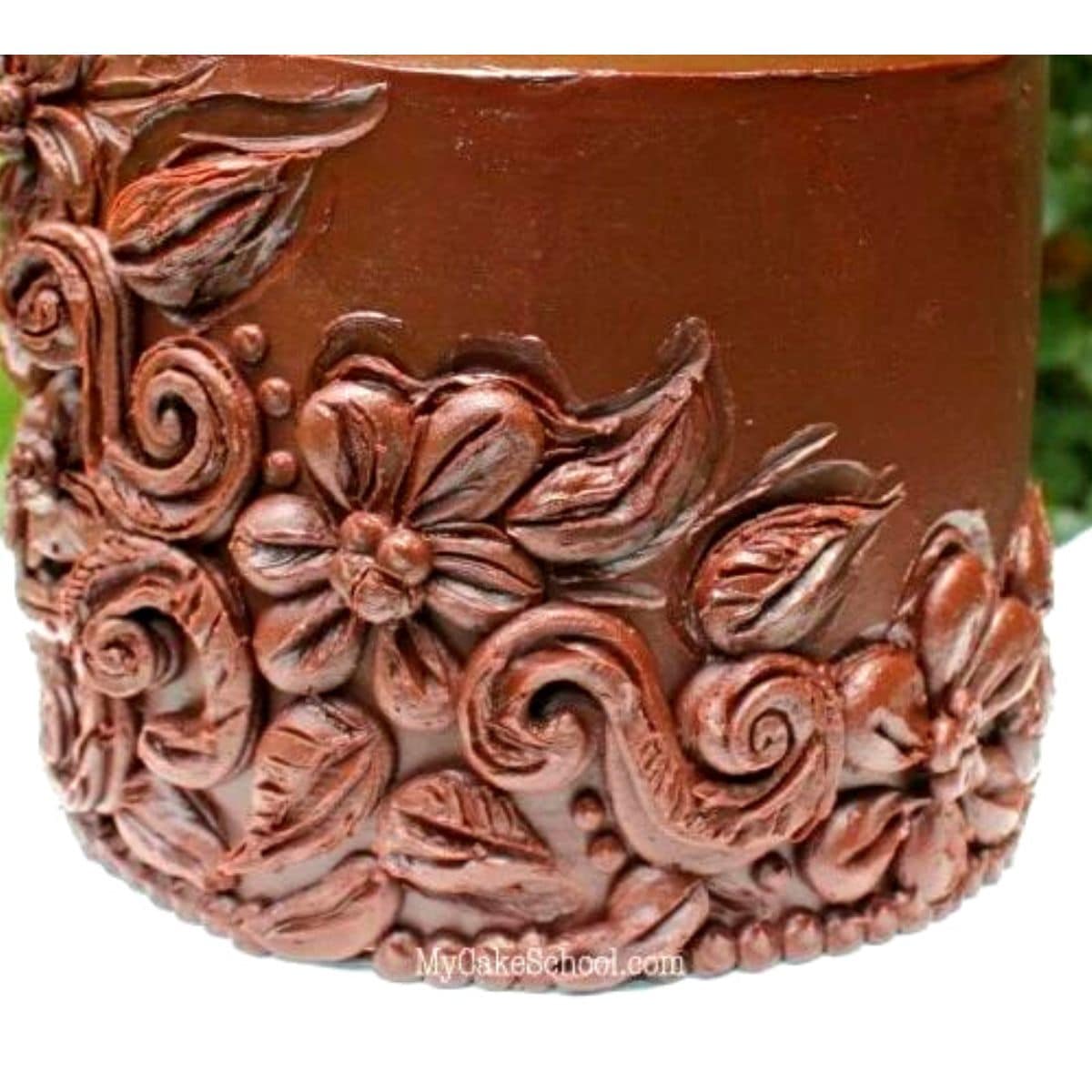 Materials for Carved Ganache Cake
My cake is 6 inch, 3 layer cake which is filled & frosted with "Simple Spreadable Ganache" ( which we demonstrate in the video).
Our chocolate & cream measurements are based on our 6" cake. A great resource for figuring out needed ganache & cream amounts is the Ganacherator. A simple google search will lead you to this free excel download.
Dark Chocolate (we used 22 oz.) - We used Trader Joe's which has 54% cocoa solids.
Heavy Cream (11 oz)
Digital Scale- We love our digital scale and prefer to weigh our ingredients. This is true with most recipes, but we find it especially helpful when making ganache because we are working with ratios of chocolate to cream.
Gum Paste/Clay Tools (optional) -- I used a set that I bought at Michael's on the clay aisle, but it is so easy to improvise with toothpicks, knives, etc.
Piping Tips- This will vary with your design...but I used a Wilton tip 10 (medium round tip) for my flower petals, leaves, and scrolls. I used a Wilton tip 3 for the centers of my flowers, misc. dots, and misc. accents on the scrolls.
Helpful Tips for Working with Ganache
Cocoa Solids, Cacao, etc.
We have best results with chocolates containing higher than 54% cocoa solids or cacao.
The higher the cocoa butter content, the firmer the chocolate is going to set up (which is especially nice when your ganache will be a foundation for your fondant.)
In the video, we demonstrate with Trader Joe's Dark Chocolate (54% cocoa solids)....but we also show another batch that we made which sets up even firmer due to it's high cacao percentage (60%) -- Bittersweet Ghirardelli chips.
Ratios for Different Types of Chocolate
For dark chocolate, a 2:1 ratio of chocolate to cream works well for a frosting consistency.
For white chocolate, 3:1 ratio works well...(but you can increase the amount of chocolate even more for firmer results).
What Does it Mean when Chocolate Seizes?
If any water finds its way into your melted chocolate, it will seize...becoming grainy, thick, and impossible to work with.
Eliminate Remaining Bits of Chocolate in your Ganache
If you have any pieces of chocolate that do not melt completely after combining with the hot cream, you can microwave for a few seconds at a time (stirring in between), until all chocolate is melted.
Another popular alternative is to use an immersion blender to take care of any remaining pieces.
Using Chocolate Chips in Ganache
Chocolate chips do not melt quite as easily as chopped chocolate bars, although we still use them from time to time (Ghirardelli brand for example).
Make sure that you heat your heavy cream to the boiling point before pouring over your chocolate. This helps with the melting and also makes the ganache less perishable.
Can You Make Ganache in the Microwave?
Yes you can! We have had good luck with microwaving the chocolate and cream together in small increments until the chocolate is almost completely melted. You can find more information on this technique in our Ganache Drip Video (although we use a 1:1 ratio of chocolate to cream in this tutorial)
How to Store Ganache
Storage: After making the ganache, we allow it to sit/rest overnight an thicken up a bit. If frosting a cake with it, I frost the cake and allow it to set up/firm up overnight before then covering with fondant.
Ganache can be stored at room temperature (in our experience) for two days. Opinions on this vary-- some sites say longer. Ganache can be frozen for at least 3 months in an airtight container.
For our ganache carving...I frosted the cake and did my piping & carving all in the same day.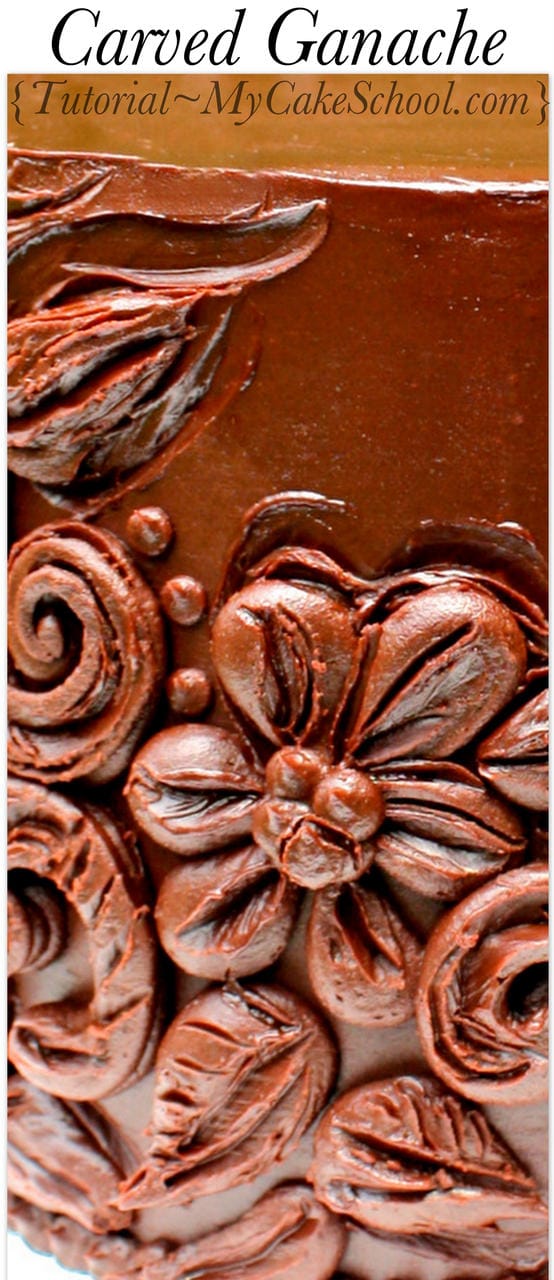 Elegant Cakes
We have even more elegant cakes for you to choose from in our Cake Decorating Tutorials section!
We also have some other delicious chocolate cakes including easy Chocolate Mousse Cake, Chocolate Cake from Scratch, German Chocolate Cake, and Black Forest Cake!
We hope that you enjoy this two-part video! Thanks so much for stopping by!
Have you made this Cake? We would LOVE for you to leave a ⭐️ rating as well as a comment and photo below! We really appreciate your feedback!
Part One: Making the Ganache & Applying it
Part Two: Demonstrating the "Carved" Design