Happy New Year 2019- Free Cake Tutorial
It's time to turn the page on another year, and we're so happy to share this fun, easy, and festive Happy New Year 2019 Cake Tutorial with you!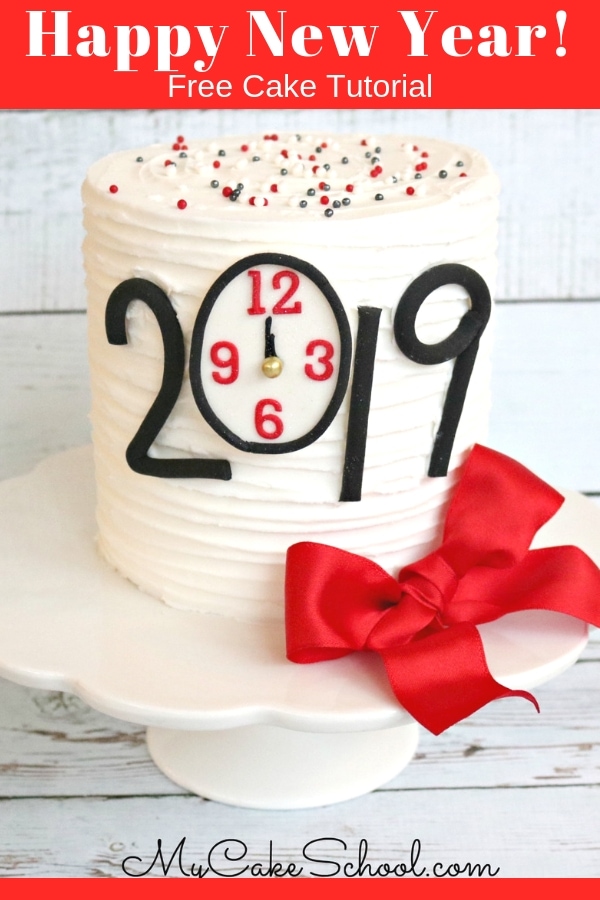 In this free cake tutorial, I'll show you how to dress up a simple double barrel cake with a layer of buttercream frosting and some simple fondant or gum paste accents!
There are not too many choices when it comes to New Year's Eve decorations, and the recurring themes that we've had over the years have been champagne, stars, numbers, and clocks! Today's theme incorporates the year 2019 of course, but we've also turned the "0" into a simple clock that makes for a really cute and unique design.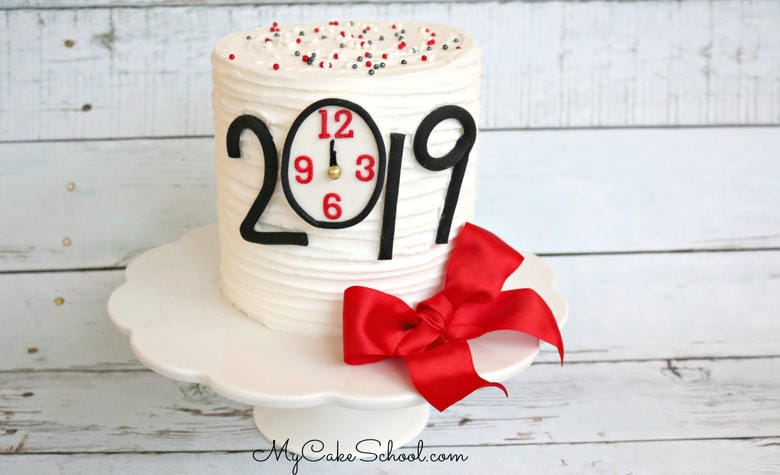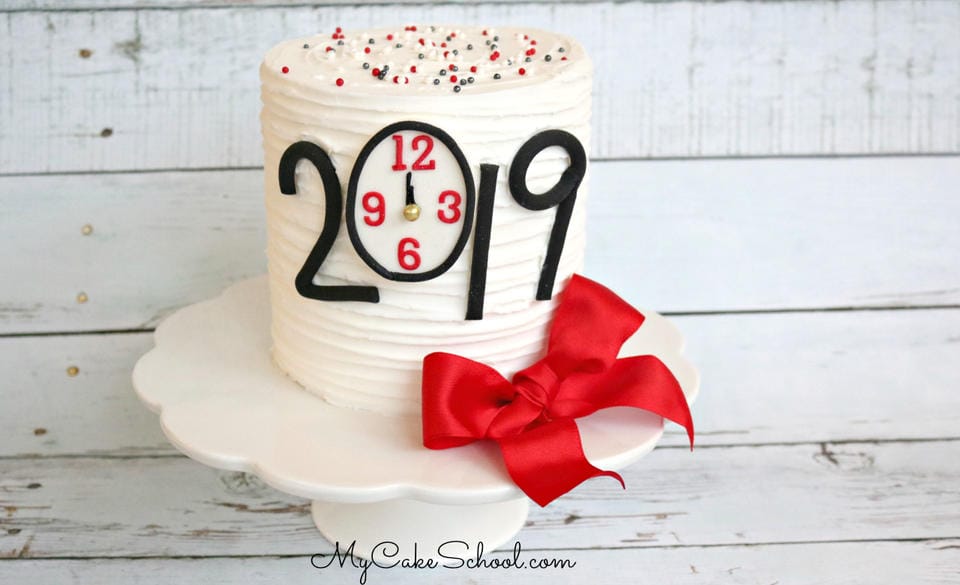 This cake would be perfect for kids and adults alike, and would work well for any size of cake, including sheet cakes! I love versatile designs, and this time of year, as we are all recovering from the holiday craziness, it's nice to have an easy design that still feels really special!
We hope that you enjoy this New Year's Eve cake as much as we have!
Looking for even more New Year's Eve cake inspiration? Check out our cake ideas from past years!:
You can find our full roundup of Favorite New Year's Eve Cakes, Sweets, and Inspiration HERE!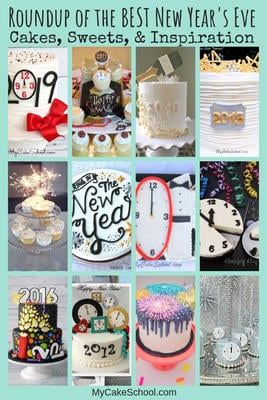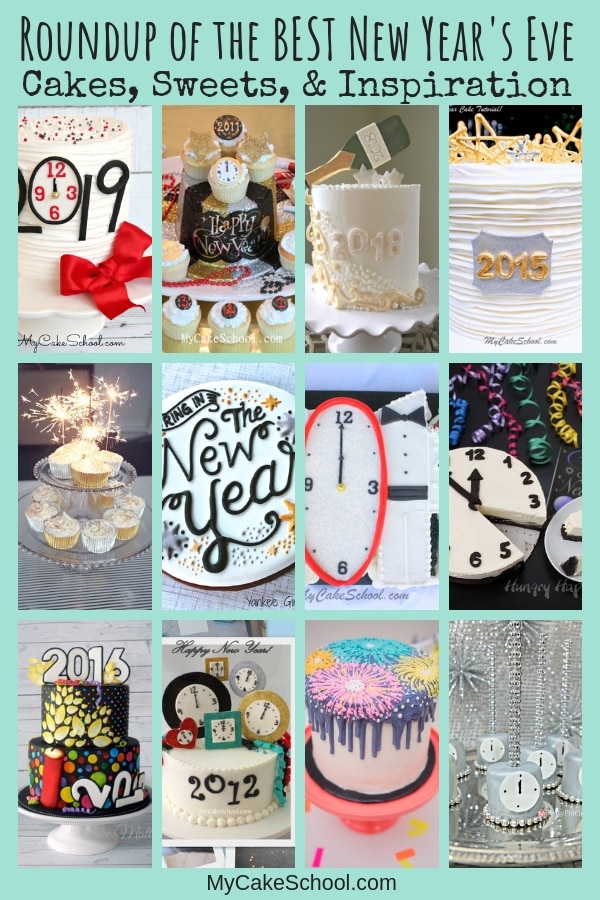 nbsp;
Materials:
For this cake, we used a 6 inch double barrel cake. As usual, the bottom two layers are on their own cardboard cake circle cut to the size of the cake. Four bubble tea straws were inserted for support. Then the upper two (filled) cake layers were added, which were also resting on their own cardboard cake circle. Then the tall cake was frosted in fluffy vanilla buttercream. This design will work for a variety of cake sizes.
Fluffy Buttercream Frosting (our Classic Vanilla Buttercream recipe would work well too if you prefer not to use shortening)
Fondant or gum paste- We used fondant with tylose powder kneaded into it for the clock, as well as for the pre-colored black fondant and pre-colored red fondant accents.
Number Cutters- Optional. We used Tappit Cutters that we had on hand. For the clock, you would also draw on the numbers with a food coloring pen.
Sprinkles- I used sugar pearls in pearl, red, and black to decorate the top of the cake. I also used a gold dragee for the center of the clock.
Small Tapered Spatula was used to add ridges to the buttercream cake
Red Bow- Optional, but I love the pop of color that it added to our cake!
Extruder (affiliate link)- So helpful to keep on hand. Although if you don't have one, you can roll snakes of fondant to create your numbers, or you could use number cookie cutters (or if you are good at freehand piping, that's an option too!)
Miscellaneous: We used a turntable to frost our cake, as well as a bench scraper to smooth out the frosting. Disposable piping bags, small paint brushes, fondant rolling pin
alternate video format:
Another favorite of ours for New Year's Eve or any special occasion for that matter is our Pink Champagne Cake! We actually have two versions-- A Scratch Pink Champagne Cake recipe as well as a Pink Champagne Cake from a doctored Cake Mix. We love them both!
If you're interested in learning more about cake decorating, make sure to check out our Free Cake Tutorials Section! If you're interested in having full access to the hundreds of cake decorating video tutorials, you should consider becoming a part of our site! We would love to have you! You can find all of the details here: My Cake School Membership
Finally, our collection of the BEST Cake Recipes, don't miss our Cake Recipes section! We have our tried and true cake recipes for both scratch cakes as well as those based on a cake mix! We also have our favorite frostings, fillings, and more!